While devising the most compelling mise-en-scène for her painting and sculpting practice back in 2017, Kitt Buch thought about the various "myth-based belief systems that humanity constructs" as well as "the religious and scientific symbols that figure into our lives". Many of our deep-seated adult ideologies begin with the well-intentioned storytelling traditions set forth by our mommy-daddy heroes. Of course, no one can blame our parents for easing us into this stormy world by conjuring a rose-coloured perspective of our future, but did the 'dreams really come true' fairy tales that they spoon-fed us – which pop culture then endlessly reinforced – inevitably set us up to crash and burn? Kitt Buch pondered the perennially optimistic tales dancing around in our heads. They were generally the product of the gloriously illustrated storybooks that lulled us off to blissful sleepytime land and the endlessly enchanting Hollywood films that we excitedly viewed.
If we're completely honest with ourselves, the 'happily ever after' messaging conditioned many of us into thinking that our journey through life would be an easypeasybreezy slam dunk. Our childhood belief in perfect, sunshine-y endings often becomes such an intrinsic part of our adult ideology that we're prone to pulling the wool over our own eyes. Even when we bear witness to various friends being detrimentally impacted by the slings and arrows of real life, we somehow convince ourselves that we'll personally emerge unscathed.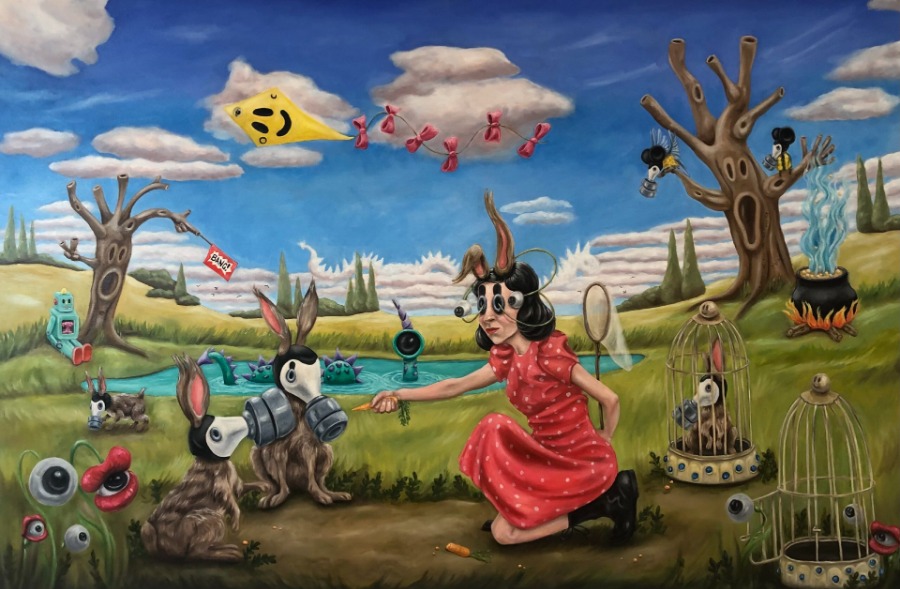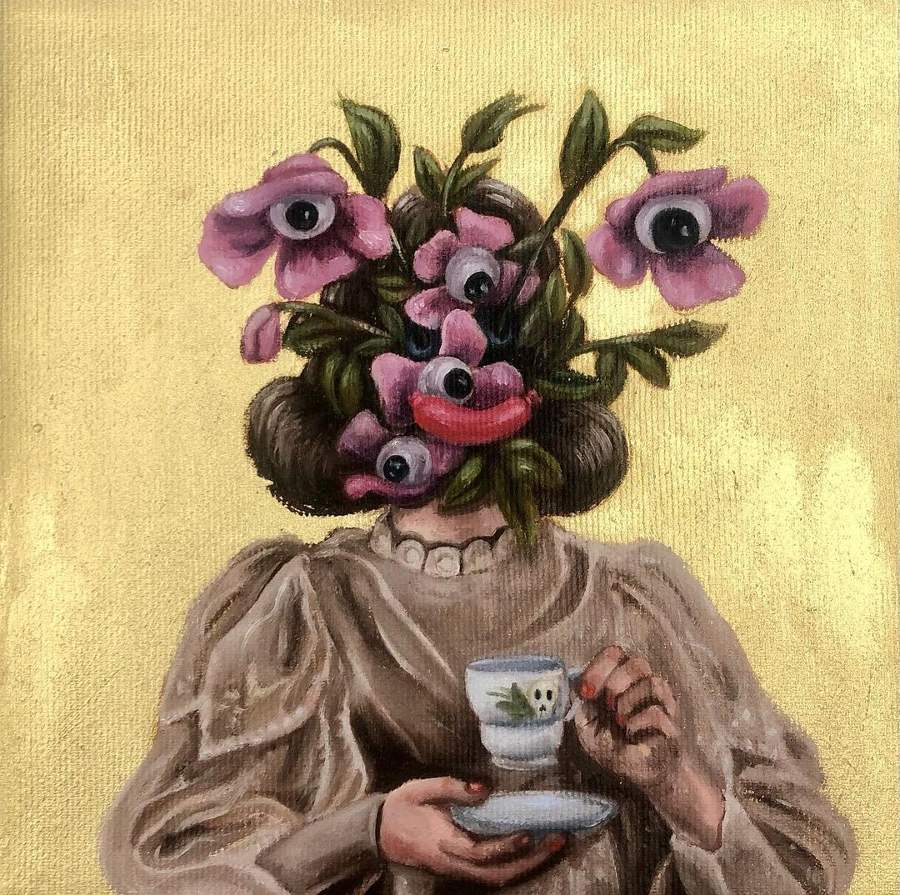 I never leave my home without my sketchbook. Ever!
Reality is almost always stranger than fiction. When we're ill-equipped to deal with storylines that are the polar opposite of our starry eyed, candy-dipped, fairytale hopes and dreams, things tend to go sideways. Even though Kitt Buch's fondness for the escapism of popular entertainment is a key aspect of her artistic oeuvre, what really makes her "dystopian make-believe wonderland" especially intriguing – and amusingly relatable – is its 'welcome to your REAL LIFE' vibe. Take a look around and you'll quickly note the many dark and dreary indicators that the $#*! has officially hit the fan.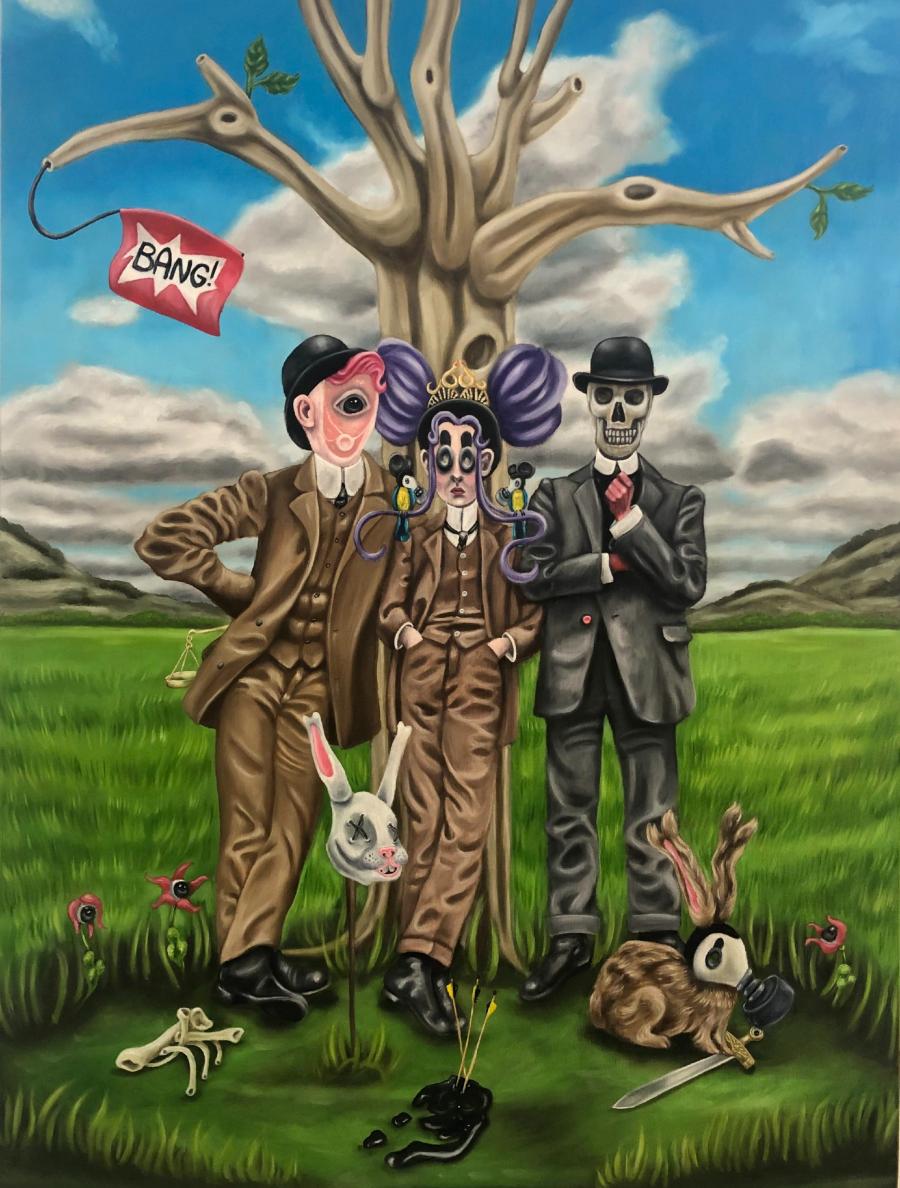 The Denmark-born artist's outwardly upbeat pop surrealistic compositions quickly unfurl with an inky abundance of this is probably not going to end well foreboding. Her narratives seem to summon the adulthood shell shock of the real world, where things actually do have a tendency to blow up from time to time. Soberingly, they were partially inspired by her grandmother's pre-teen recollections of daily life amid World War 2. Those hard-to-fathom experiences included regularly "leaving her house with a gas mask under her arm" and witnessing "Nazi soldiers holding people captive in her school yard".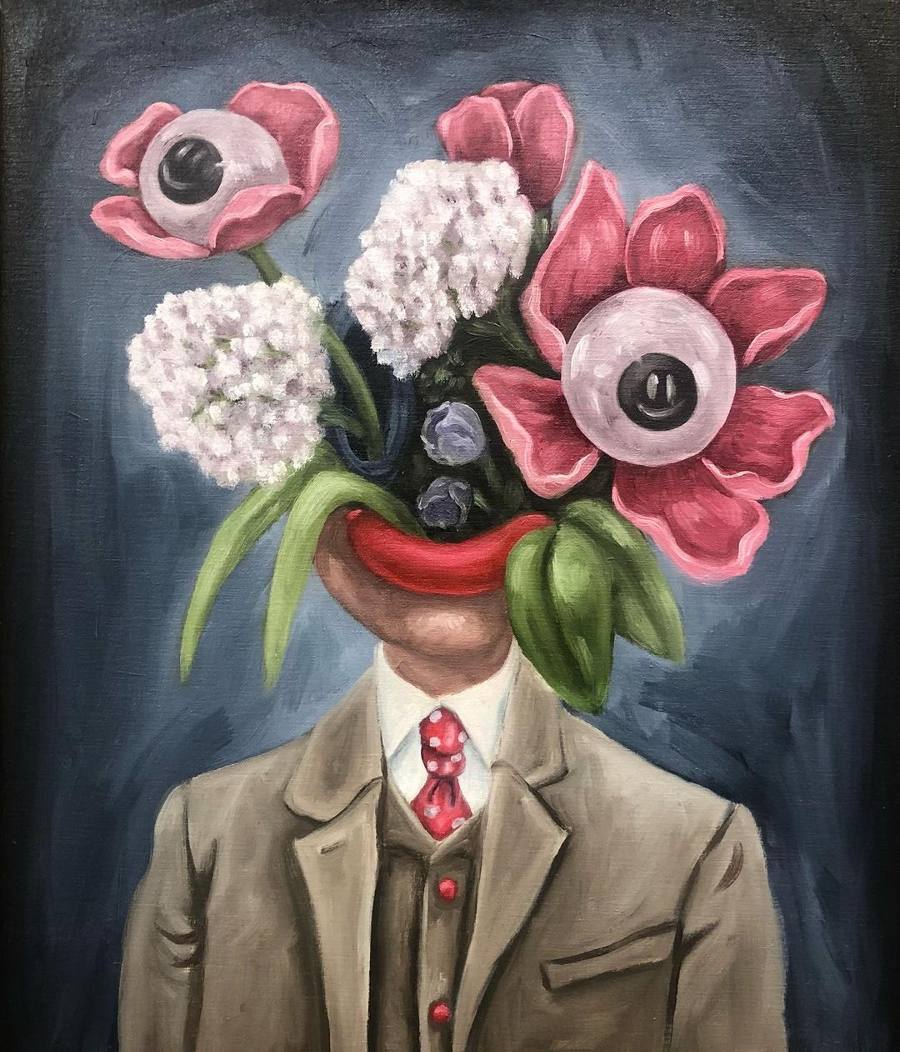 While the thematic direction of Kitt Buch's aesthetic is impacted by those alarming, first-hand accounts of one of history's bleakest periods, it also channels the "inner psychology and motivations" of humanity in general. The multi-disciplinary creative notes how "beautiful but also terrifying" it is that we knowingly "walk the path toward death" each day and yet still strive, for example, to achieve trailblazing "technological and medical advances". Additionally, she finds the hive mentality of our species particularly intriguing – especially our penchant for "finding meaning in things that aren't necessarily meaningful".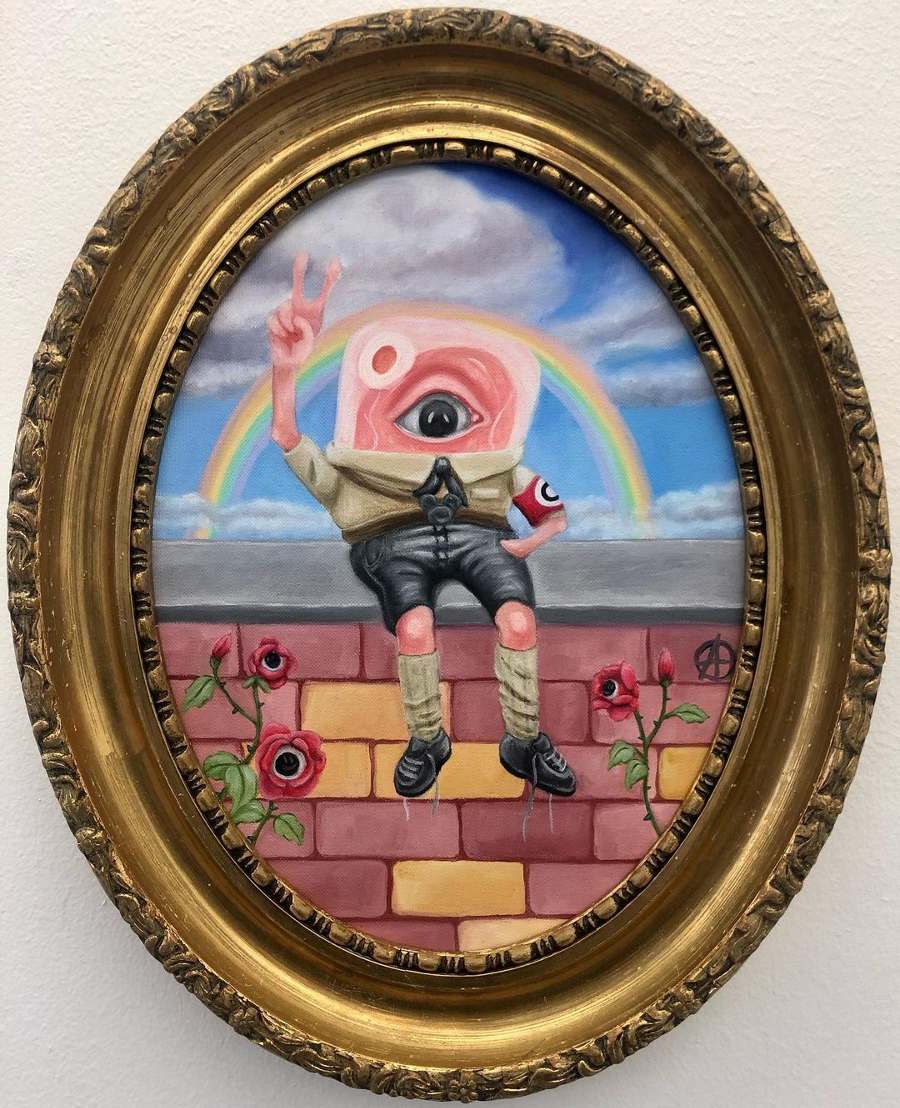 The Copenhagen-based artist's work is further shaped by her insatiable curiosity for topics far and wide, including "cartoons, books, folklore, comics, mystery and science". As such, Kitt Buch's boundary-pushing visual narratives with "a somewhat political agenda"- which address the "dark wonderland of contemporary society"- are filled with plenty of cerebral sub-text. She encourages the beholder to interpret her symbology in whatever way resonates the most with them. Seeing "a light-hearted fairy tale" splashed across her canvases is just as spot-on as "an entirely different surreal wonderland – always in blazing colour – filled with silently screaming, mostly leafless trees".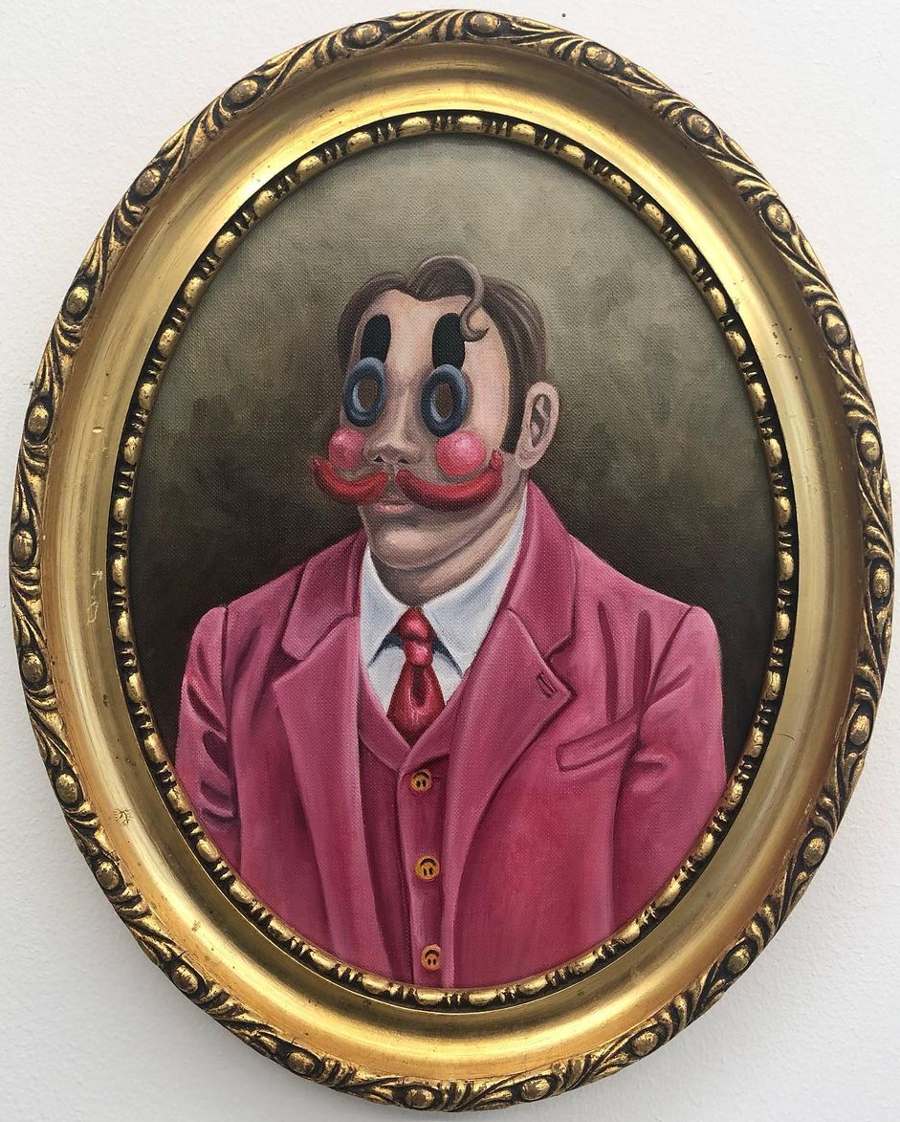 The painter-sculptor's cartoonish, "near-apocalyptic mythologies" are quite emblematic of "the positive and negative aspects of life…the constant push and pull", and are designed to offer her audience an intriguing distraction. "Darker themes", she feels, "help us to deal with what is looming over our heads in today's world, and art is the perfect escapism tool so that we don't get entirely swallowed up by all of the heaviness". Kitt Buch admits that the figurative/narrative/pop surrealism style "has always felt natural to me…it's always had my heart", but once she "found out that it was an actual genre", she finally felt like she was home.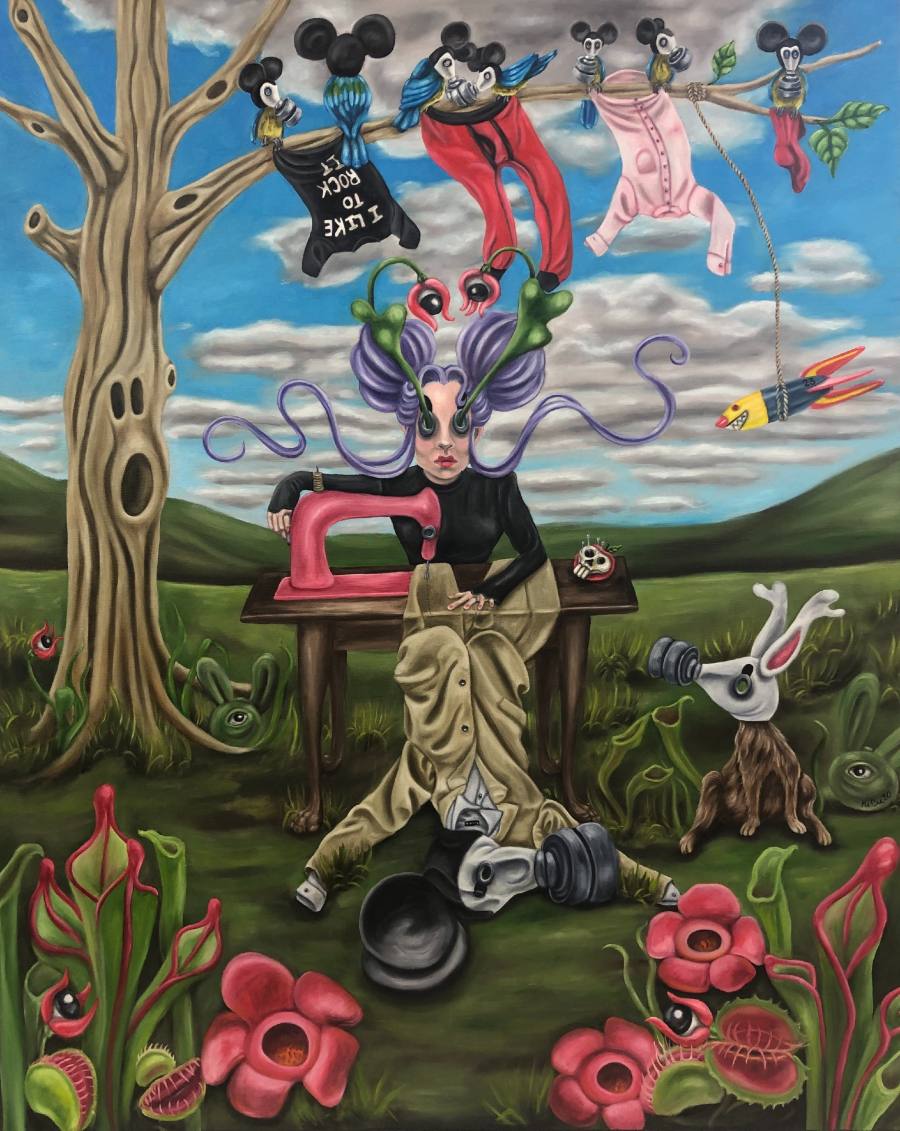 Due to the foundational sewing skills that her seamstress grandmother shared with her as a young girl, the fashion industry beckoned. While attending the Scandinavian Academy of International Fashion and Design in the mid-2000s, the dynamic impact of the pop surrealistic style truly crystalized for her. Kitt Buch believes that the many fashion illustrations that she created during that period in time inevitably led to her "painting in a comic style with a black outlines and vivid watercolours". Her runway designs even received an aesthetic boost "with the addition of a gas mask and some Mickey Mouse ears".
The Danish creative spent several years in the fashion industry, first as the co-owner of a bespoke artisan fashion shop and then as a stylist and costumier. "Absolutely all of my artistic efforts", she recalls, "were channeled into the field of design and fashion". With each passing year, however, she became increasingly disenchanted, recognizing that her career passions lie elsewhere. It was in the midst of her confusion regarding which new path to tread that she spent a great deal of her spare time painting. While she says that art "has always been a form of escapism for me", she ultimately determined that it was necessary for her long-term contentment.
In one way or another, I spend most of my waking hours thinking about art.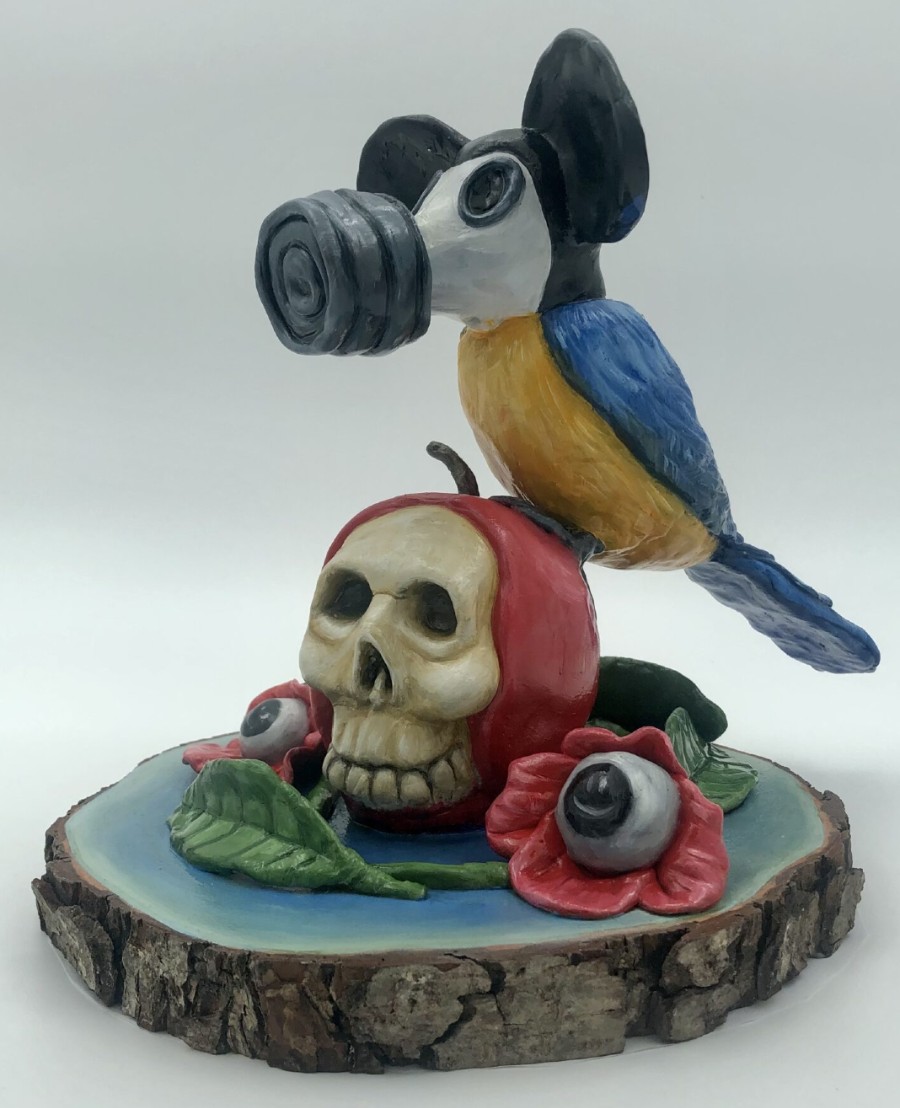 With that realization – and "without knowing anything about the art world" – Kitt Buch boldly embarked upon her new creative journey in 2017. "I've always been a high achiever", she confesses, "and I work hard when I want to accomplish something". That inner drive compelled her to attend an online art school so she could network with like-minded creatives, and from that point forward, the wheels were set in motion. She attended her first art fair "and then – half a year later – I had a studio inside a gallery". The artist's determination to "continue refining my skills" enabled her to feel far more confident and…tah-dahhhhhh…she's finally at the point now where she's now truly owning her profession and "working at it full-time".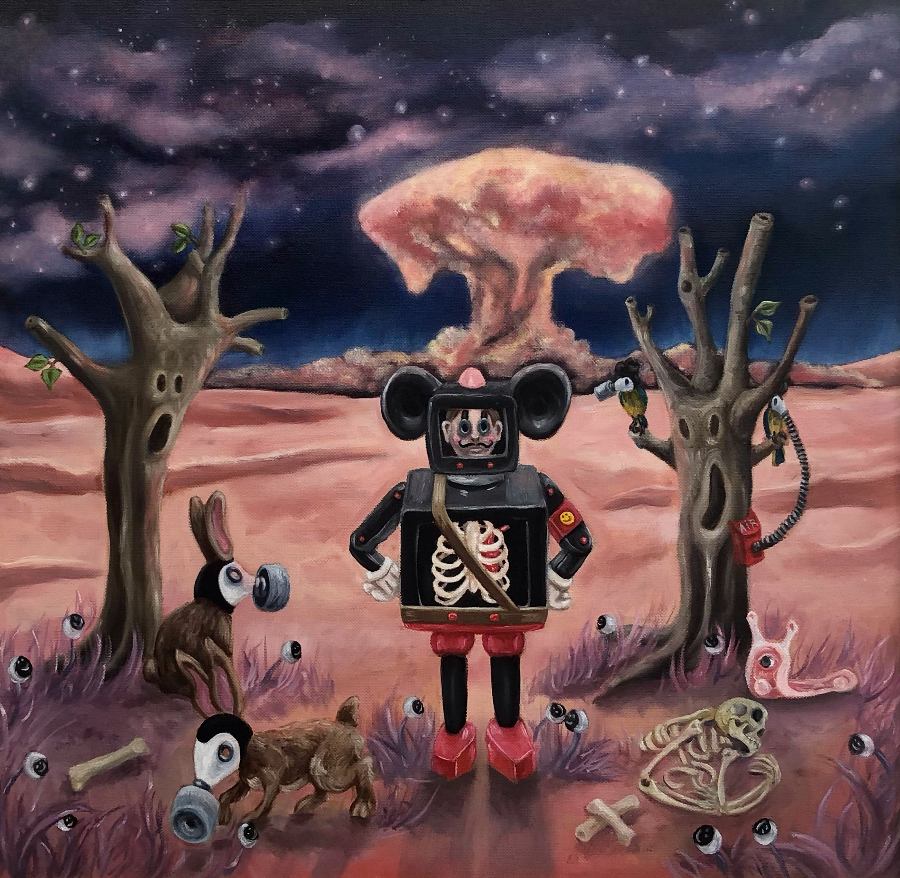 Kitt Buch's creative concepts – which she says tend to be more impactful "when the world feels especially scary" – materialize through a combination of ideation, occasional notations, and rough pencil sketches using various types of reference imagery including vintage photos or her own shots. She then digitally refines her sketch in order to achieve the most aesthetically pleasing composition. When her narrative is fleshed out, she grids her imagery on canvas, moves onto a burnt sienna/white underpainting, and finally applies lots of delicious, ripe, juicy colour, the latter of which she says "is my jam". Her paintings are "rarely planned out from the beginning", and can morph during the creative process if further inspiration strikes.
I really can't imagine doing anything else because what I do now makes the most sense to me.
Oils, which are Kitt Buch's "all-time favourite medium", crown the holy trinity of materials – including watercolour and epoxy clay – that make her creative soul sing. Her nostalgic connection to oils dates back to her early teenage years thanks to the very kind generosity of an elder artist. He bestowed upon her "a beautiful mess of paint tubes and old brushes" tucked inside a wooden box emblazoned with his initials, which immediately sent her to heaven. Her appreciation for "the smoothness of the paint and the smell of linseed oil" only deepened while taking an art module at a technical college, but it was a foundational painting course she took in 2017 "with renowned portrait artist Mads Rye" that truly sealed the deal.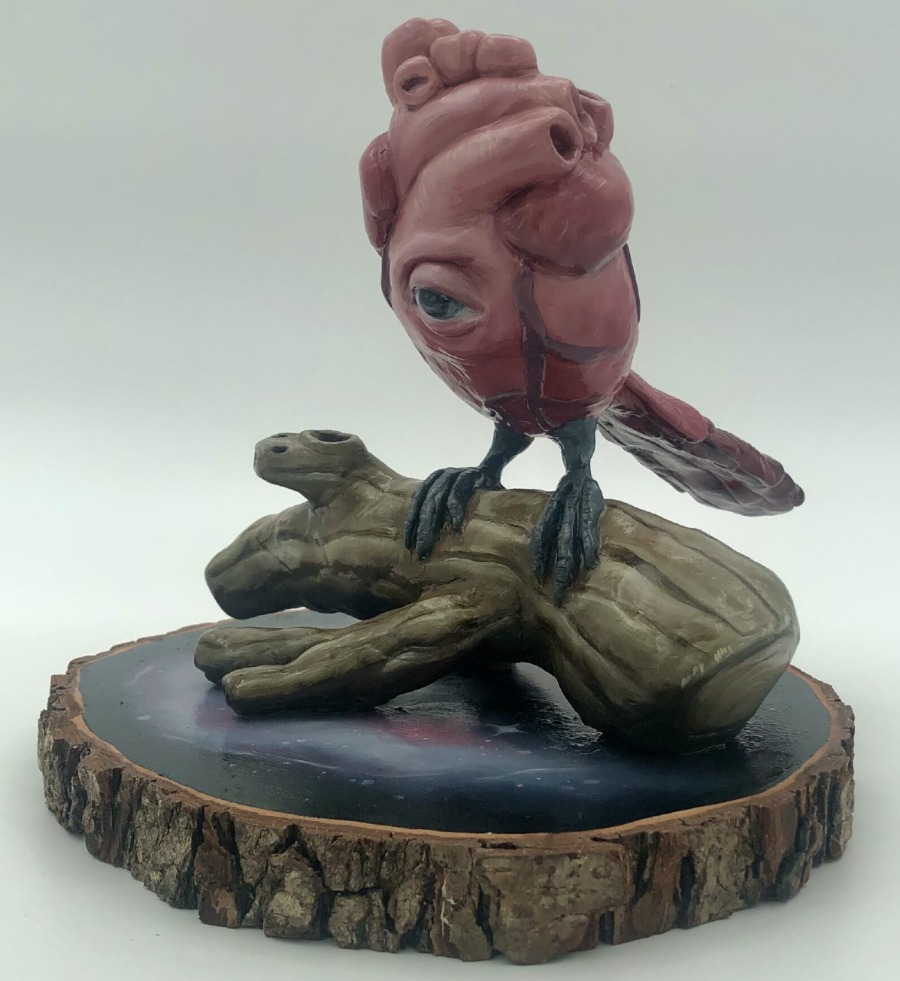 Kitt Buch admits that "in one way or another, I spend most of my waking hours thinking about art", but it's her prolific output that truly underscores the deep commitment that she has to her craft. In 2021 alone, she completed 17 sculptures, 13 watercolours, 12 oil paintings and several drawings. Working on several pieces at the same time is part of her artistic ritual, which is why at the present moment, she has "4 epoxy clay sculptures, 3 sculptures in self-hardening clay, and 5 oil paintings in the works". Outside of the studio, she unwaveringly adheres to one artistic golden rule – "I never leave my home without my sketchbook. Ever!" – and acknowledges that she gets entirely art-geeky about cool ideas that manifest in her mind when she's doing perfectly ordinary things.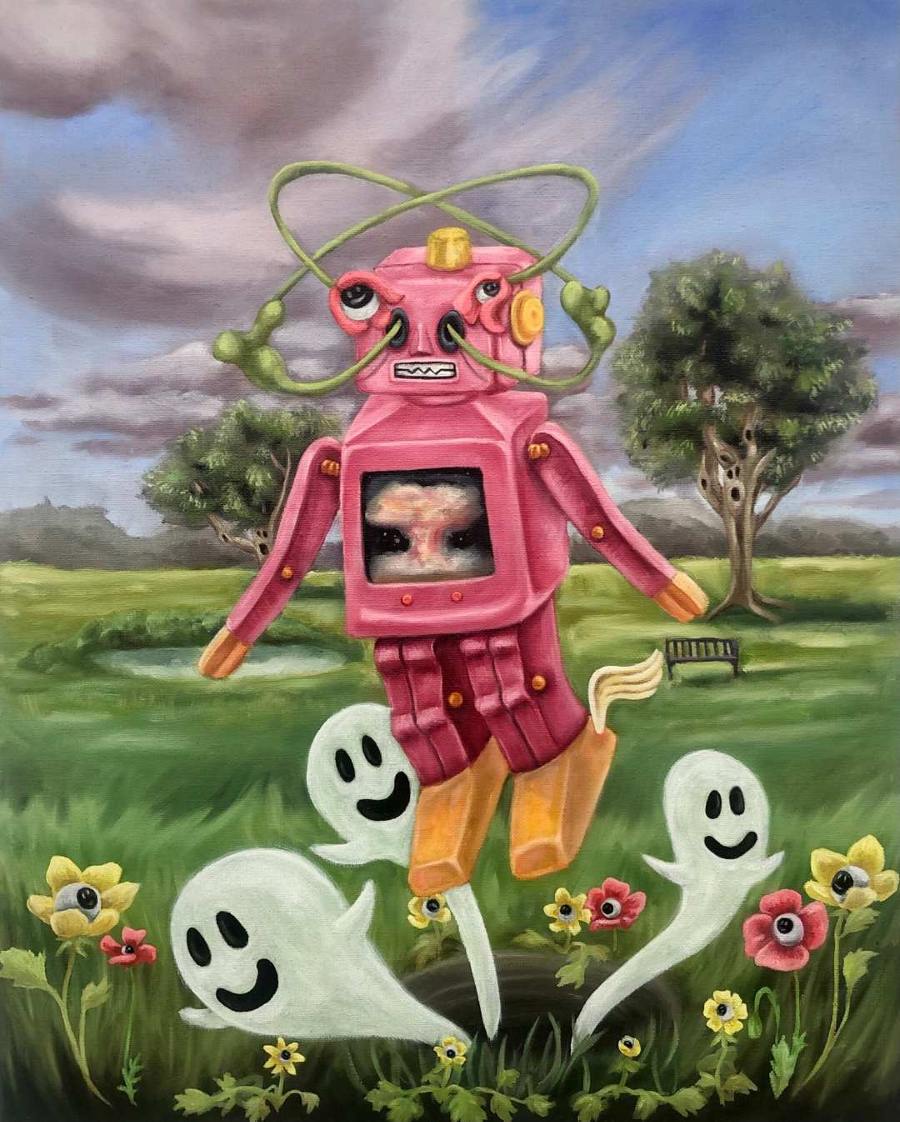 Part of the larger reason why the past five years have been "the happiest and sanest" of Kitt Buch's life is because she's truly made the most of her creative flow state, never missing an opportunity to revel in the ongoing alchemy. Based on the wildly imaginative, kooky-creepy-chaos playing out on her canvases, she's clearly having heaps of fun, as well. Not surprisingly, the painter-sculptor is intent on nurturing "a sustainable art career" that stands the test of time. For Kitt Buch, being an artist isn't just her "entire identity"- it's her "calling"…the one thing that she is entirely certain she wants to engage in for the rest of her days. "I really can't imagine doing anything else because what I do now makes the most sense to me." We can easily see why.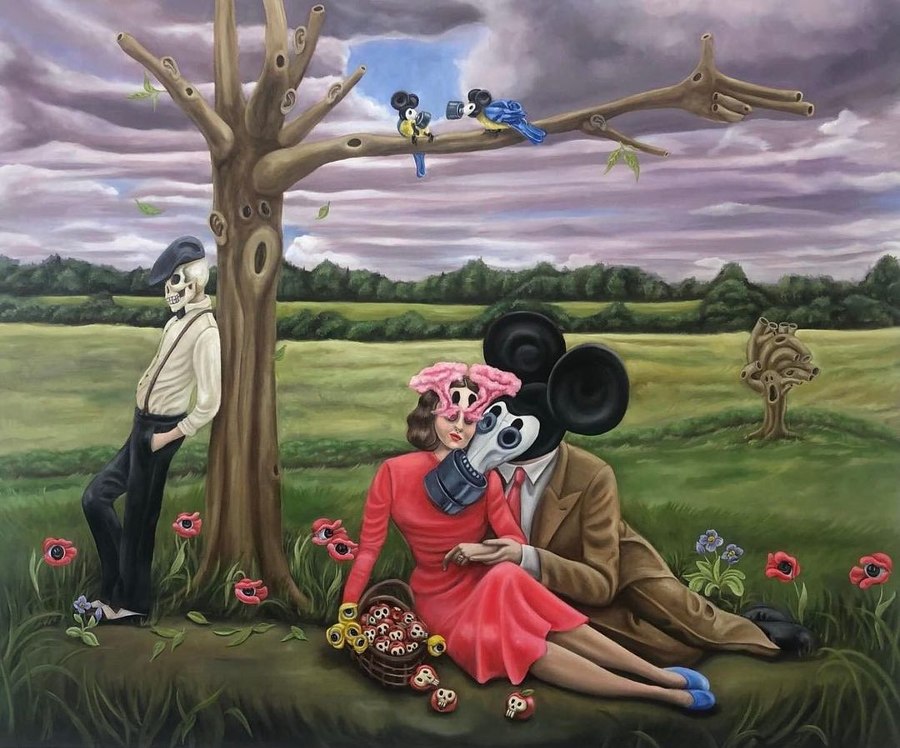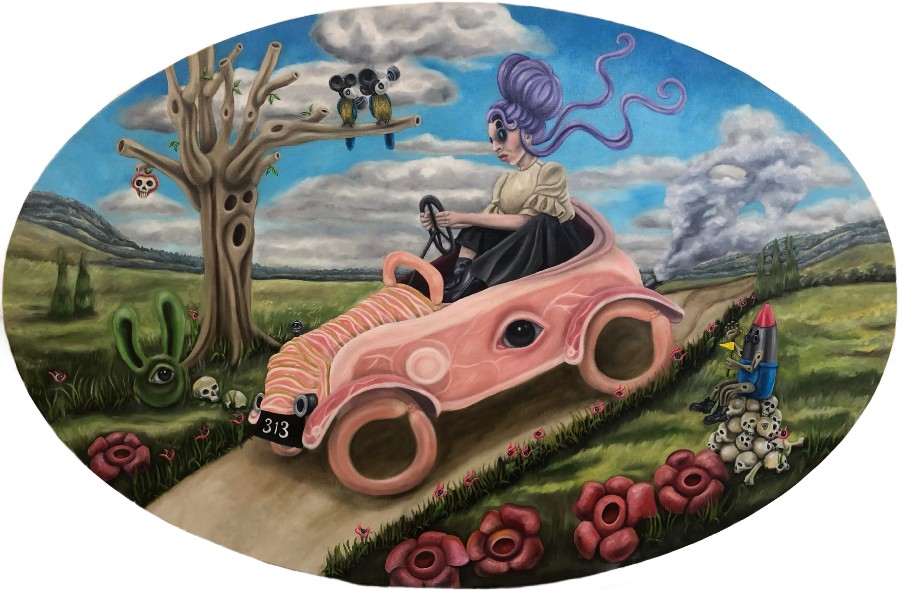 Kitt Buch Social Media Accounts