Once you gaze through the eyes, elements, and aesthetic photography of Emma McEvoy, you will understand her glimpses into the world and beyond. These feminine and nature inspired photos capture aesthetically-pleasing, rare beauty that is nothing short of breathtaking, inspirational, and filled with surreal landscapes.
Inspired by landscapes and emotive aesthetics, tones, and underwater photography themes – McEvoy allows us to join alongside her journey across the rugged planet with moody characteristics, sandy dunes, rugged terrain, and the essence of nature. You can commonly find dainty props, costumes, and warm tones among her alluring photographs – a trio that speaks loudly.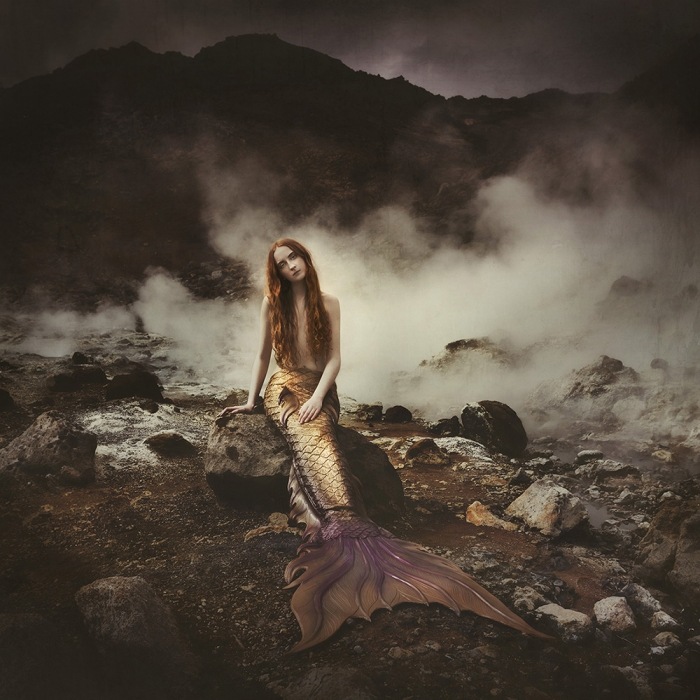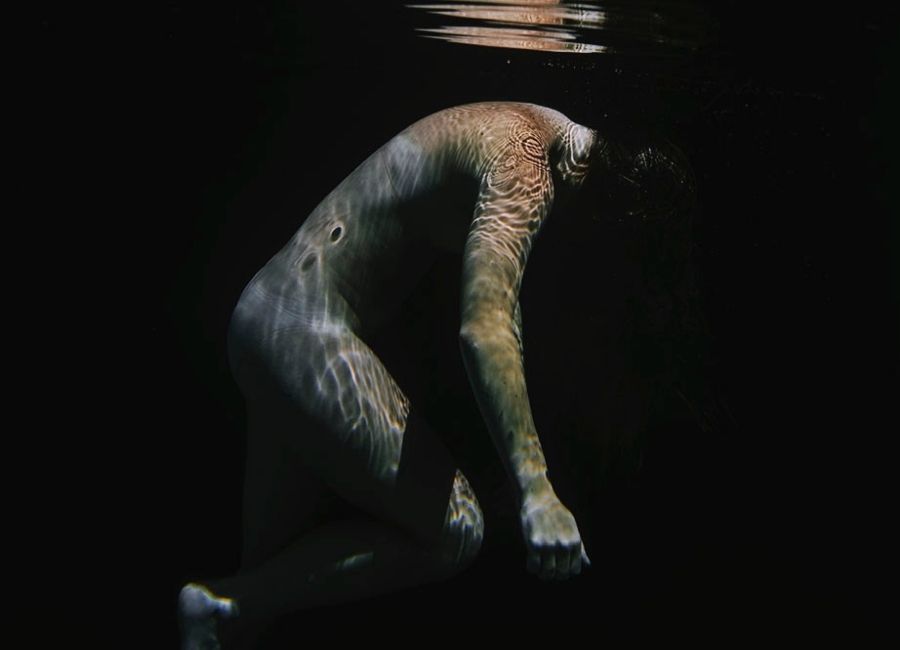 Reflections, Elements, and Photography Aesthetics
Ripples and shadows of sunlight reflect through the water and create stunning results. McEvoy is no rookie; with global recognization, a degree in award-winning photography and captivating talent – she is able to communicate emotions through her models, scenes, and photos.
Behind the camera, chasing the twilight hours, capturing elegant weddings, and aiming for optimal magical lighting that only occurs during both the sunrise and sunset, McEvoy lives a life filled with adventure, aesthetic natural elements, and candid experiences. Dreamy, right?
The stark contrast of blues, greens, and dark tones encapsulates several of McEvoy's photos, which make them memorable and vividly familiar. No idea is too outlandish for this thrill-seeking photographer; the whole planet is at her fingertips.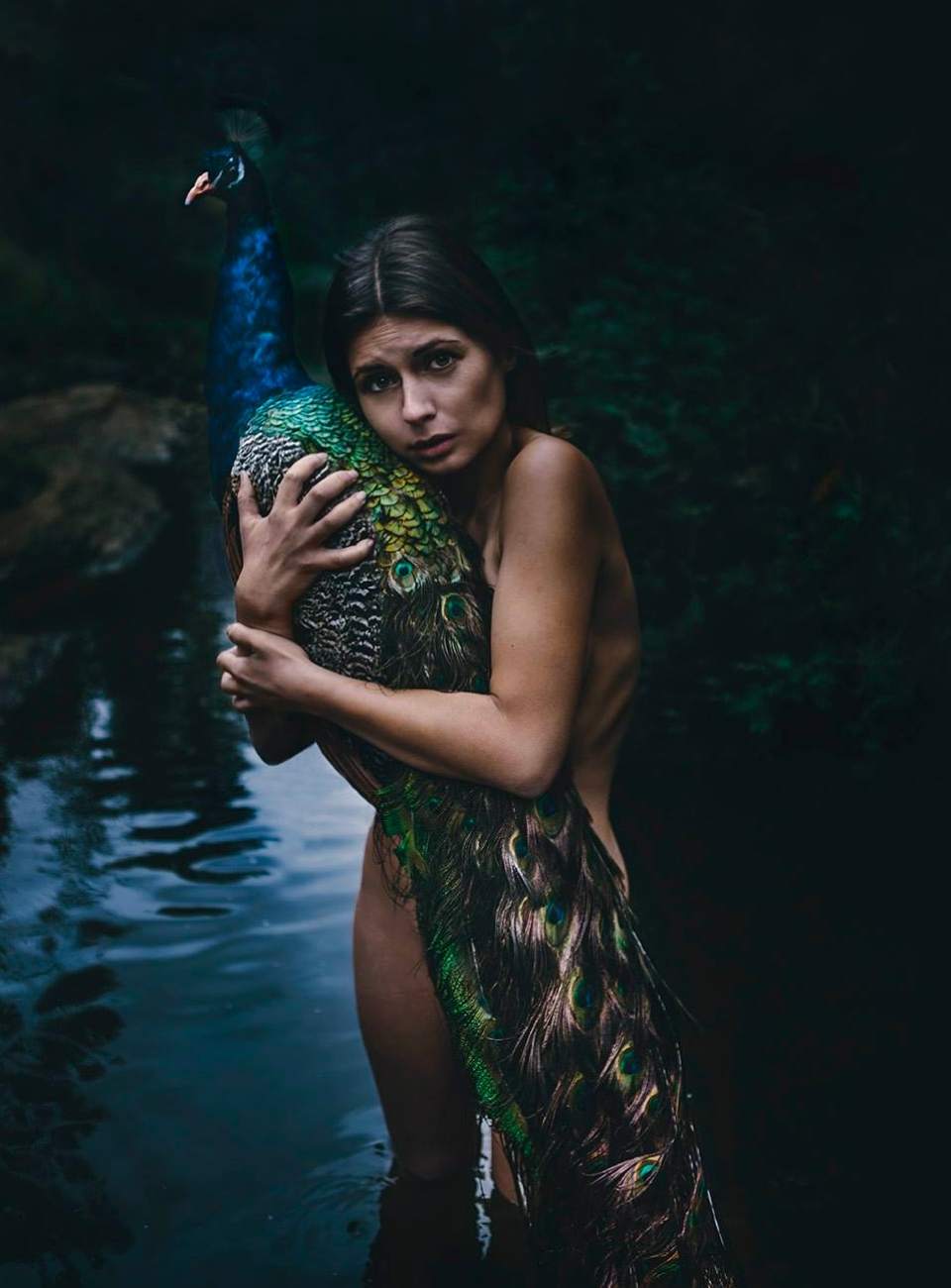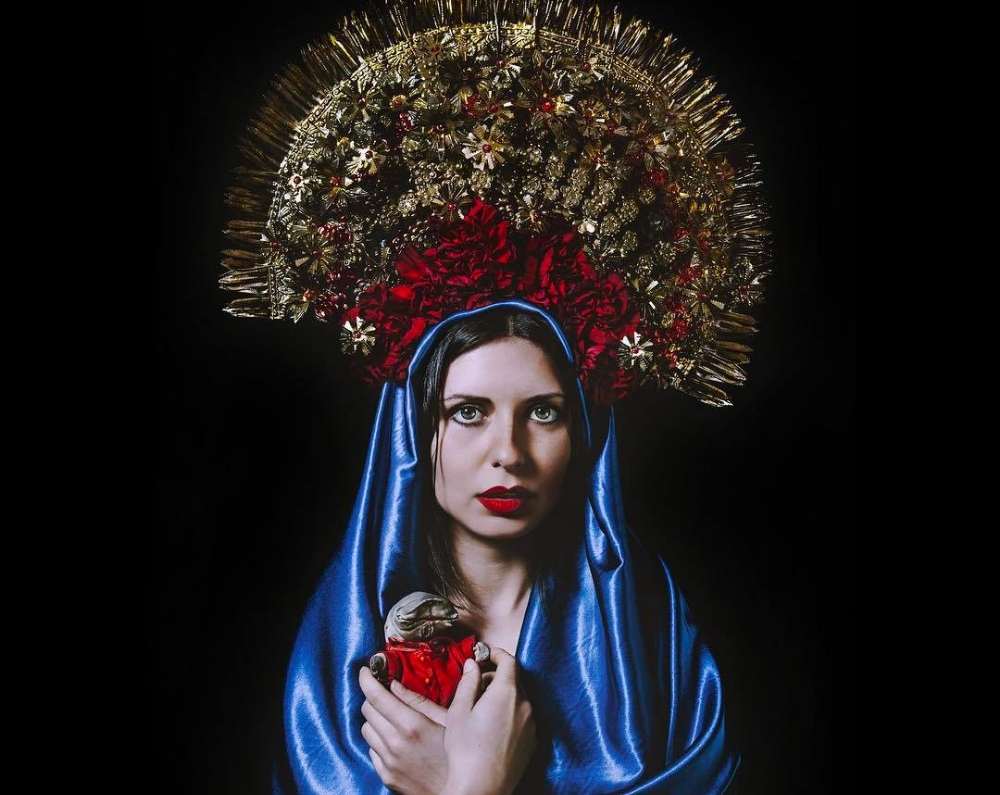 Global Photographer and Photography Inspiration
Emma McEvoy knows no limits as she photographs harsh conditions such as arctic icy climates in Iceland or dry deserts in sunny Africa. There is one thing we can all agree on about the photography of McEvoy, she has a medley of unique visions and is determined to capture them.
Smooth landscapes of water, icy glaciers, and snowy mountains accent some of her photographs –including mystical mermaids who can be found resting among grassy rocks, floating atop rippled cold water, or resting by the sandy shores. Colors of pink, purple, blue, and polar white come together to create vivid imagery that only the best photographers know how to capture, and McEvoy is one of them. No matter what time of the day or type of photoshoot, she will always show up.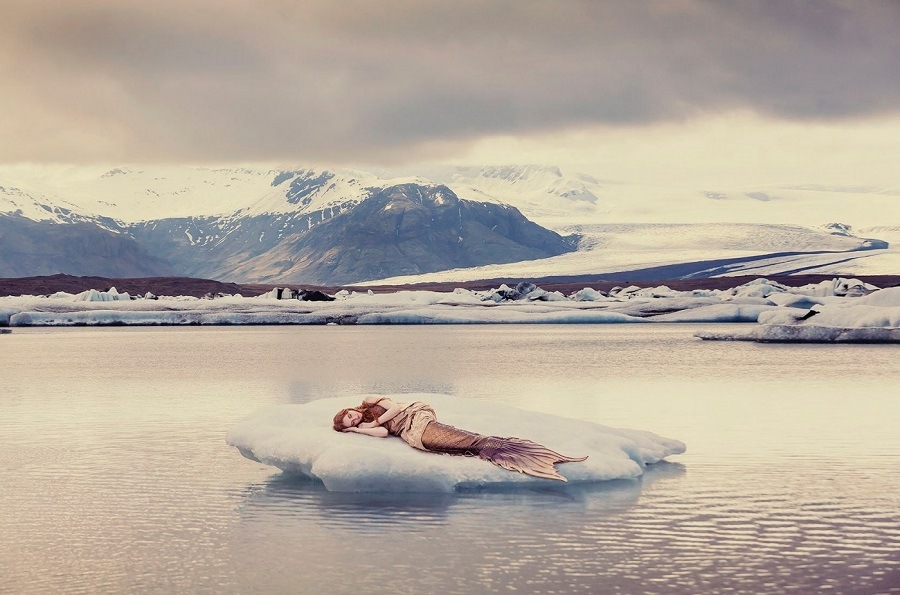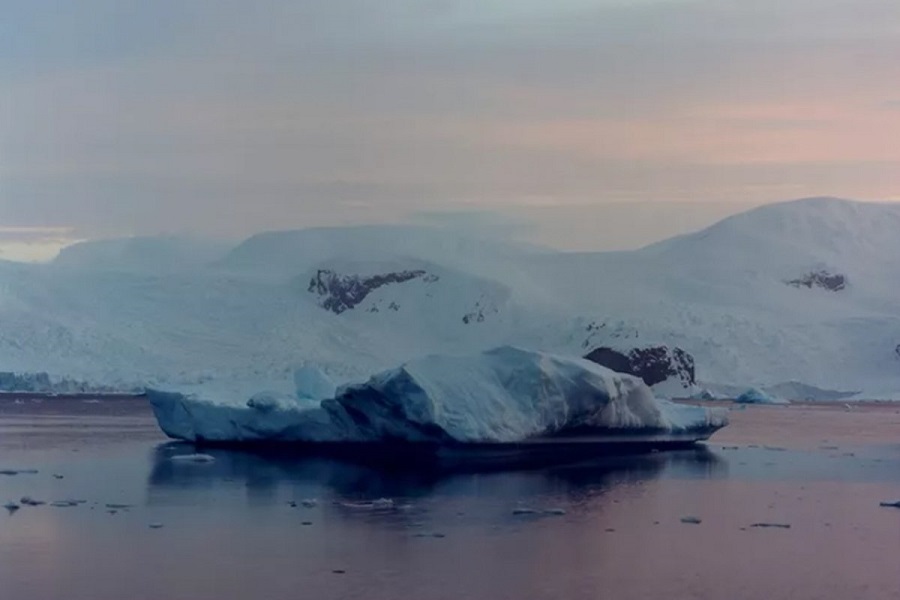 Moody Hues and Artistic Photos
McEvoy enjoys capturing the stillness of costume design and the organic qualities of wildlife. There are no limits to this artist's work as she eagerly chases wherever her mind and visions take her.
Known for darker tones in some of her earliest photographs, McEvoy straddles the lines of surrealism and realism with a passion for both. When she is not setting outdoors or among water-filled scenes, McEvoy is photographing intimate weddings, experiences, and moments with her friends.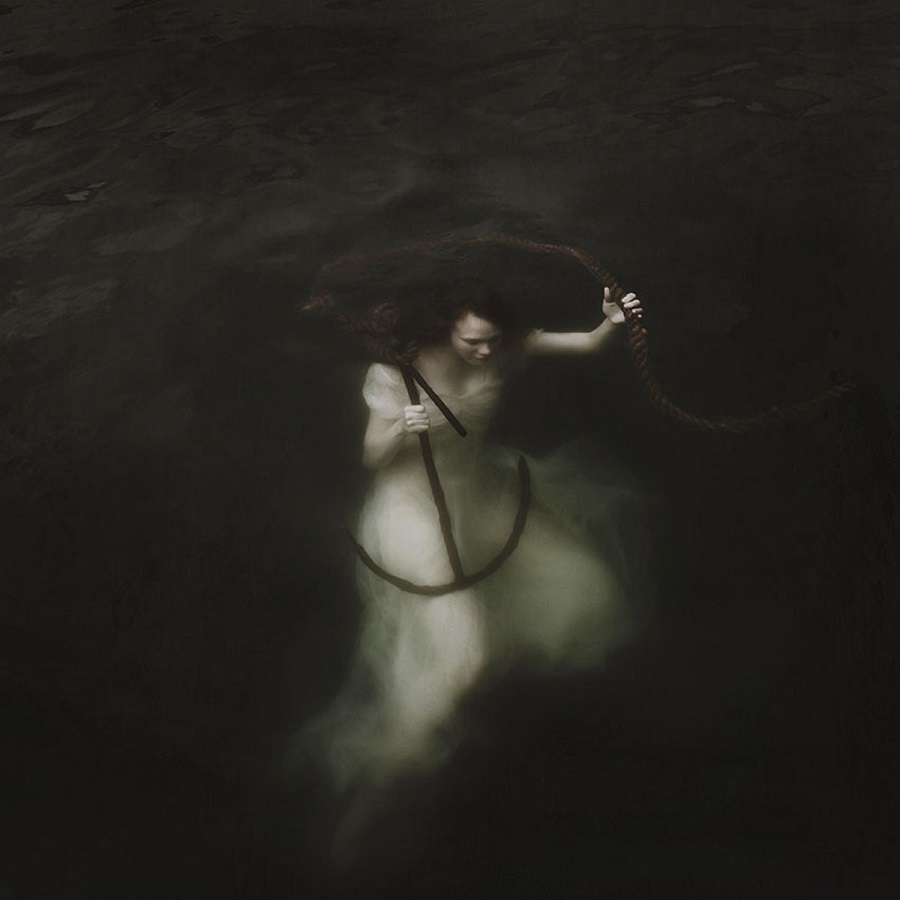 How does one go about a sea filled with feminine and floral qualities? McEvoy mends the gap between the unthinkable and the possible. Delicate blossoms are nestled in the hands of this model as she floats on the surface of a pink lagoon. Dress and all, the image below captures a romantic glimpse of wonder.
Not only does Emma McEvoy do a great job at capturing the natural beauty of nature, but she does a great job at intertwining moody hues with elements of symbolism and dreamy themes, which are almost impossible.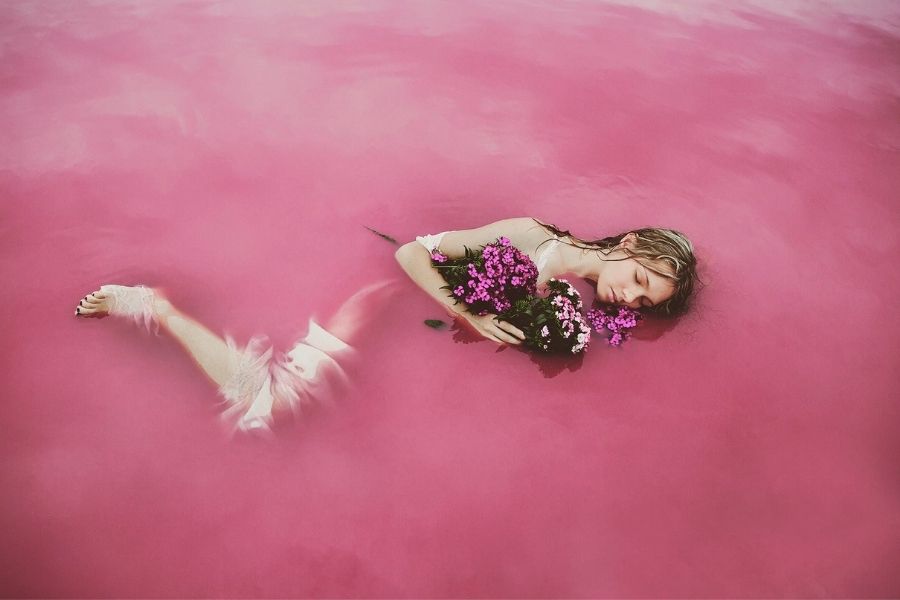 Dark shadows and lighting allow these ethereal photographs to have textural features that are tantalizing, vibrant, and welcoming. McEvoy is able to capture raw emotion in each of her photos–her photographs are the perfect balance of symbolism, figurative, and effortless.
What is it that draws McEvoy to nature? Is it the way the wind creates ripples in the water – sand, or is it the stillness? McEvoy seems to capture both qualities in her photographs as she experiments with different lighting, setups, and exposure settings.
The creative mind of this bright photographer showcases itself through remarkable images that feature experimental and artistic components that are so easy to gaze upon. Below you can see how McEvoy knows no limits…from music to sandy hills, she can capture it all and transform each work of art into something even more breathtaking.
It takes a certain type of patience and ambition to capture the raw beauty of nature and glimpses of models wearing ravishing costumes. So much goes into a photograph, from makeup and costume to the quintessential timing of wind and gravity.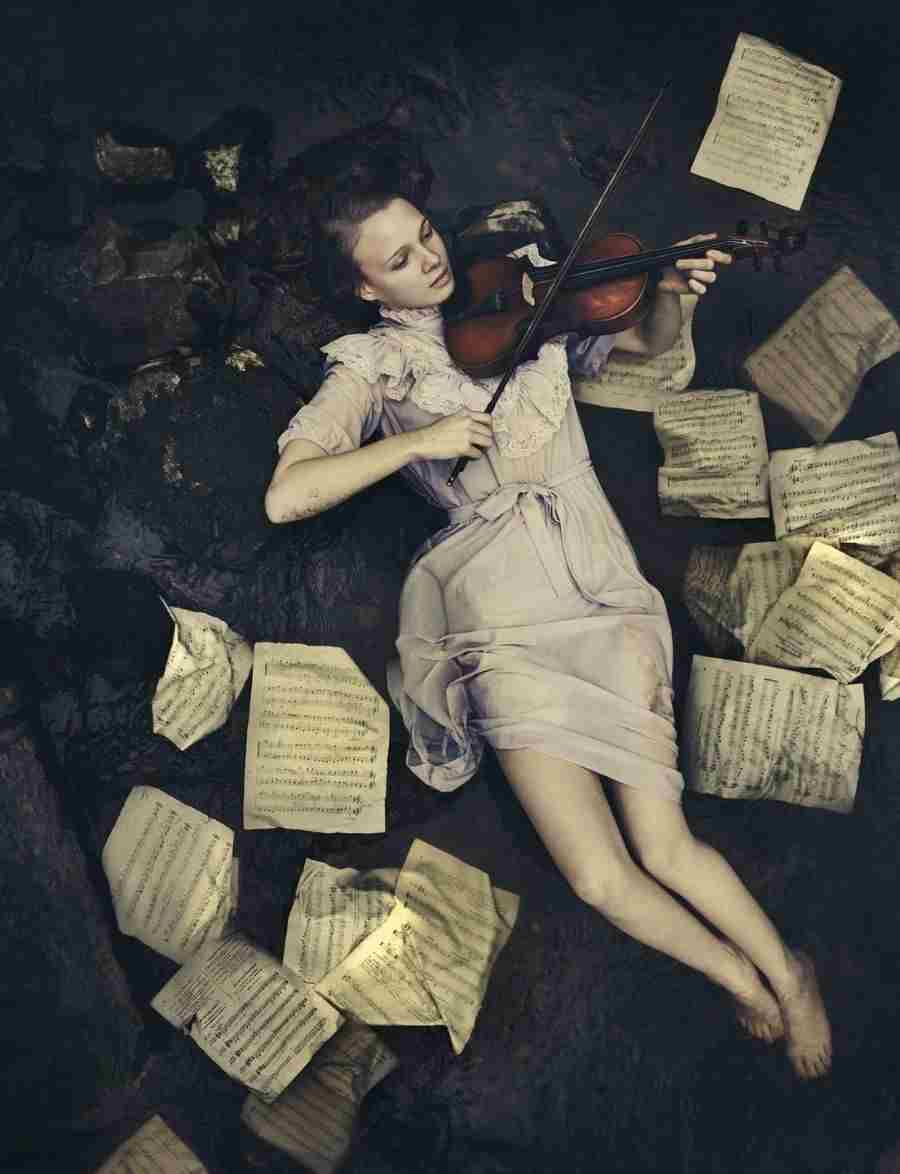 Emma McEvoy Social Media Accounts