Immerse yourself in the abundance of creative spirit as Thinkspace Projects invites you to join them in celebration of their curated exhibition NEXUS III at Brand Library & Arts Center, featuring the solo exhibitions of Yosuke Ueno, The Perez Bros, Amy Sol, Leon Keer, Reen Barrera, and Uriginal AKA (Uri Martinez). Wrap your imagination around each of these beautiful collections and enjoy the journey.
Thinkspace Projects has a full schedule of online events for all exhibitions, including virtual tours, live streaming, interviews and much more… so be sure to follow their blog Sour Harvest to stay updated! If you're looking to add to your budding collection of art, take a moment and visit their store to view available inventory.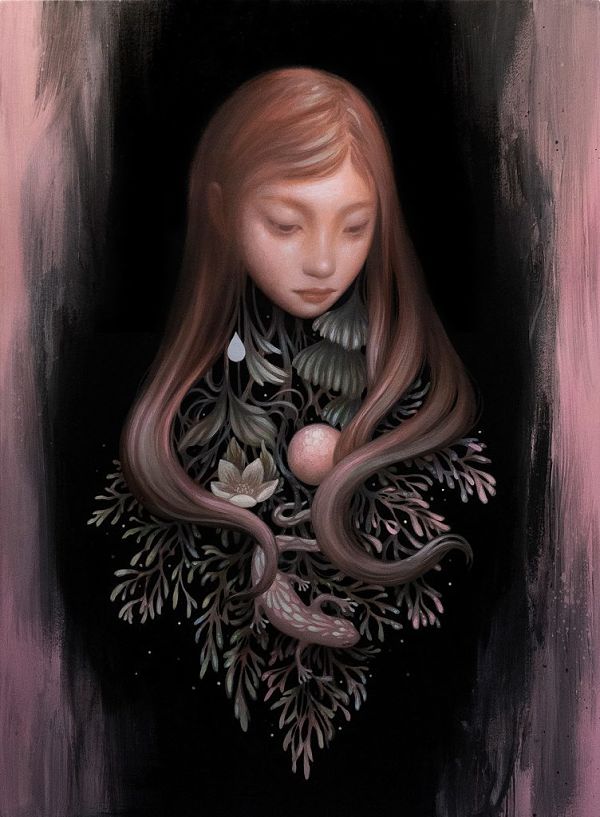 Thinkspace Projects Press // Brand Library & Art Center and Thinkspace Projects are pleased to present Nexus III, showcasing a curated selection of international artists belonging to the New Contemporary Art Movement. This special exhibition will include mini solo shows from Yosuke Ueno, The Perez Bros, Amy Sol, Leon Keer, Reen Barrera and Uriginal (aka Uri Martinez).
Known for its renewed emphasis on figuration, representational genres, and narrative in the wake of art academe's conceptual turn of the 90s, the New Contemporary Art Movement is shaped by a foundational countercultural edge, public activations, and its social impetus. Largely self-supported and community-driven, the movement has taken shape beyond gallery walls and outside of traditional institutional vetting. Now, as diverse and heterogeneous aesthetically as it is geographically and culturally expansive, the New Contemporary has come into its own as a globally energized art movement.
NEXUS III curated by Thinkspace Projects
Yosuke Ueno, The Perez Bros, Amy Sol, Leon Keer, Reen Barrera, Uriginal aka (Uri Martinez)
Brand Library & Arts Center
1601 W. Mountain Street
Glendale, California 91201
www.brandlibrary.org
On View Virtually: November 7, 2020 – January 6, 2021
Thinkspace Projects
6009 Washington Blvd. | Culver City, CA 90232
ph# 310.558.3375 | Tuesday through Saturday Noon to 6pm
THINKSPACE PROJECTS
Thinkspace was founded in 2005; now in LA's Culver City Arts District, the gallery has garnered an international reputation as one of the most active and productive exponents of the New Contemporary Art Movement. Thinkspace has steadily expanded its roster and diversified its projects, creating collaborative and institutional opportunities all over the world. Founded in the spirit of forging recognition for young, emerging, and lesser-known talents, the gallery is now home to emerging, midcareer and established artists that span the globe.
BRAND LIBRARY & ART CENTER
Brand Library & Art Center has been a cornerstone for the arts in Southern California since 1956. This unique public library focuses on visual arts and music and provides free services and programs for a diverse community, including a collection of over 110,000 items, subject specialist librarians, exhibitions, concerts, lectures, dance performances, films, and hands-on craft programs for children and adults. Always evolving, Brand Library utilizes new technologies and continues to develop innovative programs to serve an ever-widening public interested in the arts. Brand Library & Art Center is a branch of the City of Glendale Library, Arts & Culture Department.
A self-taught painter based out of Tokyo, Yosuke Ueno is known for his imaginative, character-driven worlds created in symbolic pursuit of innocence, hope, and positivity. These loosely narrative-based paintings evolve intuitively, the artist's approach to his compositions seldom premeditated, preferring instead to embrace the creative tangents of his subconscious. By allowing the process of painting to dictate the outcome, the works host a recurring cast of playful creatures, hybrids, and psychotropic fantasies. The artist, amidst these playful gestures, emerges as an inventor of psychedelic metaphor and cultural pastiche, freely combining references to everything from Japanese culture, ancient Greek mythology, Tokyo Street fashion and video games to Disney animation and the Western canon of art history. Driven by a genuine desire to capture our philosophical interconnectivity through art, Ueno's multicultural references coalesce through the unpretentious spontaneity of his imagination and a fundamental belief in the universality of a shared condition.
Thematically, Ueno's works are inspired by several influences, including the polytheistic tradition of Japanese Shinto, an ancient Japanese religion with a symbolic tradition of personifying the sacred energies of every living and inanimate thing as individual deities. According to this worldview, the universe is a complex amalgam of sacred, interdependent energies and personalities, and the tangible vessels of this plane, inhabited by the spectral presence of spirits and ancestry. The multiplicity of this theistic framework posits the coexistence of complex symbolic worlds on an infinite level, with entire microcosms existing in endlessly divided parts of the whole: an infinite precondition necessary to the surreal.
Other major influences apparent in Ueno's works include Japanese Animé, specifically Manga and Studio Ghibli, particularly the works of artist and filmmaker Hayao Miyazaki, and theatrical pictorial conventions borrowed from art history, like the memento mori typical of the Baroque or the Northern Renaissance's penchant for Vanitas, both devices prophetic heralds emphasizing the inevitability of human mortality. Ueno has been known to appropriate classical works of art as well, directly reinterpreting them through the cast of his aesthetic; Johannes Vermeer's mid-seventeenth century, The Milkmaid, and Manet's Impressionist masterpiece, A Bar at the Folies-Bergère, for instance, have both made appearances in Ueno's current repertoire.
Unexpected juxtapositions and cleverly contradictory elements emerge and interact within Ueno's worlds, while a surreal freedom conflates the ordinary restrictions of time and space in support of its fantasies. The ancient and the contemporary are continually recombined, existing on a timeless plane through the simultaneous referencing of the traditional and pop-cultural. The unexpected poetry of these alliances, much like the paintings themselves, reveal complex accretions of cultural sediment, the result of an unimpeded admixture of worlds. Anchored by the concept of Yin and Yang and the elemental balance of the light and dark forces it implies, Ueno's works strive to capture the plasticity and flux of these energetic constellations as they vie for poetic balance and positive resolve.
The Perez Bros are identical twin brothers Alejandro and Vicente (born 1994) from South Gate, CA. After graduating from South East High School, they attended Otis College of Art and Design to pursue a degree in Fine Art focusing on painting. At Otis is where they began working as a collaborative duo.
They were exposed to the car culture in Los Angeles at a very young age. Their father has been a part of a lowrider car club for as long as they can remember. They are fascinated with the culture, from the cars to the models, to the people and the music. Through their paintings, they try and capture certain moments that they see when they attend car shows, that personify the experience for them. Larger paintings seem to capture the mood and feeling of these car events, while smaller paintings tend to capture more intimate events. Through their paintings, they hope to make the viewer feel as if they were attending a car show.
Amy Sol, "Forest Dreams"
Amy Sol's poetically measured images retain traces of melancholic pause in spite of their idyllic beauty and calm, feeling at times like the magic of fairytale tempered by the ambivalence of the adult. Personal and simultaneously universal, the powerful quiet of her works forces a reflective distance into an otherwise unmanageably chaotic visual world.
Sol's graphic and illustrative inspirations are drawn from enduring collective influences. Everything from animation to decorative design makes an appearance in her esoterically stylized worlds. Influenced by Japanese manga and the whimsy of Ghibli films, as well as the idyllic natural worlds of classic-era Disney and the Golden Age of turn-of-the-century American Illustration, Sol Incorporates references to varied cultural and folkloric embodiments of the feminine. Her works often feature a female protagonist in collusion with supporting animal or creature characters, a tradition of friendship long spun in popular culture from animé to Bambi.
Presented in a state of calm albeit apprehended action, the narratives she advances remain partial and unresolved moments, mere glimpses in a shifting arc rather than a finite plot. These imagined propositions are lawless rather than earth-bound imperatives. With a creative unhinging, Sol's limitless imagination slips fluidly beyond the restrictions of the real into a world of surreal gentility.
Technically self-taught, Sol has spent many years perfecting her own mixed pigments and materials. Known for a distinctive palette with a subtle ghostly cast, she has in recent years experimented with more intense contrasts and darker hues. Her use of color often recalls late 19th and early 20th-century illustration, art nouveau design, and even the Celadon vases she remembers from her childhood. The diffuse effect of her pigments, however, tends to feel generally nostalgic rather than specifically referential, as though drawn from a distant and strangely non-existent past. Her technique is labor intensive, involving the application of several layers of acrylic washes to achieve the translucence and opacity of her surfaces. She is also using oils and exploring sculpture in her latest bodies of work. Preferring wood panel to canvas for its unique material qualities, Sol often allows the organic nature of the substrate to dictate the direction of her compositions.
Leon Keer is a world leading artist in the anamorphic street art. He has executed commissions in Europe, The United States, Mexico, The United Arabic Emirates, Saudi Arabia, Russia, New Zealand, Australia and several Asian countries.
A message seems to be present in his work. Current issues are reviewed, such as environmental concerns and the livability of this world. Leon Keer is constantly aware of the playfulness and beauty versus the degradation around him, a contrast that he expresses and amplifies in his work and which he uses as a metaphor for live.
His paintings reflect his thoughts, confronting the viewer with the diseased spirit of our times, visible decay counter-pointing a timeless longing for unspoiled beauty. The artist adds: "Every street art piece is unique and belongs to the street and its residents, the temporary fact about this art form strengthens its existence".
Born in Paris, France, in 1990, Reen Barrera was not a spoiled child growing up, with memories of only owning a small handful of beloved action figures and considering himself a "toy deprived kid". To fight his boredom and explore his creative side, he started to make his own toys using found objects, not knowing he was already on the road to becoming an artist.
Barrera took art classes in high school and attended college with fine arts and advertising as his majors. In 2014, shortly after graduating, Reen decided to pursue being a full-time artist and has exhibited his work all over the world in the past decade.
The artist adds…. "There is this idiom that says "It's written all over your face" which gave me an idea that regardless of what we say, our true feelings can still be emancipated by our facial expressions. For me, it's a silent way of communicating something without noise. It is where I find the inspiration to literally remember those facial expressions, create an artwork out of it, and mix it up with different symbols and patterns. Us human beings have the same mold, we all have the same attributes, what differentiate us is the circumstances that we are born into. And one thing that I want to emphasize is the amount of detail each piece have, like us, some have some while some have most.
In some artworks, I discreetly take on socio-economic classes. Some people are born rich, mid class, some are poor. But the common ground is, everybody will have no choice but to deal with it. So I cover all their heads with a canvas cloth to give my OhLala characters a freedom to paint their own symbols on their heads as if they are designing their own fate. And I guess that is what we all have in common, the power to make things happen for ourselves.
Acrylic, oil, and aerosol paint are my choice of medium in painting, a lot of times I often let accidents like drips smudges and splatter help me to decipher on what to do, I do start with a very loose abstract figures to overcome the fear of an empty canvas staring at me. In this collection of work, I try to become personal as possible, using ohlala as my main character to depict some of my experiences that leads me to where I am right now as an artist".
Since the beginning of the new millennium, a street art scene in Barcelona, Spain emerged and has quickly become one of the most vibrant in Europe. Among many Spanish urban artists who gained wide recognition and acclaim is Uriginal, a Barcelona-based creative who became known for his pieces inspired by historical masterpieces and popular imagery. He brings to life the famous subjects of iconic paintings by utilizing bright colors and bold lines, along with the use of a kaleidoscope geometric pattern throughout many of his artworks. His pieces grace the walls throughout Barcelona.
Influenced by individualized and distinctive style of the most famous Spanish architect Antoni Gaudí – especially his multicolored mosaics – Uriginal has developed a unique aesthetics and style that goes from the reinvention of Marvel Comics heroes to Pop Art to the characters of Star Wars, from Spanish painting or flamenco to the Barcelona Graffiti scene. He describes himself as "the son of a matador from high Ampurdán and a florist from the Ramblas of Barcelona" whose dream from childhood has been to become the national "King of paella".
His characters are tessellated mosaics, seemingly in constant alteration, as if they were appearing or disappearing. The vivid color, humor, and irrepressible creativity, are all part of Uriginal's alluring visual language.
Thinkspace Projects Social Media Accounts
Website | Facebook | Instagram | Twitter
Brand Library & Art Center Social Media Accounts