After eight years of eclectic shows, Krab Jab Studio finally prepares to close its doors to the world of exhibitions within its current space. Krab Jab Studio has seen it all, opening its arms to illustrators, symbolists, and spiritualists, to those exploring in the realms of fantasy, fine art, ritual and even the cabalistic. Julie Baroh originally opened Krab Jab as a working artist studio before evolving it into a gallery space, utilising her 20+ years' experience as a commercial illustrator, background in fine arts and time as a curator and art director to help solidify the foundations for Krab Jab's future. Having built a space where artists can evolve and flourish, the news of changes on the horizon have stirred both excitement and curiosity. The gallery's co-owners Julie Baroh and Kyle Abernathy have thought long and hard about their upcoming evolution of Krab Jab Studio, and it's clear that their latest venture, Mainframe – a frame shop linked to the same building – will be a key element in their upcoming projects with artists still at the heart of it all.
"Krab Jab will be going through a big growth spurt in the next few years…" Julie explains, cryptically, with a smile.
For now, however, prepare to enjoy the Muppett Rawk!

Krab Jab Studio
5628 Airport Way S. Seattle, WA, 98108
Exhibition Dates:
February 10 – April 8, 2018
Featured Artists:
Brian Snoddy, Dev Madan, Erin Middendorf, Memo Diaz, Augie Pagan, Rob McDaniel, Tim Gillette, Raj Nattam, Jordan Kotzebue, Dominic Sodano
It's time to put on makeup, it's time to light the lights!
Finishing with a playful bang, Krab Jab Studio are hosting the 4th Muppett Rawk! a series of re-imagined album covers – using the Muppets! "The concept started a few years ago when a group of the artists [featuring in this year's show] were sitting around in a bar thinking of fun projects to do outside of work." explains Julie. Celebrating the powerful imagery of the album cover which has re-evolved over the decades, the artists involved have certainly pushed it to the next level of fun and wonder. Keeping it local, all of the artists except for Thomas Gillette are from the Seattle area, with the majority enjoying roots in the video game industry.
The show is certainly a memorable note to end their current cycle on. Seeing Erin Middendorf's portrayal of Ghost's album Opus Ebattymous compiles both talent and humour in perfect harmony: "I have a penchant for dark and spooky themes, and melodically impactful rock music" muses Erin. "Add the fact that Ghost does not seem to take themselves too seriously, and you have a recipe for fun. I'm featuring one of my favorite Muppett characters from my childhood – Count von Count, as Papa Emeritus. I think he makes for a very fun undead Pope."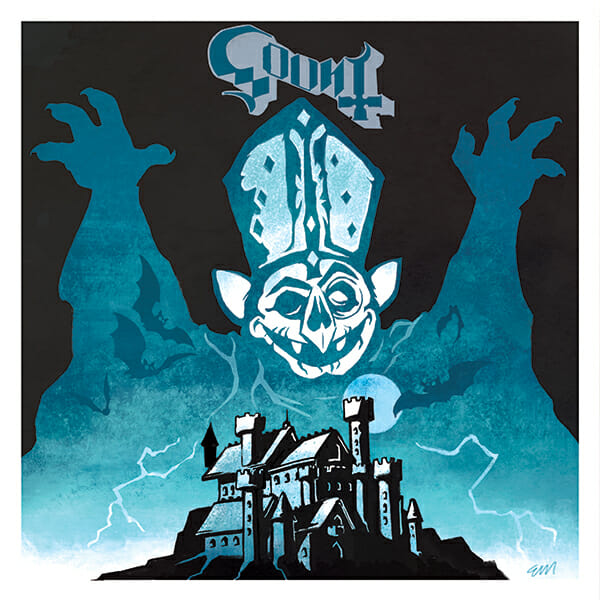 Erin Middendorf – Opus Ebattymous
Elsewhere, Augie Pagan's 'Animal' manages to perfectly encapsulate the signature Iron Maiden style of artwork, while Tomas Sisneros keeps the beautiful intricacy of the Beatle's original cover for Revolver – with one or two changes! Memo Diaz's piece 'Theatre of Pain' provides a witty throwback to the wild years of devil worship and glam rock: "The Crue and the two old hecklers from The Muppet Show were a perfect marriage for this album mash up!" Memo describes, and we can't argue with his choice, while Tim Gillette's Motorhead/Electric Mayhem mashup provides a real feast for the eyes.
Special Event: Keep your eyes open on the Krab Jab Studio Facebook page as there will be a special event on Saturday March 10th from 6-9pm unveiling the new Muppett Rawk pieces by Brain Snoddy, Esther Heckman, Jordan Kotzebue, Augie Pagan, Dev Madan and Julie Baroh. More artists will also be announced in the coming weeks!
All the piece in the Muppett Rawk! Are available for sale online on the Krab Jab Studio website. The show runs through to April 8th, 2018. Opening hours are Wednesday-Sunday, 11am-6pm.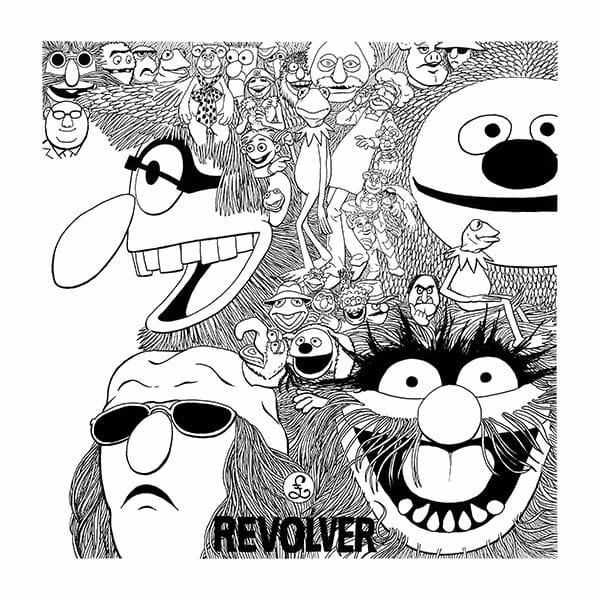 Tomas Sisneros – Revolver
Dominic Sodano – Frogspring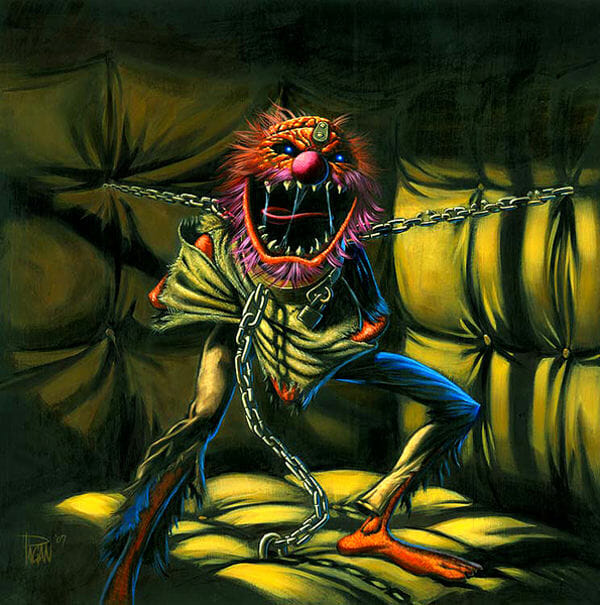 Augie Pagan – Animal
Brian Snoddy – British Steel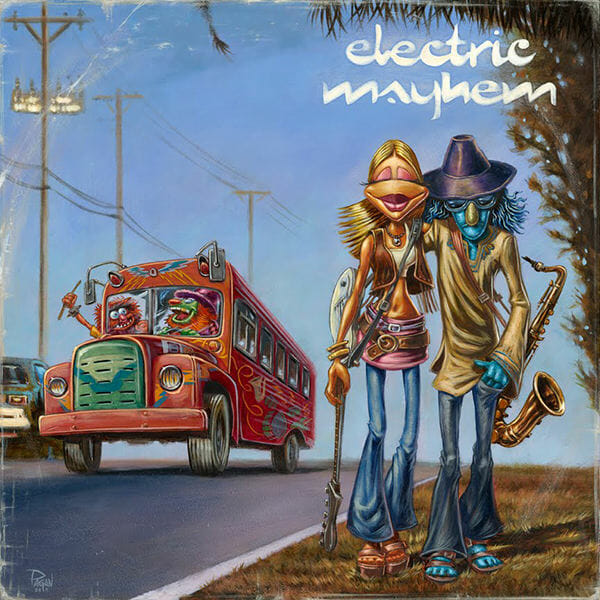 Augie Pagan – Electric Mayhem
Brian Snoddy – Jailbreak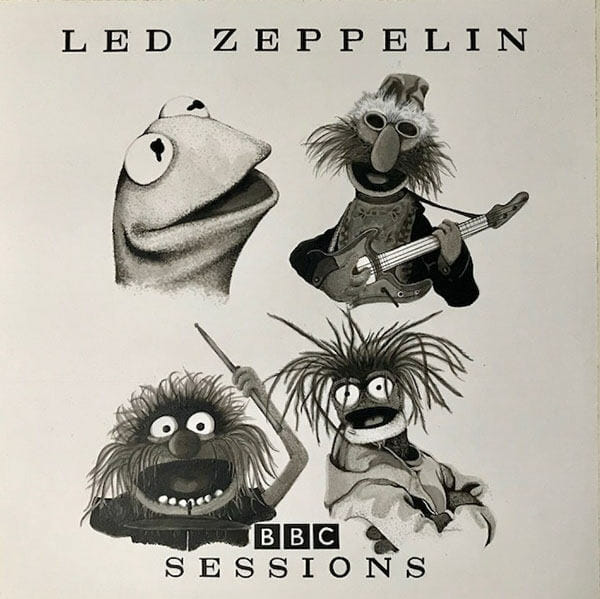 Esther Heckman – Led Zeppelin BBC Live Sessions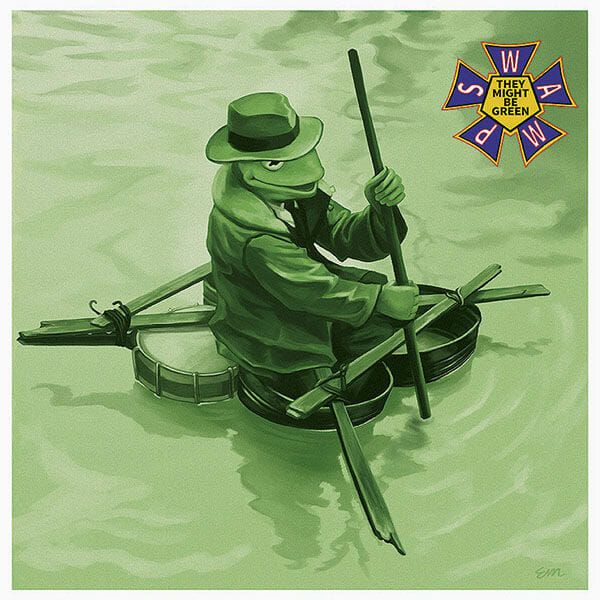 Erin Middendorf – Swamp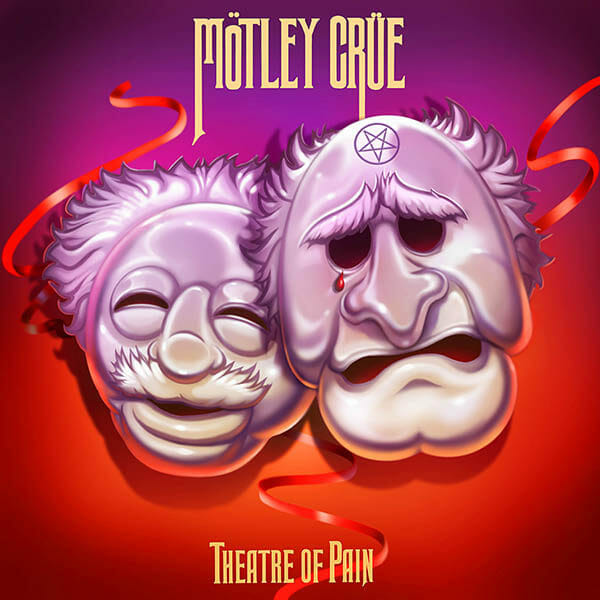 Memo Diaz – Theatre of Pain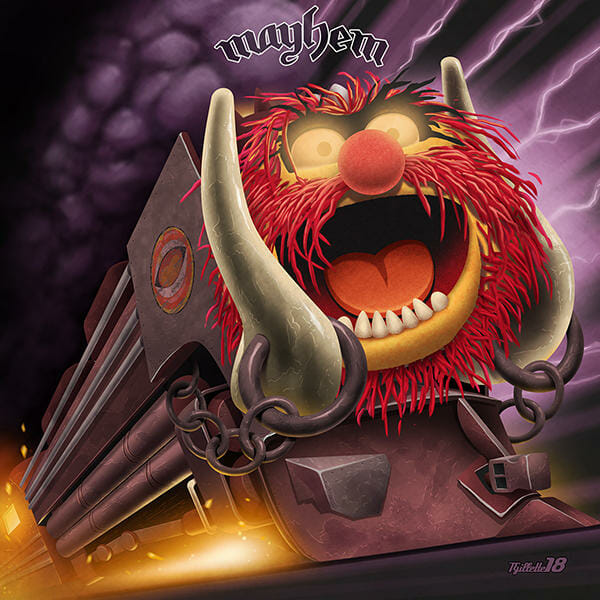 Tim Gillette – Mugasmatron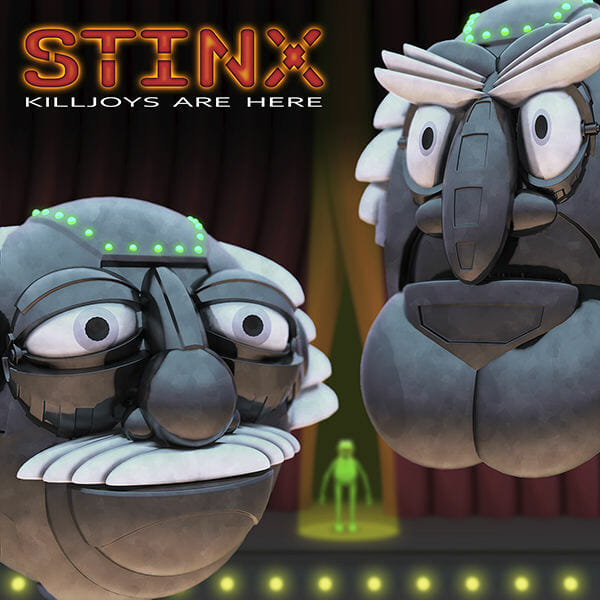 Rob McDaniel – Stinx: Killjoys Are Here