With astounding beauty, edge and grace, IX Gallery's latest group show has the perfect mix of modern contemporary art. Bringing together over 20 artists and nearly 70 works, you can enjoy the full experience from your very home; in the online gallery's first large group show of 2018, get yourself comfortable and prepare to delve into the Event Horizon, exploring some of the very best imagery falling under the heading of imaginative realism.
Charles Young Walls – A Private Audience
Exhibition Dates:
January 1 – February 28, 2018
Featured Artists:
Thomas Haller Buchanan, Bruno Di Maio, Felipe Echevarria, Jeff Echevarria, Jennifer Gennari, David Gluck, Chuck Grieb, Mark Heine, Richard Hescox, Bruce Jensen, Steven Kenny, Tomasz Alen Kopera, Billy Norrby, Lucio Parrillo, Shane Pierce, Mark Reep, David Stoupakis, Anthony Waichulis, Charles Young Walls, Huseyin Yildiz, John Zeleznik
With over 40 years experience, Thomas Haller Buchanan brings together an alluring feast of mixed media sirens and fantasy. His ability to keep his subjects doused in humanism, portraying their fictional cultures, personalities and feelings, has made his work highly sought after. Known for his vibrant and often carnal surrealist works, Bruno di Miao's powerful paintings reflect his love for Renaissance art with 'The Ship of Fools' providing intrigue and humour, wrapped up in subtle allegory. If you are looking for something a little more raw, Felipe Echevarria's highly textured paintings immediately catch your eye; his females, created in a self-confessed "playtime [in] a merging of color, destroyed edges [and] fun poses" stand bold and centre-stage.
In contrast to Echevarria's vibrancy, Jeff Echevarria's greyscale mixed media works capture passion, movement and magic with acute attention to detail. Classically trained figurative artist Jennifer Gennari's oil paintings are the epitome of elegance, and David Gluck's piece 'Fall' resonates a special serenity in the Autumn scape. Chuck Grieb's mischievous casein on paper creations mix illustration with the memories of childhood tales, drawing you straight back to the ages of classical adventure and folklore.
There's something particularly mesmerising about Mark Heine's oil paintings; playing with perspectives, you move from mere viewer to be pulled deeply into the worlds he creates. Richard Hescox's fantastical portrayals of far away lands explore the beauty and mystery of exotic cultures, and Bruce Jensen's starkly colourful series of Alien Menageries celebrate his interest in science fiction imagery. The mystery and charm of nature have always been deep-rooted elements to Steven Kenny's works, and his pieces for Event Horizon example his mastery of traditional oil painting techniques.
The unmistakable painting by Tomasz Alen Kopera displays his usual prowess with oils, providing another darkly stunning piece exploring the human psyche in the modern world. Bill Norby's works share his more delicate, subtle side through a selection of paintings doused in gentle reverie, while Lucio Parrillo captures the enticing and powerful women of well-known modern fantasy. Shane Pierce's 'Morning Dreams' strikes into your heart with the brush stroke taken, and if you are looking for something a little subtler, Mark Reep's collection of charcoal and graphite landscapes may be the perfect match. Never disappointing, David Stoupakis's 'Pale Rider' bathes in gothic surrealism, and Anthony Waichulis' 'Curious Connections' invites you the viewer to explore his visual clues to develop your own end meaning.
Charles Young Walls paintings 'convey a deeper reality, not a photographic feel', and revere the female form within all of their grace; exhibiting three new paintings, they are not to be missed! With sharp and bold talent, Huseyin Yildiz shares his transition from digital painting to oils on canvas in his selection of science fiction-inspired works, and John Zeleznik's collection of dynamic artworks play in the realms of sci-fi and fantasy with effortless beauty.
Event Horizon will be on show until Wednesday February 28, 2018. Visit the IX Gallery website to see the full line-up of pieces being exhibited.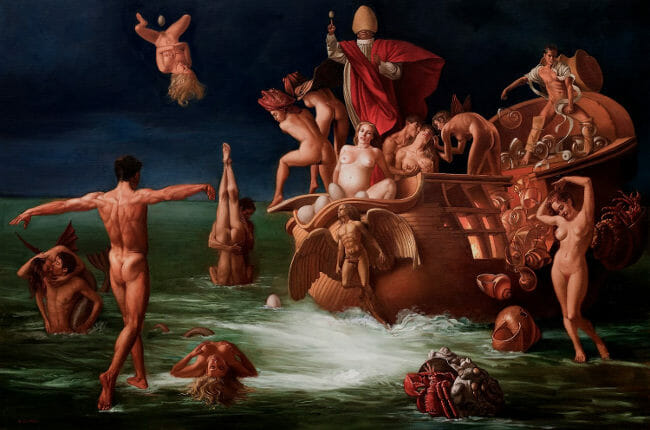 Bruno Di Maio – The Ship of Fools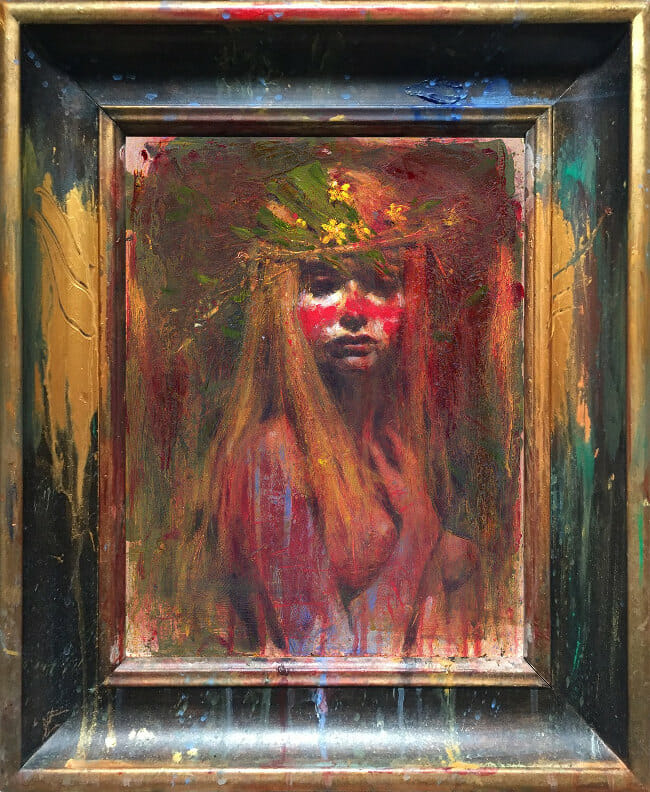 Felipe Echevarria – New Guardians 2