Never short on inspiration, it's time to channel your inner creative and join Arch Enemy Arts as they honor solo exhibitions by S.V. Williams, BENEATH THE BLACK MOON and Maria Teicher, POSTPARTUM PROSE solo (that opened on June 2nd) alongside NO PLACE LIKE group show. Each collection lets us deep dive into contemporary compositions laced with mood, mystery, and melancholy. Poetic inclinations echo and we're invited to embrace the distinguished interpretations and the stylistic prowess of the artist as they take shape in our thoughts with visual potency.
Piquing our imaginations, these compelling exhibitions celebrate the expansion of ideas with endless creativity. From Slithering Soothsayers and notions of home to the maternal intuition of motherhood, Arch Enemy Arts let's us get carried away with each new body of work. Join us…
Arch Enemy Arts
109 Arch Street | Philadelphia, PA 19106 USA | (215) 717-7774
For sales or private viewing appointments, please email [email protected]
Regular Gallery Hours:
Monday to Friday, 10:00 am to 4:00 pm
Saturday and Sunday, 11:00 am to 5:00 pm
---
BENEATH THE BLACK MOON will be on view from June 16th – July 16th, 2023.
Arch Enemy Arts is excited to present BENEATH THE BLACK MOON, a series of six new paintings by Sacramento surrealist S.V. Williams. Through a muted kaleidoscope of colors, Williams explores the genesis of life on a planet, where organic molecules combine and recombine to create strange yet familiar creatures and environments. Despite their small size, the intimate paintings evoke a sense of vastness as if peering through a microscope into an expansive darkness.
Extraterrestrial elephants and protoplasmic octopi parade across the elemental landscapes, showcasing a vivid collection of microscopic creatures within an unlikely universe. Primarily self-taught and inspired by sci-fi and horror films, Williams marks his first solo feature at Arch Enemy Arts, presenting a captivating fusion of art and imagination.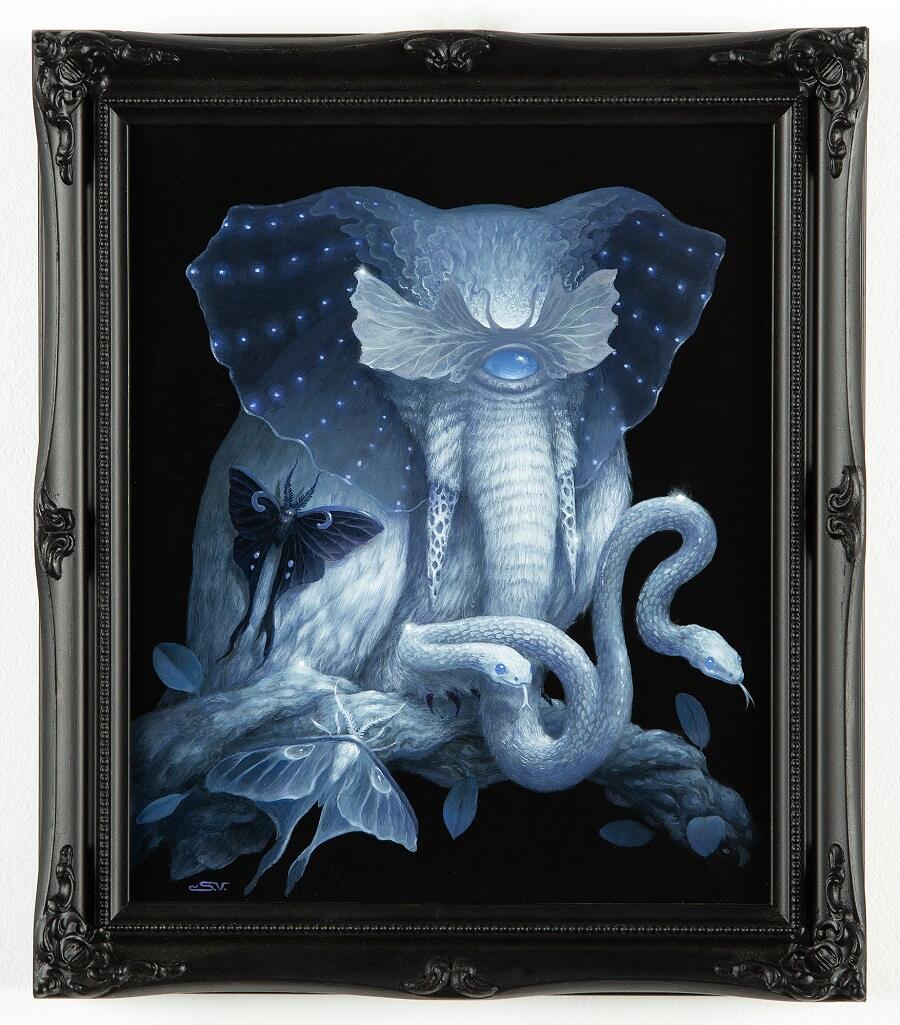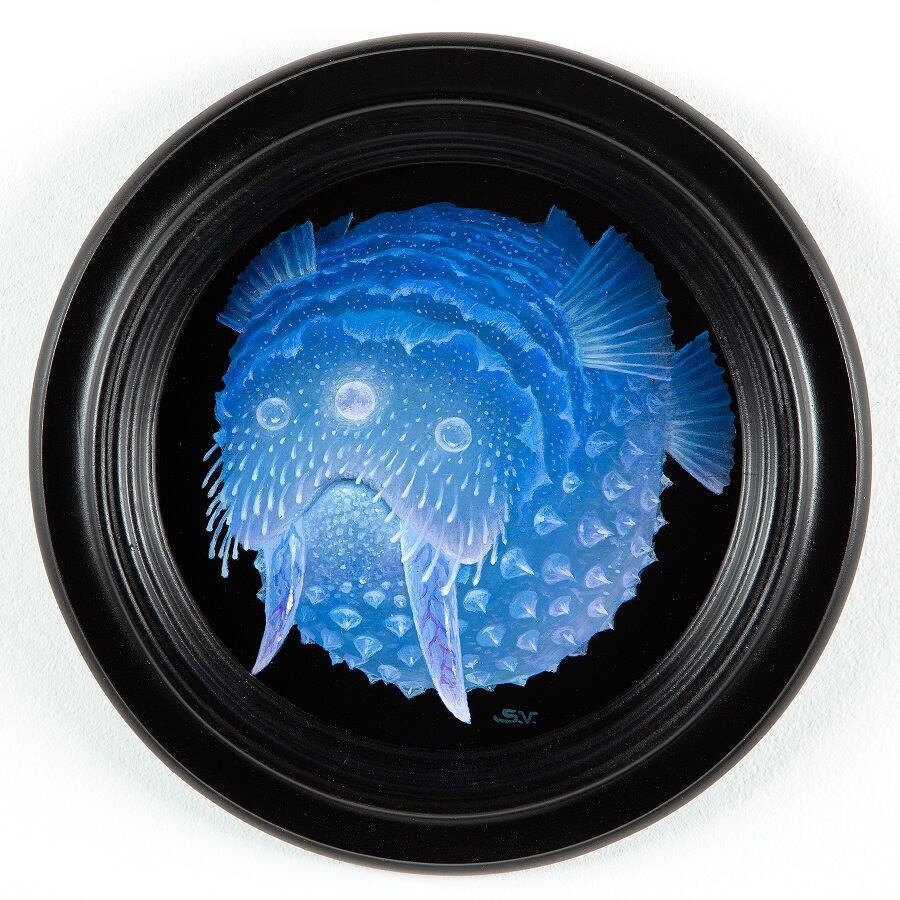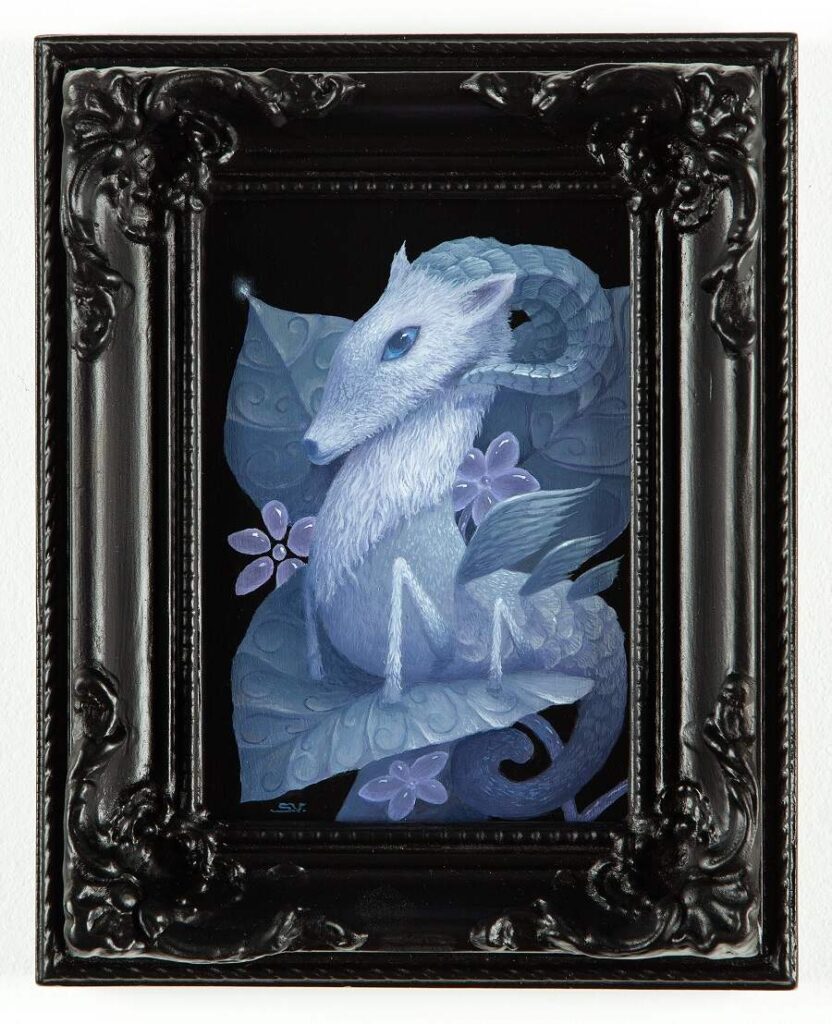 POSTPARTUM PROSE will be on view from June 2nd – July 2nd, 2023.
Arch Enemy Arts presents POSTPARTUM PROSE, eighteen new oil paintings and mixed media works by Philadelphia-area artist Maria Teicher. Teicher has shown with our gallery since the very beginning, but for the past seven years, her exquisite works have been rarities. And for good reason:
"In 2016, less than a year after my last solo exhibition at Arch Enemy, I became pregnant with my first son. Shortly after his birth, I developed postpartum anxiety and some postpartum depression. Extreme sleep deprivation, feeding issues, bodily shortcomings, navigating this country's awful maternity leave and care, attempting to heal myself and my post-birth body, and not knowing who I was or who I was becoming made the world go gray very quickly."
Being a mother is living through a never ending cycle of gorgeous mourning. There is death constantly: every day, week, month, and year. There's death of stages, developments…of first words, and sweet habits…of year one and then two, now six, until your heart is breaking for one more sleepless night of loving on tiny toes and guiding little wisps of hair off chubby cheeks.

Maria Teicher
POSTPARTUM PROSE is Teicher's poetic response to her experience of becoming a mother, work that gives voice to the silent suffering so many new moms face. It is a substantive series–six years in the making–that signals the resounding return of a contemporary master and her decided departure from previous work.
Teicher takes us on a completely different representational journey than anything she's shown before. Here, she imbues botanical still lifes with conceptual symbolism, invoking deeply visceral meanings by way of the very technical mastery she employs.
In these paintings, quiet slate backgrounds scream in their silence, glazed with subtle differences in coloration, wash-like textures, and tonal effects. Teicher paints reflections of light on glass, on crisp spills and droplets of water with such precision that her vessels glare in contrast to what they contain, highlighting the isolation and difference she communicates. And yet, in complete and perfect contradiction–which could perhaps be the definition of motherhood–her painting of melancholy is wrenchingly beautiful. The work is devastating and sublime. Teicher writes:
Motherhood, for me, is being in a consistent stage of mourning that which has already bloomed and shown me so much, but knowing it's a short matter of time before I see what's next…and if I prune, water, take care of, and supply the proper nutrients, what I'll see regrown from the current death will be even more incredible than I could've conjured.
Maria Teicher lives and works in Pennsylvania. She completed her undergraduate studies at Rowan University and obtained an MFA from the New York Academy of Art. She currently teaches at the Pennsylvania Academy of Fine Art and runs her own photography studio, Iris and Echo. This is Teicher's third solo feature with Arch Enemy Arts, following her last exhibition in 2015.
– Candice Musher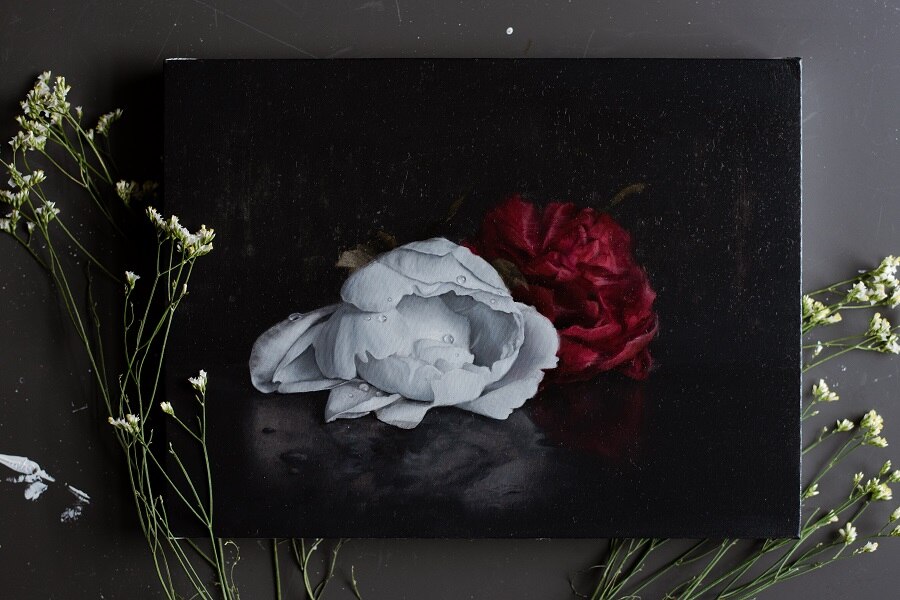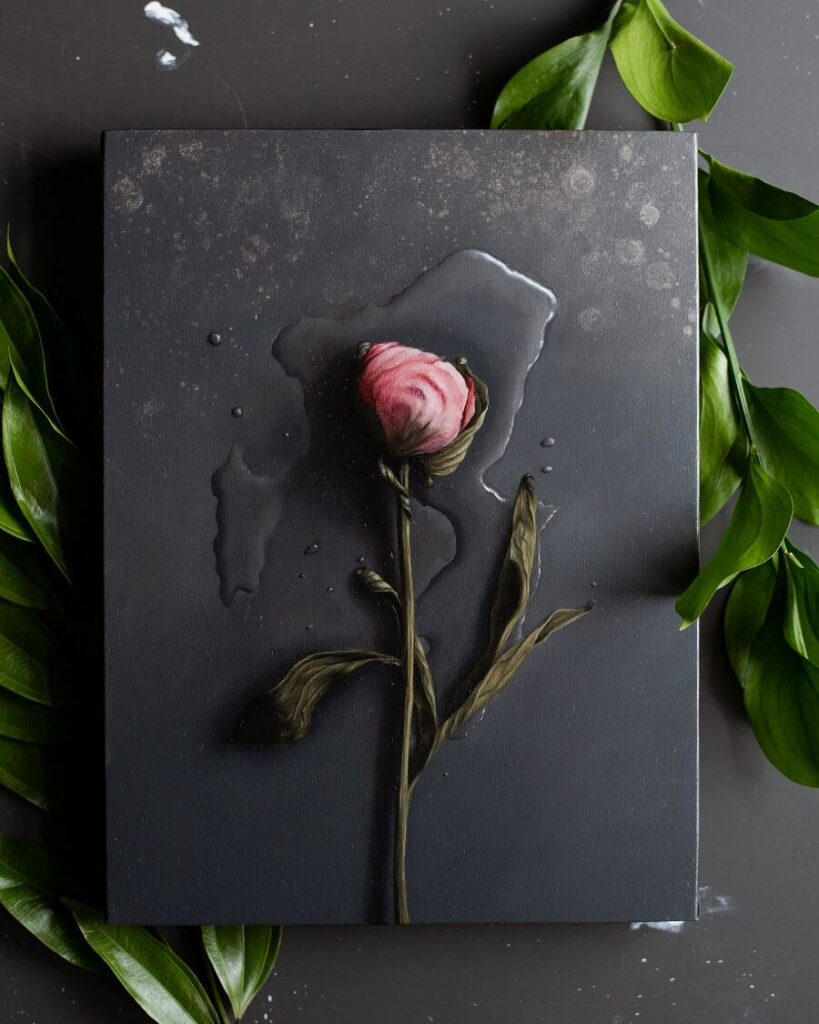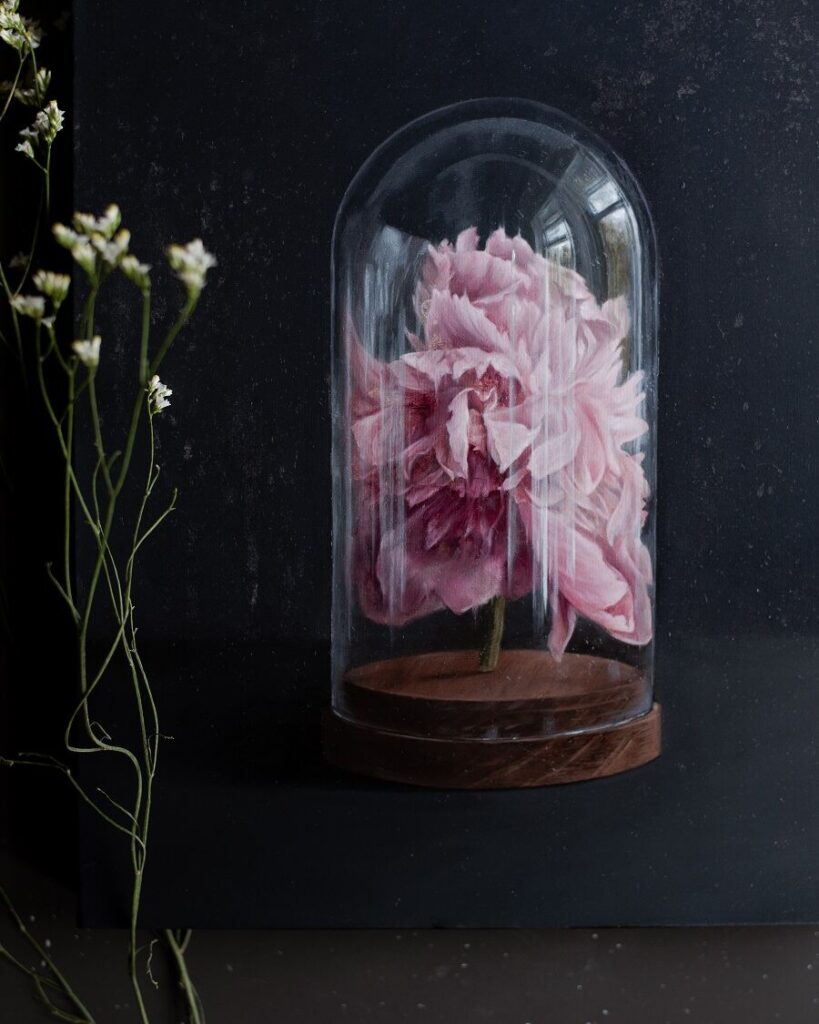 NO PLACE LIKE will be on view from June 16th – July 16th, 2023.
Arch Enemy Arts presents "NO PLACE LIKE…," a group exhibition featuring twenty new works that delve into the diverse and ever-changing concept of home. This exhibition brings together artists from different backgrounds, including international artists, expats, local talents, and home-grown artists. The exhibition prompts artists to reflect on what grounds them, the memories and mythologies that connect or liberate them in their pursuit of belonging.
It also invites viewers to explore various perspectives, offering glimpses into different homes, spaces, and times that others call their own. Participating artists in "NO PLACE LIKE…" include Adam Augustyn, Alex Eckman-Lawn, Alexis Savopoulos, Alexis Trice, Beatriz Bradaschii, Bob Doucette, Brian Serway, Enrique Toledo, Gigi Chen, Helice Wen, Joe Vollan, Jordan Kressley, Kit Curry, Laura Catherwood, Maryann Held, Michael Koehler, Paul Romano, and Vavàra Fern.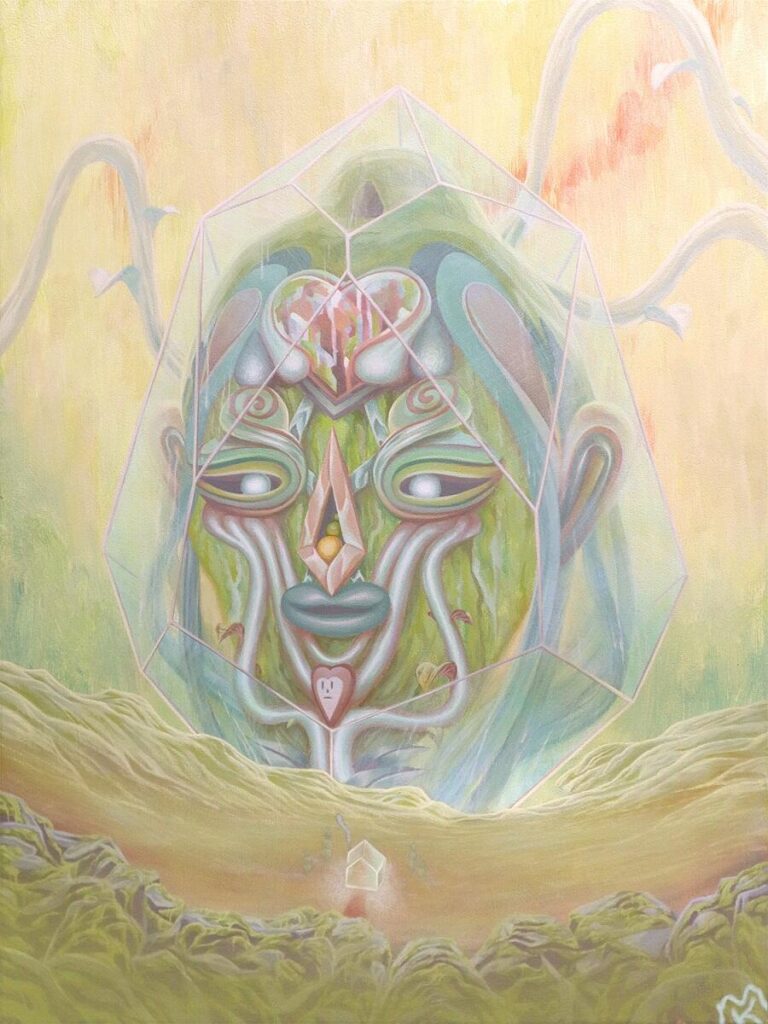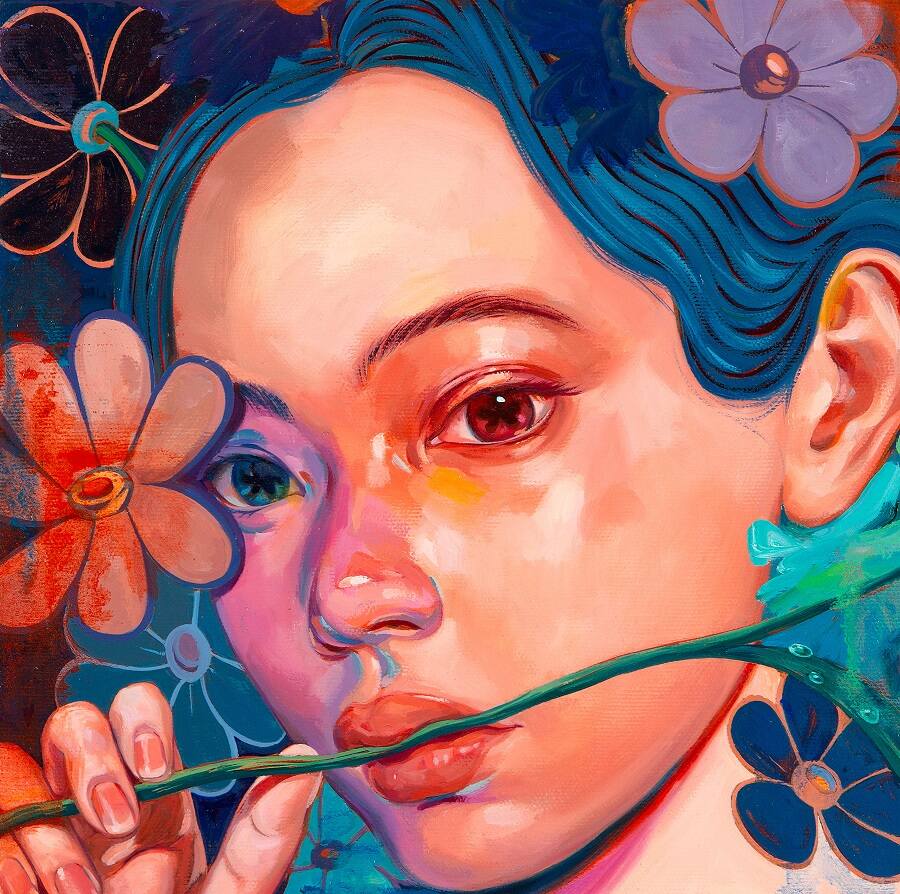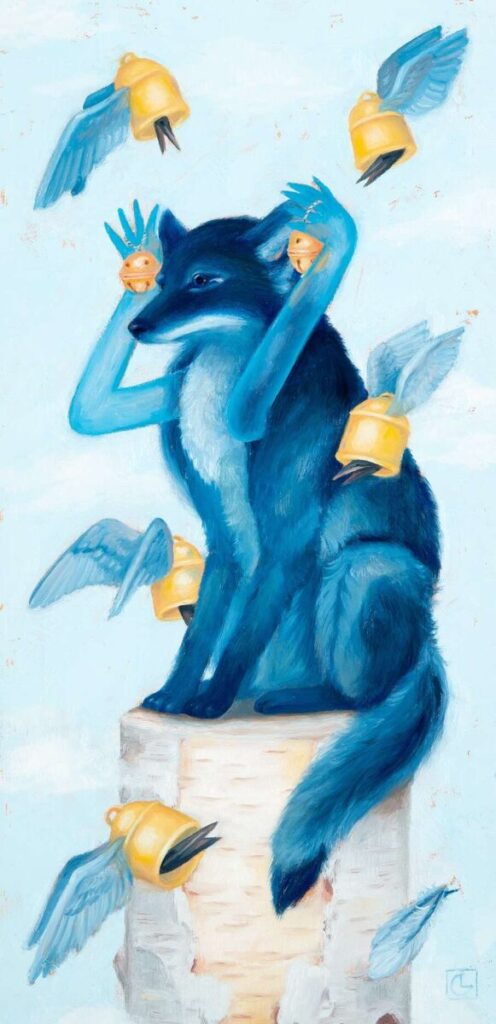 ---
About the Gallery //
Seeking to fill the need for a centralized hub focused exclusively on new contemporary genres within Philadelphia's already vibrant art scene, Arch Enemy Arts was founded in 2012 and quickly became Philly's freshest new venue dedicated to exhibiting emerging and established artists, both local and international. Located in Philadelphia's Old City District, and with an emphasis on the lowbrow, pop-surrealism, urban, and macabre in a wide range of mediums, Arch Enemy Arts was chosen as Philadelphia Magazine's "Best of Philly"™ Best Art Gallery for its 40th Anniversary issue, voted the "Best Art Gallery in Philadelphia" on Philly HotList in 2013, and in 2012.
Noah Musher // co-founder & owner
Lawren Alice // co-founder & curator
---
Arch Enemy Arts Social Media Accounts