Published on behalf of INPRNT, the Gold Sponsor of the INPRNT Photography Award, Beautiful Bizarre Art Prize 2023.
INPRNT is proud to be the Gold Sponsor of the Photography Award for the Beautiful Bizarre Art Prize 2023. Since INPRNT was founded in 2006, we have worked to help artists spend more time doing what they love: creating. We make gallery quality art prints at our studio, handling all aspects of printmaking, shipping and customer service.
Every artist who is invited to open an INPRNT shop has been selected by our members, empowering the community and making our curated collection totally unique. Today we assist thousands of artists producing art in a diverse variety of styles, themes and subjects. As we have grown, our commitment has always been to put artists first. As part of our commitment to artists, we regularly feature members of our artist community with spotlights and are excited to present photographer Gina Iacob in collaboration with Beautiful Bizarre.
10 Questions with INPRNT Artist Gina Iacob
Tell us a bit about yourself.
I'm a 31-year-old artist born and based in Romania, Western Moldavia. I find myself at utmost peace in solitude, in the presence of animals and in the middle of nature. Mundane life is most likely my biggest and most feared nemesis. Art has made its presence felt at every stage of my life, as I can hardly recall moments in which I was not creating something: whether in my own head or in real life. Drawing and photography have both been enduring passions of mine, despite the fact that in the last years I have focused almost fully on the latter.
Can you talk about the main content and/or themes that are frequently present in your work?
My content is mainly little pieces of myself put together in deep harmony with a lot of the things that have intrigued me ever since I was child: mysticism, occultism, surrealism, fantasy, magic, witchcraft, mystery, antiquity, and death. I focus on the darkness, the mystic, the untouchable, and the mysterious because these all together are the traits able to shape an ideal magical universe where I can always truly be me, unconditionally.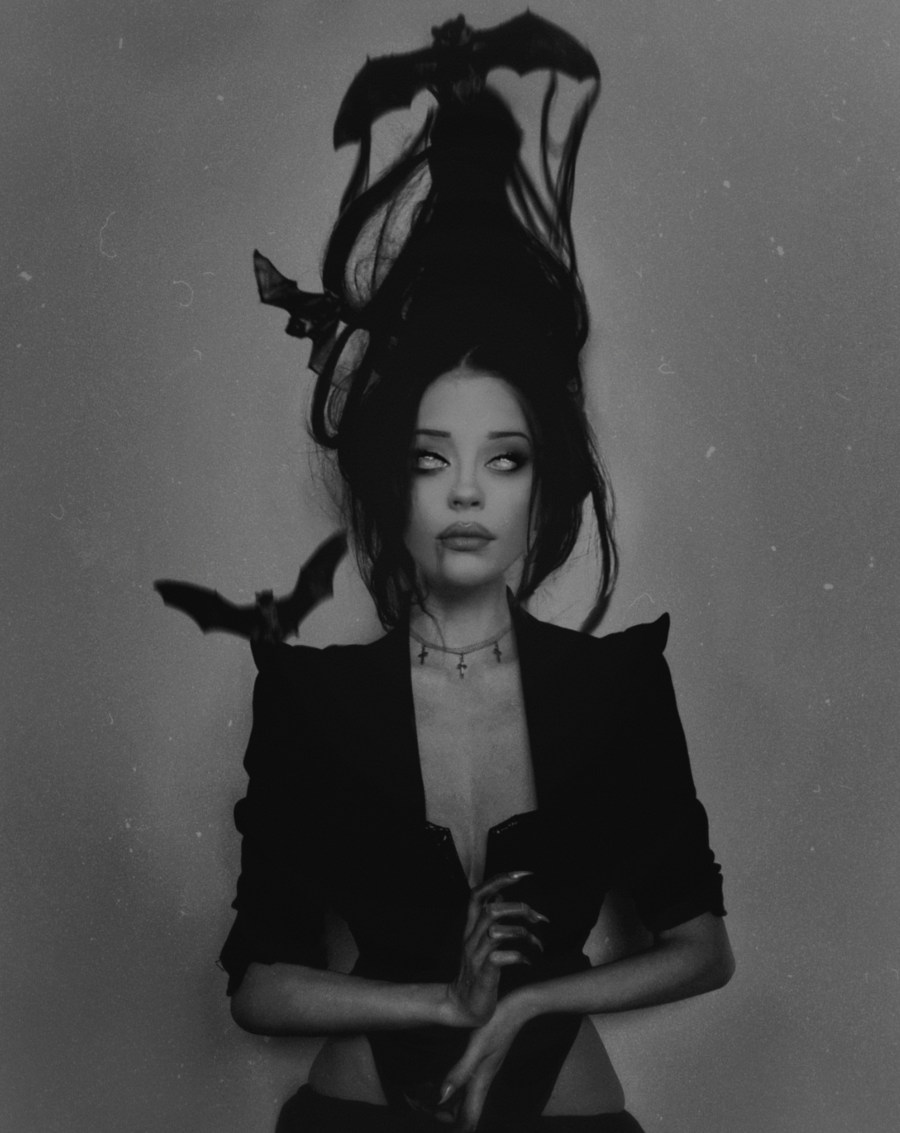 What is something you want our audiences to know about you or your work?
I would love my audience to know that my work is not just me: it is also them. I think of myself as a messenger of my art, a bridge between the watcher and the worlds I am creating. Somehow, the dream is simple to the core: I deeply aim for my work to become a mirror for everyone willing to stare into it; unfurling the familiar… that "Hey, this feels like home!" feeling.
Most of your work features you. Can you expand upon the use of your own likeness to tell visual stories?
Using my own likeness in visual stories has always been crucial to my process because there are stories I simply cannot tell; so, I visually build them myself.
There is, of course, a lot of intimacy in the creation process, both mentally and physically. There are lots of thoughts and ideas that I often find verbally not shareable, simply because words are sometimes weird, and they just don't express as much emotion as imagery.
Tell us about your creative process.
I "ruminate" stories and thoughts for days, weeks, months, sometimes years.
My creative process ranges from aesthetically pleasing to funny. Sometimes, I light a candle on my desk, burn some incense and start posing for an image that crossed my mind years ago. Sometimes, I wake up from a noon nap like a grumpy little witch and jump straight inside my wardrobe in the most ardent hope to find the perfect Victorian dress for a new photo shoot – only to end up taking another nap.
What are your hobbies and interests outside of creating art? How do these affect you creatively?
Everyday life disinterests me almost fully, as I tend to live mostly inside my head.
I do have a daily full-time job that cuts massively both from my personal time and my creative time, but when I'm in the mood for it, I like to stick to simple passions: a walk in a beautiful cemetery or museum, a good horror show, an interesting book, spending quality time with my puppy, or enjoying a good rain.
Keeping a balance with social media can be challenging for artists. What is your approach to social media, online community, and promoting your work?
I actually think of myself as an 'oldie' when it comes to social media. Well, I'm technically a millennial, so…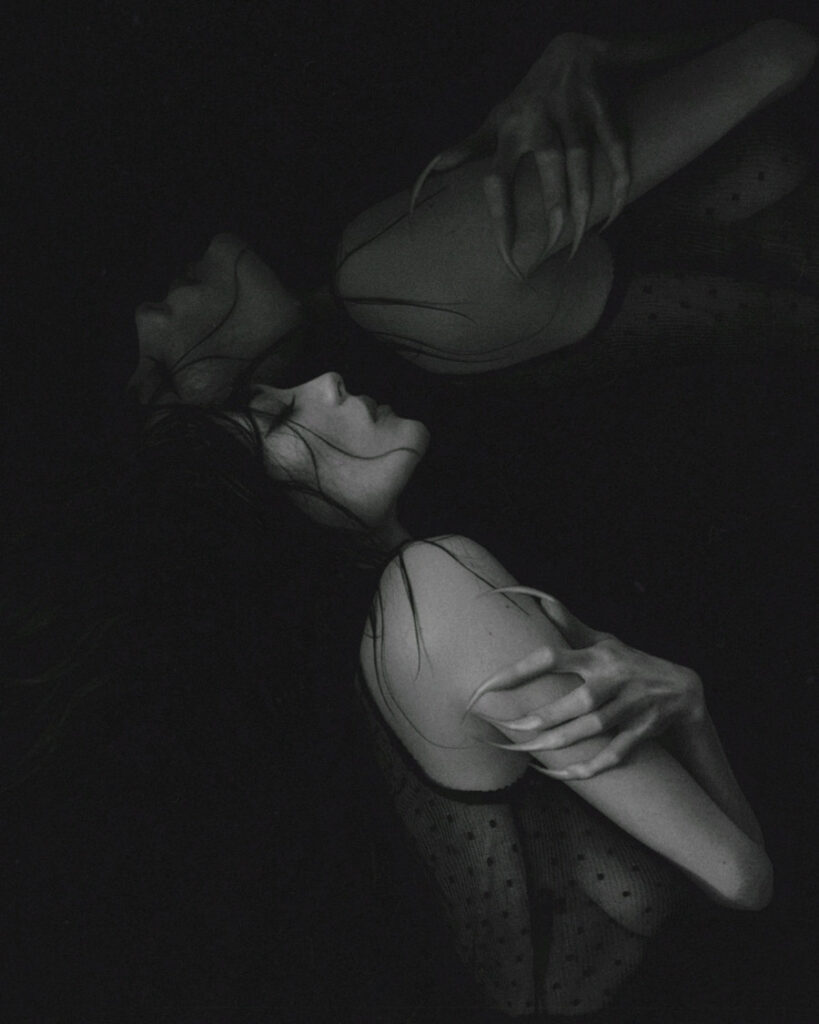 Your body of work has a focused and distinct point of view. Do you have any advice for artists who are trying to find their own point-of-view and get their work noticed?
My only advice here is: "undress" yourself from all the social blankets.
Leave those aside, and be alone with yourself, and your art. Take all the time needed to understand: Who are you? What lays dormant in your soul that you need to release through art, unconditioned by the outside world, by what is trending, by what is cool or not, by what someone else would think of it?
Or, the classic idea – "who are you when nobody's watching?" – take that maybe very cliché thought and go along with it, it could take you a long way!
Your work is primarily based in photography. Do you ever explore other mediums or art forms?
I have focused exclusively on photography in the last 2-3 years, although I used to draw and paint a lot – mostly traditionally, but sometimes digitally. My family still has their home walls fully filled with my old oil and acrylic paintings.
Unfortunately, time doesn't currently allow me to do any more painting or drawing, but I'm really content with sticking to just photography for now.
What's next for you?
I don't know yet, but I'm really excited and intrigued to find out myself!
---
To buy prints or Gina's works or follow for more updates, head to the links for Gina Iacob below!
Gina Iacob Social Media Accounts
INPRNT Social Media Accounts