What you must remember, dear reader, is that nothing is inevitable when it comes to the human race (except perhaps death, though I believe science is still working on that one too). Humanity, for all of its flaws, is resilient and adaptable. As a species, the majority may be rather lackadaisical about let's say, climate change – but there are still the golden few working on scientific ways to mitigate this ever-approaching catastrophe. Have hope, though I know it's difficult. There's still the possibility that not all is lost. Maybe a light dose of humour can help you swallow the stress you're feeling. If you're struggling, might I suggest you a take a look at Andreas Claussen's ongoing series "Flood"?
"Flood" take place in an alternate realm where the world has been entirely flooded due to climate change. It revolves around an astronaut who returns from a mission only to discover his world submerged underwater. The "significant exaggeration" of climate change's result further dramatizes the situation the subject finds himself in – but the worst, in this case, has already happened. It is done. All that is left now is to explore this new world. As the astronaut floats through this post-apocalyptic domain, he discovers more and more remnants of human civilization.
The role of humour during dark times
"First and foremost, "Flood" is intended for people who are concerned about climate change but still appreciate humour. This may seem contradictory, but humour is one of the most crucial tools I employ to cope with the events occurring around me." Explains Andreas Claussen.
Laughing about dark or taboo subjects can offer temporary relief from tension and provide a sense of comfort. It creates psychological distance, making difficult subjects more manageable. When confronting significant problems like climate change, attaining a manageable state quickly is our goal.

Humour is my defense against distressing emotions such as panic, frustration, and stress, which rarely solve problems effectively.

Andreas Claussen
Throughout the series, the astronaut encounters an array of left over items, many of which are so farcical to the point of comical. Fast food, musical instruments, porn magazines, propaganda posters, toys and weapons all make a show. "All of these items, within the context of this doomed world, appear comical and raise questions." Andreas shares.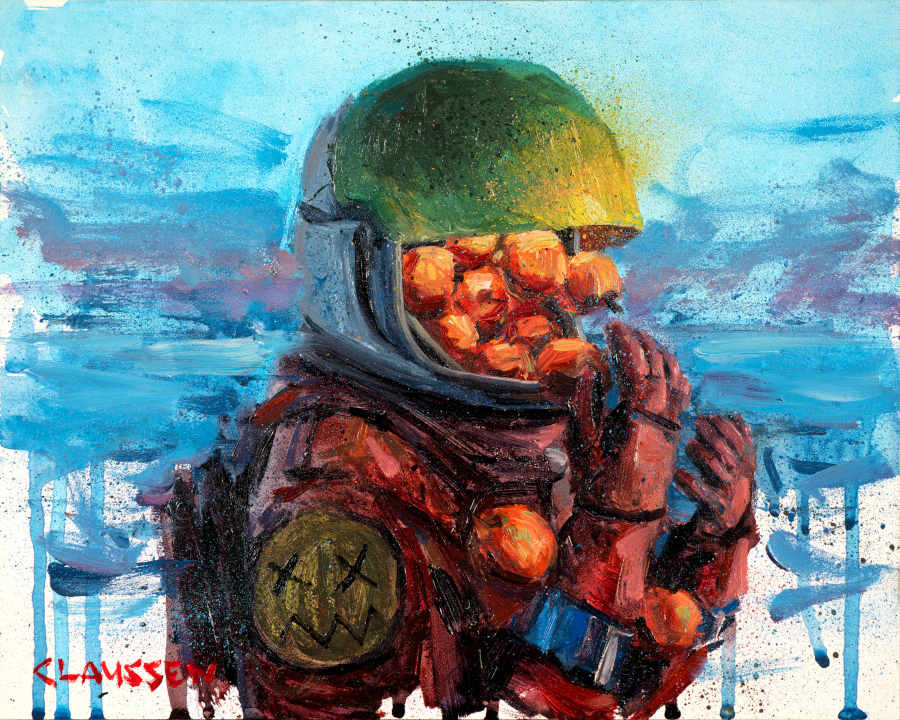 Undoubtably, his oil paintings pique curiosity and raise questions. There is often deeper symbolism imbued into his works. In fact, as the series has evolved, Andreas has realized that the series can encompass not only climate change, "but also the collapse of traditional media outlets, issues surrounding food, addiction, loneliness, creativity, hope and more". He aims to continue exploring various human behaviours and their impact, allowing the series to comment on a broader range of interconnected topics.
Andreas Claussen has been working on this series for many years; it's been received positively since its inception. "People grasp the humorous elements and feel encouraged to share their ideas about what the astronaut could do or discover next. They understand that I don't intend to point fingers or make the viewers feel guilty. They recognize that I am not a doomsday prophet, but rather someone who shares what he observes with irony and humour."
The importance of a good title
Another significant element to this is the titles themselves. Often providing more specific context or flipping the meaning which the audience first reads visually, the titles provide wit and further depth.
Case in point: let us delve into his painting "KEEP YOUR ENEMIES REALLY CLOSE". Our cloak-clad astronaut mirrors Batman as he grasps onto the inflatable Joker. The piece plays with the well-known idea that sometimes, it's better to keep your enemies close, rather than to push them away.
Rather ironically, however, is that despite being mortal enemies, the astronaut relies on the existence of his inflatable enemy as a tool for staying above water, as well as to provide a sense of purpose to his heroic efforts. The wind blowing his Batman cape only adds to the dramatic effect of the scene, reminding us that even the most determined heroes need a challenge to overcome.
Accordingly, this illustrates the relevancy of Andreas Claussen's series. Overall, our lonely astronaut may exist in a mythical future, but he still symbolizes "everyone, because everyone on this planet faces problems". Andreas doesn't just use this series to process his own fears and worries; he provides a series through which we can all connect.
Most of us are familiar with the feelings of loneliness, illness, or being overwhelmed. Being human means encountering problems and striving to solve them as we journey through life. In doing so, we carry a substantial burden on our shoulders. We are responsible for our bodies, mental health, friends, family, belongings, environment, and so much more.

The astronaut's message is: "I understand that it's tough, sad, and unfair—whichever way you choose to describe it. But let's wear a little smile, move forward, and address our problems."

Andreas Claussen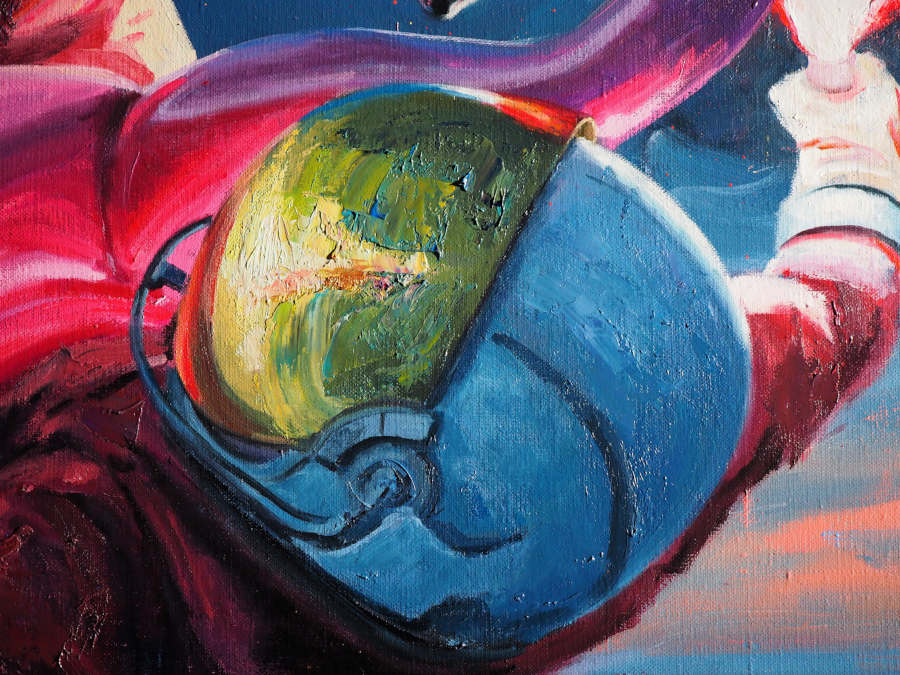 "Whether the "flood" represents a literal deluge or a symbolic one is immaterial. The paintings aim to demonstrate that we pay the price for our behaviour, but also highlight that through hard work, adaptation, and creative solutions, we can forge a bright future."
The process
Typically, Andreas finds inspiration from a quote or single word. From here the spark of an idea develops through simple sketches, before he constructs a 3D scene on his computer. After this, he transfers the renders to Photoshop where he enhances the colours and adds in additional details.
Then the fun really starts. Beginning with a series of smaller study paintings, he works to find a "pleasing transition" between the colours on his PC screen and the pigments he can use to translate digital work to physical. Finally, he creates the final painting on a large canvas. "The entire process is enjoyable and stimulating, but it does require a significant amount of time." He explains. "A single painting can easily consume around 30 hours from start to finish."
A constant move forward
As a disciplined and forward-thinking artist, Andreas continues to develop his practice. He smiles: "I constantly strive to create new and unexpected marks in my paintings. Additionally, I am currently experimenting with the integration of collage in my work. This involves incorporating torn clothes or plastics onto the canvas and painting over them. Another approach I am exploring is creating smaller paintings and affixing them onto larger paintings. I have a scene in mind where the astronaut stands before a wall covered with photos of missing people, with each photo being an individual painting."
The future holds exciting possibilities, and we will see how these ideas and techniques develop further.

Andreas Claussen
Andreas has also recently created his first bronze sculpture, "Be Prepared". Though he had thought about creating a sculpture for many years, this was new territory, and the venture into the unknown was real. He created a prototype using digital sculpting and 3D printing before applying clay onto the 3D print to achieve an intriguing texture. "At that point, the foundry Petit & Gr. Edelbrock took over and utilized the prototype to cast the sculpture in bronze. Following the casting, I worked on the patina and completed the piece. It took several months to navigate and comprehend all the intricacies involved, as well as to find trustworthy partners who grasped my vision and were capable of executing it. I am happy to finally have made it a real thing!"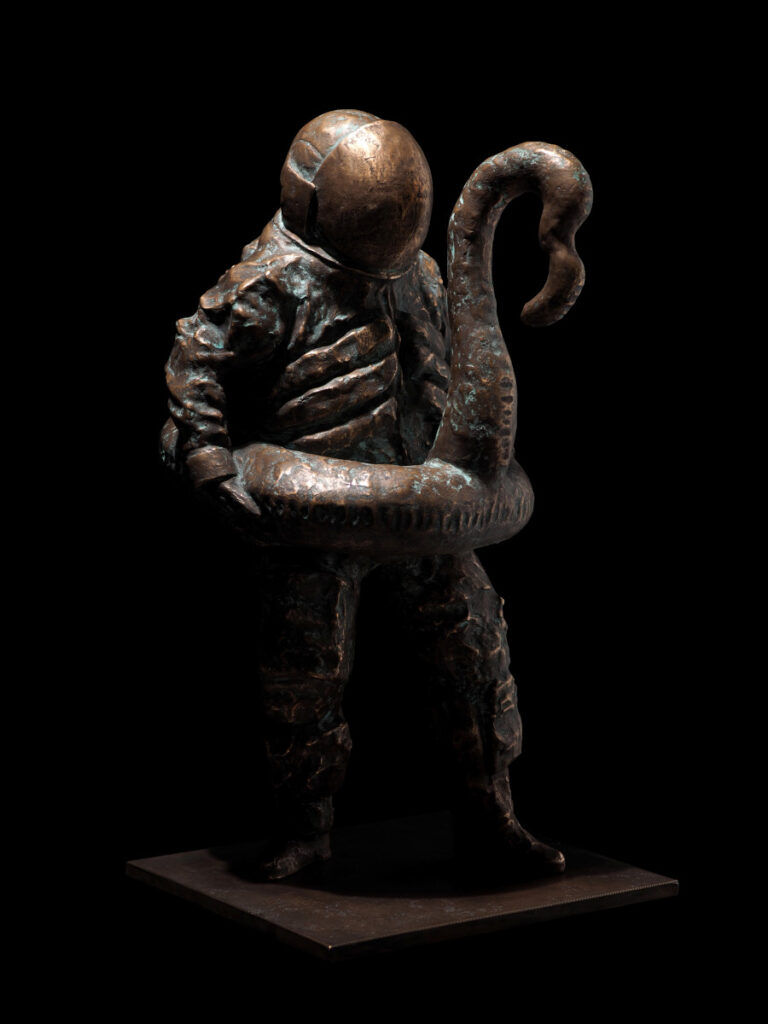 Interested in collecting one of these rare sculptures? Andreas will be releasing 'Be prepared' as a limited edition of 15 pieces. He has created seven different finishes for the bronze: Beach Boy, Blackout, Deep Space, Ocean Mist, Rust and Dust, Snowdrift and Uncertain Future, each of which can be bought and pre-ordered at his galleries.
Exploration and hope
The "Flood" series will be continued for a long time. I have so many possibilities that I want to explore. More comic (and dark, erotic, grotesque, fantastic…) painting ideas; different materials to paint on, sculptures, drawings, and even videos.

Andreas Claussen
Not one to take the easy road, Andreas Claussen is constantly pushing forward. Practically every painting in the series involved Andreas learning paint a new object or material. He grins, enjoying the challenges: "[It's] is fun and gives me much space for exploration and experimentation."
Fully devoted to this body of work, Andreas is grateful to all of his galleries for investing so much time and money into supporting "Flood". He hopes that "Flood" gives people hope, encouraging international audiences to invest in the future. "It is the right thing to do" he says. There is still time to be active, to work for positive change, and to remember that a good dose of humour is good for the body and mind.
Andreas Claussen Social Media Accounts