As the day comes in like a breath of fresh air, along with it brings new hope for inspiration and a driving force to spark the fire that burns within our artistic soul. Giving reason to be excited, Arch Enemy Arts invigorates our creative minds like a sixth sense – help celebrate their latest installment of exhibitions with new collections by Vasilisa Romanenko and Gerlanda di Francia. Expressing the complexities of nature and our human connection there within, each artist delves deep into the language of the natural world. Infusing it with passion and mystery, we wade in the nuances of their visual poetry and let it cradle our imagination.
As if that wasn't enough, take a lasting linger at PAUSE: The Surreal Still Life Exhibition that asked twenty artists to explore the compelling theme with their own uniquely defined vision.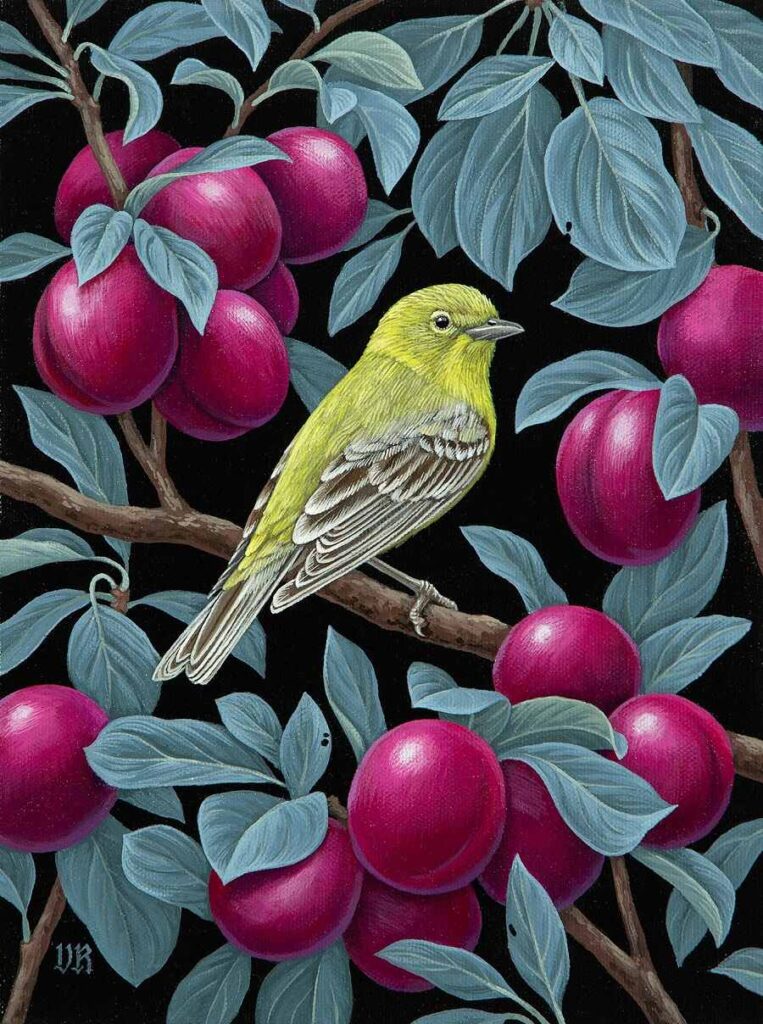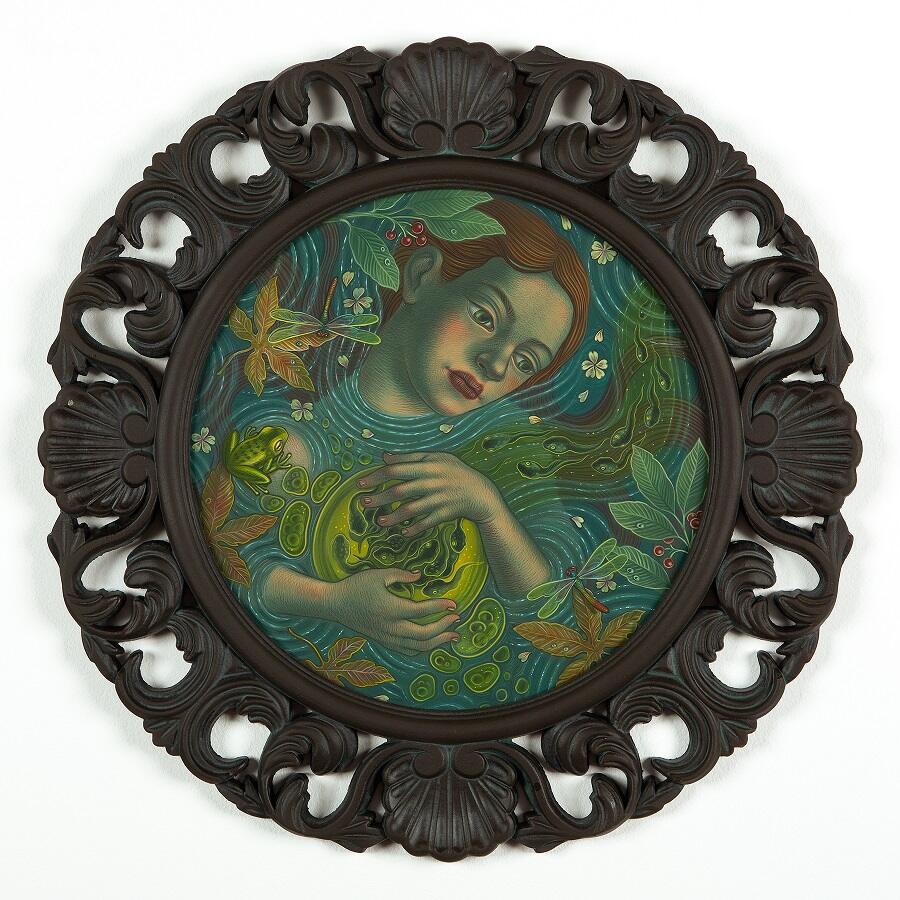 Vasilisa Romanenko & Gerlanda di Francia
+
PAUSE: The Surreal Still Life Exhibition
Exhibition Dates: May 19 – June 11, 2023
Regular Gallery Hours:
Monday to Friday, 10:00 am to 4:00 pm
Saturday and Sunday, 11:00 am to 5:00 pm
Arch Enemy Arts
109 Arch Street | Philadelphia, PA 19106 USA | (215) 717-7774
For sales or private viewing appointments, please email [email protected]
---
On view from May 19th – June 11th, 2023
Arch Enemy Arts presents IN THE ORCHARD, a highly anticipated collection of seven new paintings by Vasilisa Romanenko, each gorgeously rendered in acrylic on canvas. Known for her naturalistic and whimsical work that communicates a deep reverence for nature, Romanenko found inspiration for this series in the fruit orchards of her New England home.
"As a New Englander, orchards have a certain nostalgic appeal since I grew up going apple picking every Fall. I wanted to capture the magic of an abundant orchard at the peak of harvest time." Thus, Romanenko's work feels both true-to-life and profoundly inward. Painting with the descriptive precision of a Rilke poem, she invites us into the velvety shade of her memory. It is a place where, in the stillness of night, the artist shines a spotlight on harvest-laden trees befriended by birds, cultivating the peculiar calm of romantic reverie.
As if bending back the branches of some secret space, we can hear and smell and taste these paintings. In this place, paint is both vivacious and quiet. It carries the fragrance of unplucked fruit, ripe and heavy, textured and succulent, popping brightly against impossibly pewter leaves emerging from a midnight milieu. Silent songbirds, mossy bark, and nibbled stems remind us that, despite their stillness, Romanenko's memories are teeming with life. Effortless precision in paint means the artist has sowed every stroke. She's studied every shape. She is the perennial farmer "forever committed to…grow and bear fruit" (The Apple Orchard, Rainer Maria Rilke).
Vasilisa Romanenko is based in Connecticut where she has lived since she was seven. Though she attributes much of her artistic upbringing to her parents, who are both artists, she holds a degree in Illustration from the Fashion Institute of Technology. IN THE ORCHARD is Romanenko's second solo feature with Arch Enemy Arts and follows her *sold out* debut last year. We invite you to join us in celebrating this gorgeous exhibition on First Friday, June 2nd from 5PM – 9PM at 109 Arch Street, Philadelphia.
​Written by Candice Musher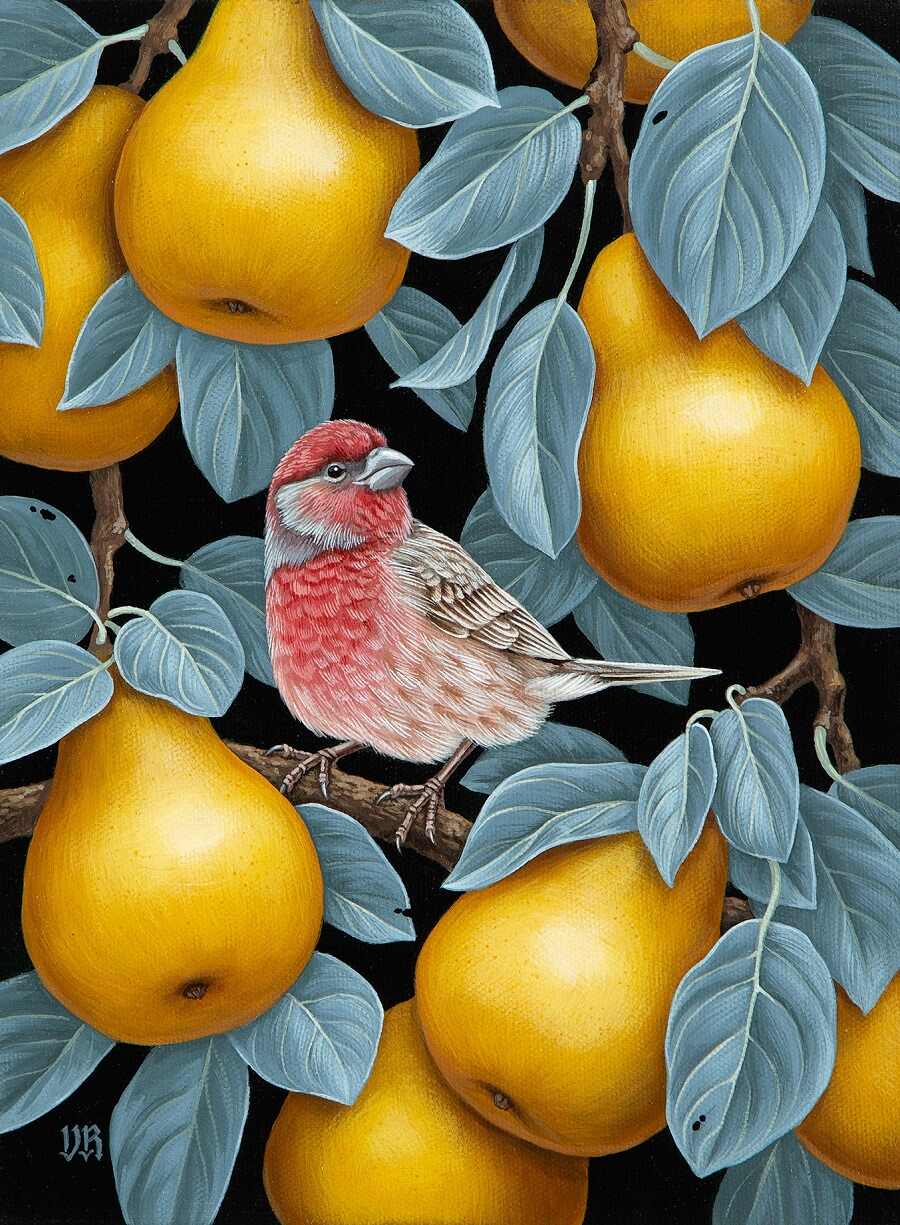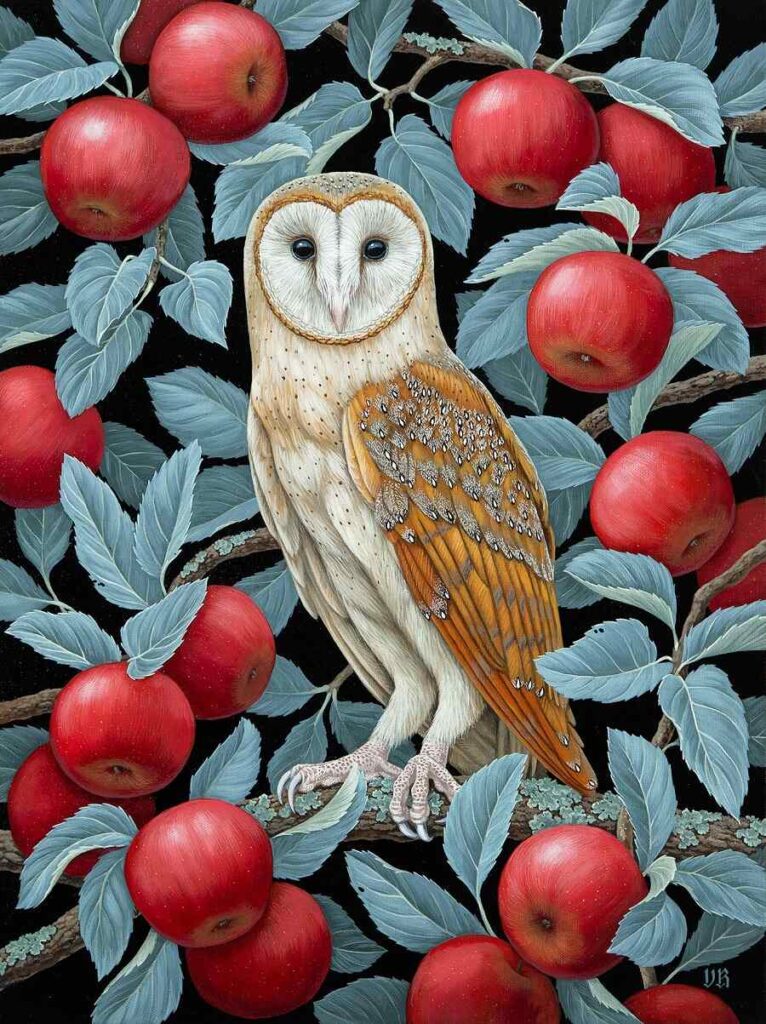 On view from May 19th – June 11th, 2023.
​Arch Enemy Arts presents MILD REBIRTH, an enchanting series of six new paintings by Italian artist Gerlanda di Francia. Texturally rich and intricately detailed, each piece is an embrace of earthen greens and subdued blues, colors that quietly glow like oxidized copper and ceramic celadon. Working in acrylic on fiberboard and inspired by ancient techniques, di Francia intentionally creates a surface texture reminiscent of fresco, smooth and dry like soft chalk, as graceful and absorbent as the imagery of the show itself.
"Inspired by the natural cycle of the changing seasons," di Francia writes, "Mild Rebirth emphasizes introspective visions related to the awareness of growing and changing into a new form…There is a sense of melancholy related to nostalgia for what one has been before but also the strength to awaken in a new form with the sweetness dictated by the knowledge of a new self."
Thus di Francia renders nature personified as the female source, woven into each piece like the crosshatched lines of her gentle brush. In "My Own Lacustrine," the artist manages to depict the full generative cycle and all of its emotional complexity through the life of a frog. In it, Mother looks on as tadpoles overtake her body. They grow and flow through her, feeding off of her. She is ever-present, ever-loving, yet her eyes hint a tender sadness. Deep and beautiful as ripples dance around her, the stream carries leaves and separates flowers, symbols that gently remind us of her sacrificial decay.
Gerlanda di Francia lives and works in the countryside of southern Italy. She studied painting decoration at the Academy of Fine Arts in Rome and has been exhibiting in galleries around the world since 2015. This is the artist's second solo feature with Arch Enemy Arts, following her show last year. We invite you to join us in celebrating this gorgeous exhibition on First Friday, June 2nd from 5PM – 9PM at 109 Arch Street, Philadelphia.
​Written by Candice Musher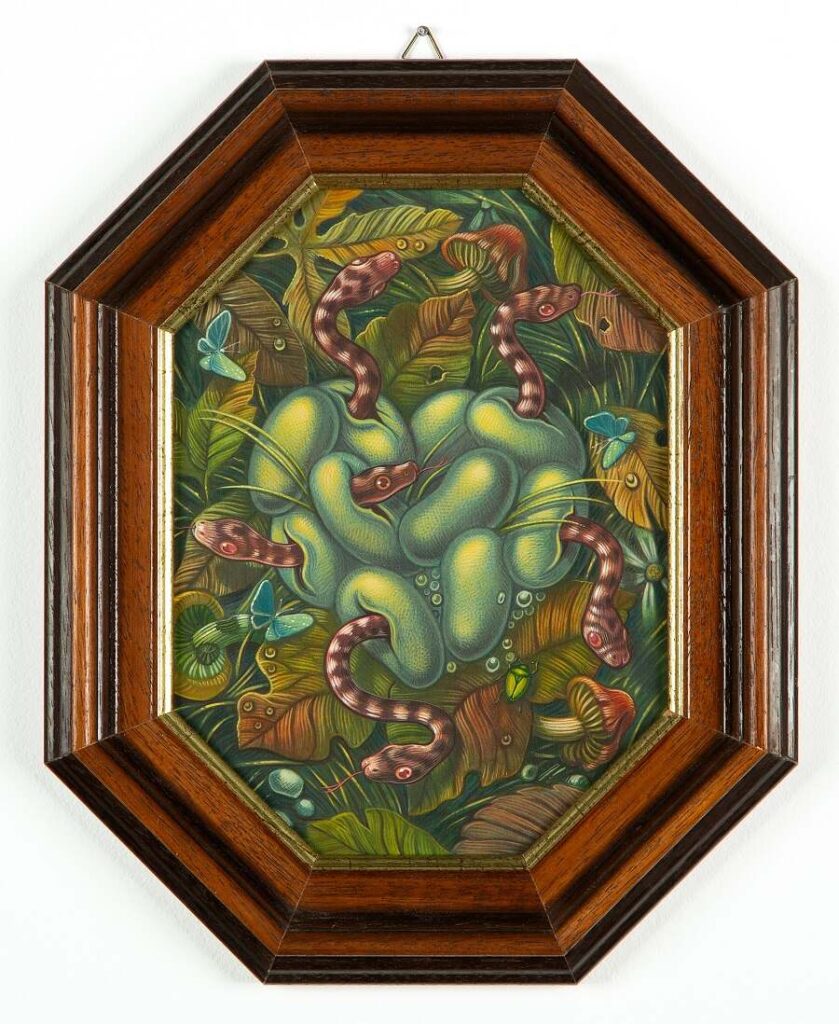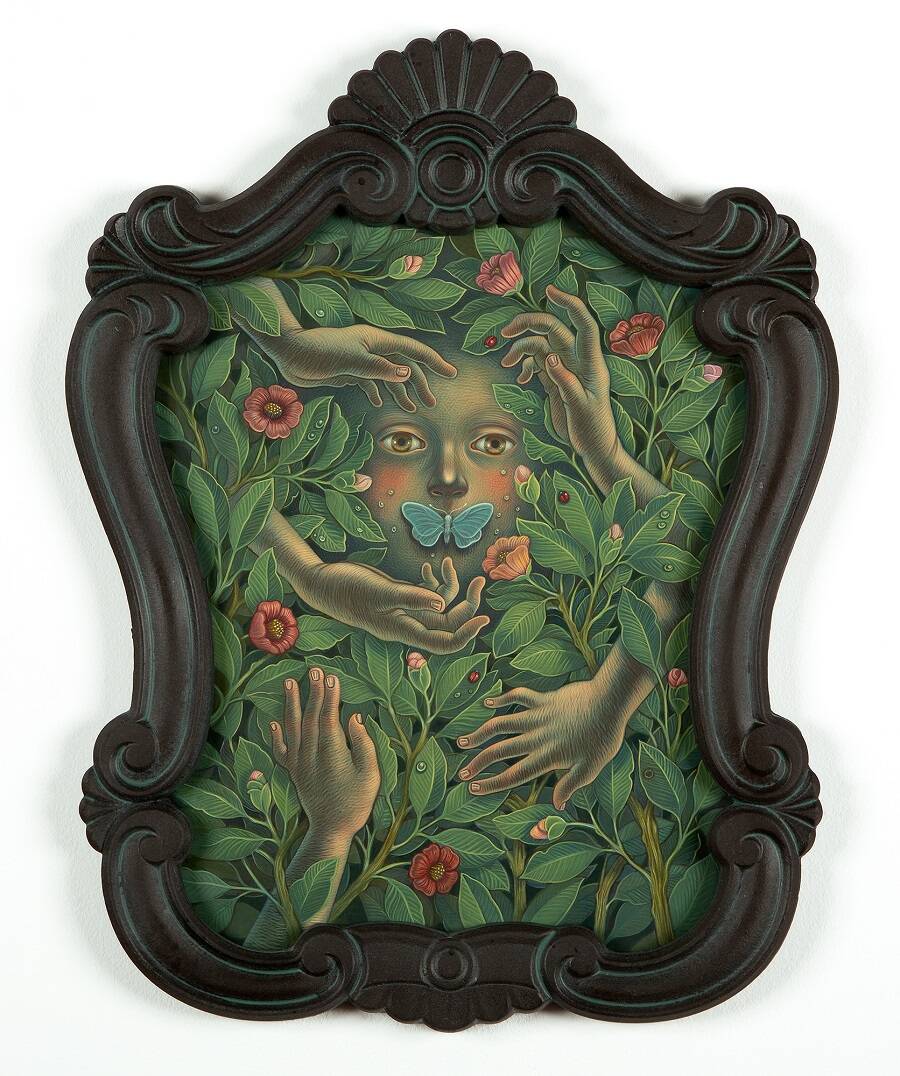 On view from May 19th – June 11th, 2023
Arch Enemy Arts presents PAUSE, a group exhibition inviting twenty artists to explore what it means to create a SURREAL STILL LIFE. We wondered what incongruous juxtapositions and uncanny associations they might employ. How would they capture unconscious creation in object form, and what could happen if they pressed pause on the passage of time?
From riffs on vanitas still lifes by Michele Melcher, Ethan Price, and Kazuhiro Hori to phantasmagorical shifts in perception by Rain, Audrey Montoya, and Ten Yetman, this collection is broad and bizarre. A variegated delight that is still and alive, composed and automatic, like centerpieces from your strangest dream.
PAUSE: THE SURREAL STILL LIFE features new work from Adam Alaniz, Alex Kuno, Anthony Solano, Audrey Montoya, Bennett Slater, Colete Martin, Ethan Price, Gigi Chen, Happy D, Jane Windsor, Katie Gamb, Kazuhiro Hori, Laura Catherwood, Mary Esther Munoz, Maryann Held, Michele Melcher, Rain, Richard Ahnert, Shailinn Messer, and Ten Yetman.
​Written by Candice Musher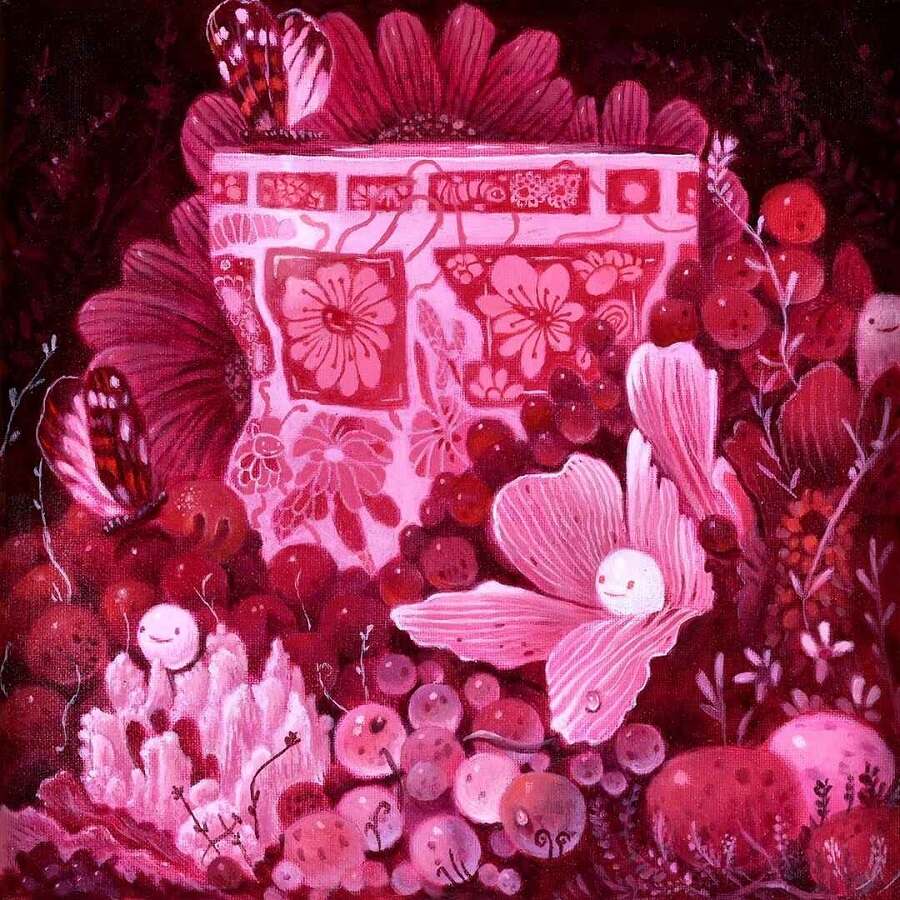 ---
About the Gallery //
Seeking to fill the need for a centralized hub focused exclusively on new contemporary genres within Philadelphia's already vibrant art scene, Arch Enemy Arts was founded in 2012 and quickly became Philly's freshest new venue dedicated to exhibiting emerging and established artists, both local and international. Located in Philadelphia's Old City District, and with an emphasis on the lowbrow, pop-surrealism, urban, and macabre in a wide range of mediums, Arch Enemy Arts was chosen as Philadelphia Magazine's "Best of Philly"™ Best Art Gallery for its 40th Anniversary issue, voted the "Best Art Gallery in Philadelphia" on Philly HotList in 2013, and in 2012.
Noah Musher // co-founder & owner
Lawren Alice // co-founder & curator
---
Arch Enemy Arts Social Media Accounts