In a world where dark surrealism collides with innocence, turn the pages of a unique storybook narrative and delve deep into the dreamlike composition of four distinct artists. This weekend, Haven Gallery honours the creative prowess of Olga Esther, Shiori Matsumoto, Yuriko Shirou, and Li Shanmei. If that wasn't enough to tickle your fancy, enjoy Museum Collections: The Uffizi Group Show – featuring a wonderful lineup of artists and their many imaginative ideations that focus on the reinterpretation of classic paintings and sculptures. With so many things to explore, draw upon your imagination and watch as mood and melancholy hold hands with the magical reminiscence of childlike wonder, evocative interpretation, and the longing of historical sensibilities.
Surely you don't miss each of these beautiful new bodies of work. View them in their entirety alongside all available inventory by visiting Haven Gallery's website!
Olga Esther | Shiori Matsumoto | Yuriko Shirou | Li Shanmei
&
Museum Collections: The Uffizi Group Show
Opening Reception: Saturday, October 29, 2022
Exhibition Dates: October 29 – November 27, 2022
Haven Gallery
50 Main St., Northport, NY 11768 | ph. (631) 757-0500
To inquire, please contact Erica via email info@havengallery.com
About the Gallery //
Haven Gallery is run by Erica Berkowitz and Joseph Weinreb. The gallery first opened in 2015 in the Carriage House of historic Northport, NY. Within two years, the gallery doubled in size and expanded into the entire Carriage House building. Through their successful in-house exhibitions and presentations at art fairs both domestic and international, Haven opened a secondary location at 90 Main St., in 2020, during the height of the Covid pandemic. It was at that point, that Erica and Joseph knew it was time to find a permanent location for their artists. In January of 2022, they bought the building at 50 Main st., and opened its doors as Haven Gallery's perennial home.
Haven Gallery's focus is on exhibiting emotionally, intellectually and imaginatively driven, representational artwork that connects the audience and artist with universal axioms and passions. We work with both emerging and established artists who transcend their medium and subjects by exploring the world around them as well as the one within themselves.
---
Northport, NY– Haven Gallery is honored to present "Mermaids", a solo show of new work from Spain based artist Olga Esther. "Mermaids" is Olga's second solo show at the gallery and features eleven new paintings depicting her quintessential "princesses" as beautiful, sea-faring, half human, half fish, nymphs. Adorned with shells, fish and coral reef crowns, Olga's princesses exude their iconic regality with timeless splendor. Confrontational yet serene expressions grace her sitters faces through the artists penchant for powerful portraits. Do not let their youthful appearance fool you. There is a timelessness and wisdom present in their eyes with a spark of rebellion. A deep appreciation towards nature and all living things is a theme found throughout Olga's work that is further amplified by her sitters gentle, harmonic symbiosis within their environment. The artist has always found her inspiration from books and animals. The surrealistic intermingling of portraiture and fairytales remind us of our dreams as children and the power they still hold.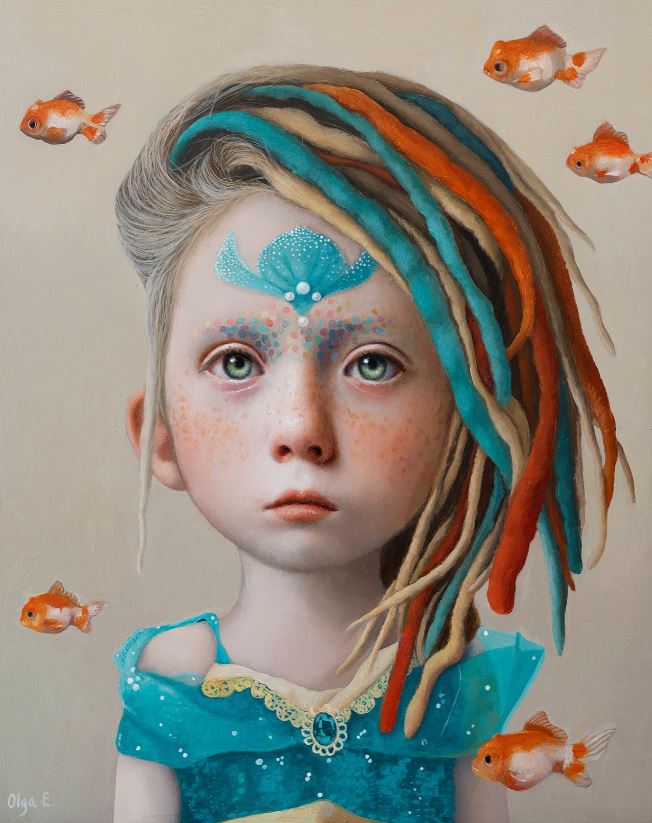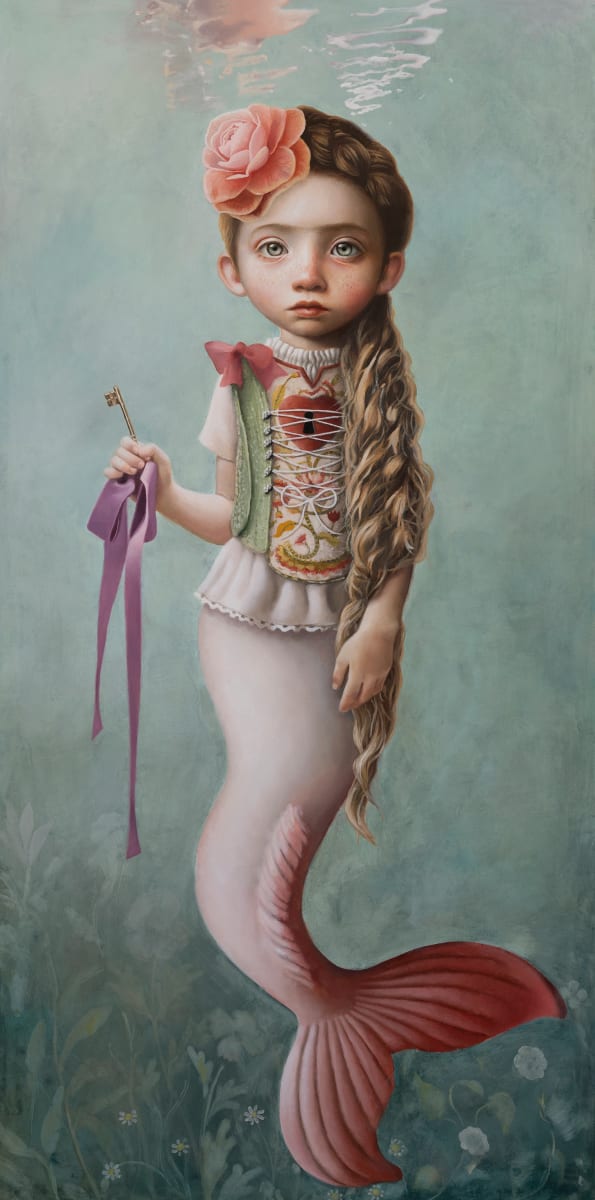 About the Artist //
She was born on January 2, 1975 in Valencia, just when Franco's dictatorship was in its final stage. Her parents were activists of the anti-fascist movement, defenders of liberties and social justice, an aspect that has had a great influence on their way of understanding life and also art.
Being still very young, the family leaves the city, looking for a different way of life, and moves to the countryside. Surrounded by nature, her love for animals begins. Her house becomes a refuge for abandoned animals. There she lives with dogs, cats, rabbits, geese, chickens, ducks, hamsters As she is an only daughter and without other children to play with, she would collect fallen sparrows from the ground and walk snails, play with the frogs and feed ants. This little girl with an extremely timid character finds when reading, a world to submerge in. She reads with passion all kinds of books that she finds in the home library; but it will be fantasy and science fiction the literary genre that she would fall in love with.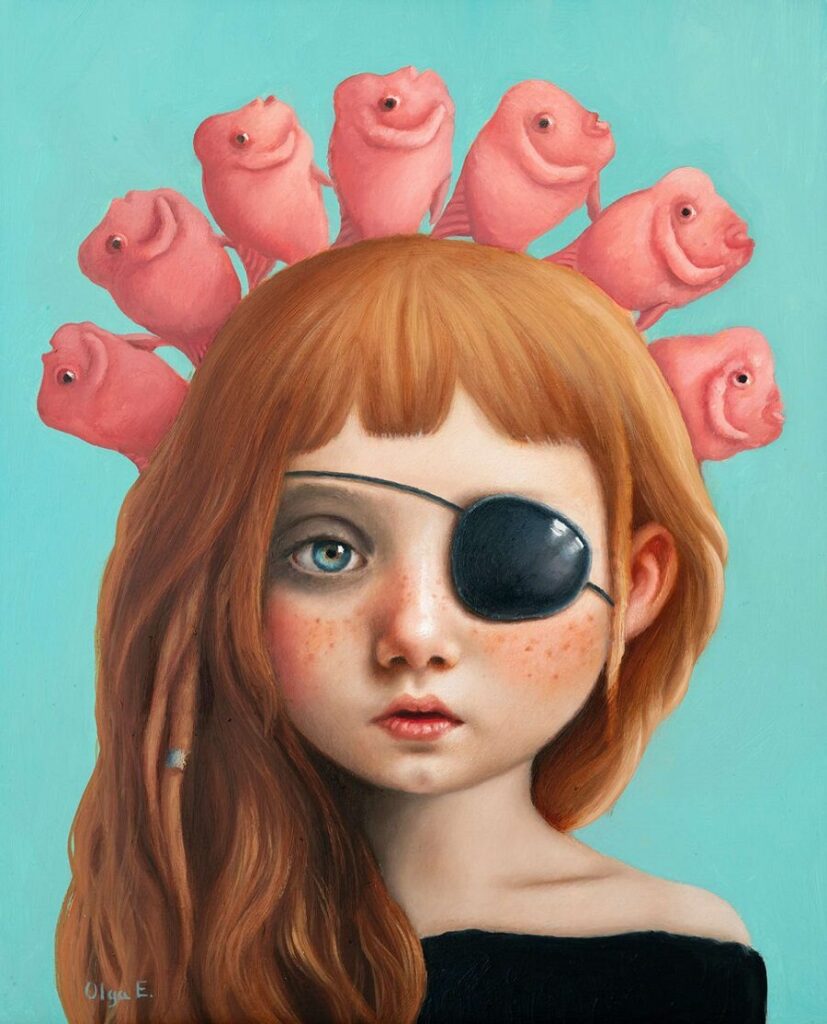 Northport, NY– Haven Gallery is honored to present "Sleepless Night", a solo show of new work from Japan based artist Shiori Matsumoto. "Sleepless Night" is Matsumoto's first solo show in the United States and features her highly detailed, narrative portraits of her ageless female sitters amidst surrealistic reveries. The setting of nightfall, a time often associated with the unworldly and the curious, pervades this collection. Otherworldly beings, magical forces and transmogrified forms are ever present in her latest series creating mystery around whether Matsumoto's sitters are in the dreaming or waking world.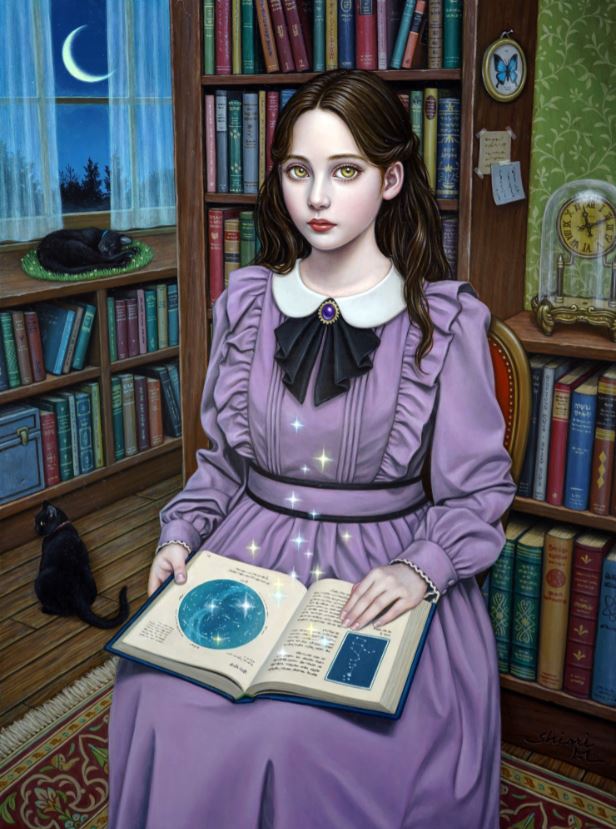 About the Artist //
I was born in the Kagawa-prefecture of Japan in 1973. I studied oil painting in The Kyoto Saga University of Arts. The paintings which I am going to express are dreamlike, melancholy and cryptic atmospheres with girls who play with imagination and try to change the world with their own ritual.
"Here are children as fables, suspended in time, their breath still warm in their throats, the world around each figure a dream of perfect context, full of mystery and exquisite symbolic and surreal detail. The artist's extensive and complex treatise on the life of girls is as constant in its solemn weight as it is in its relentless seduction of the eye. These children are deep and aware. They are in every instance involved in a deep, two-way conversation with all that surrounds them. Their fragile beauty is sometimes infused with resolve, and other times with an air of weary resignation. But in both cases one is sure that they somehow know that they themselves are the greatest mystery, that they will persevere and carry forward.
While Shiori Matsumoto's moving and lovely paintings pay an affectionate homage to European surrealist and symbolic painters they only begin with this influence. The work floats further into a realm of subtle and nuanced sadness that has all the compelling pathos of sakura no saishū-bi. To my eye this transporting effect is somehow profoundly, beautifully and uniquely Japanese."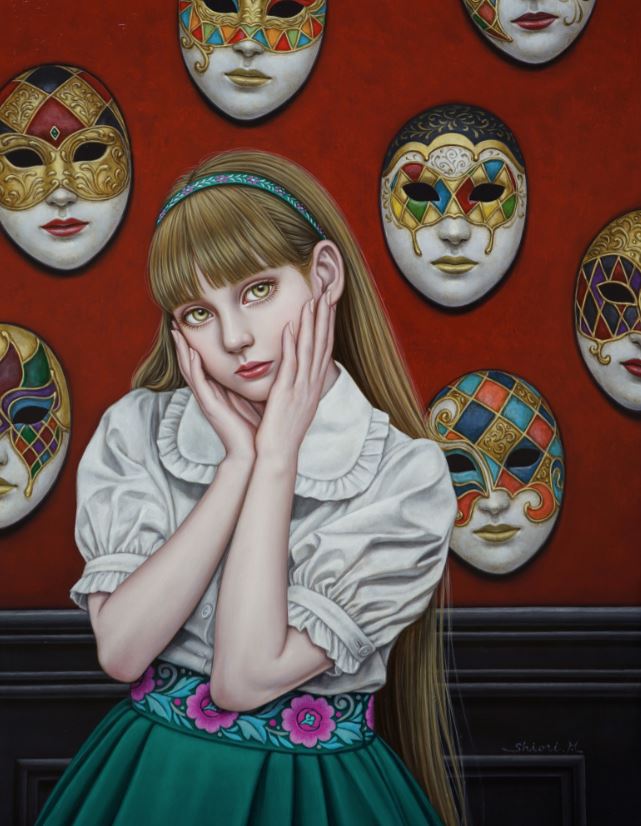 Northport, NY– Haven Gallery is honored to present "Addictions", a solo show of new work from Mexico based artist Yuriko Shirou. "Addictions" is Shirou's third show at the gallery and consists of eleven haunting paintings consisting of watercolor, acrylic, gouache, pastel color, markers, inks, graphite and color pencils on paper. For this particular collection, the artist continues her pursuit of studying psychological neuroses through her art with a focus on addiction. Her white haired, girlish sitters most notably portrayed as ball jointed dolls, tackle obsessions with gambling, candy, drinking, drugs and other manias.
The paintings in "Addictions" focus on individual figures as they contend with their own personal challenges. Trials that have pervaded humanity throughout history and are defined by a sense of solitude. Each painting is created with an autumnal palette mimicking an aged and antique style which further sets a dramatic and timeless mood. Shirou chose ball jointed dolls as her sitters; soft and sweet, yet slightly uncanny, with the physical manifestation of their addictions consuming them. Her choice of gentle heroines contrasts the darker adversaries they face, creating a balance of light and dark and representing the hope of triumph over our inner demons. These sweet girls are struggling with trials we all face at some time or another in life.
The double exposed nature of each portrait harks to antique and contemporary methods of photography and are also suggestive of the historic movements in art such a futurism and op art. The hallucinogenic qualities of Garant's work create an optical reaction resulting in an individualized experience. Capturing a moment of perpetual motion through perhaps humans most telling body part, the eyes, playfully provokes the viewers sensory experience. This illusionary effect of motion offers a glimpse of the multifaceted and oftentimes multi-self trait to humanity, both that of one's own volition as well as the latent workings of the subconscious and unconscious mind.
About the Artist //
Yuriko Shirou is a self-taught Mexican illustrator. Her professional work has dabbled in Manga, American Comic and Figurative Art. She has done several international projects for various publishers such as Rittenhouse Archives, Cryptozoic Entretainment, Braiiinz! Publishing, Perna studios, among others. She has participated in international art and illustration exhibitions, among which the Creators of Legends / Homenaje a Hans Ruedi Giger; SuperficieArte, Mexico-Switzerland / 2016-2017. She has conducted workshops and conferences focused on Illustration as well as a large number of international commissioned works and various printed publications, including The Guide Artists Magazine / October 2017.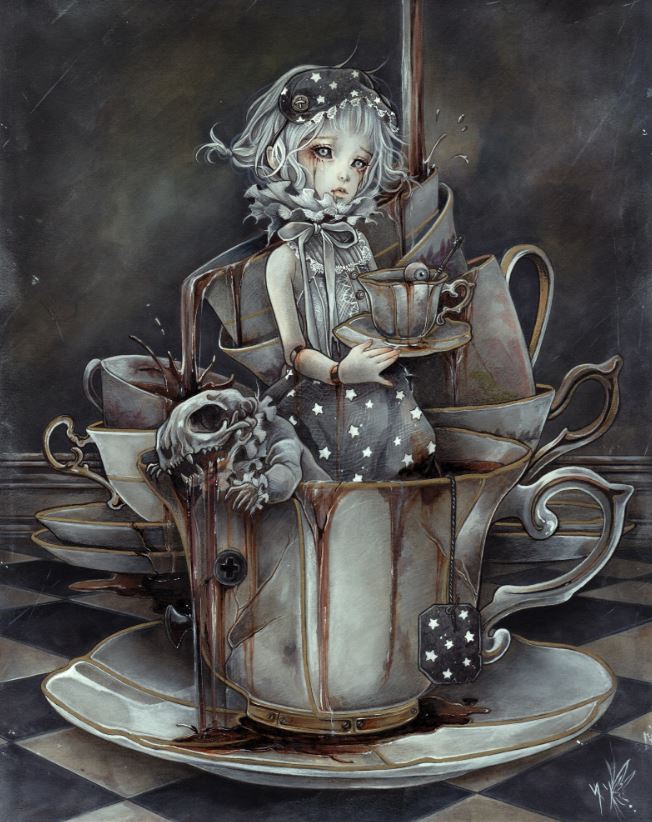 Northport, NY– Haven Gallery is honored to present "Find the way home", a solo show of new work from China based artist Li Shanmei. "Find the way home" is Shanmei's second solo show at the gallery and features eight new oil paintings depicting her youthful yet sage archetypes as they coalesce with nature. Her sitters exist in a world where time overlaps. Motifs of the past, present and future are implied in her painted universes. Feelings of harmony and peace persist despite the odds Shanmei's personages may encounter. Their down turned eyes and serene expressions indicate the knowledge that all things pass, and one may always find their home in nature.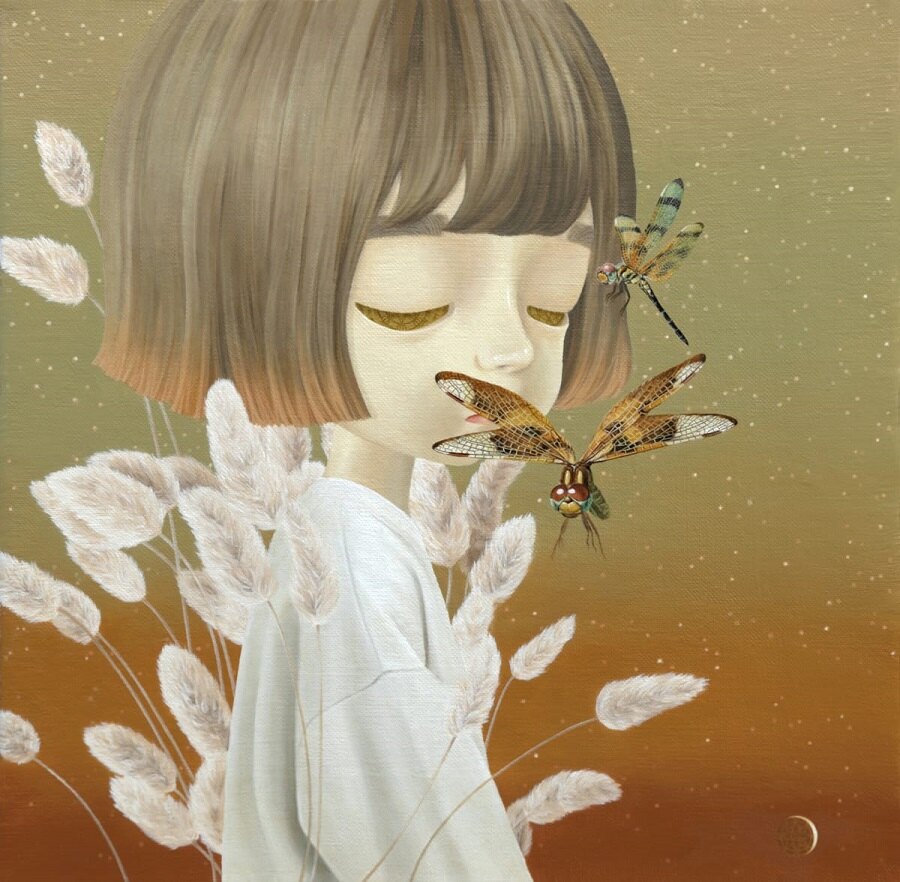 Artist Statement //
Li Shanmei is a Chinese artist born in 1989. She graduated from Yanbian University in 2014. Her oil paintings are known for depicting otherworldly children whose spirits and physical form are one with nature and life. Li's paining technique is realistic yet illustrative, with an aesthetic embrace of computerized graphics. Her use of bold colors, geometry and mandalas are nods to systems of mathematics yet also embody tools of spiritual guidance and ascension. Li's painted children represent new age deities that adapt to the innovations of technology while also maintaining homeostasis with their natural world.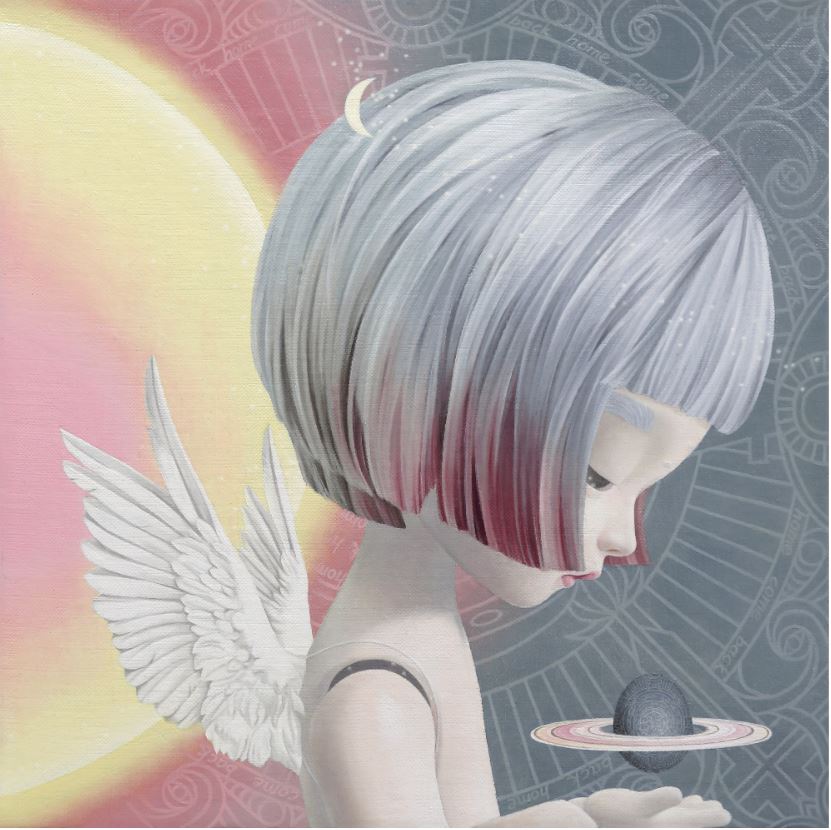 Haven Gallery is excited to present a group exhibition entitled "Museum Collections: The Uffizi", an academic study and reinterpretation of classic paintings or sculptures from this collection. The first of an ongoing series in which artists study and reflect on universal motifs and narratives found throughout art history.
Exhibiting artists include: Flor Padilla, Gina Matarazzo, Ronald Companoca, Orphné Achéron, Yusei Abe, Adam Miller, Jon Ching, aica, Alexis Savopoulos, Zoe Chigi, Andrew K Currey, Cirius, Valéry VECU-Quitard, Marc Le Rest, Nikolas Tower, Chris Mars, Lindsey Carr, Yui Sakamoto & Brian Sostrom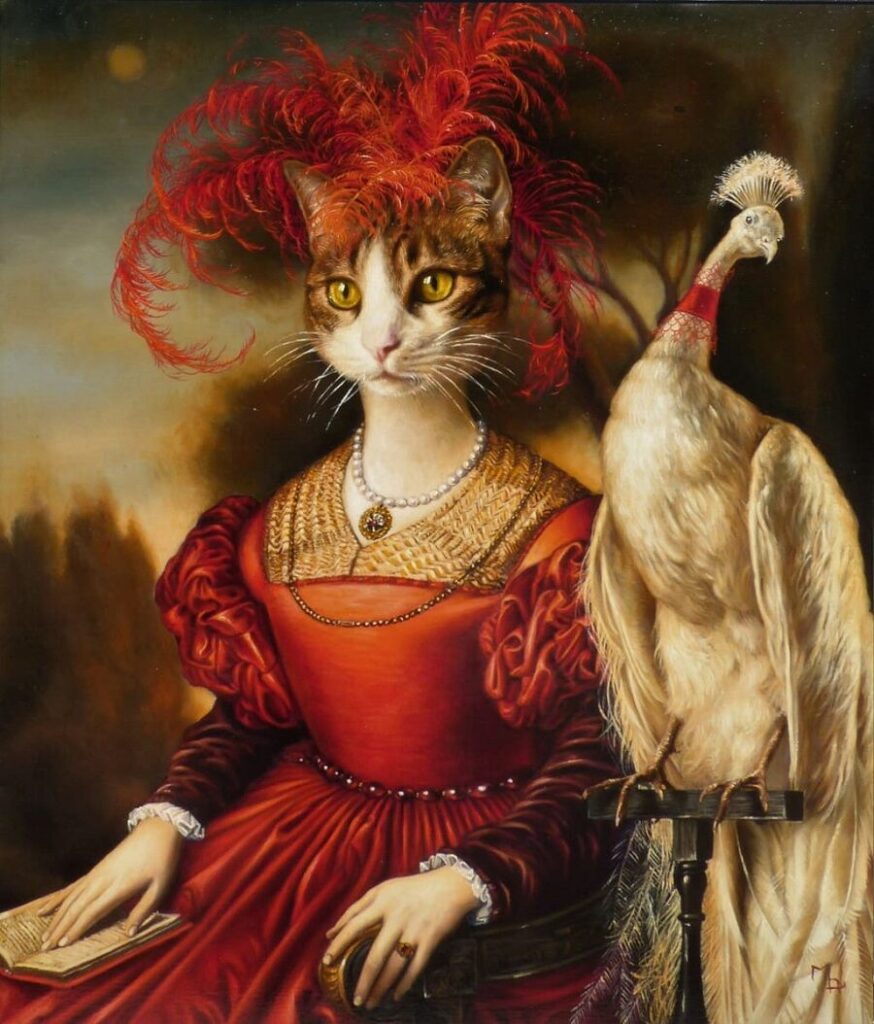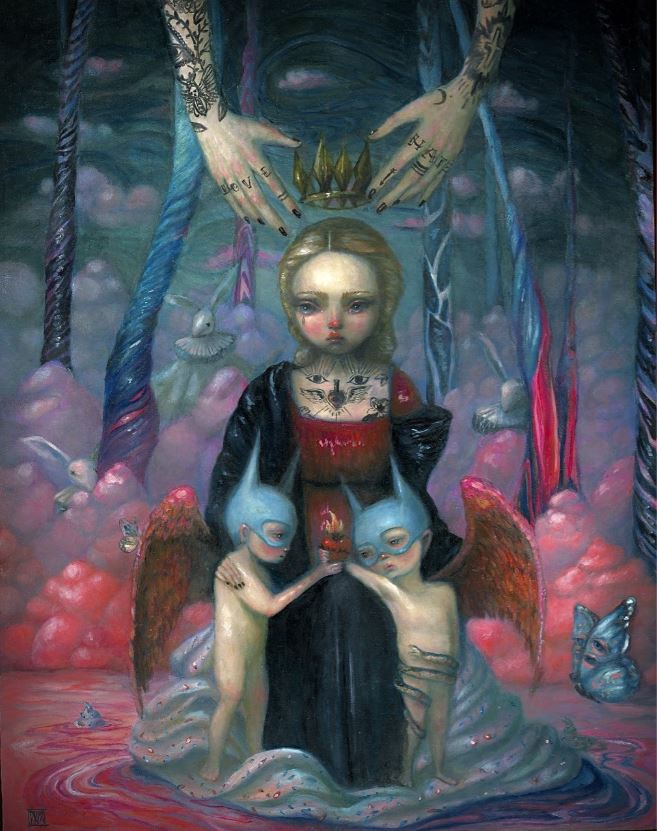 Haven Gallery Social Media Accounts