The Dark Art Emporium welcomes you to the other side with open arms. Embrace the invitation and join them this weekend as they honor exciting new exhibitions by Adam Augustyn, Jenny Fontana and Mary Esther Muñoz. Stimulate your senses with distinct visual narratives that cradle imagination. The sweet, the sinister, the unusually delightful… each form a creative collective that has a little something for everyone. We hope you enjoy this selection of artwork as much as we do – see the full collection on The Dark Art Emporium website!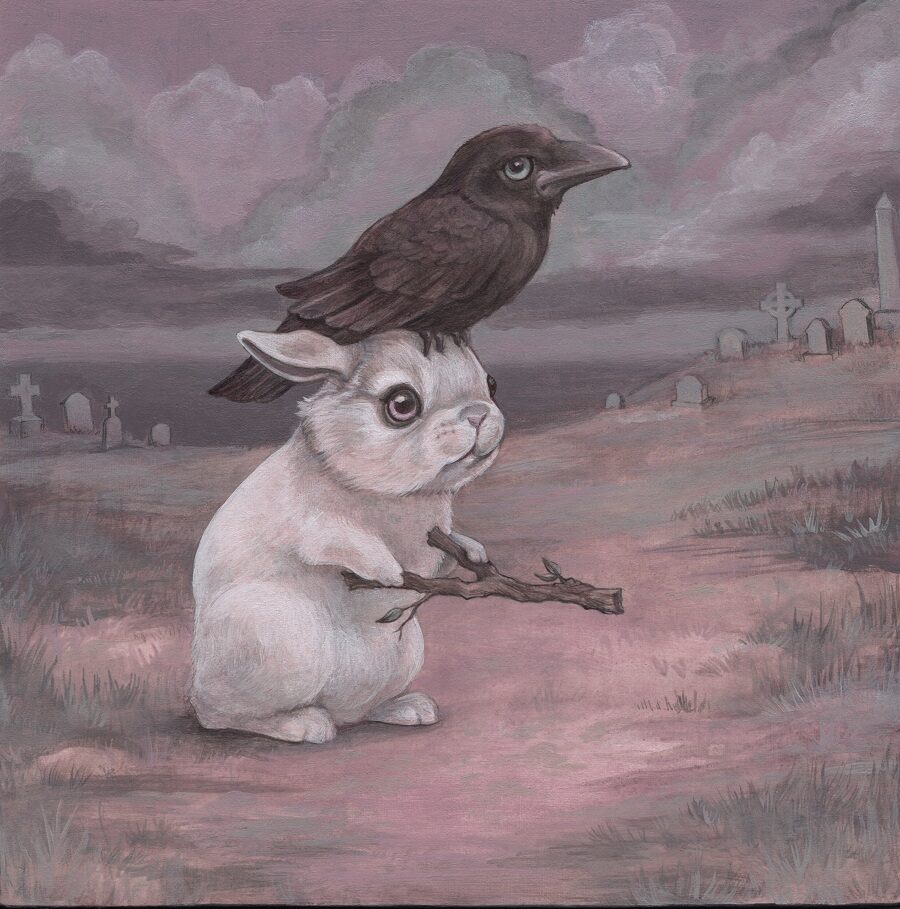 Time travel and see previous exhibitions – view available artworks by visiting their website! If you haven't discovered The Art Pit DAE Podcast, now's the time. The Jeremys (as in Jeremy Schott – Owner and Jeremy Cross – Assistant Director) discuss all things art, music, movies, and more. Episodes are available to stream using Soundcloud via The Dark Art Emporium website or their YouTube channel.
Opening Reception: Saturday, April 8, 2023 | 5-9pm
The Dark Art Emporium
121 W. 4th Street, Long Beach, California 90802
Friday & Saturday 12 – 7pm | Sunday 12 – 5pm
Located in Downtown Long Beach within The 4th Horseman
For additional information and purchase availability please contact [email protected]
---
Adam Augustyn
This collection of paintings explores the trend of censorship and the marginalization of "others" by using imagery from historic periods of witch hunts and harkening back to the satanic panic of the 1980s of the artist's youth. Video game style ghosts wander across each painting as observers, like the chorus in a Greek tragedy. The collection is meant as a dark fairy tale, closing with sleep, leaving the viewer to determine whether it was just a dream or reality.
About the Artist //
Adam Augustyn's (b. 1978) work is inspired by animation, mythology, music, cults, horror films, his home city of Chicago, and the latest obsessions of his three little girls. His paintings play with scale, color, and theme to produce the unexpected – oversized humans, vibrant playful demons–and to emphasize the impact of our choices, actions, and moods on the literal environment.
Adam Augustyn is a painter, animator, and art director. He has exhibited in Chicago, Los Angeles, San Francisco, Philadelphia, and Seattle.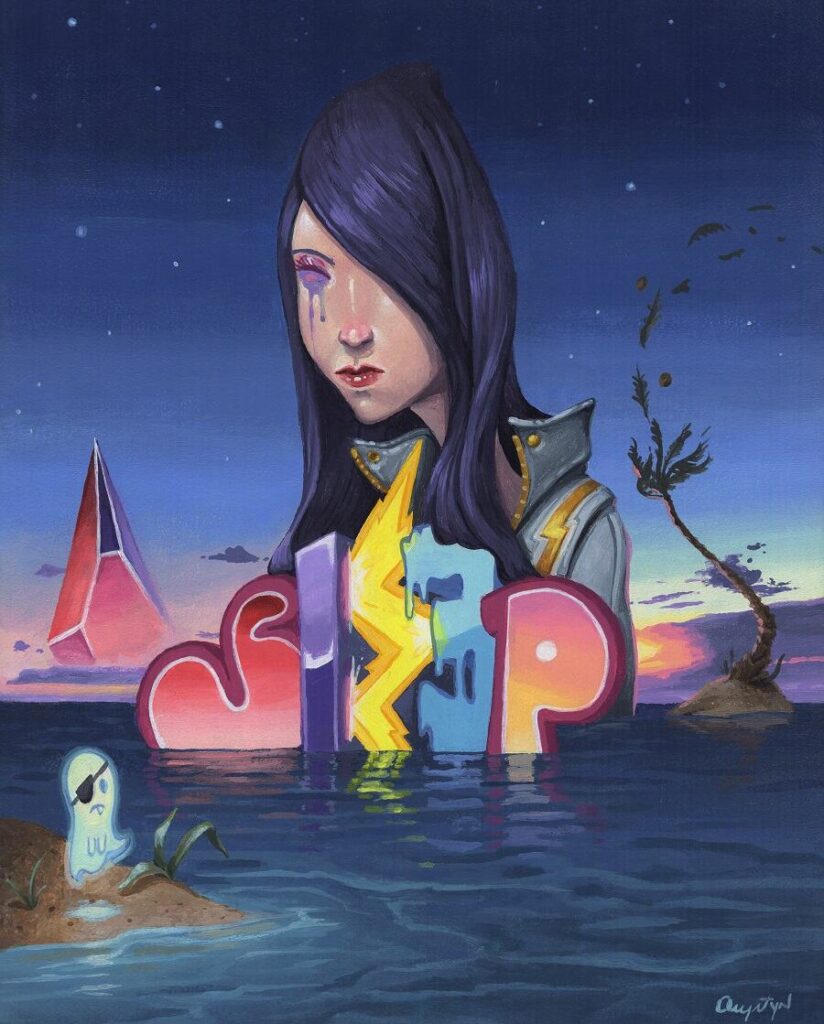 Jenny Fontana
Jenny Fontana's newest series of paintings focuses on the theme of being a soft creature in a hard world. Candy colors and sweet animals lure us into narratives about loss and uncertainty. The images suggest that despite the discomfort, we can remain playful and hopeful.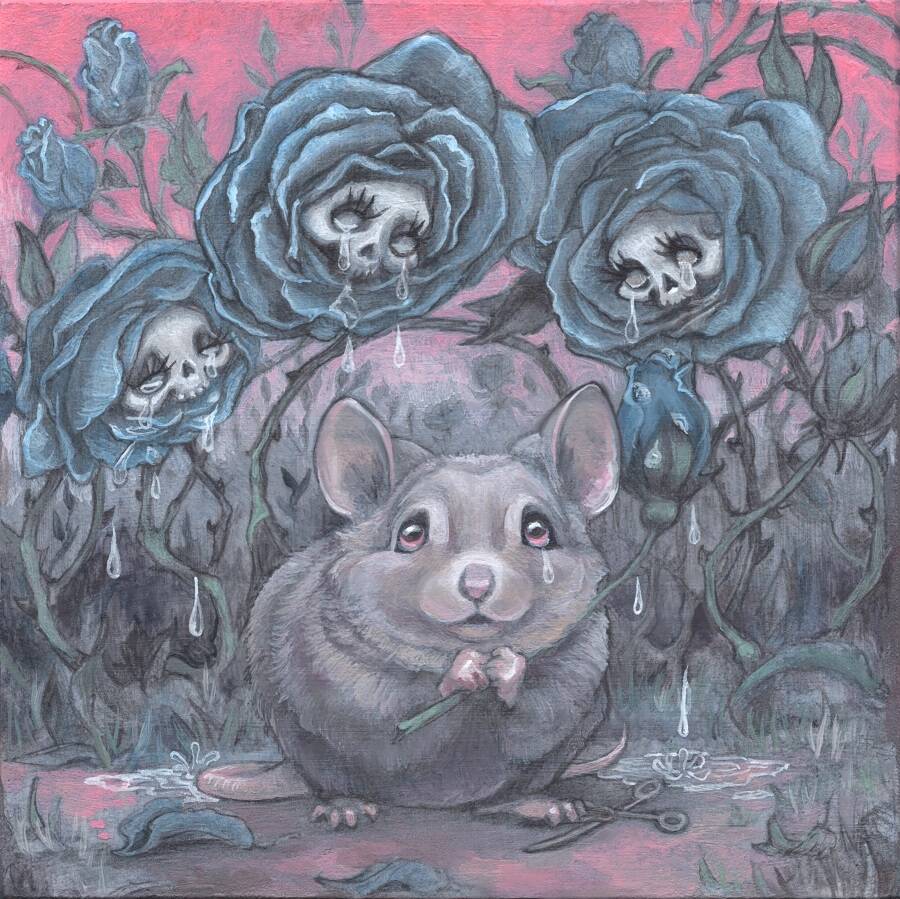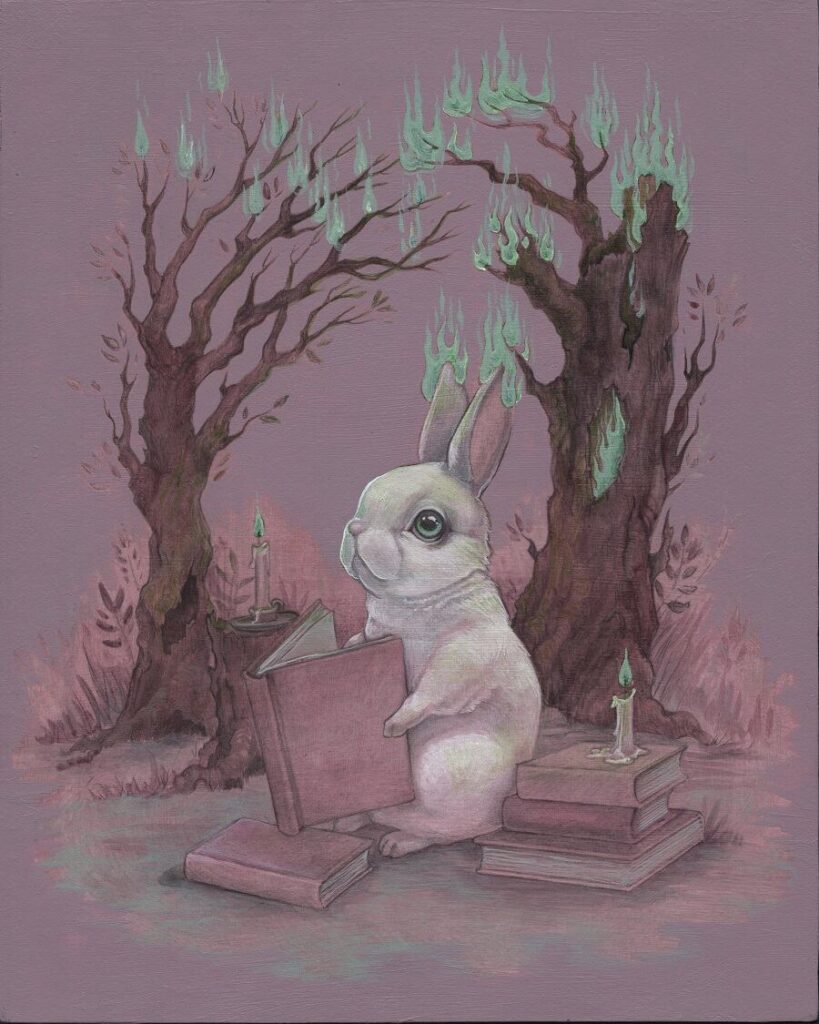 Mary Esther Muñoz
Mary Esther Muñoz is a California-based artist inspired by mycology, rituals, shrines, flower meanings, horror movies, and all things Halloween. Her favorite materials are acrylic, ink and gouache and her style is intimate, dark and whimsical. Her current series explores the human body's ultimate submission to nature, presenting the body in a shrine-like manner adorned with symbolic fungi and foliage. Open to interpretation, each piece can be viewed as nature assembling or reclaiming the subject, both flourishing and decaying.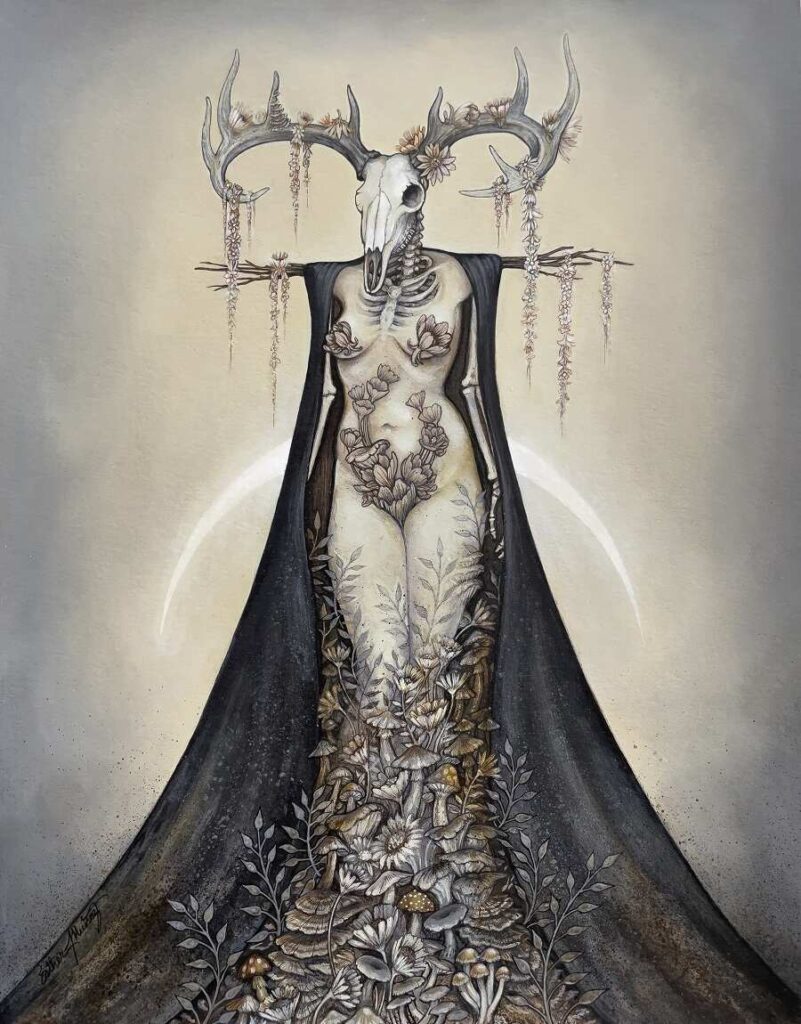 The Dark Art Emporium Social Media Accounts