From dressing celebrities to being featured in one of the The Hunger Games films: life is good for Ukrainian born fashion designer Elena Slivnyak and her label IIMUAHII. With her dystopian, science fiction inspired aesthetic and a love for monochromatic color palettes Elena's work has a voice not many in the fashion industry dare to show and it makes for one impressive portfolio. Reading more about Elena will only give you more to love: she's a bit of a sci-fi geek and is fighting hard for a cruelty-free fashion industry. Now that's girl power! I was lucky enough to talk to Elena about her wonderful collections, intriguing aesthetic and what's next for IIMUAHII.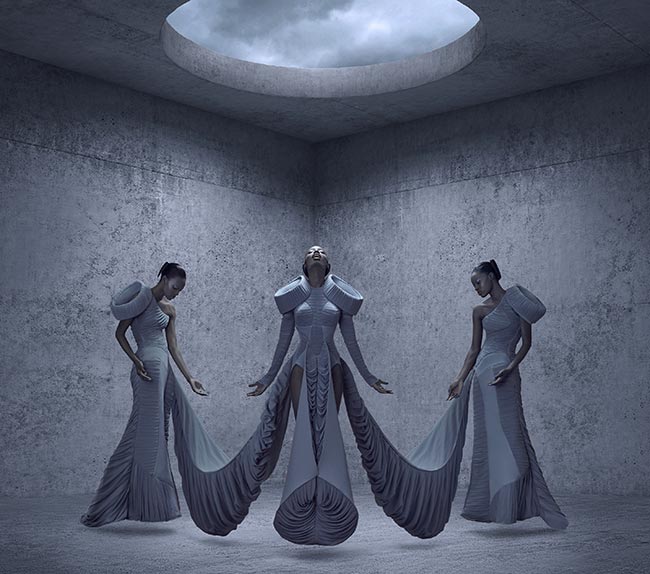 Hi Elena, thanks for talking to us! Could you give a short introduction of yourself and IIMUAHII for our readers that are new to you and your brand?
I was made in Ukraine but grew up in USA. I have always had a natural affinity to create and visualize awe-inspiring art, which lead me to my present career as an avant-garde garment architect. I'm a futurist at heart and love creating clothes and products that exude unique, out-of- the-box qualities. IIMUAHII [Pronounced "Eee-mooah- eee"] is a brand I created in 2011 as soon as I graduated from Academy of Art University in San Francisco. The IIMUAHII name stems from the Hawaiian word imuah, which means; first, front, forward, ahead, or number one. I concluded that this name would be perfect for my brand vision and IIMUAHII was born. We specialize in unique one-of- a-kind garments for the music and film industry and will soon be launching a capsule ready-to-wear collection for our devoted fans.
Although every collection has a theme and focus, your latest, Space Opera, explores unearthly lifeforms nesting in the deep sea. For instance, the common thread in all your work seem to be Asian inspired silhouettes and a futuristic appearance. What is it about these two themes that inspire you?
Usually the themes and subjects that inspire me are not what people would normally consider beautiful, but they are beautiful to me. I tend to look for unordinary creatures, landscapes, architecture, and art, to find that one shape or detail to harness in my collections. The simplicity and minimalism of the Japanese culture is translated into a material concept that I find myself repeating in my design process again and again. The shapes of Nihon kenchiku buildings have especially served as inspiration for many of the garments I've worked on. The samurai uniforms and the 2D art of many eras have also been a constant presence in my work.
Futurism has been embedded in my brain since a young age. I remember watching my first sci-fi movies like Dune, RoboCop, and Terminator, and falling in love with these fantasy concepts. I have always had this feeling in me that we as humans have so much potential, but choose not to utilize it and turn a blind eye to it. In my future we are all are united, race does not exist, money does not exist, and we are not shallow, but instead everyone contributes their talent to better everyone as a whole. These concepts are always at the forefront of my mind when I am creating my art.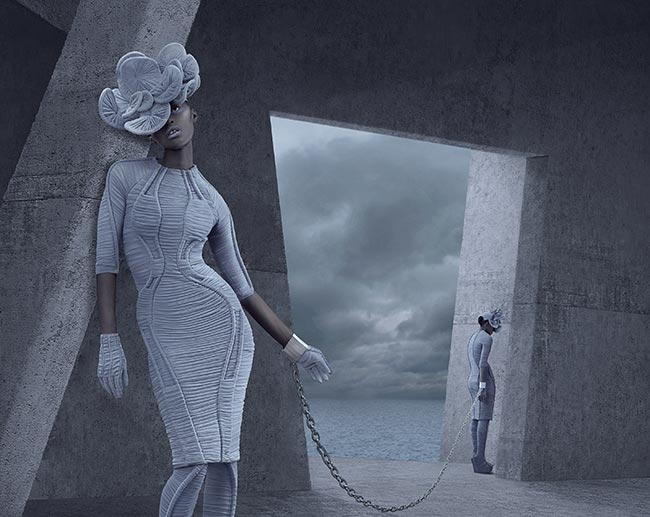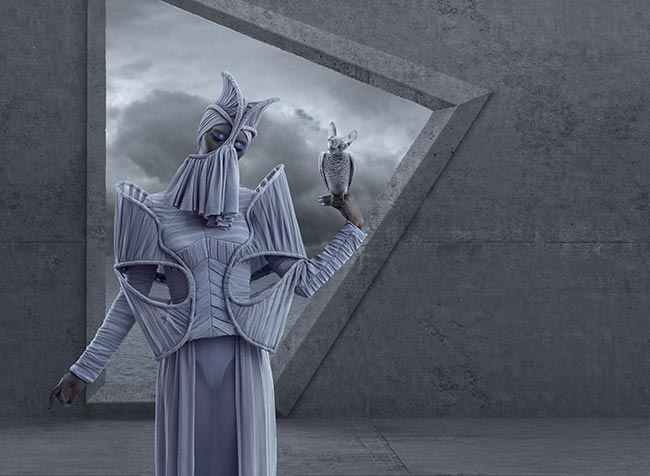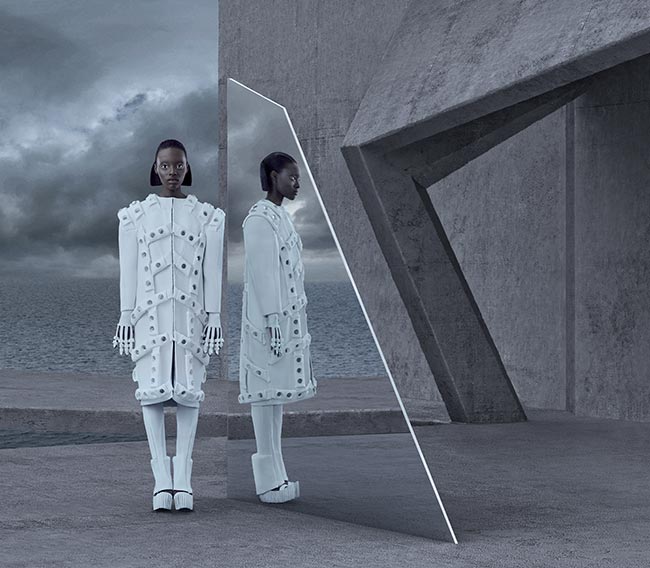 Speaking of Space Opera: the collection looks so amazing, it's a work of art! Can you tell a bit more about the background of the collection?
The Space Opera collection was conceptualized when I stumbled upon a documentary about the deep sea world and it's inhabitants. I immediately became fascinated with everything about it. I learned that we know more about space than our own oceans. The alien-like creatures and mutants became my obsession. Once I researched more about it, I knew I had to explore further and base my core inspiration for the next collection on this amazing topic.
In the Space Opera collection, you will notice shapes resembling fins, fish eyes, and teeth within garment construction. Furthermore, some garments have light reflective qualities, to mimic the evolution of the creatures down at the bottom of the deep see, who have adapted to produce bioluminescent chemicals in their bodies to use a camouflage, or to attract mates, or scare off predators. I could have gone on to create thousands of concepts based on this inspiration. It is so mesmerizing and unique, it was perfect.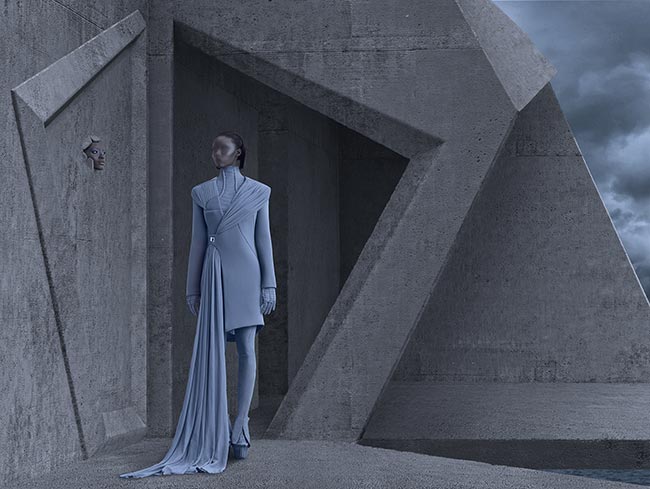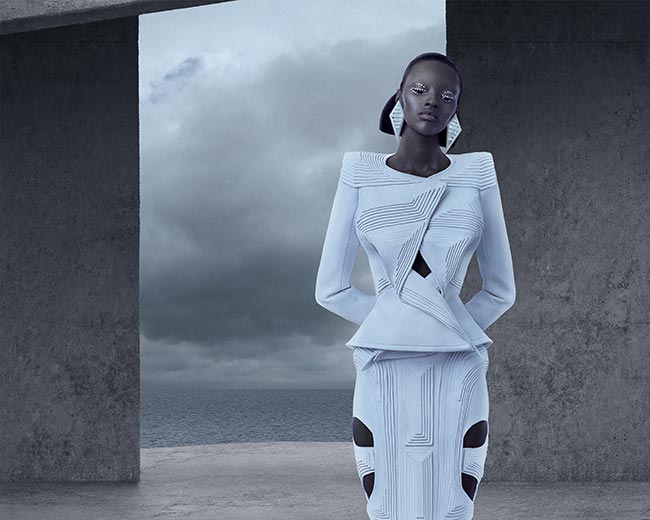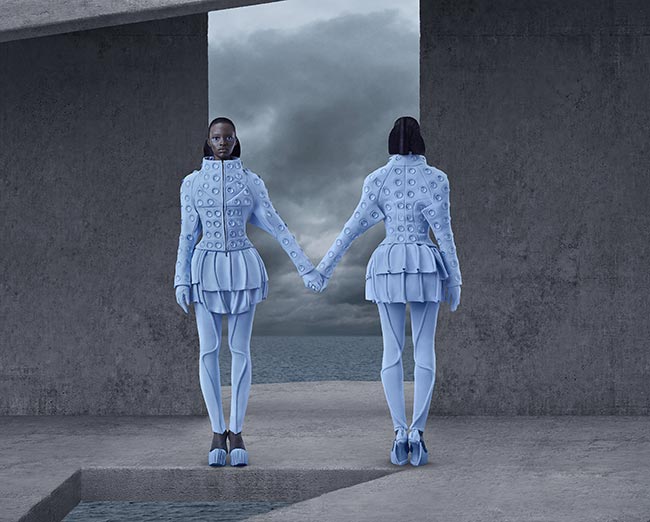 IIMUAHII is a sustainable and environmentally responsible company. You produce everything locally and make sure all your collections are fur and cruelty free. A delight in the fashion industry! How important is conscious fashion for you and your brand?
I am and always have been a huge animal lover and advocate. I think that the use of fur especially is beyond cruel and unnecessary. We do not live in a cave anymore and have developed materials that are 100x more warm than fur. The cruel practices around the world that take place so that you can have your alligator bag or fur jacket are sadistic in my view. Instead of looking for ways to develop completely new materials, they take the easy way out and torture helpless beings. I think for me if you are using these materials, you don't have the imagination to produce anything creative and therefore should not even be in this field of work.
I take it as an insult when people call themselves designers, take old silhouettes, and decorate them with fur. I always challenge myself to create new concepts and manipulate cruelty free materials into unique fabrications, so I know it is possible for everyone else. I think the major problem is, is that people do not know how fur is made. They think that the animal is used for food or that they are killed before the fur is extracted, which is so far from the truth. There needs to be more education on these issues, and this is the first thing I teach my students at Academy of Art University.
There's a big group of IIMUAHII fans among celebrities and fashion icons; Lady Gaga, Debbie Harry and Tyra Banks to name a few. Is there someone in particular you'd love to dress in the future?
I would love to work with Tilda Swinton. I think this woman is amazing and in many ways reminds me of my mother. I would also like to expand to influential people and celebrities outside of the US as well.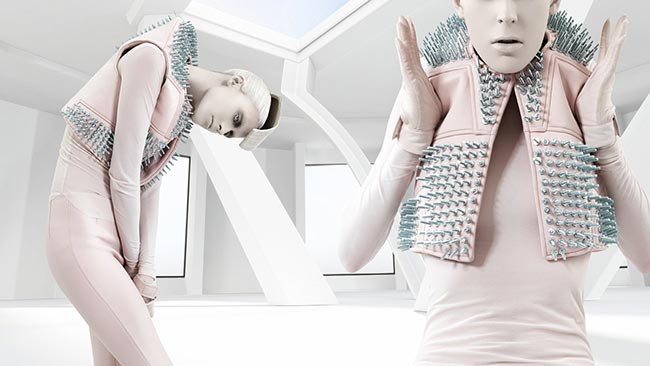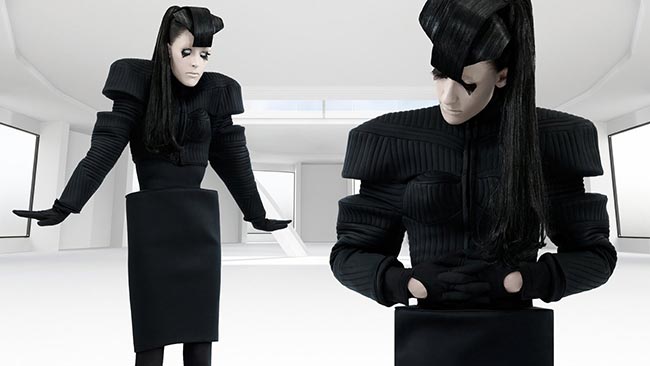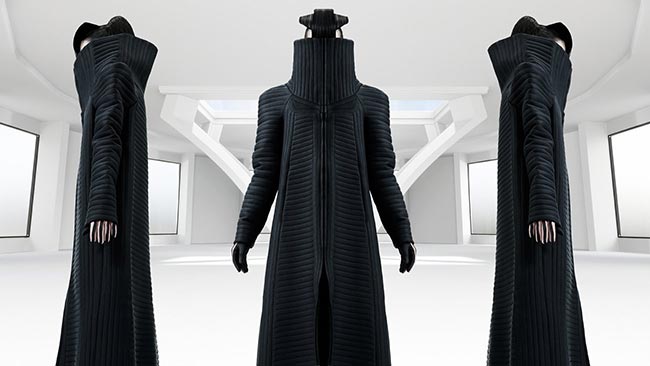 In the popular film The Hunger Games: Mockingjay one of the characters is wearing IIMUAHII. With films like Ghost in the Shell and the upcoming Blade Runner sequel, Hollywood seems to have finally fallen for the dystopian sci-fi genre, a great match with your work's aesthetic. Is there a director or movie franchise that you'd like to work with?

I have always been the biggest Star Trek fan and would love the opportunity to work with J.J. Abrams one day. I think the films he worked on are especially powerful.
You participated in the 10th season of Project Runway, and returned for the 3rd season of Project Runway All Stars. Did being a part of these shows have an impact on your brand?
Not really, it's an experience that was not very conducive to what I am trying to do and the way I was portrayed does not really speak to who I really am in real life.
If you could pick one artist, dead or alive, for a collaboration, who would you choose and why?
Wow, so tough. I think my favorite has to be Hieronymus Bosch. I feel like he was the first surreal artist, before Dali or anyone else. His works are so out of this world and so far beyond his time. I would really like to use his art as inspiration for a collection in the future.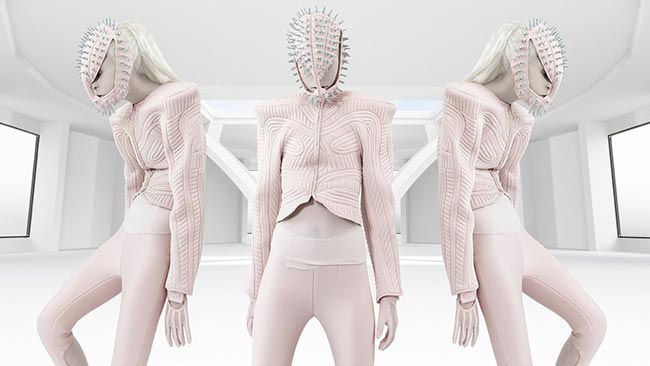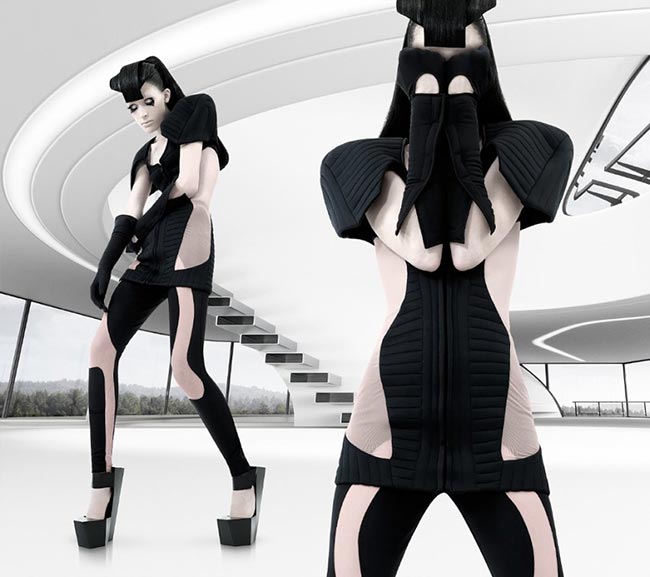 With social communities like Instagram, Facebook and Pinterest around it's almost impossible to not have an internet presence. How important is the internet for you as an artist?

It is very important. Here I can publish my works for everyone to see. It's hard at times to keep up with it, but it's a necessary evil. It is also important to keep up with ongoing art movements, artist communities and the fashion world to know that what you are doing is truly one of a kind.
Can you tell a little bit about the project you're currently working on?

I am currently in the middle of producing sunglasses, shoes, and a small capsule collection of jackets and coats for the ready-to-wear market. I have been contacted by many fans and have been told how much they would love to own something of mine, hence their wish will come true this September. I will be selling some of these items on my webstore. After the launch, I will be creating another concept collection.
Last but not least, can you recommend a book, movie or artist you've enjoyed lately?

Stranger Things on Netflix is so amazing. Also I've been reading a book called Journey of Souls, which completely changed my life and perspective on things.
All photos from the Space Opera collection by Kristina Varaksina.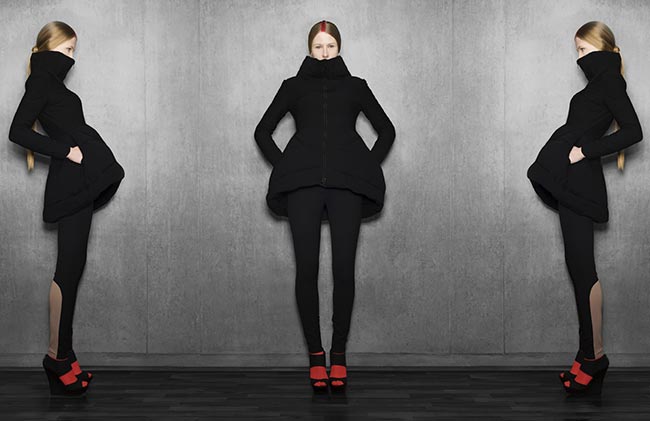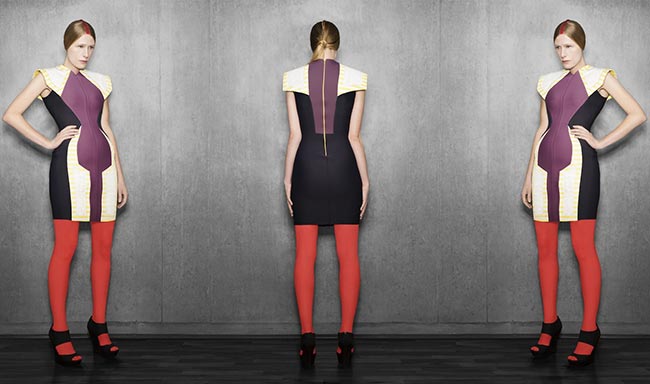 Save