By exhibiting his wondrously mystical paintings for over ten years, Matt Dangler has given us countless glimpses into magical worlds that teem with cute and creepy creatures that float and flop the gamut of his beautiful mind. Matt paints with an impeccable attention to detail, a feat particularly impressive considering the majority of his works are small-scale. And despite their littleness, Matt's creatures evoke a grand response, their big-toothed, big-eyed faces, and wrinkled, feathered, and bejeweled bodies packing a playful sock to the head, leaving you at once both giddy and gloomy and always greedy for more. But in this interview, Matt gives us an important reminder – one illustrated by the Arcade Fire song 'Creature Comfort:' "Born in a diamond mine; It's all around you but you can't see it." In other words, he reminds us to look for the magic in everyday life. It may be a bat you witness, darting overhead as you walk with friends under a full moon; or a visit from your neighbor's adorable new puppy – wonder abounds, and it's waiting for you to take notice.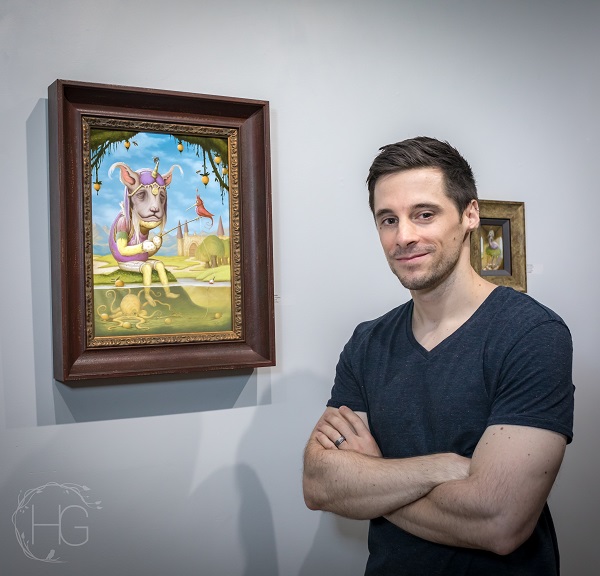 I'd like to start by asking you about meditation. I read in another interview that you meditate to tap into your inner creative resources. A couple of years ago I read David Lynch's fascinating book on meditation and creativity titled "Catching the Big Fish," and during a presentation Lynch said about meditation, "It's a simple, easy, effortless technique yet supremely profound that allows any human being to dive within, experiencing subtler levels of mind and intellect and transcend and experience this ocean of pure consciousness." First, have you followed Lynch's readings and talks on meditation, and second, can you tell us how your creative process has changed since you starting meditating?
I haven't followed Lynch's readings and talks, but you've inspired me to check them out… thank you for that. We have very similar views on meditation. In regards to my own personal meditation, it's something I've "encountered" since my earliest days of drawing. As it became more apparent, I developed more of an interest and focus around it. However, I'd first like to point out what meditation is to me. It is to become part of your being, something to exist out of… not just at a yoga class or in a lotus position in the middle of a dark room. It is a guide to align yourself with the present moment to fully immerse and be ready for wherever your life story takes you, not distracted in thoughts or manipulated by ego etc. It has helped me draw from an inner well of images and feelings that I don't even quite understand initially. That said, my creative process has become much more intuitive with meditation… I depend greatly on being more like a messenger than a dictator.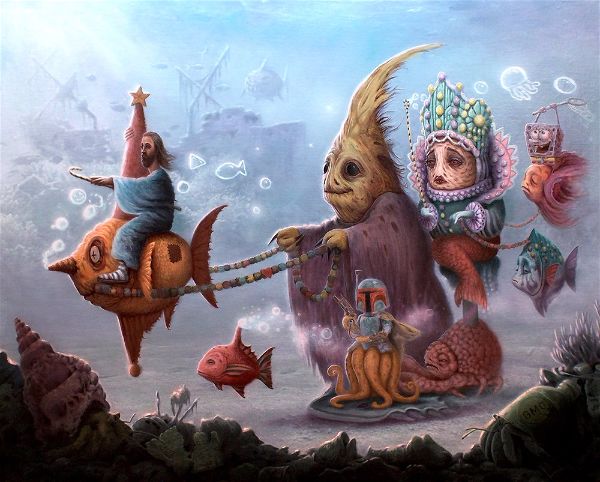 After you began meditation, did you find that the dreams you had at night become more clear and vivid? Do any of your ideas come from dreams?
Well, it is quite ironic, I thought my dreams would become vibrant, imaginative and creative etc… but I can say with certainty that as meditation became more of a focus in my life, I hardly ever remember my dreams. When I do they are extremely layered metaphorical stories, and pretty mundane… mostly childhood friends and places that represent different aspects of whatever I'm dealing with. Whenever I'm going through the hardest parts of my life story, I often dream of entering very dark and cold basements of childhood houses. I'm pretty certain Jung would also agree with me that this represents some deep parts of the subconscious. I can only assume that meditation has brought clarity to the structure of my inner world… but the weird cathartic enchanting creature stuff I paint only comes out while creating art. Equally as boring, I get more out of just fully embracing any given moment, then imagining things in trees etc. Often a breeze through the leaves or the sound of the stream outside my studio right now brings me much more than my own imagination, but it's not as interesting or stimulating to paint.
I have a longtime dream of facilitating art therapy retreats for teens looking to detach from technology. In our current age of distractions, immediate gratification, and smartphones, what do you feel is a good first step for those of us seeking a more mindful existence?
I absolutely love this and also have that dream… however, I have no idea how to present it without being cheesy or corny etc. I still believe technology is wonderful, gratification awards are nice once in a while, I'm admittedly pretty addicted to my smartphone (even with the insight I have on meditation and all). So… I can't say it's this way or that, but undoubtedly we need a balance, a perspective, and to keep things in moderation. Most of our society is extroverted, thrives on stimulation, outward energies, conveniences… it isn't just a social existence that's distracting either, but even keeping up with bills and life in general is incredibly demanding on us all. I think we all feel that slowing down might make us collapse in these areas of our life.
What I found is, and in dealing with my own anxiety particularly, is most of us are simply not in touch with ourselves. So we go to these outside things to form an identity of who we want to be, or think we should be… rather than embracing and learning what our own unique path and desires are. It's hard to maintain an illusory self, that never yields or attracts what you are looking for. So I keep it simple… I detached. I realized most of what I was struggling with was because it wasn't me. I was forcing myself to play a role.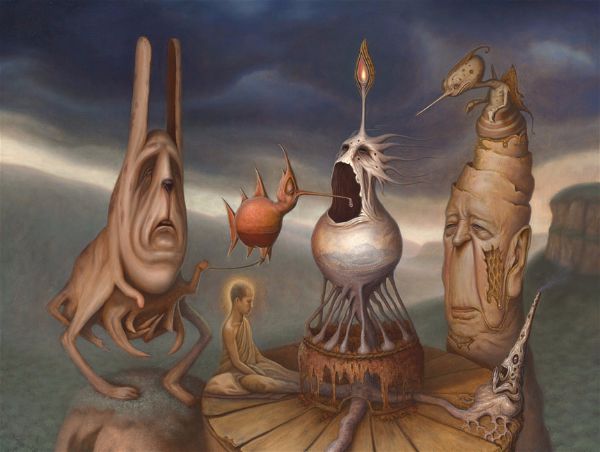 As a genuine "first step" to a mindful existence… I suggest starting with basics: exercise, nutrition, balance of being inside/outside… get yourself on a good foundation, and make sure you do it for you. Love yourself, take care of yourself, spend time alone with yourself with no intentions, see where it takes you. Pay attention to what's around you, not what's in your head. Learn the difference between your ego's voice and intuition.
With an imagination like yours, you must have had amazing parents! Do you recall some of the things your parents said to you growing up, and/or traditions they practiced with you when you were a child that you now believe helped fuel your budding creativity?
I've been extremely fortunate, my parents have always encouraged me to pursue art because it's what I loved. As such, they decided very early on to embrace it and evolve in it with me. Even my mom when I showed her my drawings of demons and severed heads around 5th grade. Even after a few visits to the school psychologist… (many of my teachers were concerned, I don't blame them now)! But anyway, I think without a doubt it was my parents excitement in my creations and their enthusiasm to learn about the art I was interested in that kept me motivated. To this day one of my favorite parts of a painting is getting to show them, even though it's hard to top the 5th grade shock value, haha.