Kazuhiro Hori is known for his surrealistic paintings of young Japanese girls in their school uniform, surrounded – and, sometimes, trapped – by sweets and toys: the things they are supposed to love. Some of us would never have guessed that this is not the only theme the artist has explored through his works. In anticipation of his participation in the upcoming beautiful.bizarre curated exhibition Bitter | Sweet at 19 Karen Contemporary Artspace (Gold Coast, Australia), opening 18 March 2017, we'd like to share a few things we've learned about him through our exclusive interview.
堀一浩は若い制服を着た日本人女子がお菓子や玩具に(それらは彼女たちが好きな物ではあるが)囲まれたり、時として捕らわれていたりするシーンをシューレアリスティックに描く事で有名である。ある人たちはこのテーマ以外の作品作りに彼が取り組んでいることを知らないであろう。2017年3月18日に公開されるビューティフルビザー監修の展示会、ビター | スイート、19カレンコンテンポラリーアートスペース(ゴールドコースト、オーストラリア)に彼が参加するにあたり私たちはいくつかの彼の考えを独占インタビューした。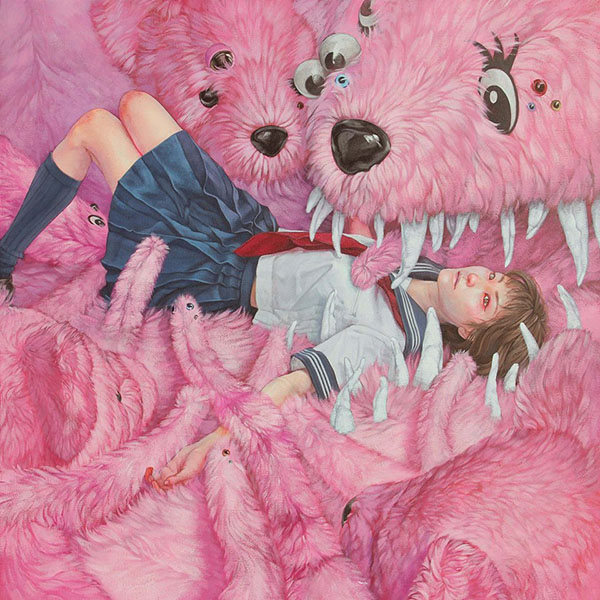 "Prey", 2016
Acrylic on canvas, 50 x 50 cm
An Excerpt of Kazuhiro Hori's Artist Statement for 'Bitter | Sweet':
"Japanese Junior High and High School Girls – recognizable by their school uniform – are living a dazzling and radiant existence. Surrounded by fashion, music, cute things, and sweet confections they like; they smile together and spend their time with their friends. But, at the same time, their minds are filled with anxiety, and their hearts are held down by dark thoughts and feelings. They study the things they might never find useful in the future, they want to belong in a clique, they don't want to be outcasts, and they want to maintain their relationships with their peers. They are anxious about the things that await them in the future when they finally enter "the real world". They feel uncertain, and they sense a vague kind of anxiety about their future. That is the bitter and sweet circumstances of their lives."
堀一浩のステイトメントから抜粋:
セーラー服に身を包んでいる世代、その年頃の女の子たちは明るく眩しい存在だ。大好きなファッションや音楽、可愛い雑貨、甘いお菓子で身の回りを埋め尽くし、一緒に笑いあえる友人に囲まれて生活している。その一方で、彼女たちは、その心の奥底に不安や多くの闇を抱えている。なんの役に立つかわからない勉強に追われ、はみ出さないように、目立たないようにしながら保つ人間関係、これから待ち受ける社会という得体の知れない現実や、漠然とした将来に対する不安。その両面はまさにbitter/sweetな状況である。セーラー服は現代日本に生活する少女たちが置かれているこの複雑な状況を表現している。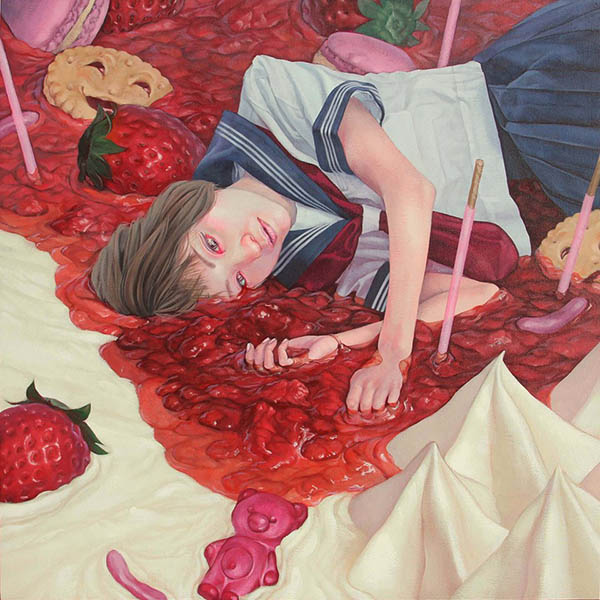 "Strawberry", 2016
Acrylic on canvas, 50 x 50 cm
To enquire about either work above, or if you wish to receive the collectors preview for 'Bitter | Sweet' please contact Gallery Director, Terri Lew [email protected]
上記の作品についてご質問もしくはビター/スイーツのコレクタープレビューをご希望でしたらギャラリーディレクターのテリールゥーまでご連絡下さい [email protected]
How do you feel about exhibiting your work in Australia for the first time?
I know nothing about the Australian art scene. Since the theme of my work is not universal, I'm looking forward to find out how they'll respond to my work. Also, I'd like to know what kind of impression they have about Japanese pop culture.
以前、 オーストラリアで展示会を開かれたことはありますか? もし初めて開かれたのならば、どんな気持ちですか?
オーストラリアでは初めてです。オーストラリアのアートに関する情報はほとんど知らないので、どんな反応があるか楽しみです。また、日本のポップカルチャーについてどんな印象を持っているか聞いてみたいです。特に私の作品のテーマはあまりグローバルではないと思うので、興味深いです。
What is it like working with a beautiful.bizarre curator?
Even though my work has been featured in several non-Japanese media before, it has never been promoted as meticulously. Also, I appreciate the fact that beautiful.bizarre asked for my artist statement and images from the earliest stage. I am a fan of beautiful.bizarre so I'm very honored to be able to work with the beautiful.bizarre team. I'll look forward to working with them again in the future.
今回ビューティフル ビザーのキュレーターと仕事をして如何でしたか?
日本以外での発表は何度かありますが、このように丁寧にプロモーションをしてもらったことはありませんでした。また、早い段階からコメントや写真の提出を求められたことも良かったです。何よりも、以前からビューティフル ビザーのファンだったの
で関わることができて大変光栄です。今後も一緒に仕事ができれば嬉しいです。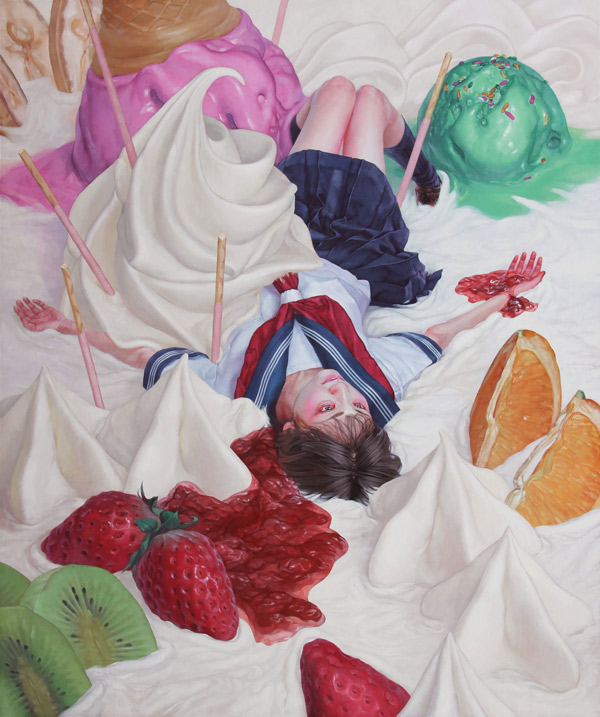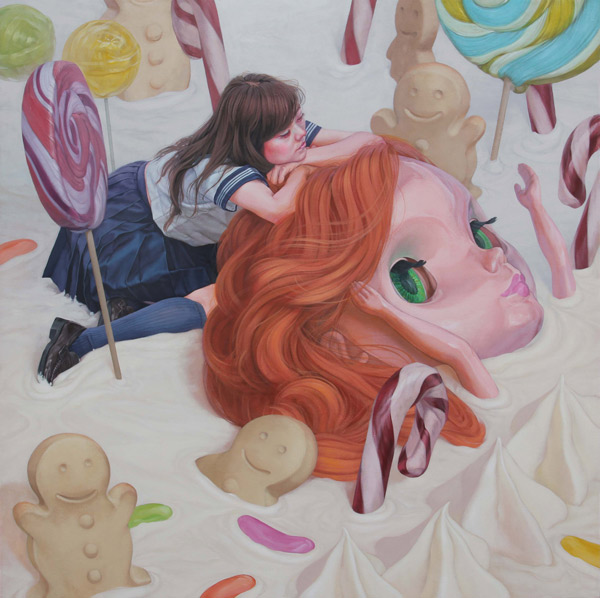 You have an interesting Instagram username. What does "ChardinChardin" mean?
Actually, I don't know . . . Chardin was my nickname during my college years. My underclassmates gave me that nickname, but they don't remember the reason they started calling me with that name. Of course, the origin of that name is the name of that French painter: Jean-Baptiste-Siméon Chardin.
インスタグラムのユーザーネームがとても興味深いです。Chardin Chardinとはどういう意味ですか?
実は私にもよくわかりません。シャルダンは大学生時代の私のニックネームです。後輩に名付けられたのですが、彼らも理由は忘れてしまったそうです。由来はもちろんフランスの画家からとったものです。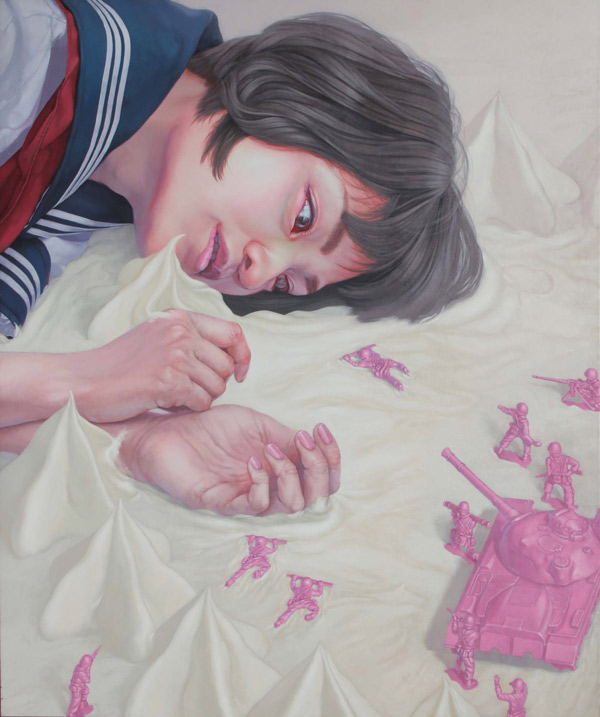 The faces of the girls you paint look very realistic. Are their faces modeled after the people you know?

I need to see the subjects of my paintings; otherwise, I cannot paint them. So, I ask my female acquaintances to wear seifuku (Japanese school uniform) then take their photos. I also need to see the snacks and the toys I paint as well. Actually, if possible, I need to see the real things.
描かれている少女達の顔はとてもリアリスティックです。実在している人物を基に描いていますか?
基本的に私は実物(または資料写真)を見ないと描けません。知り合いの女性にセーラー服を着せて 写真撮影しています。モデルだけではなく、お菓子やぬいぐるみも可能な限り実物を見て描きます。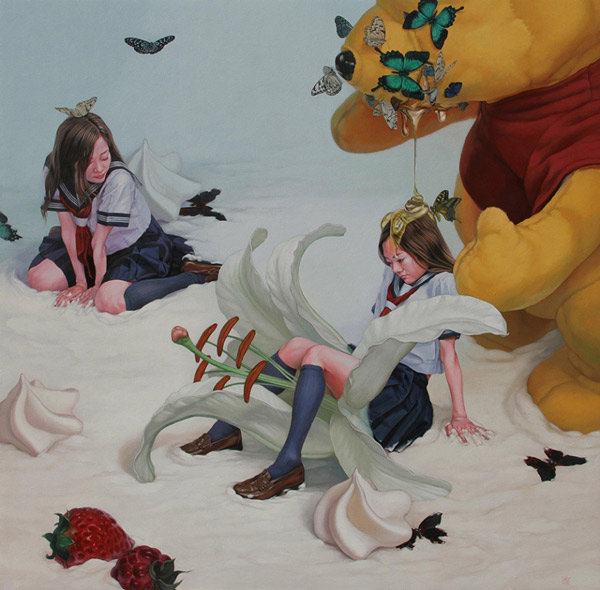 The area surrounding your the girls' eyes looks very red. Does this signify anything?
The area surrounding people's eyes tend redden whenever they are about to cry, or whenever they blush. But, the girls in my paintings are not in situations that make them want to cry. Instead, they embrace the situations they are in and feel a sense of melancholia. That's the kind of feelings you can see in their eyes.
少女たちの眼や眼の周りが赤みを帯びていますが、何かを表現していますか?
涙で目が潤んでいたり、顔が紅潮した表情を表現しています。涙を流すような悲しい状況ではないけれど、現状を受け入れながらも憂いている気持ちを目の色に込めています。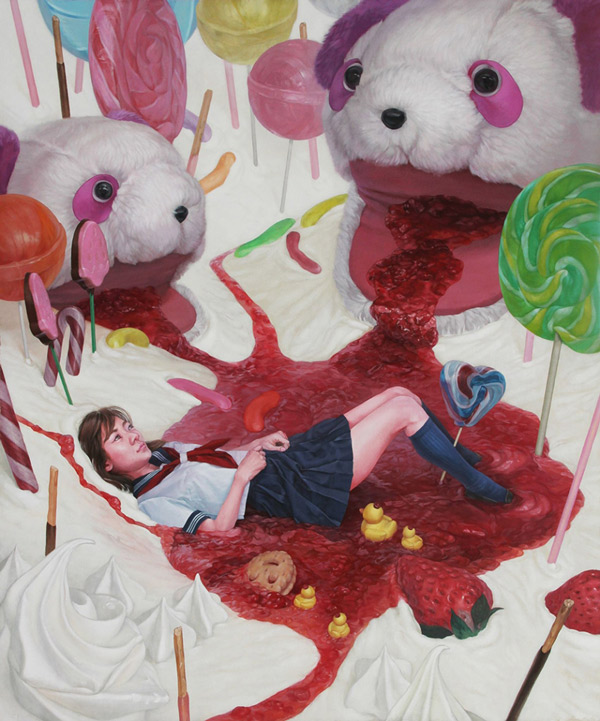 When did you start painting female characters in their school uniform?
Since 2009. Before that, I used to paint distorted/deformed human bodies in a rather grotesque style. The themes of my paintings from that era is much deeper than my current one. They were representations of various social issues.
いつ頃からセーラ服を着た少女達の心の葛藤を描くようになりましたか?
このスタイルに変わったのは2009年です。それまでは人体のフォルムが歪んだような、少しグロテスクなスタイルでした。テーマも現在よりも深刻な、広く社会の病巣のような世界を表現していました。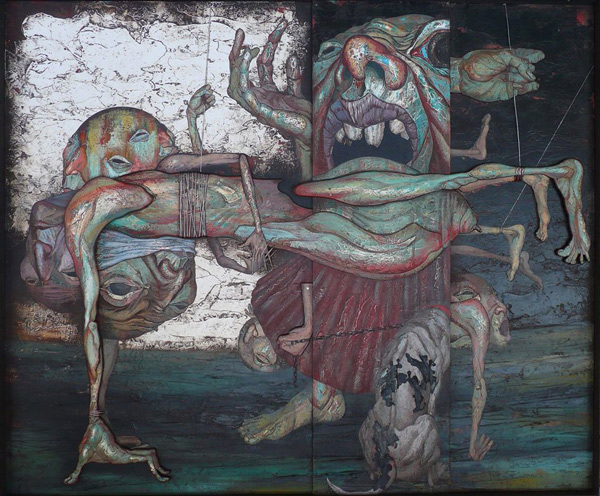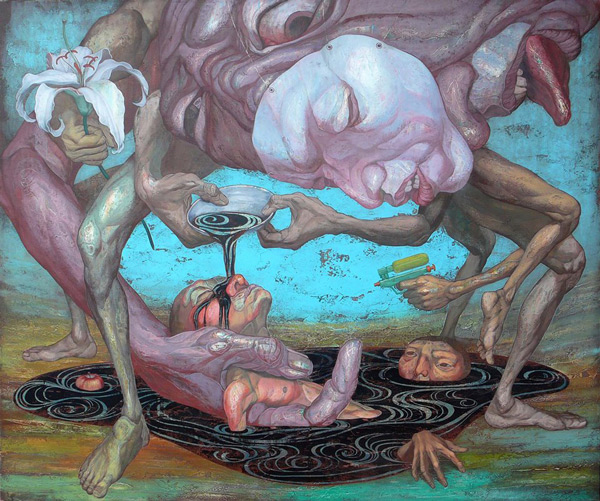 I see that you are a teacher. What subjects do you teach?
I work at a university's Fashion Department. But, I cannot make clothes. So, I teach design, accessories-making, branding, drawing, and contemporary art.
教職についておられるそうですが、どんな科目のクラスを教えてらっしゃいますか?
現在はファッションを担当しています。自分で服の製作できませんが、デザインやアクセサリーの製作、ブランディングの計画などを指導しています。他にはデッサンの演習、現代美術の講義も担当しています。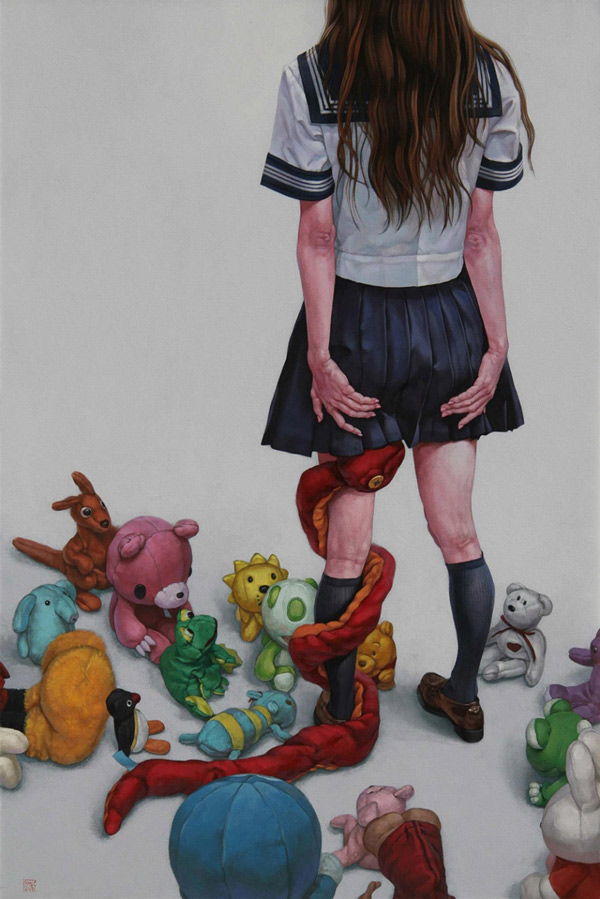 What's your usual working process? How do you approach a new project? Do you have a working ritual?

I am a member of an association of independent artists called Dokuritsu. It has a unique system in which – every year – its members have to submit three large-scale artworks for an exhibition in The National Art Center, Tokyo in Roppongi. Other than that, recently, I've been participating in 3 – 5 group exhibitions per year. For that reason, I need to paint quickly to meet all of the deadlines. By looking at the photographs I captured for reference purposes, I use my imagination to structure my ideas and compose my paintings. This is the most time-consuming phase of the whole process. But, the moment I start to paint the pieces, I usually finish them quickly. I don't have any specific habit or ritual; but, I listen to my favorite songs to keep myself focused.
作品を作る工程を教えて下さい。(新しいプロジェクトにどのように取り掛かりますか?また、作品を作る上で特に行っている習慣などありますか?
私は独立展という美術の団体に所属しています。これは日本独特の美術団体のシステムですが、毎年、国立新美術館(東京/六本木)で行われている展覧会のために大きな作品を3点制作します。それ以外に近年は年間、3~5回のグループショーに参加しているので、そのための制作スケジュールに追われている状況です。ストックした資料写真を眺めながら、イメージを膨らませて構想します。この作業に時間をかけます。描き始めると仕上がりは早いと思います。習慣はありませんが、集中するために好きな音楽を聴きながら制作します。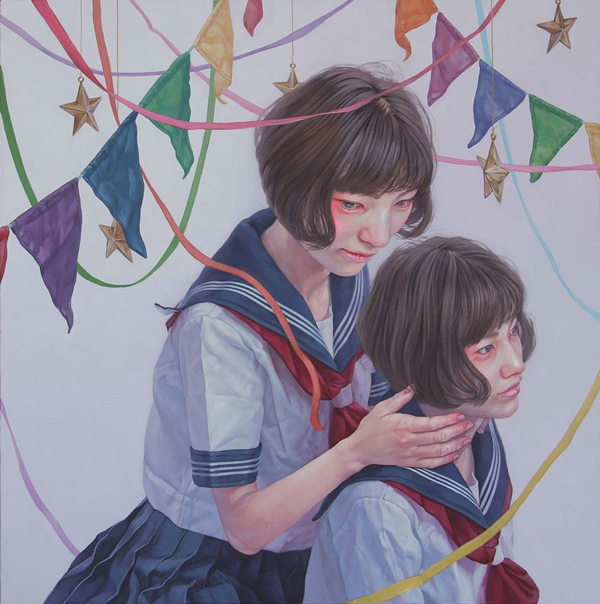 What's your typical week like?
In weekday mornings, I teach. In weekday afternoons, I do some administrative work at school; but, after that, I have some free time till 7pm and use that free time to create my paintings. I spend my nights and weekends with my family. I guess I'm not a very keen artist.
堀さんの典型的な一週間の過ごし方を教えて下さい。
ウイークデイの午前中は授業を担当しています。午後にも学校の仕事がありますが、空いている時間も多いので、その時間と仕事の後の19時頃までを作品制作の時間にしています。夜間や土曜、日曜は家族と過ごすようにしています。あまり制作は熱心な作家ではありませんね。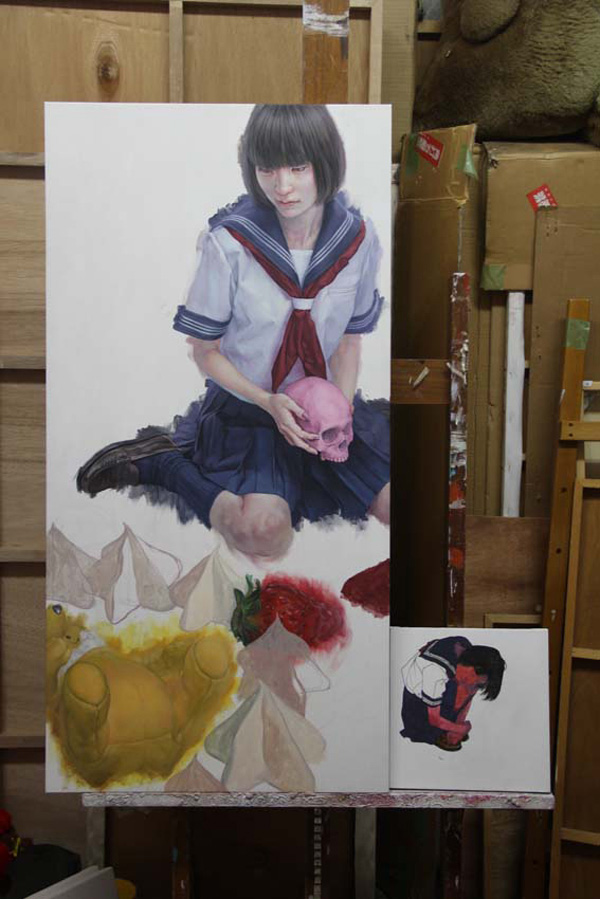 What drives you to keep on painting?

What, huh?! I suppose, I paint because I like to paint. But, mainly, because it's the only thing I'm good at. I compare myself with many other artists, and I think my passion for creating art is kind of low.
何が原動力となって絵を描いていますか?絵を描くため最も大きなモチベーションとなっている事は何ですか?
何でしょう?絵を描くことが好きなことは間違いありませんが、これ以外に出来ることが無いから、だと思います。制作の情熱としては多くのアーティストと比べて温度が低いかもしれません。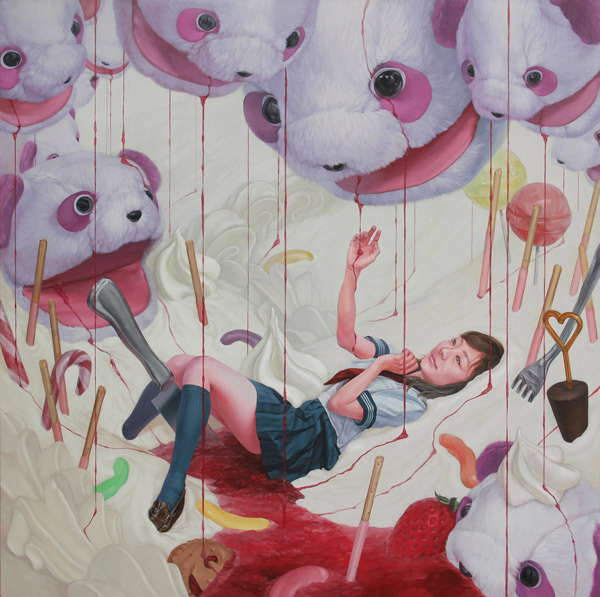 Is there any aspect of your work you pay special attention to? And, is there any interesting fact or detail some people might fail to notice when they view your works?

Recently, I pay careful attention to the girls' facial expressions and skin tones.
People might not be able to grasp the full meaning of my painting right away. I express religious themes through my works; but I don't paint about any particular religion or beliefs, just some strong beliefs a third party might consider weird. There is one other theme I explore through my work: Magical Girl. Young girls like to fantasize about using magic; but, in reality, magic does not exist.
堀さんの作品を鑑賞する上で、特に注意してほしい点などありますか?何か鑑賞者が見逃しそうな興味深い事、ディーテル等ありましたら教えて下さい。
最近は少女の表情や肌の色彩に注意を払っています。
テーマでは少し見ただけではわからないと思いますが、宗教的なことも表現しています。これは具体的な宗教や信仰というよりも、価値観やそれぞれの人が信じたい、しかし第三者から見ると異様なこと、という意味です。もう一つは魔法少女です。これは少女たちの憧れていた存在であり、魔法を使うことを夢見ているけれども、現実は魔法なんか存在しないし、残酷であるということを表しています。
Art means different things to different people. What does art mean to you?
Intellectual entertainment. Through art, people can reach an untouchable place where human life throbs. To be honest, it is something I don't fully understand.
アートは人それぞれ意味が違うものですが、堀さんにとってアートとはどのような意味をなしていますか。
知的エンターテイメントでしょうか?アートを通じて人生の中の、手が届かないけれど疼く場所に触れる感覚だと思います。正直言ってよくわかりません。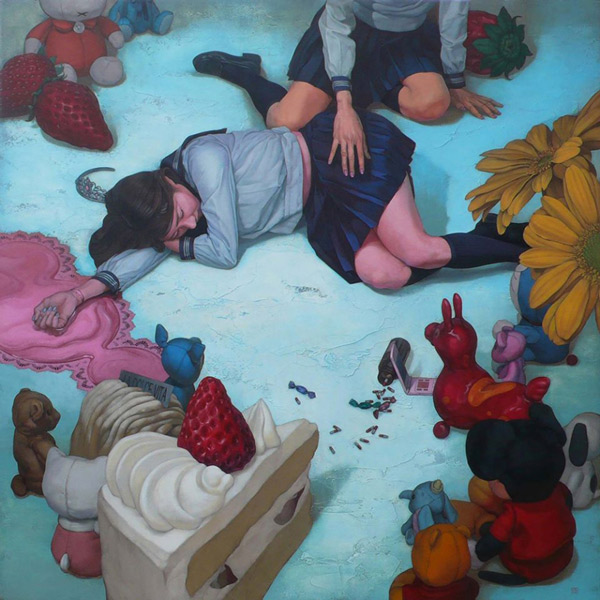 What's the most important thing in your life?
I don't know . . . I don't expect very much from life. I'm not pessimistic; but, life has its own current, and people are just drifting in it.
堀さんにとって人生で最も大切なことを教えて下さい。
これもわかりません。私はあまり人生に大きな期待をしていません。悲観的なわけではなく、漂っている感じです。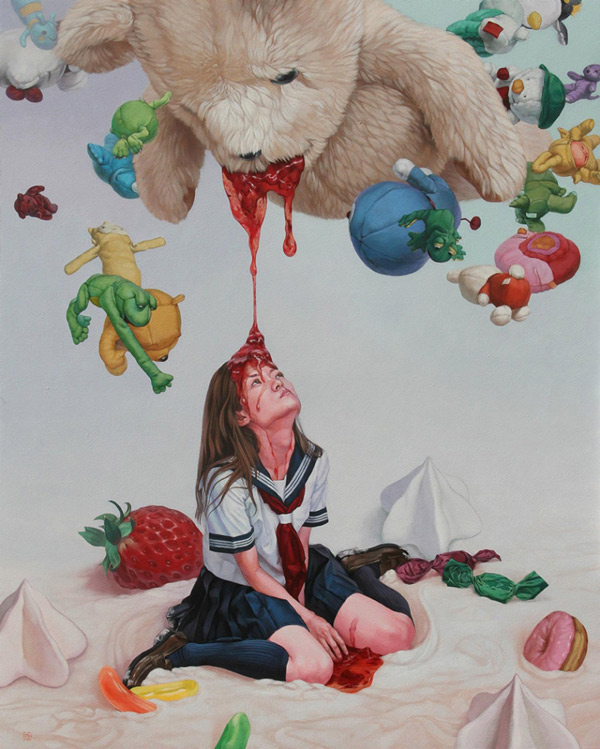 What's the most valuable lesson you've learned as an artist that you wish you'd known at the beginning of your career?

The ability to communicate in English.
Four years ago, I only exhibited my works in Japan. So, I didn't imagine I'd need to be able to communicate in English. At the moment, it's the most difficult and challenging thing for me to learn.
アーティストとしてキャリアを始めたての頃に最も知っておきたかった教訓はなんですか?
英語。たった4年前までは、私が日本以外で作品の発表をしている現在の状況を想像していませんでした。今、一番苦労しているのは英語です。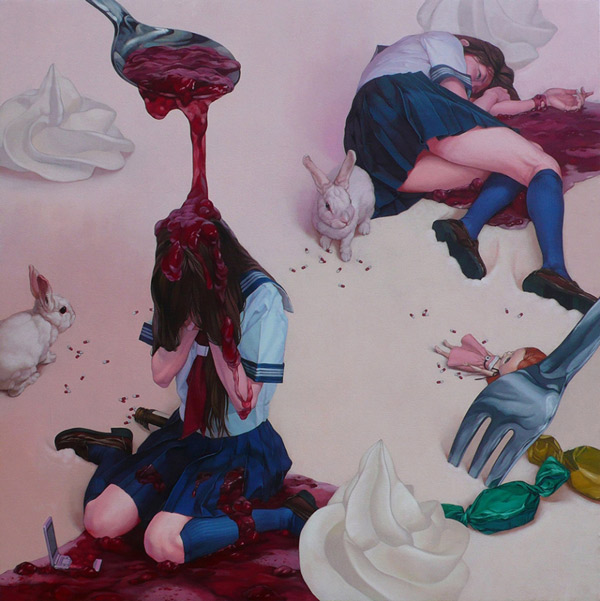 Where else can we see your works in a near future?
I won't be able to do it this year, but I hope I can do a solo exhibition in the US in a near future.
またどこで次の作品を近い将来に観覧することができますか
今年はできませんが、近いうちにアメリカなどで個展ができることを希望しています。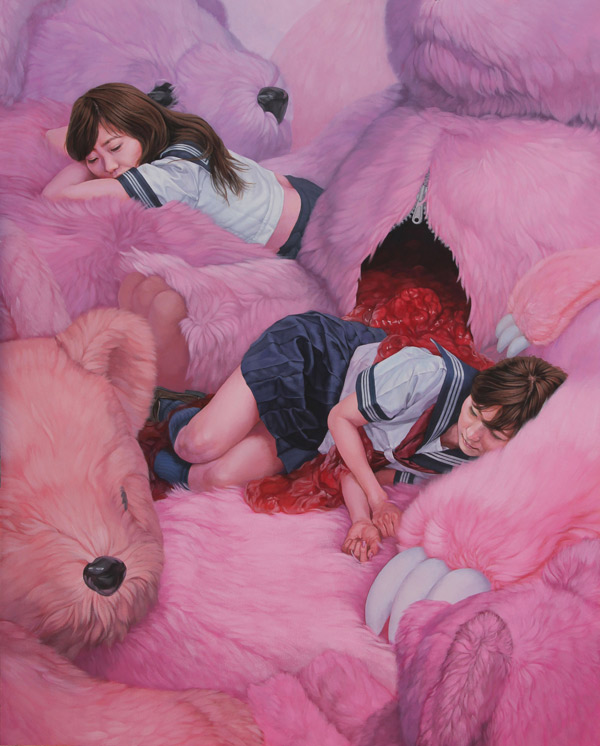 Save
Save
Save
Save
Save
Save
Save
Save
Save
Save
Save
Save
Save
Save
Save
Save
Save
Save
Save
Save
Save
Save
Save
Save
Save
Save
Save
Save