The wall sculptures and dolls of Erica Borghstijn reflect a remarkably sensitive approach to the human expression. The pensive, solemn, sad, anxious and poignant faces that look down from walls or up from stands engage with unforgettable eyes. An endearing childlike innocence and vulnerability pulls at the heart and the 'eyes with a soul' beg you to take these little waifs in and love them. Erica gives each of her pieces a genuine and believable humanity.
The observation and study of human expression has become an obsession for this artist. "I study faces a lot. I search through photo references and I stare at people a lot! I've a beautiful daughter with big grey, greenish eyes, and a perfect little nose so it's possible that some sculptures look a bit like her."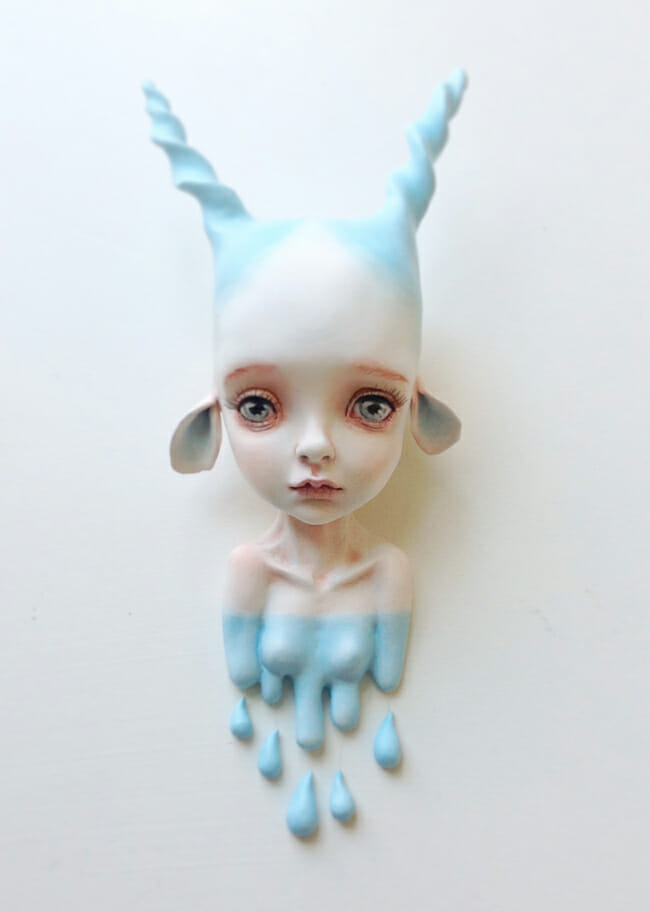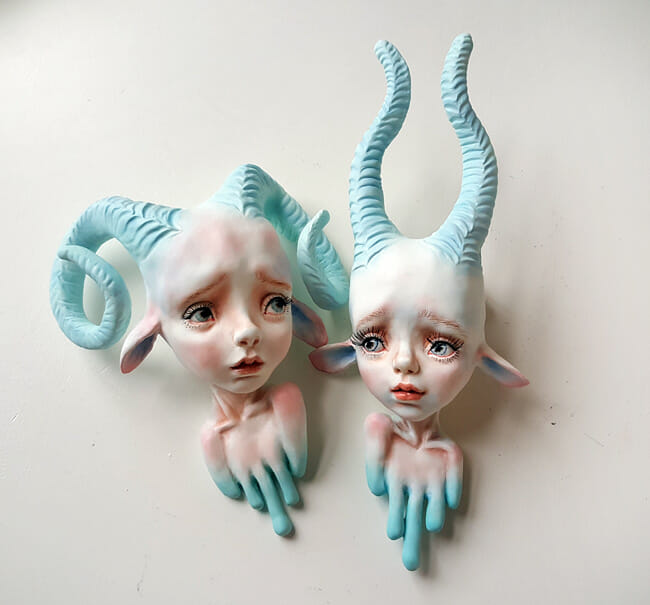 From her study to the creation, it's this unwavering attention to detail that brings to life Erica's quirky little urchins. She knows that a touch of a particular colour, the angle of the eyebrows and the mouth, can change the whole expression and make the sculpture look sad, hopeful, desperate, peaceful, vulnerable, scared, and pensive. Consideration goes into whether the eyes are wide open or not, or the forehead a bit of a frown, the mouth slightly open or has it a touch of a smile. In a process with many steps, Erica quietly listens to the work as it progresses and strives to complement the sculpture with its unique and individual expression.
"I'm careful to paint the eyes to complement each sculpture's face.  I consider the size of the pupils, the colour, whether they should they look a bit to the side, up or down? I play with it until it feels right to me. I paint the shimmer, the reflection, to tell you if the eyes are wet. I find that gives the eyes more emotion and brings the whole sculpture alive.  I can't tell exactly at the start how a particular face will look until the end and that's why every sculpture is a one of a kind that makes it interesting for me."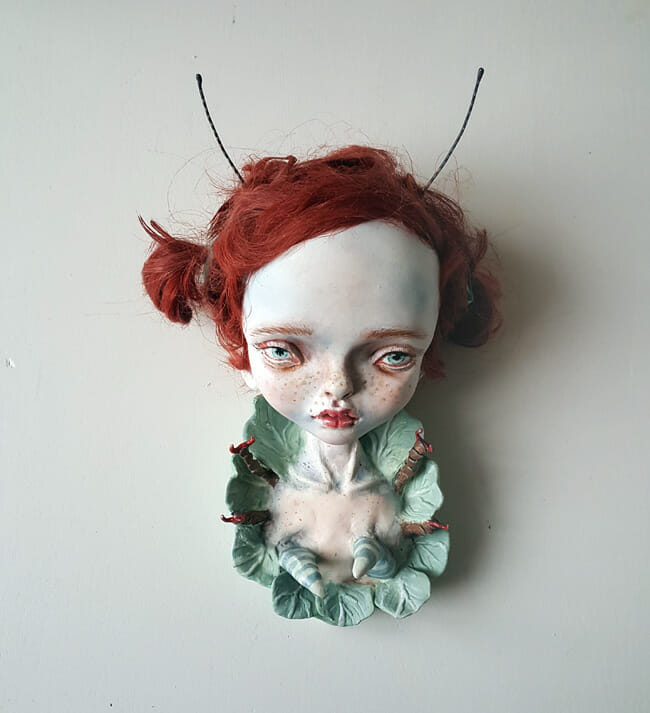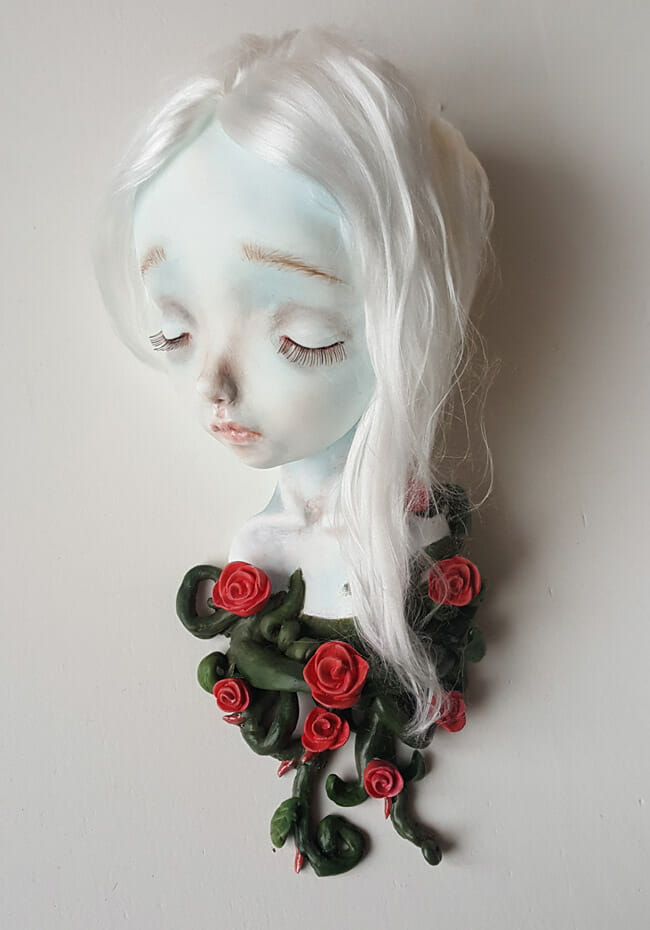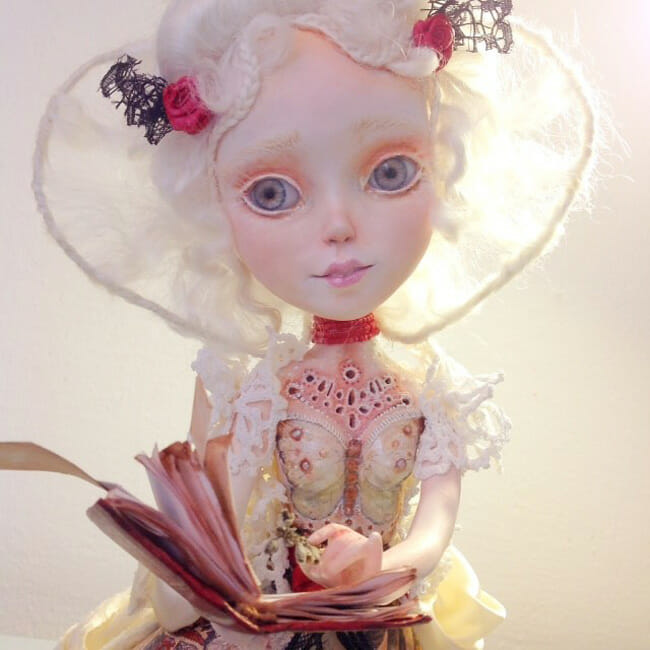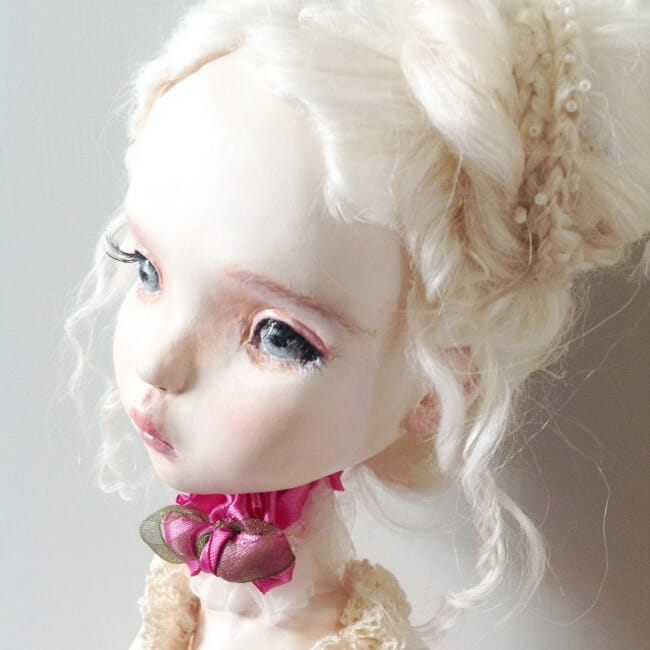 Erica Borghstijn lives in the Netherlands, in Flushing, a little town by the sea. She was born there and now lives with her husband and 4 year old daughter, Lisa. Erica feels she is part of a creative family unit, her husband Sebastian is also very creative (he loves composing music, photography and his newest crush is a 3d printer) and her daughter is "super creative and makes princesses, creatures out of clay and she paints whatever comes up in her mind."
After high school, Erica had plans to be a graphic designer. She studied graphic design at the Grafisch Lyceum in Rotterdam and spent a few years art school at St Joost in Breda. Erica found it difficult to get a position as a graphic designer due to her lack of experience but eventually she found one at a little graphic studio, but sadly she didn't feel the fit was right and left after a few short weeks.  After that, like many emerging artists, she worked at non-artistic jobs, just for living. She studied to be a nurse because there were not enough nurses at the time and she did that for a few years. But Erica never felt that she was really a nurse. "Deep in my heart I knew I was an artist who desperately wants to create things and express myself!"
In her spare time, before or after work, Erica began to make little drawings. She worked with elderly people with dementia at the time and it was quite a challenge because most of the time she was too tired to draw.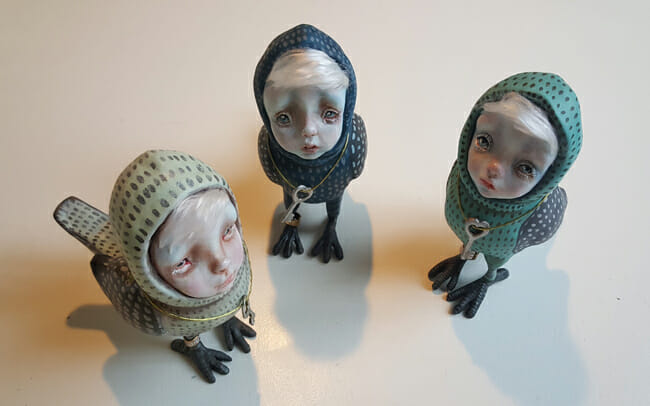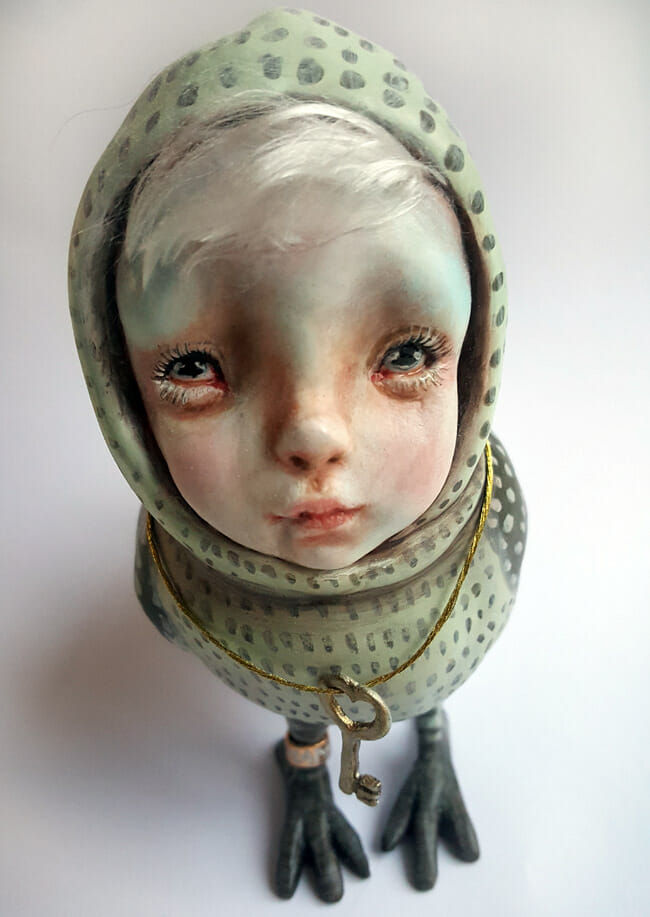 A pivotal moment came when Erica received an invitation for children's book illustrators' competition from a publisher. She went to the information day where she was introduced to established children's' book writers and illustrators telling about their work and giving advice. "That day they showed me a book of the illustrator Benjamin Lacombe. It was so special and enchanting." At home, Erica searched the web to find more of his work. "I saw he used dolls of his characters in his exhibitions, and I loved how the 2d and 3d artwork came so beautiful together to create a whole fantastic world for the viewer."
At the information day, there was another illustrator who had made an clay figure of his character that helped him to draw from different angles. That, together with the Benjamin Lacombe doll, gave Erica the idea to create a doll herself. First with the idea to improve her illustration skills, but after that just because she loved making dolls. She went back to the internet to search the web for materials and stumbled upon a few doll makers' sites and ended up teaching herself to make dolls. Erica discovered that she was better at sculpting than illustration, and has stuck with it.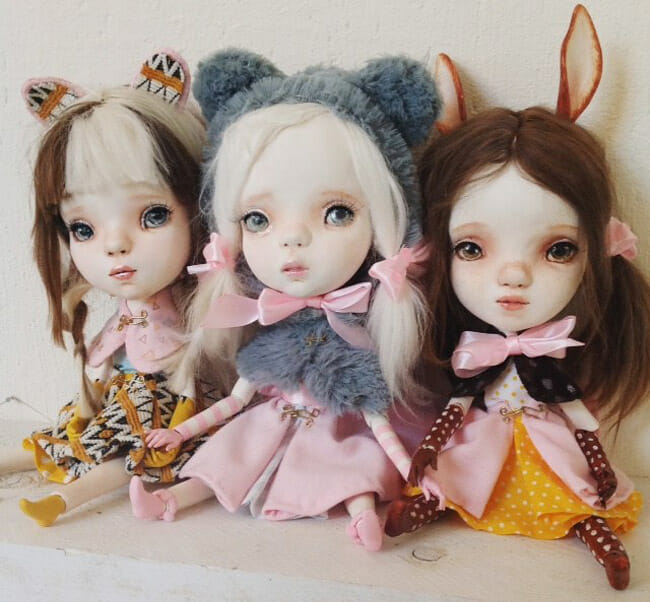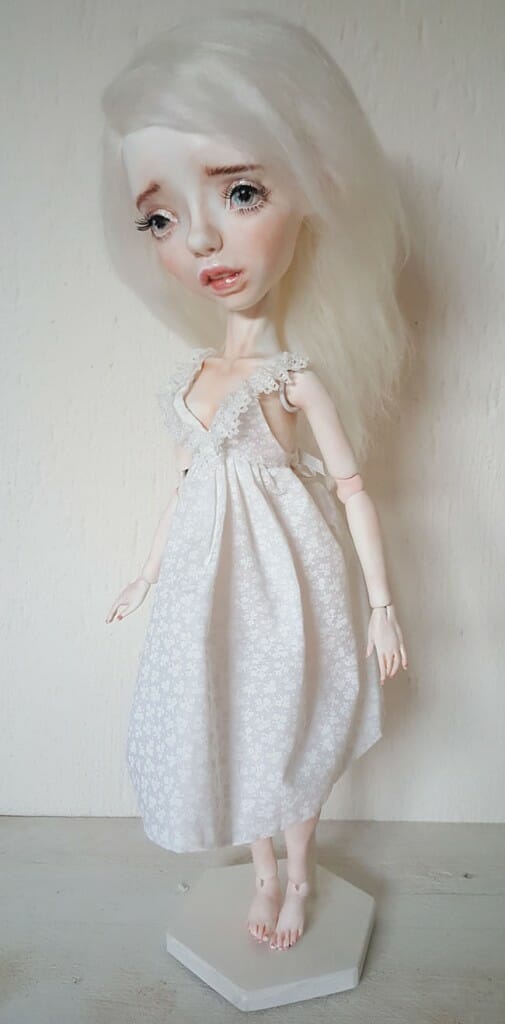 Erica describes herself as a very sensitive person. "I can't fake being happy when I'm not. I have to do what I love to do, otherwise I feel miserable. I'm a dreamer often in my own world. Negative vibes exhaust me, drain all the energy out, so I've learned to avoid them as much as possible. I love my family, they are everything to me, always supporting, loving, and provide my safe haven. I'm a quiet type. I'm not such a talker so art is a great way to express myself. I work hard at my art, always seeking to improve my skills, and I want to make art available for everybody." Erica works from a desk in her cozy kitchen at home. Kept company by her two cats Lilo and Stitch and her dog Buffy she considers it her perfect working place.
Erica has found inspiration from illustrators and painters such as Benjamin Lacombe, Nicoletta Ceccioli, Jean Babtiste Monge, Dilka Bear, Camilla D'Errico, Ania Tomicka, Kukula and Mark Ryden. Later she discovered the 3d artists Octoplum, Sandra Artega, the Popovy Sisters, Johnson Tsang and many more.  She is at once drawn to art with a light innocence or a darker, mysterious side.
Erica's process begins with designing an artwork in her sketchbook.  There, she makes sketches and writes notes. She considers all aspects of what works and what does not. Erica uses air drying clay to sculpt her pieces with a 'skeleton' of aluminium foil or wire. She sands the sculptures when the clay is dry and refines the last details. After the sculpting she paints using acrylic paints. If hair is called for she uses natural suri alpaca hair or silk. She washes, combs and colours it herself.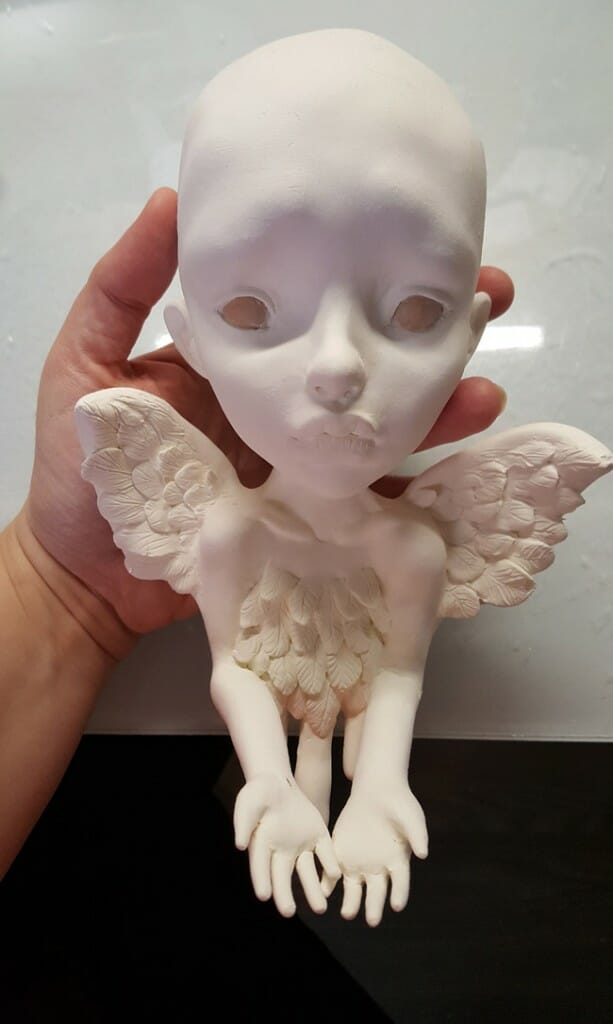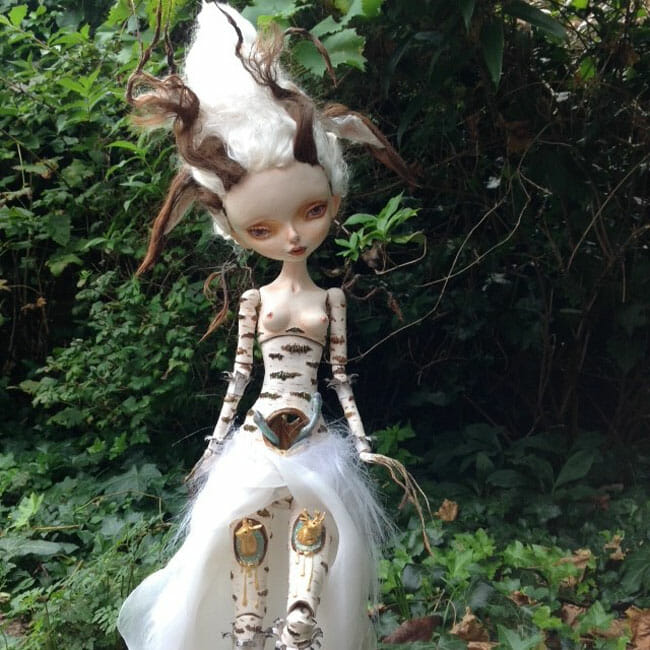 Erica's work is held in private collections all over the world, the Netherlands, Belgium, Spain, Germany, Norway, Georgia, Australia, China, Singapore, the United States but she still recalls that moment when first doll sold. "It felt like. Yes! Other people like what I'm doing so let's make more!" She is often commissioned to make bespoke pieces for people, and really enjoys the process of collaborating to develop a design that excited the collector as it comes to life. "I've made a great many personal dolls for people, a collector's little daughter and even a grandma who wanted a doll of her granddaughter, to give her when she is older. And now I'm going to make a little wall sculpture portrait of a collector's beloved dog that passed away recently. It's so sweet and personal, It gives just that extra value to it. An exciting commission coming up is for the actress Emma Roberts. "Her good friend and stylist approached me, to tell me Emma loved my work and that she wanted to give Emma a doll for her birthday that looks a bit like her, but of course in my style. She shared tattoos of a crescent moon on Emma's ribs so I incorporated the tiny tattoo on the doll.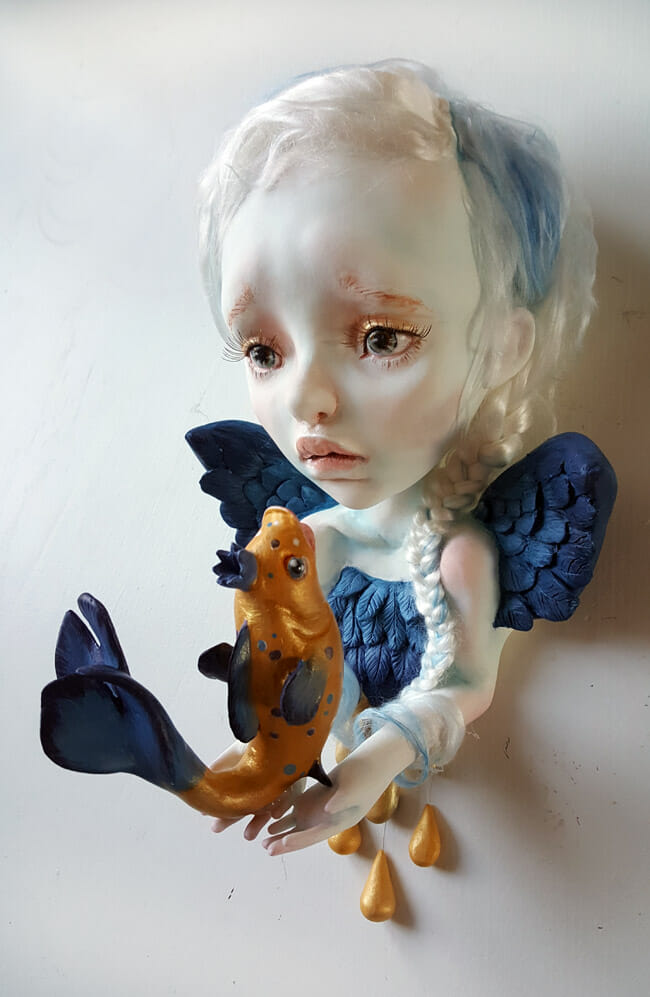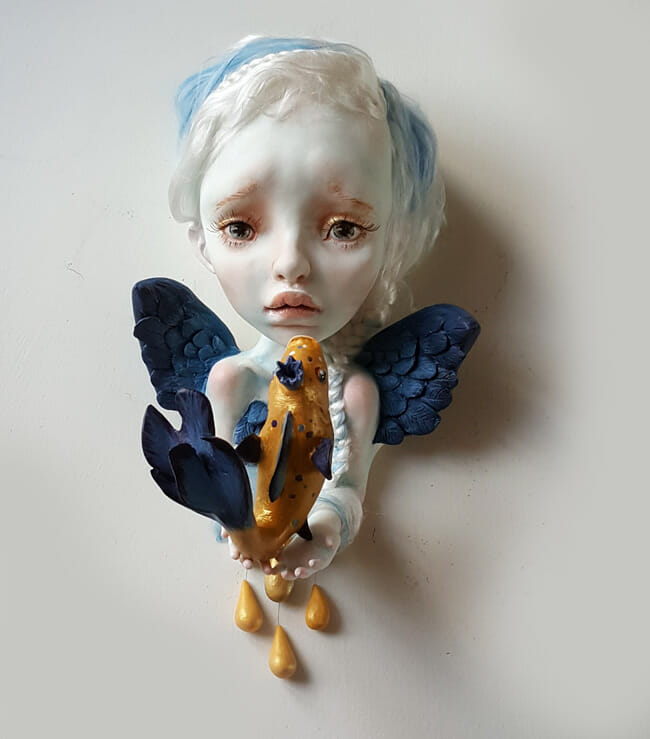 Erica has shown at Clutter Gallery, New York and at home in the Netherlands. She has exhibited work at the Amsterdam Dolls International together with members of DABIDA, a group of Dutch doll artists who exhibit together each year. She will show with them in March this year, and then begin preparing for her solo exhibition at Clutter Gallery in 2018.