What feeds the soul better than music? This wonderfully broad delight is open to a spectrum of emotions spanning across human history and multiple cultures. It triggers long-lost memories to resurface and can help us to literally change how we are feeling. It's no wonder that the Natural Cannabis Company chose music as their theme for High Art 2022. Unsurprisingly, music has proven to be a powerful muse, leading to some of the most vibrant entries within the nine years that High Art has been running! This says a lot, given that the Natural Cannabis Company encourage the use of cannabis to get your creative juices flowing; their roster of entries has never been bland.
Once again, deciding who made the top 20 has been incredibly difficult, with thousands of entries from over 140 countries!
This year marked the 9th year of High Art. Artists have been hit particularly hard during the last few years given the pandemic, which made this year especially important for us to help give back to the artist community.

We believe it is absolutely vital for artists to keep creating. Artists make the world a bit brighter for us all, and we could all use a little art to brighten our day.

I say this every year, but the art submitted just keeps getting better and better. It is such a blessing to witness artists push themselves each year and grow into their own styles.

Noa Commendador, Art Director of High Art
Artists have been inspired by marijuana for decades, and the cannabis art movement has evolved throughout different cultures. This movement has only grown as more and more countries have legalised this plant. As such, one of the goals of High Art is to celebrate this creativity and the real-life experiences linked to using cannabis. Submissions can be inspired by, or produced as a result of cannabis. However, while this is a focus, it is not compulsory for artists to have been affected by this psychotropic drug in order to submit an entry into the prize.
More promotion for the finalists and winners
As well as the monetary prizes, the Finalists and the Winners will have their artwork, and stories relating to their art, read and seen by purchasers of NCC products. "We have designed all-new packaging" explains Noa. "We also plan to design some fun and interesting digital features that everyone should look for, by subscribing to our e-newsletter at [email protected]! You can sign up at highartgallery.com."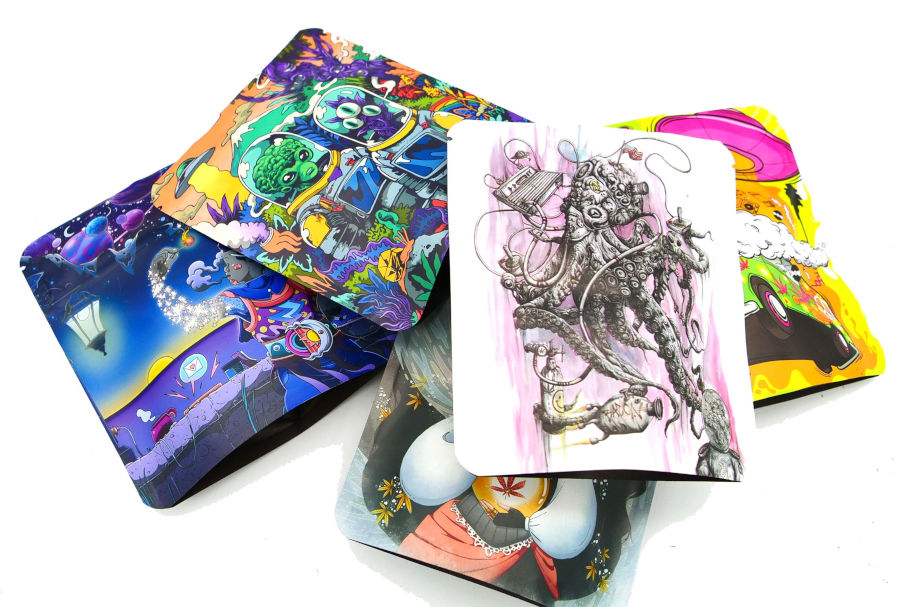 We are trying really hard to help out all of our 'High Artists' with the launch of the highartgallery.com website, which allows art enthusiasts around the world to purchase finalists' work and give back to the artists and the competition.
The winning entries will be featured at the High Art online gallery for one year, and then remain in the gallery's archives. The winners will also enjoy their art being shared in the tantalising annual art book, posters, email newsletters, online press releases, online event promotions and social media marketing, as well as through exhibits and displays at prestigious international art and culture events [pandemic pending].
Below we share the Top 20 winners of High Art 2022 – and what a beautifully eclectic mix it is!
The Top 20 Winners
1st place winner: $15,000 + $10,000 donation to an international charity of their choice.
Rosenfeldtown: "Cooking Sounds" (Argentina)
Rosenfeldtown is an Argentinian cannabis illustrator since 2009, digital illustrator since 2006, illustrator since 2000, and artist since childhood. He was born in 1981 in Santa Fe, Argentina. His art often illustrates psychedelic themes.
2nd place winner: $5,000
Cat Schappach: "Let's Dance" (United States)
Cat Schappach is a fantasy/ dark arts illustrator and Art teacher who has facilitated art for pre-k through college. Her inspirations stem from the surreal to the dark and emotional. Currently she teaches full time and spends weekends and evenings with some type of art supplies in hand. She loves to illustrate stories, often making up her own. When people ask her to explain the meaning of a particular piece of art she refuses, as she feels the interpretation is up to the viewer. Her favourite mediums are ink and graphite.
3rd place winner: $2,500
David Johann Abadiano: "Where Is My Mind?" (California)
David Johann Abadiano is a Graphic Designer and Illustrator by profession. He started drawing at an early age, attending Art School and majoring in Fine Arts in Advertising to broaden his knowledge and skills. A few years later, he went back to school to learn Digital Multimedia. Since then, Art and Design has been a part of him, morphed into his very being and his soul.
4th place winner: $1,000
Shawn RJF: "Melody of Destruction" (Canada)
Shawn RJF is a 3D artist and hobbyist based in Ontario, Canada.
5th place winner: $1,000
Kurono: "Mary Jane Wave" (Japan)
Atsushi Kurono is a Japanese artist also known as krnpx_kurono. He has done various designs for Tees, CDs, posters and more. His creation style is cute and creepy, blending cute elements with weird, poisonous twists to produce fascinating artwork.
6th place winner: $500
Shannon Pyper: "High Energy" (Germany)
The Irish-German artist Shannon Pyper studied fashion graphics and design at the German Master School of Fashion in Munich. Afterwards she worked for many years as a designer for domestic and foreign productions. Since 2002, Shannon has been working as a freelance artist and brought her own style to perfection. Her work reflects her great fascination for costume and style history. The art of fashion illustration has been her passion since her early youth. Free painting is also a big part of her aesthetic. Largely influenced by the art of the early 20th century, abstract and impressionist elements flow into her work.
7th place winner: $500
Cindy Casino: "Synesthesia" (California)
Cindy Casino is a Southern California based artist. Cindy's art draws inspiration from nature, dreams, surreal imagery evoking a wide range of moods and emotions. She loves exploring different mediums but her favourites are oils and pastels. When she's not in her studio, she enjoys spending time in nature with friends and family, preferably at the beach. Cindy studied fine art at Watts Atelier of the Arts in Encinitas, CA.
8th place winner: $500
Simple Heady: "The Growing Symphony" (Illinois)
Simple Heady is currently a freelance artist with over 20 years experience in illustration, sign art, comics and painting. He is inspired by the intricate details and natural simplicities all around, creating a sometimes surreal, psychedelic exploration, with notes of humor and maybe even a bit of insight.
9th place winner: $500
Iris Lopez: "Can You Feel The Rhythm?" (Spain)
Iris Lopez is an illustration teacher and freelance illustrator from Barcelona, Spain. She likes using Photoshop to paint her illustrations, sometimes mixing traditional media in her illustrations too. She enjoys working on different supports, paper, canvas, wood and paint with acrylics, oils, colored pencils, etc. She changed her colour theme a little bit this year. She usually works with dark colours, but this year she needed to work with brighter colours, her spirit and her soul needed that right now (the world is too dark these days).
10th place winner: $500
Dzur Designs: "Music In Her Hair" (Australia)
Meg Dzur from Dzur Designs is a self taught Tasmanian artist, with a love for bold colors, dottism, mandalas, and abstract art. She is a Mother, a carer and a lover of roller skating, her guitar, singing, rainbows and collecting vintage treasures and smiles from strangers.
11th place winner: $500
Andrei Savich: "Dreams About Carrots" (Belarus)
Artist Andrei Savich was born in 1974 in the city of Dzerzhinsk, Belarus. He graduated from the Belarusian State Academy of Arts, in the department of monumental and decorative art. He has taken part in many exhibitions locally and abroad, and has worked as a lecturer at his academy as well.
12th place winner: $500
Alejandro Sordi:"La Ofrenda" (Argentina)
Alejandro Sordi is a self-taught interdisciplinary plastic artist from Argentina. He is an explorer of painting, digital illustration, sculpture and sound. His quest is to represent magical, mystical visions and beings that inhabit the depths of the imagination.
13th place winner: $500
Jon Swartz: "Musical Molecules" (Colorado)
Jon Swartz is the older of the Swartz Brothers. Which is the partnership between Colorado-based artists Jon and David Swartz. The brothers have always been drawing and painting. Both went to the Creative and Performing Arts high school in Philadelphia, and went on to graduate from Tyler School of Art with degrees in Graphic Design. After college, they decided graphic design wasn't the best fit for them. They found their love for painting again and have been creating full-time ever since. Heavily inspired by the natural world, emotional experiences, and the creative process; the Swartz Brothers work in mixed media to create surreal worlds, where the only limit is their imagination.
14th place winner: $500
Asukwo Effiom: "High Tide" (Nigeria)
Asukwo Bassey Effiom was born 1995 in Kaduna state of Nigeria. He passed through Kaduna, Lagos and Abuja in his early education stages, graduating from the department of Fine and Industrial Arts, University of Uyo, with a bachelor's degree (painting major) in 2018. He is an Afrocentric Nigerian painter who excels in the use of colour flexibility and the art of transforming natural human forms to abstract and stylized forms with signs and symbols. He explores the unlimited potentiality of chromatic texture and tonal scales, visual planes, and volume within a two-dimensional framework. His themes are tied to feminism, African traditional beliefs, music, and fashion.
15th place winner: $500
Ade Milhad: "City of Guitars" (Indonesia)
Ade Milhad is a freelance illustrator based in Jakarta, Indonesia. He specializes in the field of digital art and guitar illustrations in various types and shapes. His work is inspired by some kind of retro style, colours and mainly created in the form of vector graphics. Drawing has always been a big part of his life, and it is his passion to provide you with high quality works.
16th place winner: $500
Eugenia Shchukina: "Max Crazy Swiss" (Russia)
Eugenia Shchukina is a multidisciplinary artist. Research of internal instability and plasticity of the human psyche is the main foundation of her art. She is interested in the question of decreasing fears and fictions through their analysis, in the whole perception of different sides of personality through symbolism and the combination of modern artistic techniques.
17th place winner: $500
Milos Filipovic: "Anti-War Machine" (Montenegro)
Milos Filipovic is a tattoo artist and graphic designer from Montenegro in Europe. He graduated from the Academy of Arts. In addition to tattooing, he has been actively working with graphic design, painting murals and graffiti, illustrating with traditional techniques (ink) and digital painting. He is also a huge fan of comics and movies. In addition to this, he is currently working on an author's graphic novel. In free time, he enjoys 90s hip hop, sports activities in nature, traveling and exploring new cultures and places.
18th place winner: $500
Romeo Niyigena: "Soul to the Universe" (Rwanda)
Romeo Niyigena is an artist from Rwanda. He works in realism, impressionism, expressionism and portraits. AHe graduated with a degree in graphic arts from Nyundo School of Arts in 2018. After this, he started his career in painting.
19th place winner: $500
Pujo Asmanto: "The Strains of the Song Take Me To Heaven" (Indonesia)
Pujo Asmanto, an Indonesian digital artist, studied fine arts with an emphasis in painting at the State University of Semarang. He began pursuing his passion of digital art in 2019 and currently works as a freelance digital illustrator.
20th place winner: $500
Sanjay Mitra: "Different Shades" (India)
Sanjay Mitra is a self-described dreamer from India.
---
Still want more? Enjoy all 150 finalists over at the Natural Cannabis Company website!
High Art Social Media Accounts
Gallery + Shop | Instagram | Facebook | High Art Spotify
Natural Cannabis Company Social Media Accounts
Website | Gallery + Shop | Instagram | Facebook | Twitter