Save the date for MegaCon! Get ready to geek-out at the world's largest pop culture convention. This year, Jasmine Becket-Griffith will have an impressive triple-sized, thirty-foot booth bursting at the seams with artwork, merchandise, and other Strangeling goodies to entice your senses.  From original paintings, tarot decks and prints to her ever-popular canvases, coloring books, and figurines… there's something for everyone to enjoy. Plus, each day, there's going to be a special MegaCon Exclusive collectible pin giveaway for the first 100 customers!
But the fun doesn't stop there. Jasmine is planning several giveaways so there's lots of opportunity to score free Megacon swag from her booth! The Strangeling booth will be open all day every day for all four days. During select times (see below), Jasmine will be there to sign autographs!
Location:
Orange County Convention Center
9800 International Drive, Orlando, FL 32819
Event Dates: 
May 24, 25, 26 & 27th
Jasmine's Autographing Hours:
Thursday: 2pm-6pm
Friday: 1pm-4pm
Saturday: 1pm-4pm
Sunday: 10am – 1pm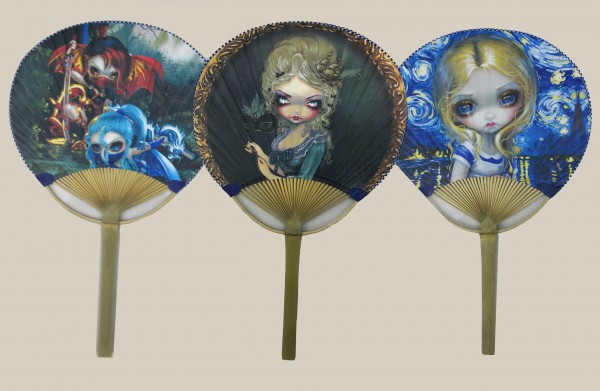 MegaCon is a huge "mega convention" – anime, sci-fi, fantasy, comics, gaming and more. It is at the Orange County Convention Center (fabulous location – by Disney, Universal, etc. if you want to make a weekend of it). Jasmine is am NOT in the "artist alley" – she is an Exhibitor in the large part of the room and will have TONS of artwork, merchandise, collectible enamel pins (including the new MegaCon Exclusives, original paintings, books, oracle cards, open edition canvases, mini prints, Canvas Cuties, coloring books, paper prints, tarot cards, jewelry, figurines & more.
Again, Matt, Chris and Amber will be running the booth and Jasmine will be in attendance in person each day for specific scheduled times for autographing – times posted above. Her artwork will be available for purchase all day for all four days of the event.
MEGACON EXCLUSIVES AND GIVEAWAYS: We will have three Exclusive Strangeling Pins at MegaCon 2018. See comments below for photos of the concept artwork! "Venus" "Earth Angel" and "Orange Blossoms" (a collaboration with myself and fellow Florida artist Carrie Hawks). Come EARLY to be there when the show opens if you'd like to get a free pin with your purchase (while supplies last). Any purchase, even a $3 postcard will get you a free pin. We'll also have lots of pins for sale, and if you buy a couple you'll get a free Strangeling Lanyard!
Pin Giveaway Schedule: Thursday: 1st 50 customers get VenusFriday: 1st 50 customers get Orange Blossoms AND another 1st 50 customers at Carrie Hawks' booth also get Orange BlossomsSaturday: 1st 100 customers get Earth AngelSunday: 1st 50 customers get Venus (second chance!)Bamboo Fans! I have had some bamboo paddle-style fans (great for if it's hot & crowded!) featuring my artwork! We'll have some available as giveaways free with purchases $20 or more (or you can buy one directly for $5). Reusable Strangeling Shopping Bags! With purchase (usually $10+ I think) you'll get a free Strangeling Shopping Bag – a brand new design I've had made just for MegaCon!
"Orange Blossoms" in collaboration with Carrie Hawks (TigerPixie) – painted together specifically for MegaCon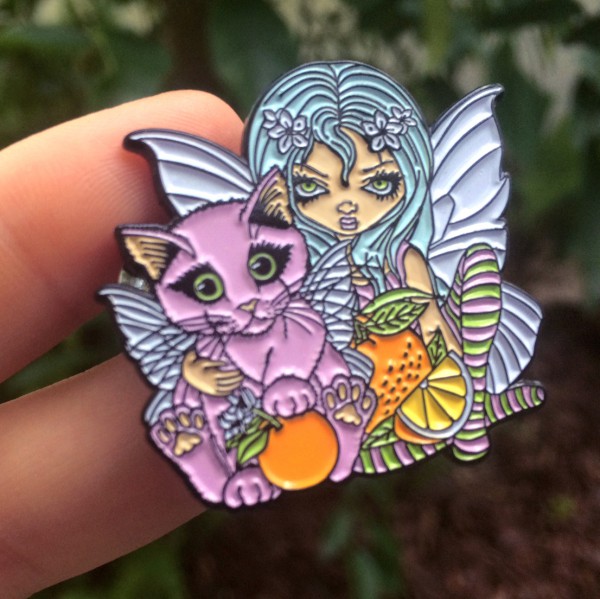 "Orange Blossoms" enamel pin in collaboration with Carrie Hawks (TigerPixie)