In aurora borealis variegated skies backlit with pulsars, meteor showers, distant galaxies and shooting stars, celestial sprites sweep down through the firmament, their jet stream gymnastics commanding the deference of lambent double moons. The vivacious, bramble-cloaked terrain below – strewn with Gypsophila, bioluminescent mushrooms, irises and pitcher plants – orchestrates its very own witching hour pyrotechnics, enabling safer passage for red geckos, tree deities, and spirit animals. Amid this beguiling art tapestry teeming with the esoteric forces of heaven, earth, myth and unbridled imagination, Kinuko Y. Craft further dispatches dandelion puffs and fireflies to ailing souls in search of overt signs of hope. She does indeed offer the beholder a soothing painterly lifeline to hang onto during times of emotional duress, one that is equally as soul-elevating to the artist, herself.
Painting is my word, my language, my poetry, my therapist, my food. It's everything. It is me. It is who I am.
This sacred place that we're wandering through – which does not adhere to the laws of the universe as we know it – is filled with snow angels dancing amid crystalline tree boughs, angel fish sailing through emerald groves and phantom knights streaking across a rainbow glinted stratosphere (atop their equally apparitional steeds). It is so nostalgically reminiscent of our limitless childhood hopes, dreams and beliefs, the very same ones, that – in adulthood – far too often slip through our fingers. Kinuko Y. Craft understands the struggle that is inherent in 'adulting' or merely just attempting to cope with the day-to-day. That is why, throughout the past five decades, the inspired painter has regarded the act of conjuring so many enchanting dreamscapes as a therapeutic necessity. Manifesting each vision of beauty continues to sweep her "away from reality and the real world", enabling her to maintain balance amid the storms.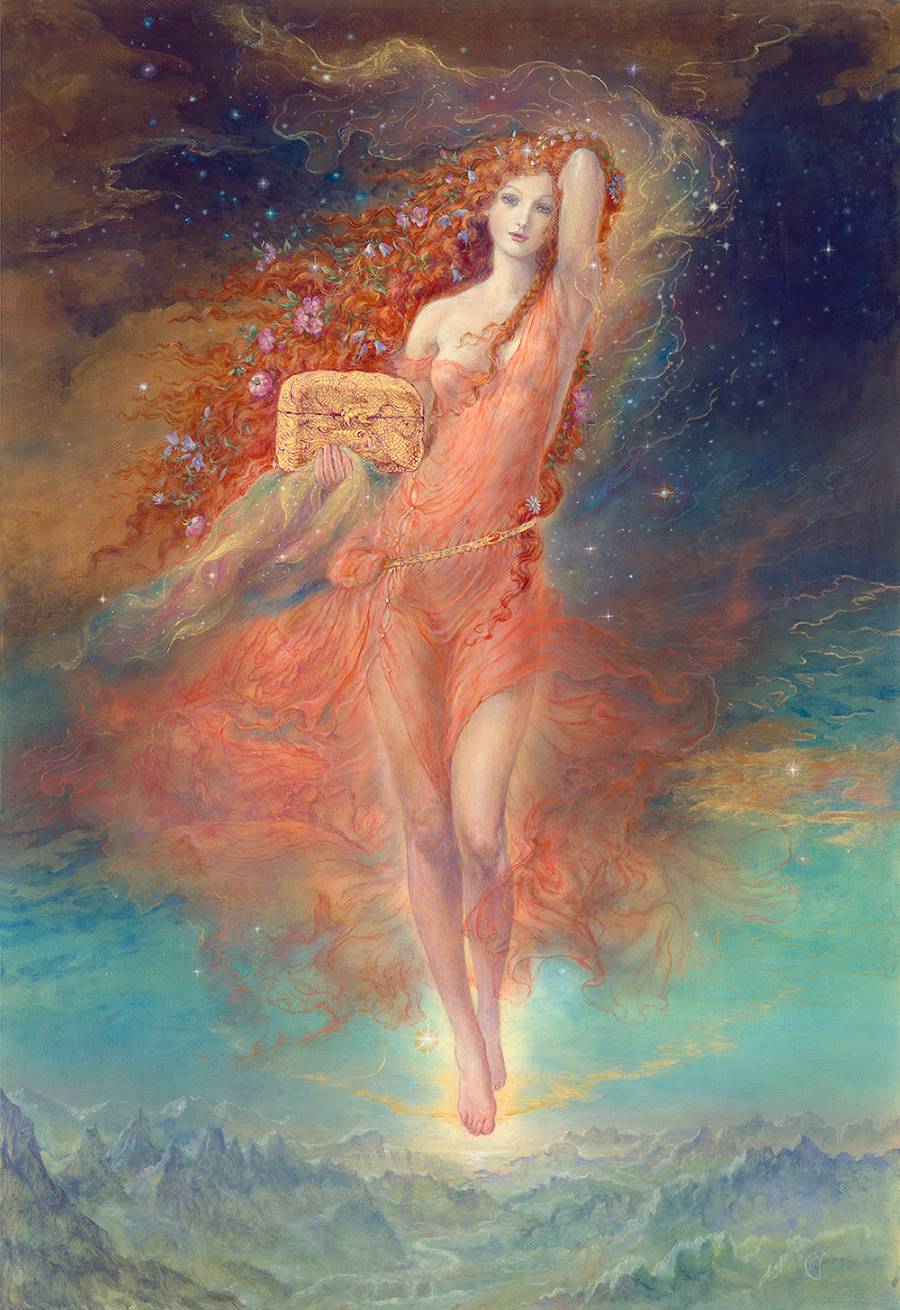 While admiring the shimmering incandescence of this realm, J. M. Barrie's Never Never Land may come to mind, however Captain Cook, Tinker Bell, and Peter Pan are nowhere to be found. Instead, Kinuko Y. Craft's unique visual vocabulary consists of resplendent maidens, mythical beings, and mother nature's myriad botanical/wildlife species, building to a visually poetic crescendo of artful astonishment. According to celebrated magical realism painter Michael Parkes, the myriad timeless moments of beauty that hang upon her canvases like eternity-enduring jewels are indicative of her "search for a clear understanding of the Goddess, the archetypal female energy who gives beauty, calm, grace and the power of creation to our world".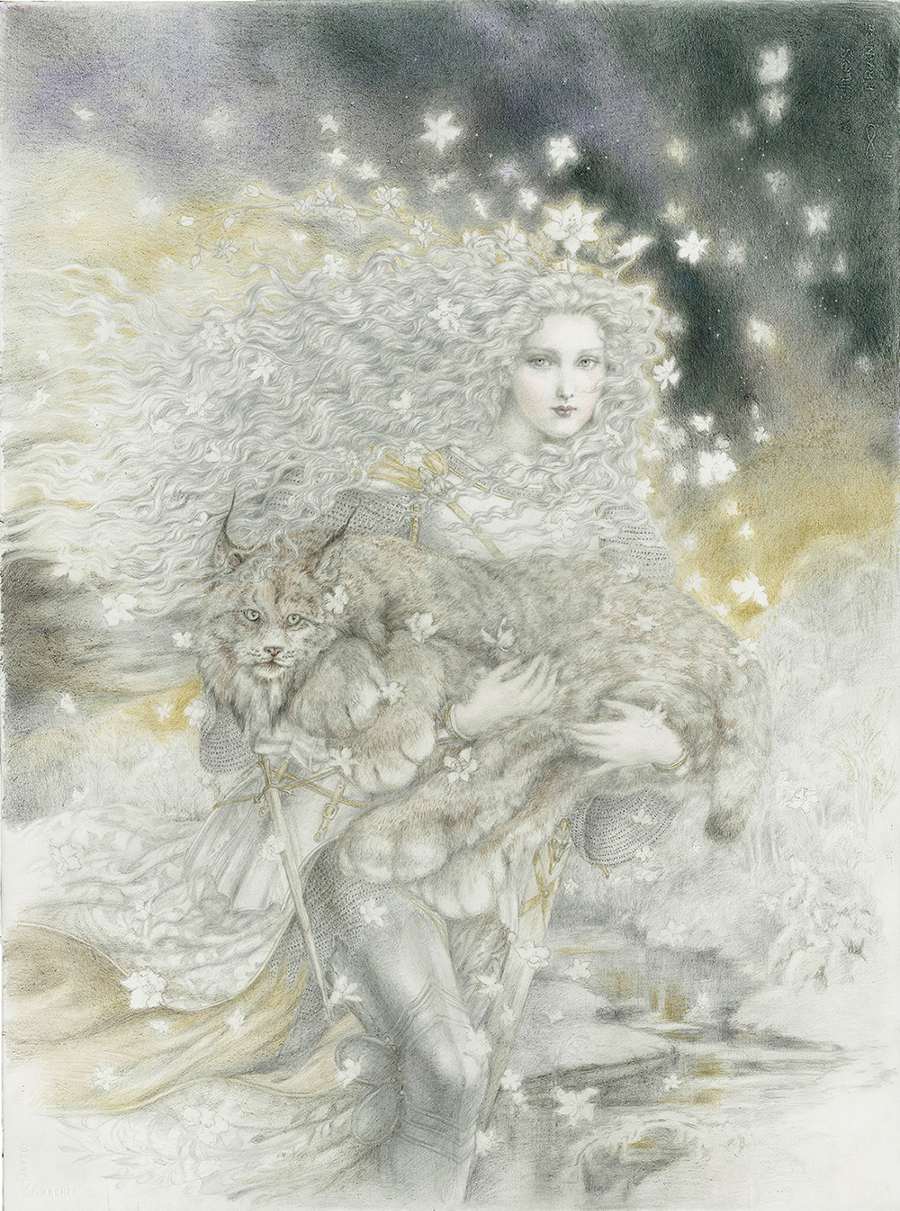 For me, the most important relationship is between me and my painting. I live with it, live in it. It really is like being obsessed.
The Japanese-born American contemporary artist confesses, "I think I've been in a fantasy world all my life," but when one's formative years are steeped in the visual marvels of history's most illustrious creatives, the mind is naturally inclined to take flight. "I was captivated by my maternal grandfather's art books," she sentimentally recalls. "He was a calligrapher – among many other skills, a real Renaissance man – and he shared his art library with me". Kinuko's very early exposure to so many sophisticated 'picture books' sparked within her an ardent desire to pursue a creative path, one that led to her parents allowing her "the freedom to follow my own instinct."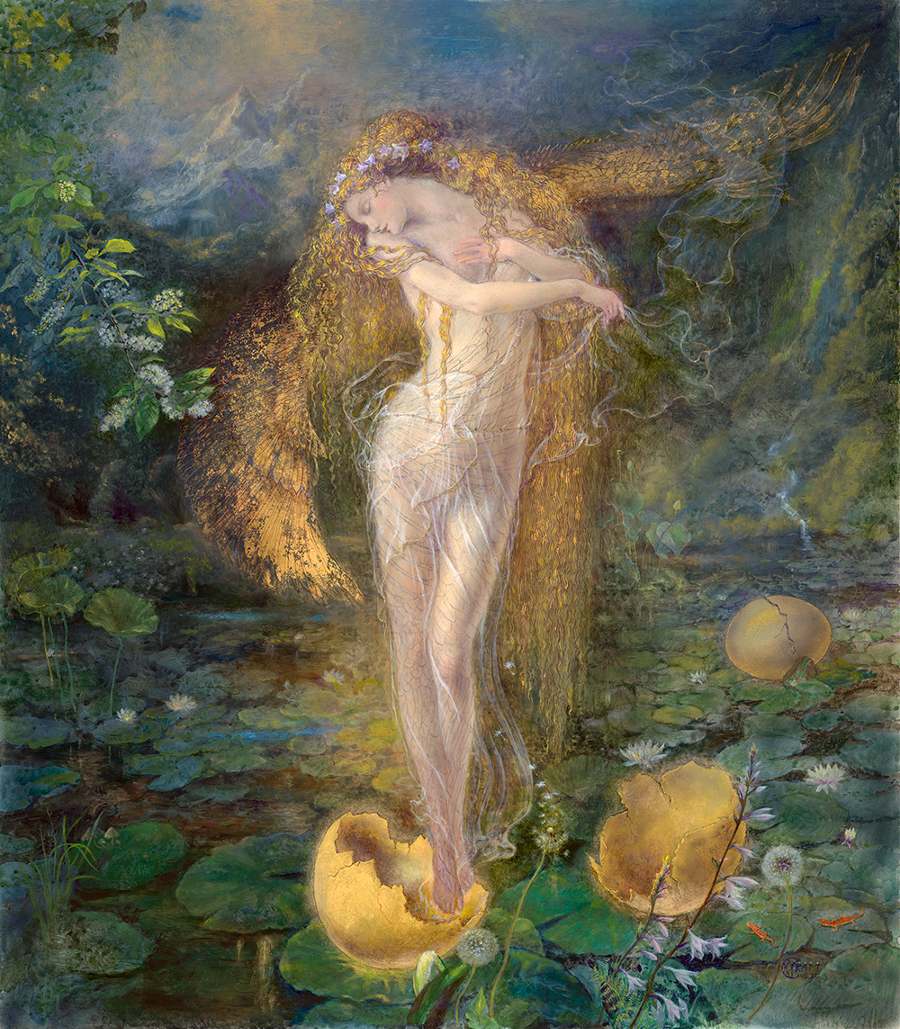 In the mid-1960s, Kinuko Y. Craft received her formal art education at Kanazawa Municipal College of Fine and Industrial Art as well as the School of the Art Institute of Chicago. While her very early career was marked with commercial art studio work, by the early 1970s, she was well-known for the editorial and advertising imagery that she produced for globally recognized publications such as The New York Times, US News and World Report, Psychology Today, Time, Newsweek, The Atlantic, Forbes, National Geographic, and Playboy among many others. By that point, the painter/illustrator/fantasy artist was so adept at depicting myriad aesthetics using many unique mediums that Hugh Hefner's iconic magazine ultimately commissioned her to create more than 100 images throughout their five-decade professional relationship.
I don't know why I go into details. It's like an obsessive disorder. I can spend months on them. I have to tear myself away.
Kinuko's sublime paintings have also appeared on the covers of classic and contemporary literature penned by the likes of Orson Scott Card, Ursula LeGuin, Diana Galbadon, Carl Sagan, C.S. Lewis, Stephen King, and Isaac Asimov. Beginning in 1992, Craft created the cover art for the Folger's Shakespeare Library editions of the bard's various plays, and soon thereafter, she shifted her focus on fantasy book jackets, opera poster designs, and children's picture books, including collaborations with her daughter Charlotte Craft on Cupid and Psyche (1996) and King Midas and the Golden Touch (2019).
It's hardly surprising that Kinuko Y. Craft's meticulously rendered artwork has garnered well over 100 industry-recognized accolades, including 3 silver medals and 3 gold medals from the Society of Illustrators as well as their prestigious Hall of Fame and Hamilton King Award. She was also bestowed with four of the Association of Science Fiction & Fantasy Artists' Chesley Awards, recognizing her cover illustration of Patricia A. McKillip's Song for the Basilisk (1999), her illustrations for Cinderella (2001), her poster for the Dallas Opera's Die Walküre (2002) and her lifetime artistic achievements (2016). Furthermore, her cover art for Tanith Lee's Biting the Sun (2000) and her Das Rheingold poster for the Dallas Opera (2001) also earned her two separate gold Spectrum Awards, ultimately culminating in her Spectrum Grand Master Award for career excellence (2002).
My parents allowed me the freedom to follow my own instinct. For that gift above all others, I will always honor and cherish their memory.
Ray Bradbury applauded the "Renaissance woman"/art connoisseur's seemingly breezy ability to manifest imagery in "all kinds of subjects and in all kinds of styles". Many years later, Annie Stegg Gerard stood in awe at the painter's overall "standard of excellence" and penchant for infusing her "fantastic worlds" with magical secrets that the viewer is compelled to uncover. Amusingly, Kinuko regards her creative compulsion to render the most minute of details as "an obsessive disorder", yet how can we possibly fault her for losing track of time and space? The act of creating, she explains, "is who I am". Each work of art – requiring months to execute – is an extension of her life force. "Painting is my word, my language, my poetry, my therapist, my food. It's everything. It is me. It is who I am."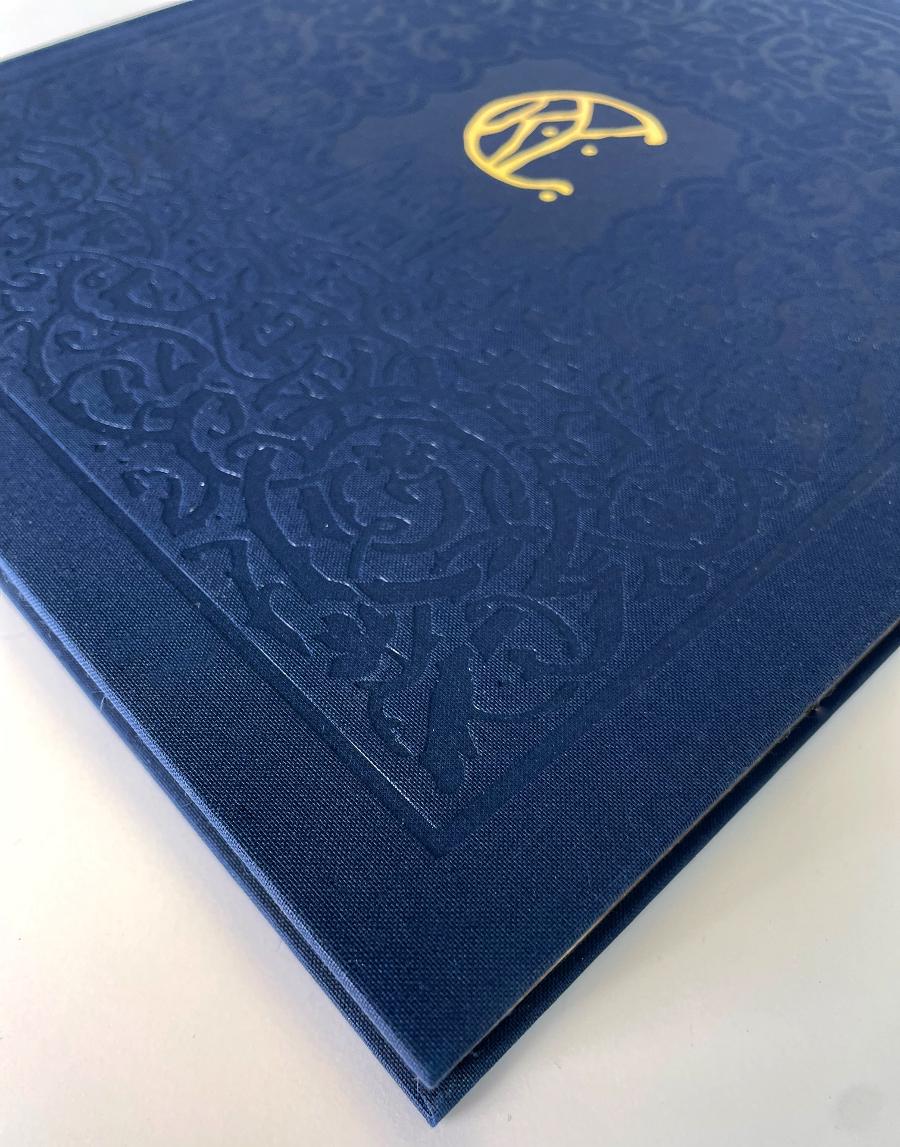 Enthusiasts of Kinuko Y. Craft's gossamer dreams can now purchase her newly released, career-spanning art book, appropriately entitled, "Visions of Beauty". Her embossed, Italian linen bound, hardcover volume contains 294 gilded-edged pages, each of which are printed on 170-gram silk paper in full color with pantone gold accents. From cover to cover, this luxuriously immersive experience – containing over 300 of the artist's mythically magical drawings and paintings – is as much of an utterly enchanting feast for the eyes as it is a salve for the soul. With just 1,500 copies of her Collector's Edition available worldwide – all including a signed bookmark – plus ultra-exclusive Gold, Ruby, Emerald and Sapphire versions in runs of just 25, 50, 75 and 100 respectively, this visual treasure is a standout for the season of giving. Of course, we wouldn't blame you if you decide to treat yourself, too. This is one occasion when guiltlessly indulging in dessert first is absolutely justifiable.
Learn More About Kinuko Y. Craft's Art Book, "Visions Of Beauty".
Kinuko Y. Craft Social Media Accounts