Every month we choose one of our favourite creatives to TAKE OVER Beautiful Bizarre Magazine's social media for the day. In September, we chose iCanvas to share some of the artists who inspire them. iCanvas is a proud sponsor of the Beautiful Bizarre Art Prize 2020: learn more HERE!
Just in case you missed it, below we present the full TAKE OVER below.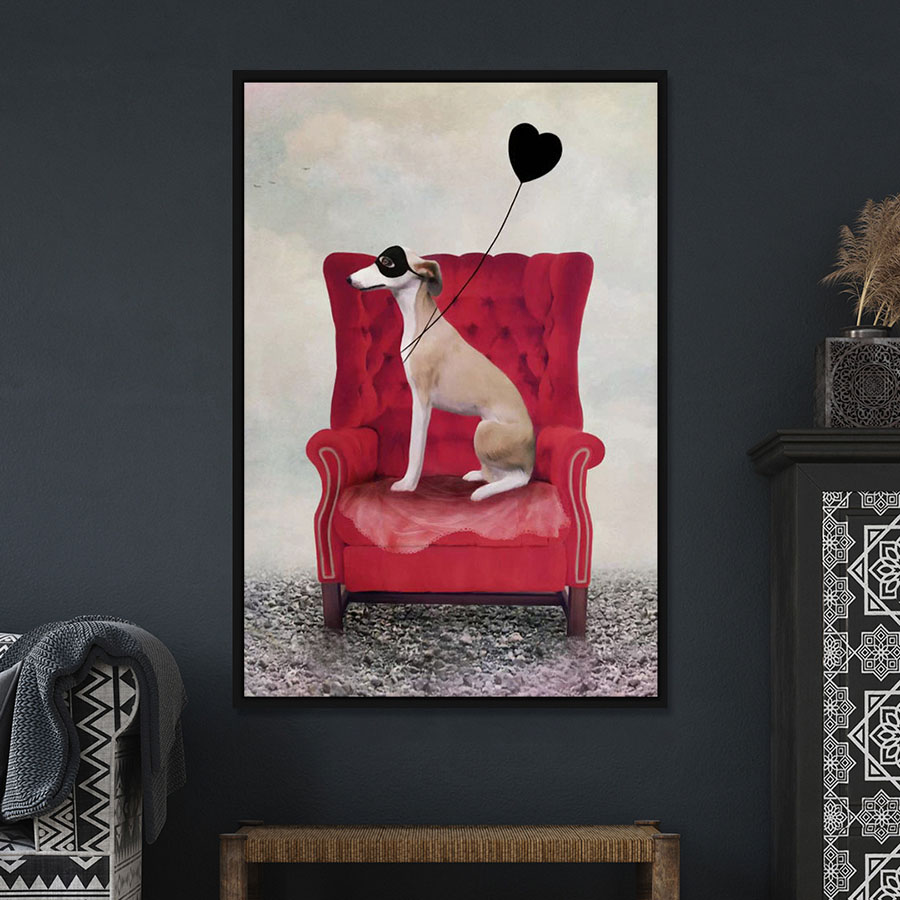 iCanvas // Hello, beautifully bizarre world! iCanvas here, taking over BB's feed today. We partner with independent artists from around the world, we handcraft our canvas prints in-house, and we ❤️ dogs (seriously, they all deserve a throne).
We'll be taking a weird, wild, and wonderful artistic journey with you by sharing a few incredible artists we offer at iCanvas. Thanks for joining us, and we hope you enjoy the ride!
Julie Filipenko // "We are the universe wrapped in skin, expressing itself as a human for a little while" – Julie Filipenko
Art by Julie Filipenko features many of our favorite aspects of pop surrealism — intricate worlds, enigmatic characters, and a feeling of being caught between a dream and reality. Filled with mysterious females living harmoniously amongst peculiar creatures, each piece offers a different universe for viewers to get lost in.
Frank Franzetta // "When it came to my art, I went my own way and did not follow the trends." – Frank Frazetta
We always love a good throwback. As proud as we are to represent so many contemporary artists, it's an honor to feature work by the "Godfather of Fantasy Art" himself, Frank Frazetta. As the creator of some of the most iconic fantasy and science fiction characters of the '70s and '80s, it's pretty cool to experience the sheer 'epic-ness' of his work.
Natalie Shau // "I do not choose my characters, they choose me." – Natalie Shau
We love Natalie Shau for the same reason Beautiful Bizarre does — her characters "balance between a quest of a greater purity and a taste of perversity." Her mastery of photo manipulation and elaborate character transformations is stunning and often makes us wonder, are these scenes dreams or nightmares? Either way, we can't turn our heads away from this wonderland.
El'Cesart // "I always never liked to explain my artworks because I think that's for the viewers to do. Cause most of the times they connect with it better and come out with deeper meanings that even the artist I never thought of. And that's one of the best part of being an artist." – El'Cesart
One look at a creation by El'Cesart and we're awestruck. Often taking inspiration from real-life models and portraying them in striking depth and realism, this artist highlights the supernatural beauty of ordinary human beings in ways that make their magic feel real. His powerful work demonstrates such a strong, confident identity, it leaves us shaking in our boots.
Casimir Lee // "Ignore the rules, break the border limits. Let the colors influence flow." — Casimir Lee
Casimir Lee is a recent iCanvas addition who captivates art lovers almost instantaneously. Curvaceous figures draped in bright, bold patterns that twist and turn across the canvas are equal parts magical and jaw-droppingly beautiful, blending Art Nouveau with psychedelia in a way that we're totally obsessed with.
Tanya Shatseva // "…The main good side of life is that there is magic in it – I would say there is nothing but pure magic! And the most awesome thing that can ever happen to a person is feeling that magic, the connection to something beyond the human understanding of what it is to 'live'." – Tanya Shatseva
Tanya Shatseva's creations continue to mystify us, and she remains an artist who never ceases to amaze us. Color, texture, and beauty combine into a portfolio that seamlessly spans realism, surrealism, and abstraction. Her work can haunt minds, open third eyes, and pull the heartstrings of anyone who looks for a little magic in life.
Marta Merems // "The Cosmos is with us, with you, and with them." – Marta Merems
Artist and cosmic queen Marta Merem's vivid and seductive work caught our eye, and we ❤️ it. Quirky universes dripping in neon colors and flanked with freakishly fun females engaged in playful hedonism takes us into a wildly surreal dimension that's unlike any other.
This was the last piece chosen by iCanvas for their TAKE OVER. Thank you again iCanvas, we really appreciate you taking the time to put this day together.
iCanvas Social Media Accounts