The Beautiful Bizarre Magazine curated exhibition Interconnected, which opens on May 13 at the New England Regional Art Museum (NERAM) in Armidale, New South Wales, is the second Museum exhibition by Beautiful Bizarre, and the first to be held in the magazine's home country, Australia.
A human being is a part of the whole called by us universe, a part limited in time and space. He experiences himself, his thoughts and feeling as something separated from the rest, a kind of optical delusion of his consciousness. This delusion is a kind of prison for us, restricting us to our personal desires and to affection for a few persons nearest to us. Our task must be to free ourselves from this prison by widening our circle of compassion to embrace all living creatures and the whole of nature in its beauty.

Albert Einstein
This exhibition is much broader in its scope than our usual curated exhibitions. It expands the category of still life and landscape, intersecting these genres with lowbrow, neopop and dark surrealism. The representation of daily occurrences, the small objects around us, and the unfiltered reality that we live in, has the capacity to connect with people and provide a ground to start meaningful conversations. I decided to include other genres and styles, along with figurative art to appeal to the broader audience in regional Australia. To show collectors, artists and enthusiasts that all of these styles have value and are representative of the exceptional work being made in this country.
With over 70 artists each working in their own unique style, we can see an amazing diversity and expression of the Interconnected theme, and what it means to each artist on a personal level. This exhibition also includes a wonderful diversity of styles, genres, and media including oil, watercolour and acrylic paint, gouache, coloured pencil, ink, markers, charcoal, graphite, ceramics, thread, paper, soldering iron, resin, wax, wood, bones, textiles, found objects, digital, and photography.
Of course we will each have our own thoughts and opinions about what Interconnected means to us in 2022, however I believe that the last few years of the global pandemic, drought, fires, floods, the eroding of women's rights, and now the war in Ukraine has made evident just how interconnected we are as a species – no matter our geographical location, society, ethnicity, or religion. The climate crisis is also affecting Australians in extreme and devastating ways, making the fact of our interconnectedness to nature glaringly obvious. Sadly we are not doing enough, quickly enough, to make real change in this area. My hope is that this exhibition will also shine a light on the importance of change now – not just for our environment and nature, but our human populations too.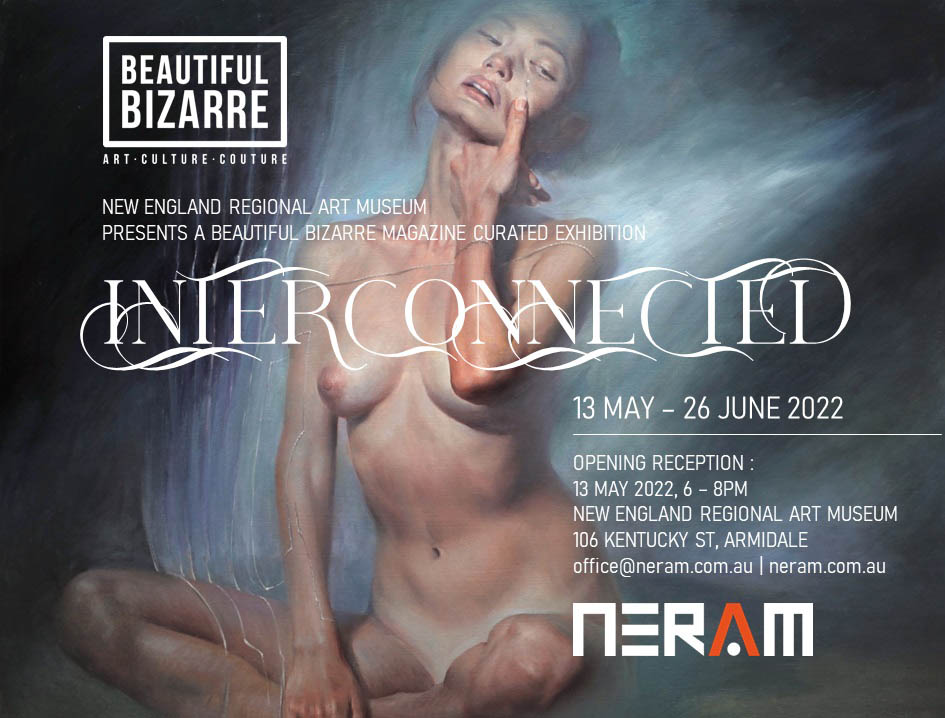 Interconnected
Group Exhibition curated by Beautiful Bizarre Magazine
at
106 Kentucky St, Armidale NSW 2350, Australia | Phone: + 61 2 6772 5255 | [email protected]
Exhibition Dates:
13 May – 26 June 2022 | Opening Reception: 13 May 2022, 6 – 8pm
To attend the opening reception please book your free ticket here.
To receive the collectors preview, please email me at [email protected]. For sales enquiries after the opening reception please contact [email protected]. Payment plans are available.
Interconnected: Additional Events
Artist Panel Discussion
May 14, 2022 at 10:30am | New England Regional Art Museum
Join us for an artist panel discussion featuring five exhibiting artists from Interconnected: A Beautiful Bizarre Magazine curated exhibition.
Hear from photographer Aaron McPolin, sculptor Linde Ivimey, figurative painter Sharon England, still life painter Helen McCullagh and ceramicist Ebony Russell as they discuss their creative process and the work they have created for this exhibition.
Book your free ticket to the Artists Panel Discussion here.
Paint & Sip – Landscape Painting Workshop with Paula Jenkins
June 3, 2022 at 6 – 8:30pm | New England Regional Art Museum
Join Interconnected exhibiting artist Paula Jenkins for a fun evening of painting and champagne.  In this workshop, we will discuss what to look for when creating a landscape painting, how to form a good composition, and the bones to building a painting. We will also look at colour mixing, and how to be adventurous with the use of colour to create vibrancy and energy in a painting.
The workshop is for everyone, no prior art experience is required. Come along to paint and meet people or grab a couple of friends for a fun, arty night out.
Book your ticket for Paint & Sip Landscape Painting workshop here.
Exhibiting Artists
Aaron McPolin, Alex Louisa, Anne-Marie Zanetti, Ben Howe, Beth Mitchell, Bonnie Larden, Chanelle Rose, Chelsea Gustafsson, Christine Webb, Clairy Laurence, Clare Thackway, Clare Toms, Colleen Southwell, Courtney Brims, Dana Kinter, Dean Home, Del Kathryn Barton, Ebony Russell, Elisabeth Lawrence, Elizabeth Barden, Elouise Roberts, Emily Day, Fiona Smith, Gatya Kelly, Gina Kalabishis, Helen McCullagh, Hiromi Tango, Isabelle de Kleine, Jennifer Allnutt, Jenny Orchard, Jeremy Geddes, Jessica Watts, Johnny Kovacevic, Judith Nangala Crispin, Julianne Ross Allcorn, Kate Rohde, Kate Waanders, Kathrin Longhurst, Kendal Murray, Kim Evans, Kim Leutwyler, Lihao Lu, Linde Ivimey, Lix North, Liz Priestley, Lori Cicchini, Lucy Hardie, Marie Larkin, Marisa Veerman, Matthew Quick, Melissa Hartley, Michelle Fogarty, Michelle Molinari, Myfanwy Gullifer, Narelle Zeller, Nat Ward, Paula Jenkins, Penelope Oates, Petra Reece, Pippa McManus, Rachel Favelle, Robert Duxbury, Ryan Pola, Sally Kent, Sam Yong, Samantha Dennison, Samantha Frye, Sarah Waghorn, Scott Breton, Sebastian Galloway, Sharon England, Steve Salo, Vanessa Stockard.
We are now delighted to reveal below just a small selection of the work for 'Interconnected'. Enjoy!