Art takes you there…into the moment, the story, the experience…wherever it may be, art reminds you that there is beauty all around and that inspiration exists. If you're looking to heighten the artistic voice within, start your weekend by joining Haven Gallery in honour of five new solo exhibitions. Each bringing forth the courage of creativity and individuality of the artist, mark your calendars because this weekend they celebrate the opening receptions of Jessica Gordon, Alexis Savopoulos, June Leeloo, Jason Limon, and Mathieu Nozieres.
Can't make the show? View each of these beautiful collections in their entirety by visiting Haven Gallery's website!
Jessica Gordon | Alexis Savopoulos | June Leeloo | Jason Limon | Mathieu Nozieres
Opening Reception: Saturday, May 7, 2022
Exhibition Dates: May 7 – June 5, 2022
Haven Gallery
90 Main St., | Northport, NY 11768 | (631) 757-0500
To inquire, please contact Erica via email [email protected]
---
Jessica Gordon, "Evadine"
Haven Gallery is honored to present North Carolina based artist, Jessica Gordon, for her first solo exhibition entitled "Evadine" at the gallery. "Evadine" features seven new oil paintings that continue the artists exploration of the human figure and its relationship to water, with the title in memoriam to her recently departed mother.
Gordon's narratives depict the cusp of two worlds and the many layers beneath. Her work is a poetic and multidimensional metaphor representing the depths of existence as they apply on the micro and macro level. Each sitter is presented at surface value in quiet moments of solitude and internal contemplation. The timeless motif of "as above, so below" is elegantly suggested through Gordon's impressive hand conveying depth and reflection through her medium. An invitation to explore what is beyond the surface extends to the viewers as they reflect their own personal narratives as projected on those who inhabit the artists enigmatic waters. A universal understanding of these deeply private parts of us, and what we choose to share with others, is gracefully painted through this universal enigma of human emotion.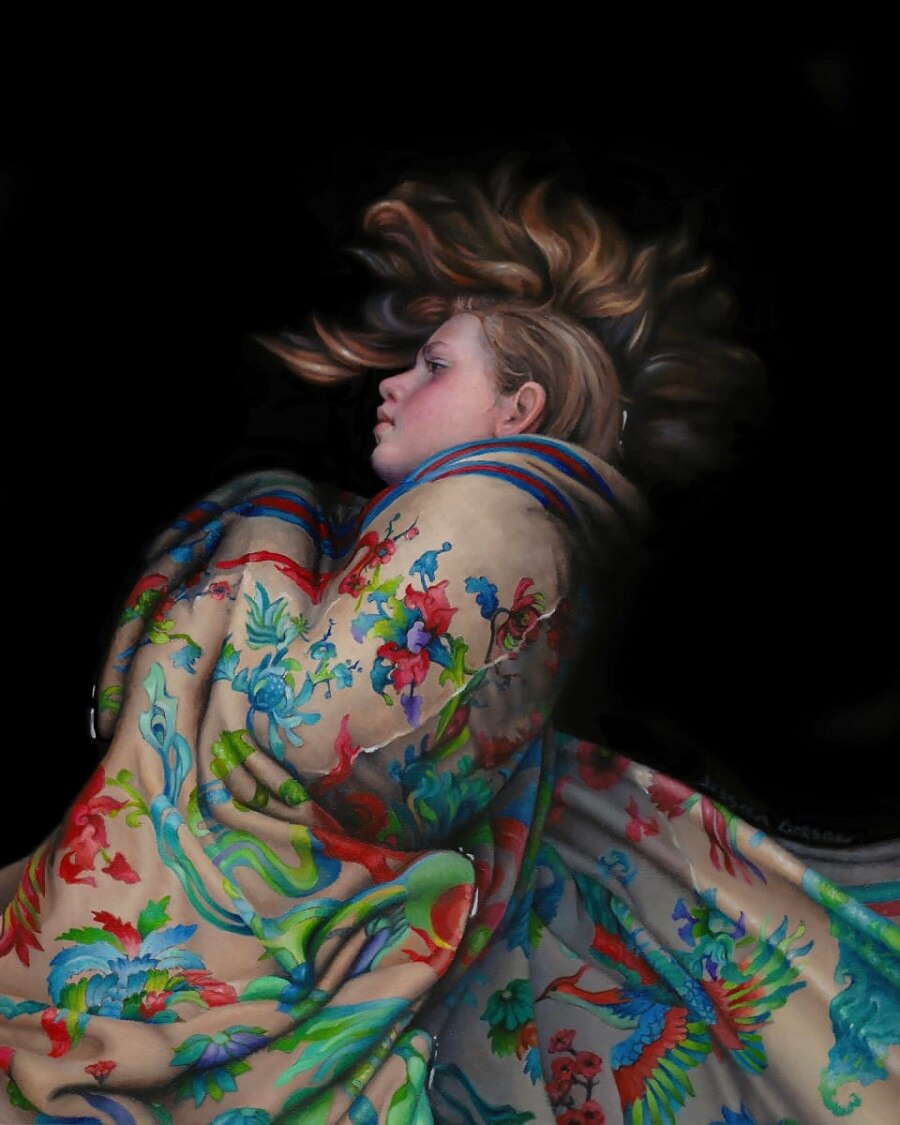 About the Artist //
Jessica Gordon is an American painter focusing on narrative figurative works. Jessica sought a creative outlet which led her to pick up a paintbrush for the first time. She fell in love with the idea of creating something entirely her own. Self-taught, she is paving her way, giving the viewer an insight into her mind and creative instincts.
Emerging strong, Jessica's work has been found in multiple publications and selected for numerous shows throughout the United States. Appreciative of the merited paintings she has created, Jessica looks forward to developing a thoughtful and continuously growing fine art career. Sharing her work has become a passion that drives her.
Artist Statement //
"Much of my work includes water as a theme. Water represents in my work, a metaphorical character in the narrative. It is important to me that my art is my own creation. My creative process starts with thumbnail sketches. This leads to setting up scenes to photograph for the source material; which includes gathering people willing to get wet, wardrobe, props, location, lighting etc. Ultimately, I assemble the components, adjusting until the vision in my head is captured or approximated. It is from there that I start the painting process."
Alexis Savopoulos, "Memories"
Haven Gallery is honored to present California based artist, Alexis Savopoulos (Meadow & Fawn), for her second solo exhibition entitled "Memories" at the gallery. "Memories" features a selection of new paintings, shadowboxes and sculptures that focus on the artists animal sitters as they invite you into their magical worlds of being. Each creature is created with deep-rooted sentience and harmony within their environment.
Savopoulos uses man made mediums and found objects to situate her wildlife. For example, her use of resin to create water based environments within vintage boxes creates enchanting, miniature microcosms, connecting us with the natural world. Her integration of organic material such as sand, preserved moss, shells and sea plants further relates her hand sculpted animals to their viewers. Each miniature world summons us into the the lives of our kindred fauna and extends the restorative qualities of nature to our own beck and call.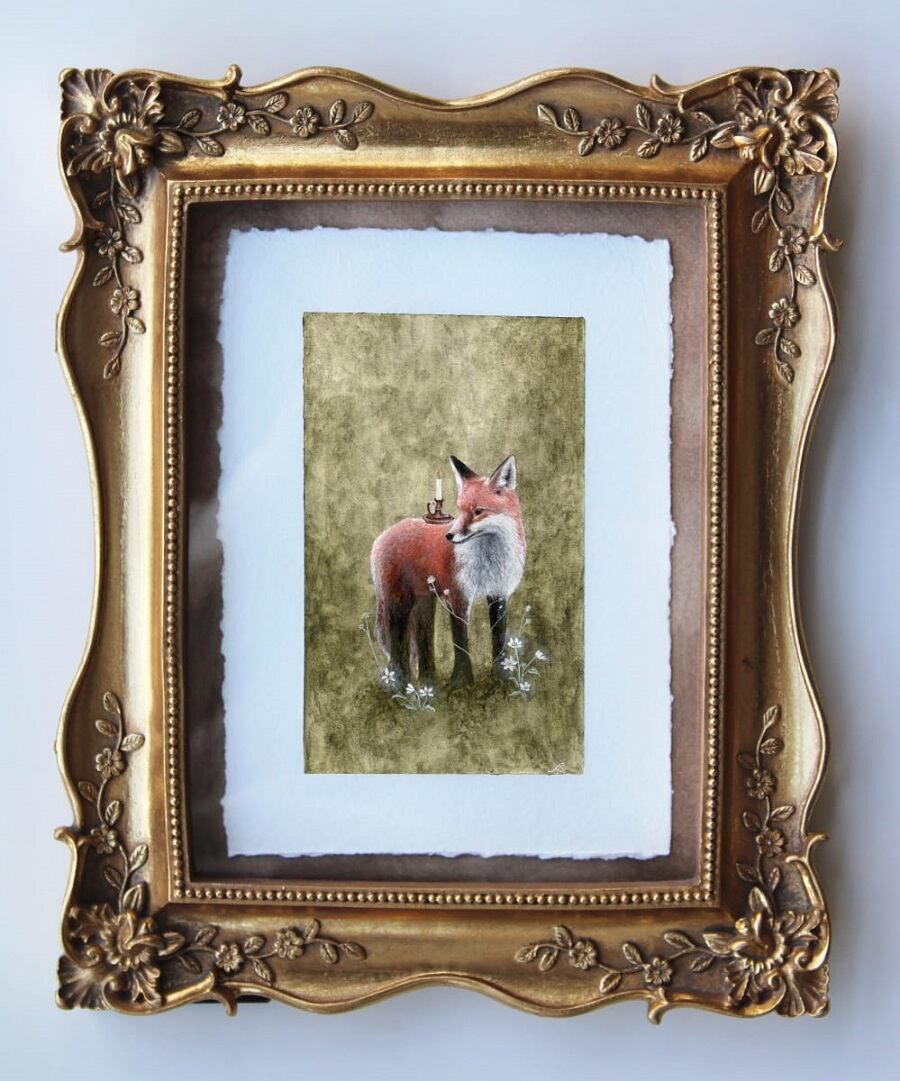 About the Artist //
Alexis Savopoulos is a California based artist. She has been sculpting, painting, and jewelry making since 2012. She has shown with Haven Gallery since 2018 and has been featured at the Mesa Arts Center in Arizona as part of their "Flora and Fauna" exhibit.
June Leeloo, "Nefelibata"
Haven Gallery is honored to present Nantes based artist, June Leeloo, for her third solo exhibition entitled "Nefelibata" at the gallery. "Nefelibata" features sixteen new watercolor paintings that present the artist's archetypal females, delicate in prose and pose, as they dance through the empyrean strata.
"Nefelibata" is a Portuguese term meaning one who walks the clouds. Leeloo has continuously found much of her inspiration from the natural world and all of its ethereal details.
"As far as I can remember I've always loved coloring, drawing flowers, searching for images in clouds, and beautiful tales from all around the world."
Throughout her new series, one finds themselves enchanted by jewel tone palettes of feminine figures twirling through elements of land and sky. Leeloo's subjects become one with the flowers and animals that inspired them; creating fantasy stories in watercolor that teem with life and fellowship. Her female figures float through the composition becoming a daydreams main character.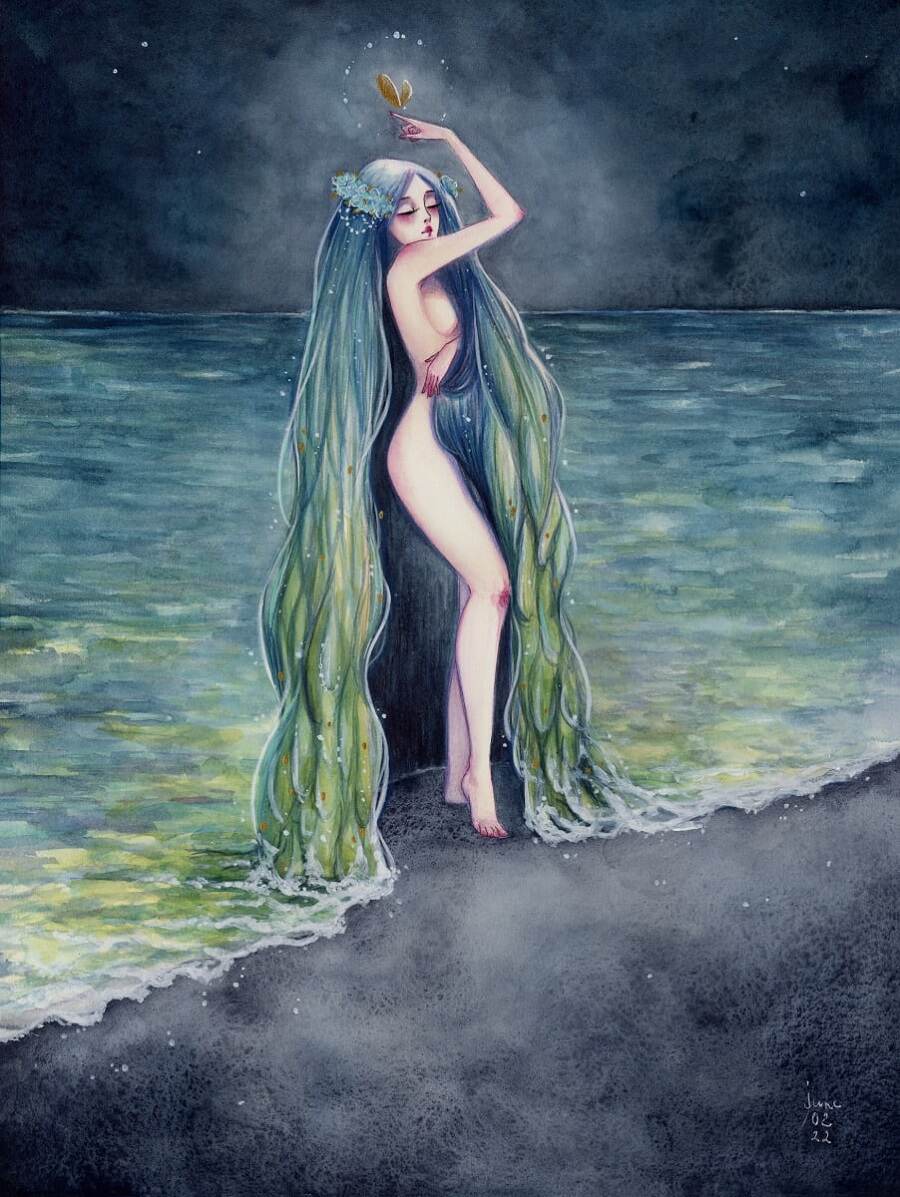 Jason Limon, "Stripped Down"
Haven Gallery is honored to present Texas based artist, Jason Limon, for his first solo exhibition, "Stripped Down" at the gallery. "Stripped Down" will feature ten acrylic paintings highlighting the artists recurring skeleton figures as they bemuse us with their visual wit and whimsical wordplay. Words of emotional repartee are the focus of this series, often mischievously conveying the complex sentiments of the human condition.
Limon's paintings create a four dimensional universe which perpetually traps his skeleton characters in a cryptic storyline to express the complexities of human psychology. He sees the skeleton not as a representation of life and death, but rather a universal symbol that that portrays an idea without a specific identity. These narratives fuse storybook-like imagery with the empathetically uncanny and humorous to amuse and assuage the weight of emotive sentiment. Limon's paintings steady the macabre and entrenchment of emotion in a light-hearted portrait of our inner selves.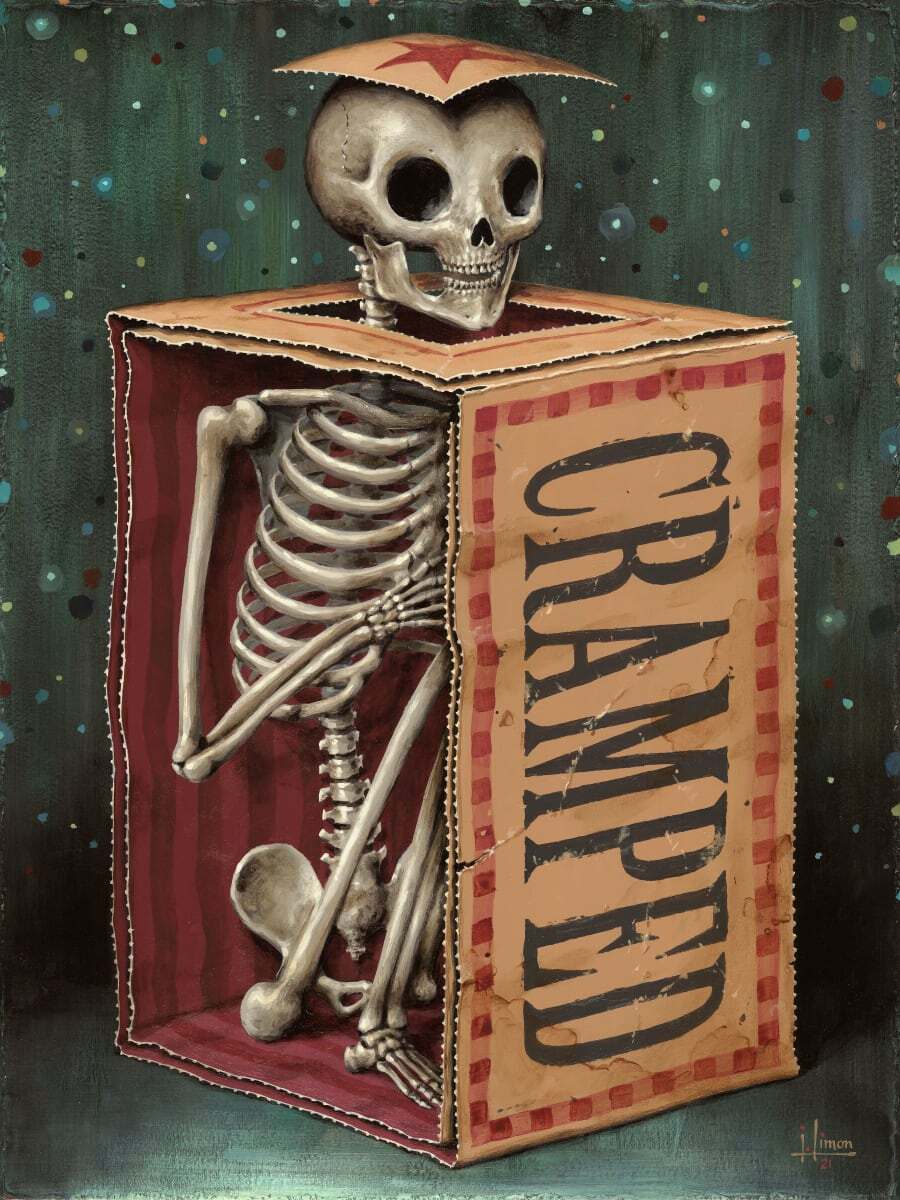 About the Artist //
Jason Limon was born and raised in 1973 San Antonio, Texas, where he still works and resides today. He has had artistic talents since a young age, when it was common to see him painting and drawing doodles inspired by his hometown. He studied fine arts and graphic design at the Visual Arts & Technology Center at San Antonio College. His career began with a focus in graphic design acquiring 12 years of experience creating logos for various companies. He ultimately found his love of creating images with paint and brushes.
Mathieu Nozieres, "Tales of a Nomad"
Haven Gallery is honored to present France based artist Mathieu Nozieres, for his first solo exhibition entitled "Tales of a Nomad" at the gallery. Nozieres' oil works feature diverse battle scenes exploring a variation of cultural mythologies, warrior garb and landscapes. Highly inspired by his travels through Asia, Maghreb and Europe, one finds the influence of samurais and dragons and a strong flavor of Orientalism present in his paintings. A noteworthy nod to his recent collaboration for metal band Trivium's "In the Court of the Dragon" album art is echoed through the prominent use of the colossal draco antagonist as the mythical being soars over Nozieres' valiant fighters.
With a penchant for epic combat, the artists interests stem back in time and embrace historical painting techniques and narratives. Courageous warriors stand up to gargantuan adversaries from legend, forming dynamic and suspenseful scenes. The artist's brushstrokes are loose and gesticulating, enhancing the sense of movement and action of his bellicose milieus. Nozieres' transports his viewer into extraordinarily powerful moments of psychological and corporeal strength; a time in which one's adrenaline and hunger for victory supersede the physical and emotional laws of science and being, forging exemplars out of his protagonists, and defying all odds.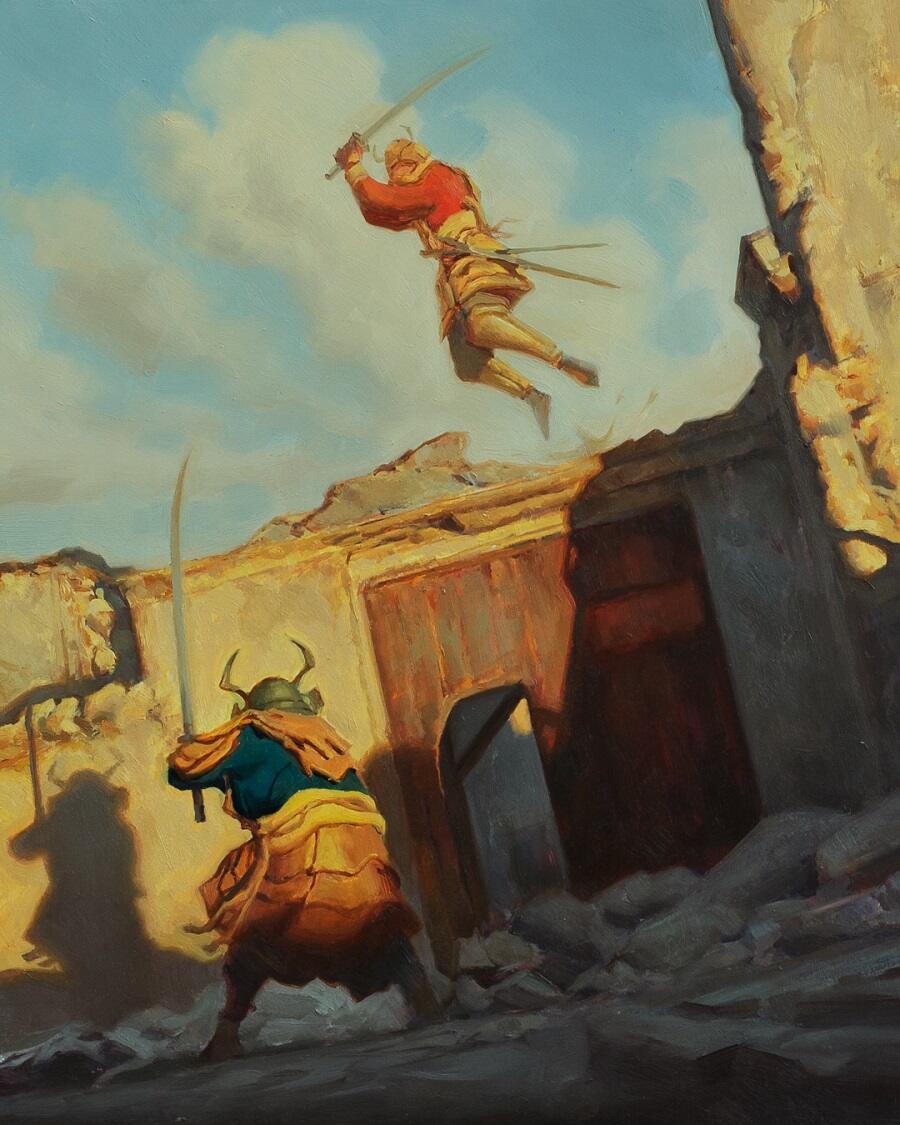 Artist Statement //
This exhibition is an ode to imagination, to life, to physical and mental strength. The paintings presented stage a physical or psychological fight whose outcome is never known. My compositions are made of vast desert expanses where solitude accompanies each character. This solitude is not portrayed in a negative way but on the contrary as a necessary step in the spiritual quest of each individual.
About the Artist //
My paintings mix European, Asian and Arab imagery, three cultures where I have lived and which have influenced me greatly. Hence the title of the exhibition which echoes the nomadic life I have led, always in search of new artistic inspirations.
My paintings wish to highlight the emotions of courage, determination and boldness in order to encourage us to be masters of our destiny and to always find the strength to solve the internal and external challenges that animate us. The imagination of Mathieu Nozieres constantly supersedes reality. His paintings, mostly small formats, are of a rare power with drawing imposing its law, between softness and force, calm and storm.
Observer of the world, Mathieu Nozières seems so be sensitive to the troubles of violence. He was however born in peaceful Grenoble, France, in 1988. He has followed a remarkable academic journey between Belgium and Romania, where he spent a year as an Erasmus student. Comics and illustration were his first loves. More than a work on realism, balance, tension, fullness and emptiness, which traditionally define painting, he develops unique compositions, which are the fruit of a ritual, a way of paying tribute to the fragility of life.
"No, paintings are not made to decorate apartments. It is sometimes an instrument of war" said Picasso in Les Lettres Françaises, March 1945.
The art of Mathieu Nozieres is not only about sheer technique: It is an art committed to serve several causes that…that eats humanity away: urbanization, war, racism, ecology. His work cultivates expressive and luminous realism, between reality and imagination, between fiction and culture. This is why, each of his paintings, large or small, is always an anthem to freedom.
Biography written by Lucien Ramacciotti, Art Critic AIAP/Unesco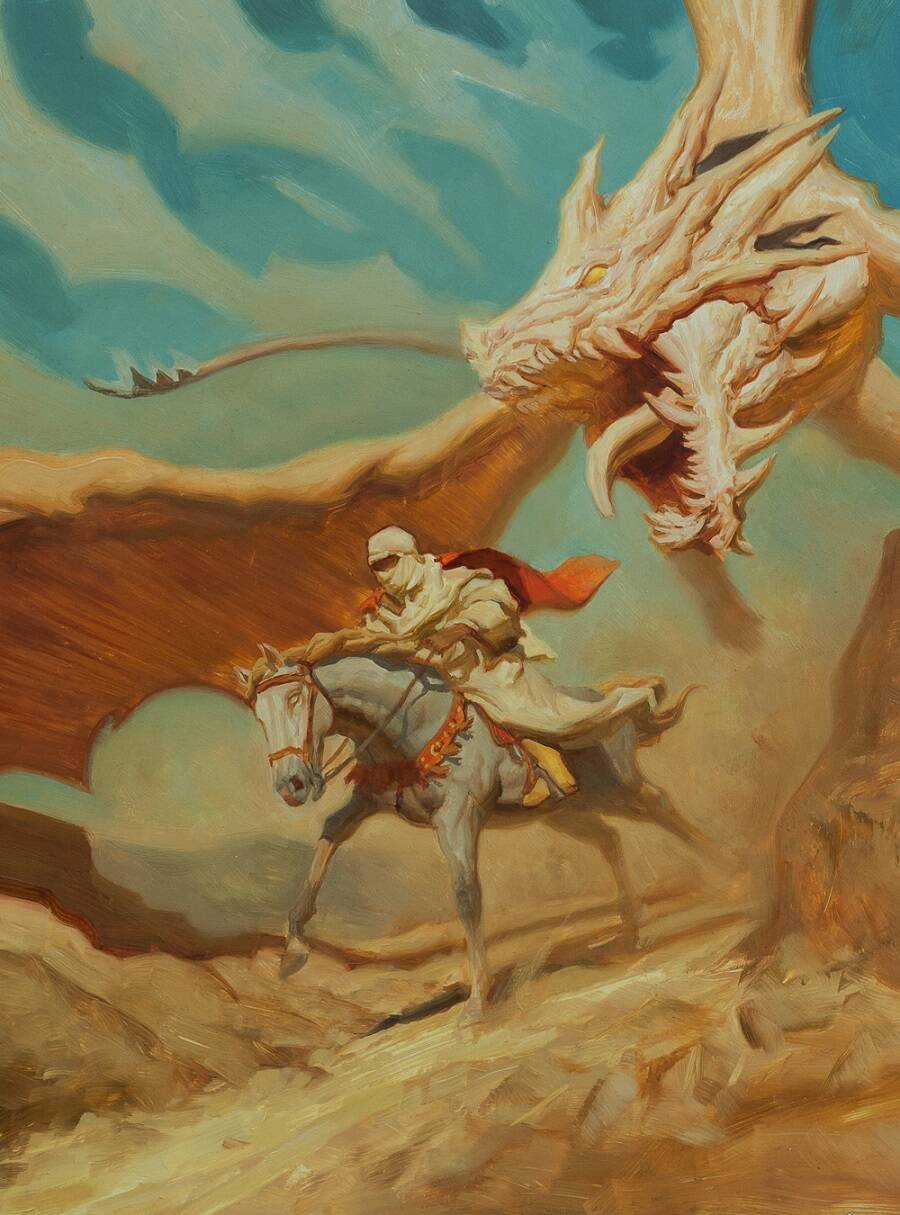 Haven Gallery Social Media Accounts