Deep dive into the wonderful dreamscape of Haven Gallery's latest exhibition lineup that welcome our imaginations to explore the fully immersive narratives of these distinct artists and their soulful visions. Steeped in mystery and magic that makes you long to travel further into each collection with budding curiosity, discover the work of Annie Stegg Gerard, Ingrid Tusell, Karly Perez as well as Hanafuda (花札, "flower cards"), a new group show focussing on the many interpretative styles of the Japanese playing cards.
With a hint of dark surrealism and an undertone of mood sure to enchant, pour a cup of your favourite tea and sit back and enjoy these wonderful new collections opening this weekend at Haven Gallery.
Opening Reception: Saturday, April 2, 2022
Exhibition Dates: April 2 – April 30, 2022
Haven Gallery
90 Main St., | Northport, NY 11768 | (631) 757-0500
To inquire, please contact Erica via email [email protected]
---
Haven Gallery is honored to present Georgia based artist Annie Stegg Gerard for her fourth solo show at the gallery, "Menagerie of Dreams". This new collection will feature eight oil paintings that continue the artists exploration of human-nature symbiosis. Each work enchants and beguiles as her females traipse through verdant forests and the blue/green abyss of the sea. Always accompanied by animal familiars, Annie expertly renders the soulful bond between humans and all living creatures as essences of light and warmth envelope her narratives. A testament to the artists impressive hand and conscientious methods of laying thin glazes of paint over one another to create multi-dimensional and luminescent worlds akin to the fervid heart and harmony of her subjects. An ethereal and magical realm blossoms, uniting ours with that of another; its roots birthed of reality and its blooms of another more fantastical fruition. Through her paintbrush, Annie strengthens our connections with the natural world around us and merges magic and reality, opening our minds and hearts up to what is beyond the edge of actuality.
About the Artist // Annie has a special love for the 18th century Rococo painters who have had a large influence on her own method. Inspired by nature, folklore and mythology, her work evokes emotion and imagination in the viewer. She finds inspiration in their imagination, and the dreamlike palette and lively brushwork that combine to create a wonderful atmosphere of enchantment. She believes that they sought to transport us to different worlds and fantastic places though their works. In her own work, known for it's beautiful, enigmatic figures and lively creatures, Annie strives to depict this same transportive effect to the viewer.
Annie has been exhibiting her work for seven years and has done notable publishing work for clients such as Disney, Hasbro, Wizards of the Coast, Easton press, Ballistic Publishing and more. Her work is found in private collections all over the world.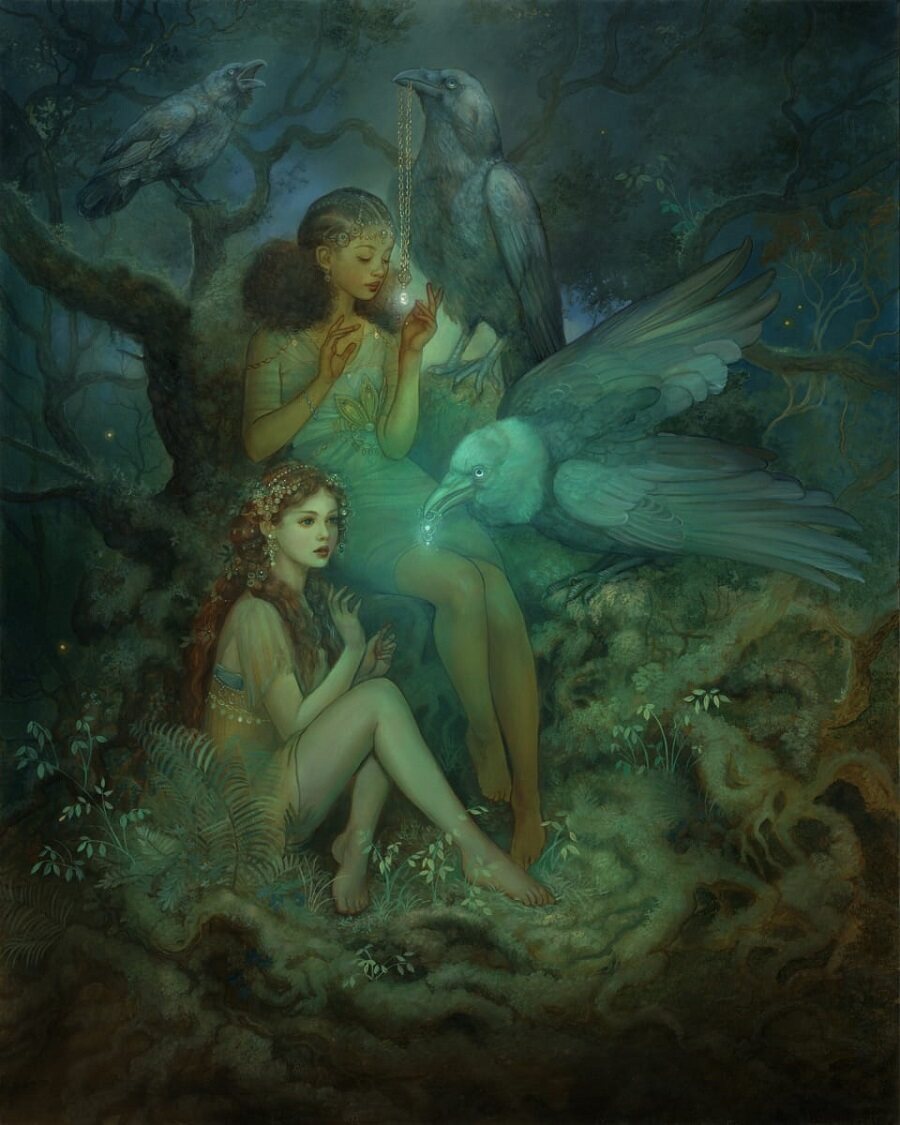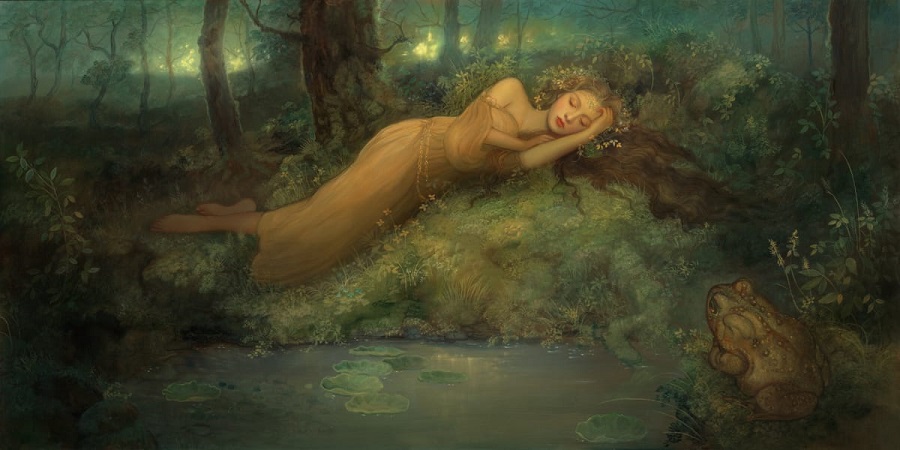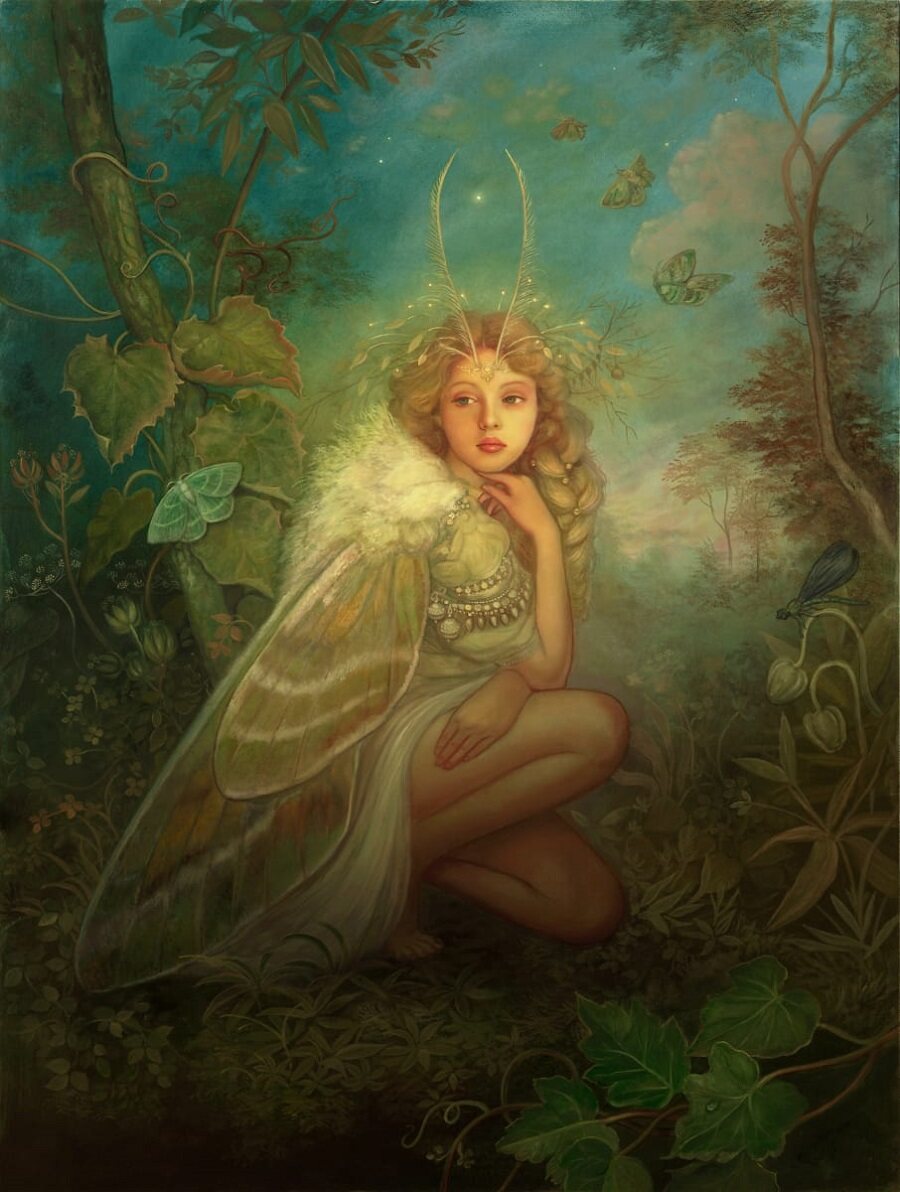 Haven Gallery is pleased to present a solo show of new work by Ingrid Tusell entitled "Anima". This collection represents Ingrid's second solo exhibition at the gallery and features twelve oil paintings. This show focuses on Ingrid's impeccable ability of capturing a female subject's essence, especially those rooted in nature and folklore. Her female portraits gazes into onlookers' souls while commanding a sense of ethereal knowledge. These paintings emit a divine feminine energy that mixes with animals and plant life, granting them access to a spiritual connection to nature. Each one successfully embodies unapologetic feminine power that ultimately give her female subjects a sense of immortality and timelessness. Ingrid's powerful portraits evoke magic that both inspires and gives confidence to those who view her work.
About the Artist // Ingrid Tusell is an artist who was born in Barcelona and is now living in an old, restored mill in the mountainous terrain of Teruel, Spain. Her compositions have human subjects who are reminiscent of strong female indigenous warriors and goddesses. These empowering images of women are amongst fauna and flora associated with the stories they represent. Ingrid's fascination with nature, life, and death, the divine feminine, and legends of tribes and myth, inspire her to create these hypnotizing portraits. She has exhibited in various parts of the United States in galleries like Alexi Era Gallery in Eugene, Oregon, Haven Gallery in Northport, New York, La Bodega Gallery in San Diego, California and Swoon Gallery in Los Angeles, California, as well as galleries in Portugal. Tusell's stirring, fantastical, and natural compositions are primarily created using oils on canvas or wood.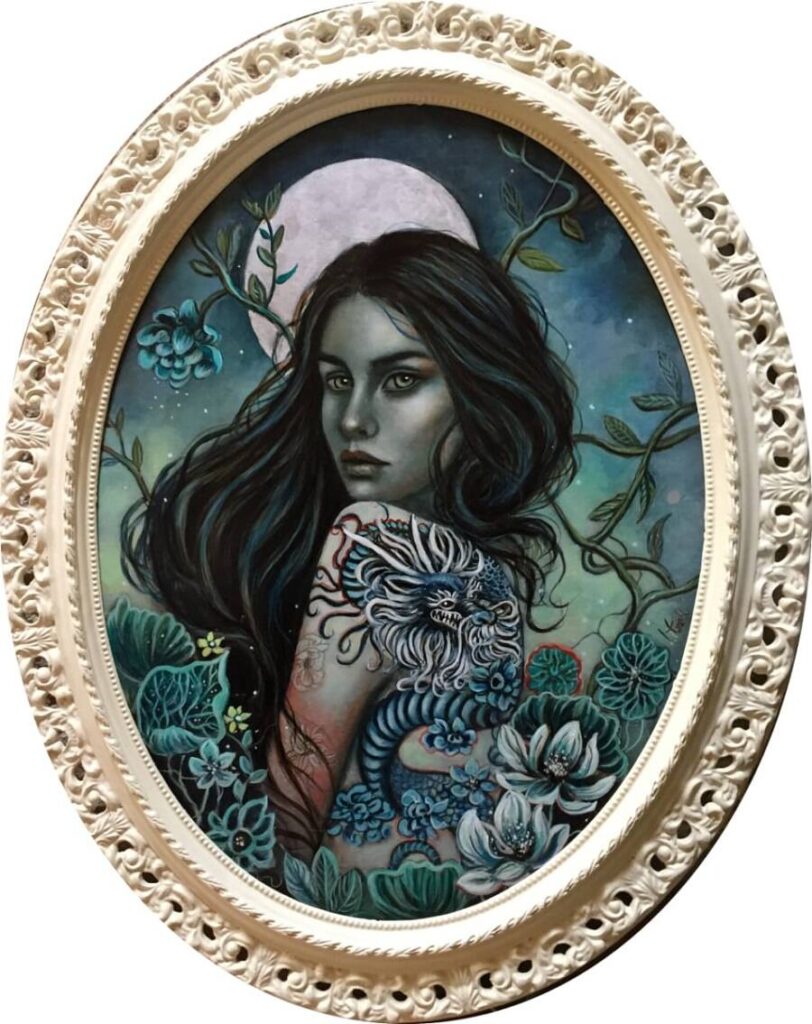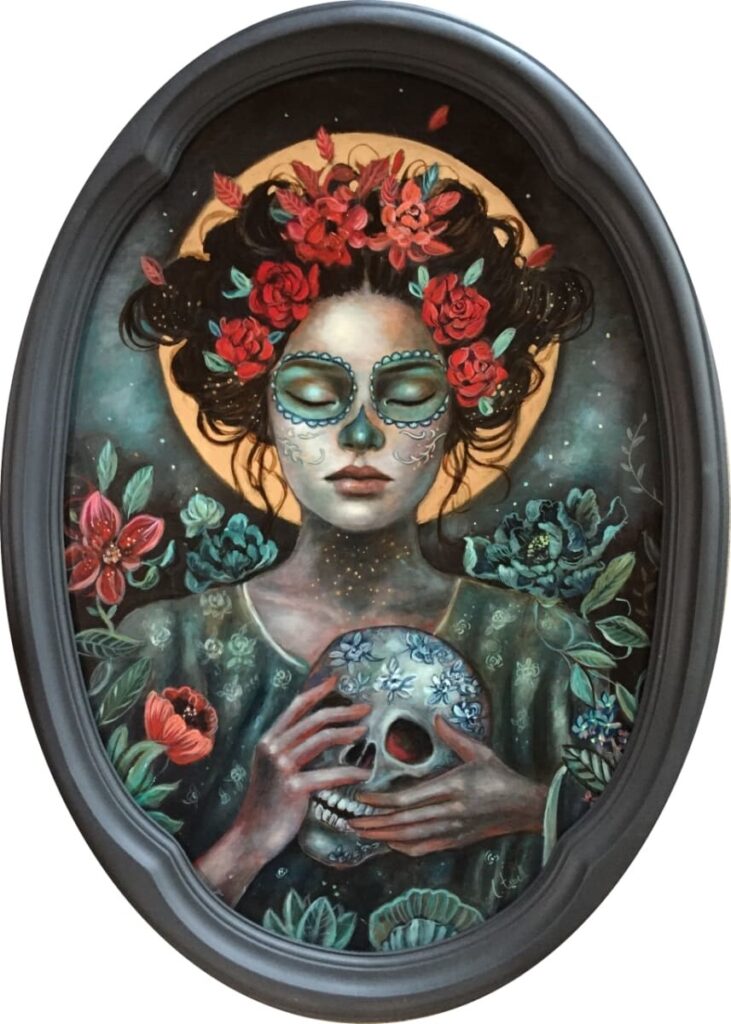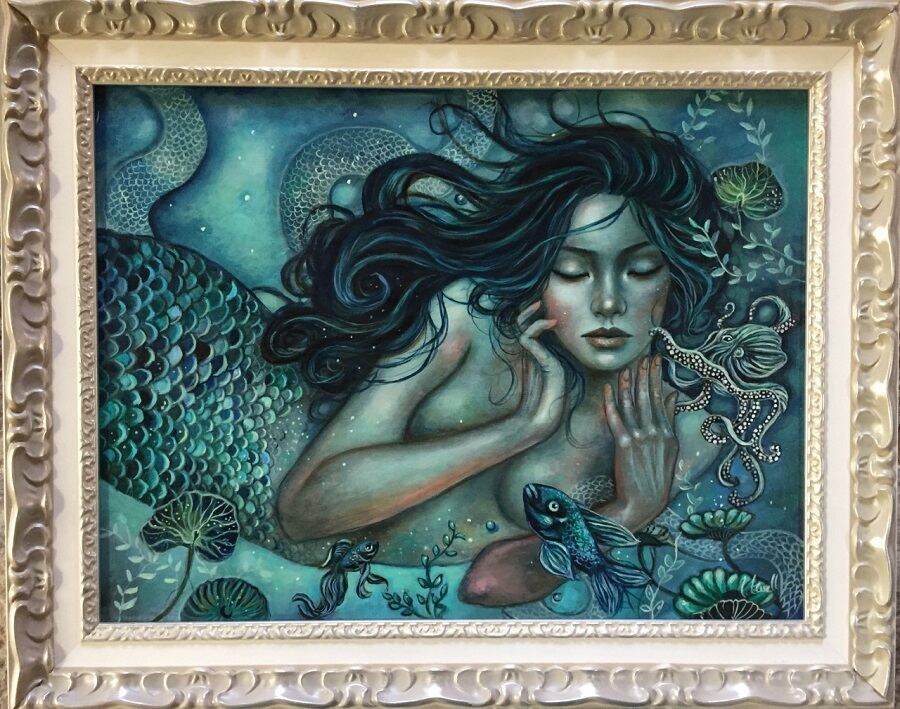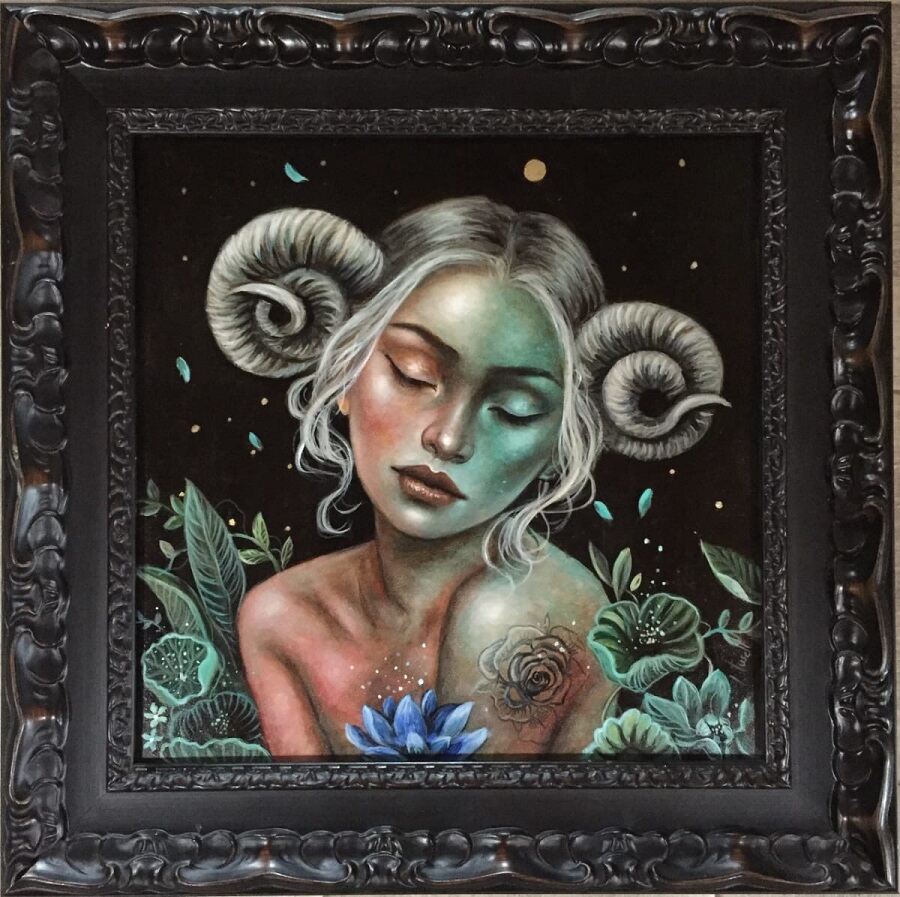 Haven Gallery is honored to present Virginia based artist Karly Perez for her first solo show "Burrow" at the gallery. "Burrow" will feature unique handmade sculptures made of stone clay, natural fibers, and found plant life. Akin to dolls, these works speak through nature making a connection between growth and decay. Their presence embraces a duality of potent presence and a ghostly, gossamer spirit. Each being is ready to conjure spells and grant wishes for a passerby. They behold a quiet stillness yet team with life – awaiting the chance to share their timeless tales and secrets. It is through witch-like and natural qualities that they imbue a magical and other worldly existence. Karly's dolls are made with ingredients of folklore, imagination and the natural world; when completed, they are not only fantastical objects, but enchantingly empathetic companions.
Artist statement // Dolls as an art form has a unique allure. When finished, they provide not only a piece that is visually stimulating, but they can also morph into a type of companion. Each one, from their conceptual inception within my encephalon to the last finished stitch of their dress, has a distinct personality and voice that they seem to create on their own. When they pass from my hand to another, their spirit can morph and grow to match the needs and desires of that who owns them. I love making them, but I also have the compulsion that they must be made. It's as if there are incorporeal entities that cry for a physical form, and it is my ear they speak to.
About the Artist // Karly Perez is a sculptor of art dolls that balance on the natural and unnatural, the literal and the deconstructed. Her inspiration comes from the interconnected state of all life, the merging of human, animal, botanical, and fungal forms. Her sculptures are created using as many natural and textural materials as possible; from bits of roots and dried plants to naturally dyed and pigmented muslin and stone clay. Her dolls have been shown internationally in galleries and featured in magazines.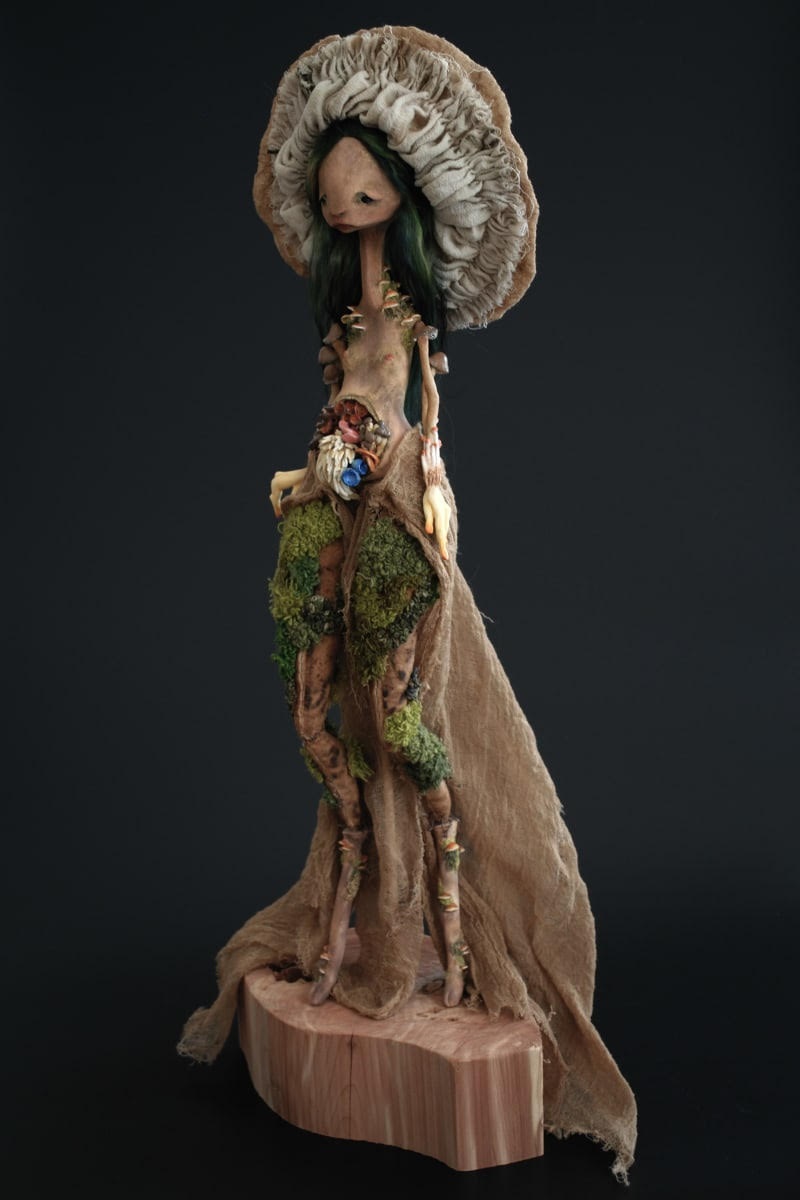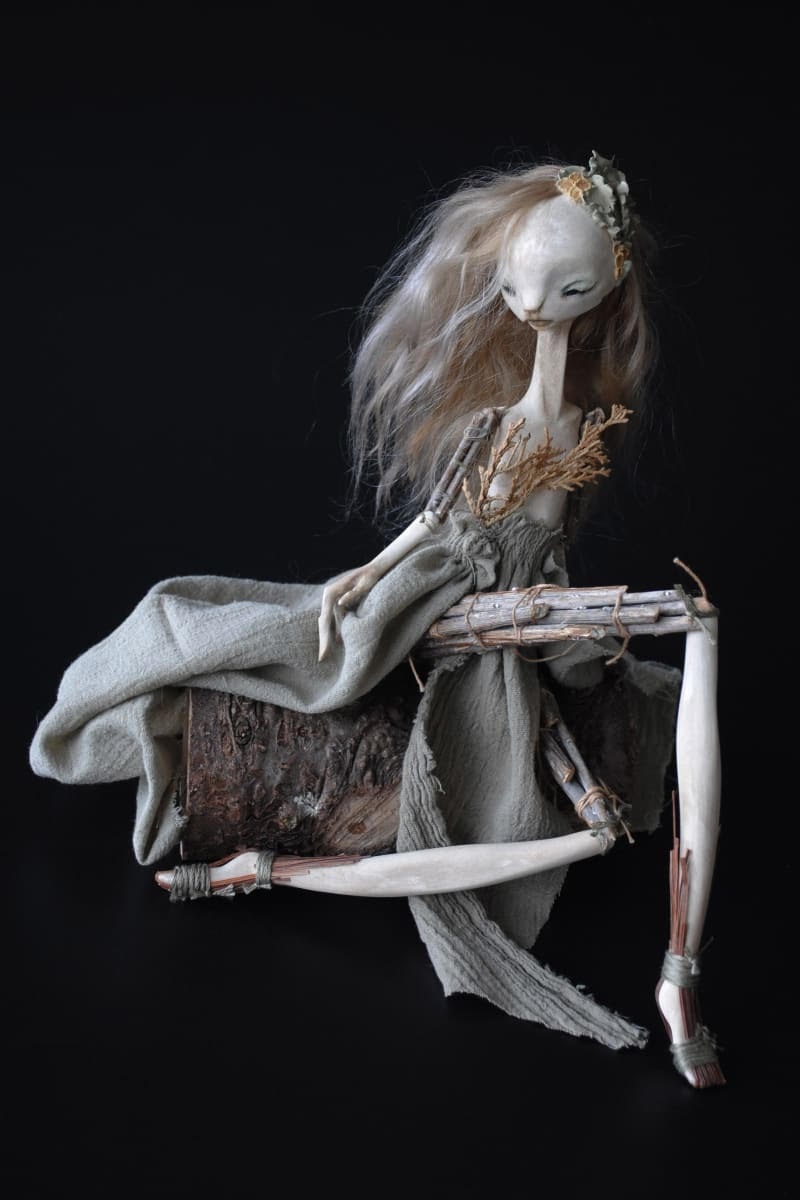 Hanafuda, Group Exhibition
Haven Gallery is pleased to present "Hanafuda", a group exhibition focusing on the artistic design and evolved game play of the card deck originating in Japan. Although this style of playing card began in Japan, they made it to many other countries and have adapted to a multitude of fashions and additional playing methods. Their early design incorporated flowers (hence their translation of flower cards) and throughout their history were represented in both standard and geographic styles to reflect the origin of their design work. This card gameplay, which did tie in with gambling, would be banned multiple times throughout Japanese history. It was not until the end of the 19th century that the ban was lifted and "Hanafuda" playing cards flourished in their traditional. The gameplay grew to evolve with advancements in technology, as their inspiration lead to card oriented video games specifically perpetuated by Nintendo. Our "Hanafuda" exhibition asks artists to learn about the history of this cardgame and the explore the expansion of imagery which overtime has grown to include Japanese deities, animals, etc, as found throughout these decks and their associated games.
Exhibiting Artists // Gina Matarazzo, Naoto Hattori, Jennybird Alcantara, Mark Santos, Marta Wit, Aica, Jessica Mulholland, Nicole Grosjean, Amahi Mori, Valéry VECU-Quitard, Nikolas Tower, Emil Melmoth, and Lavely Miller.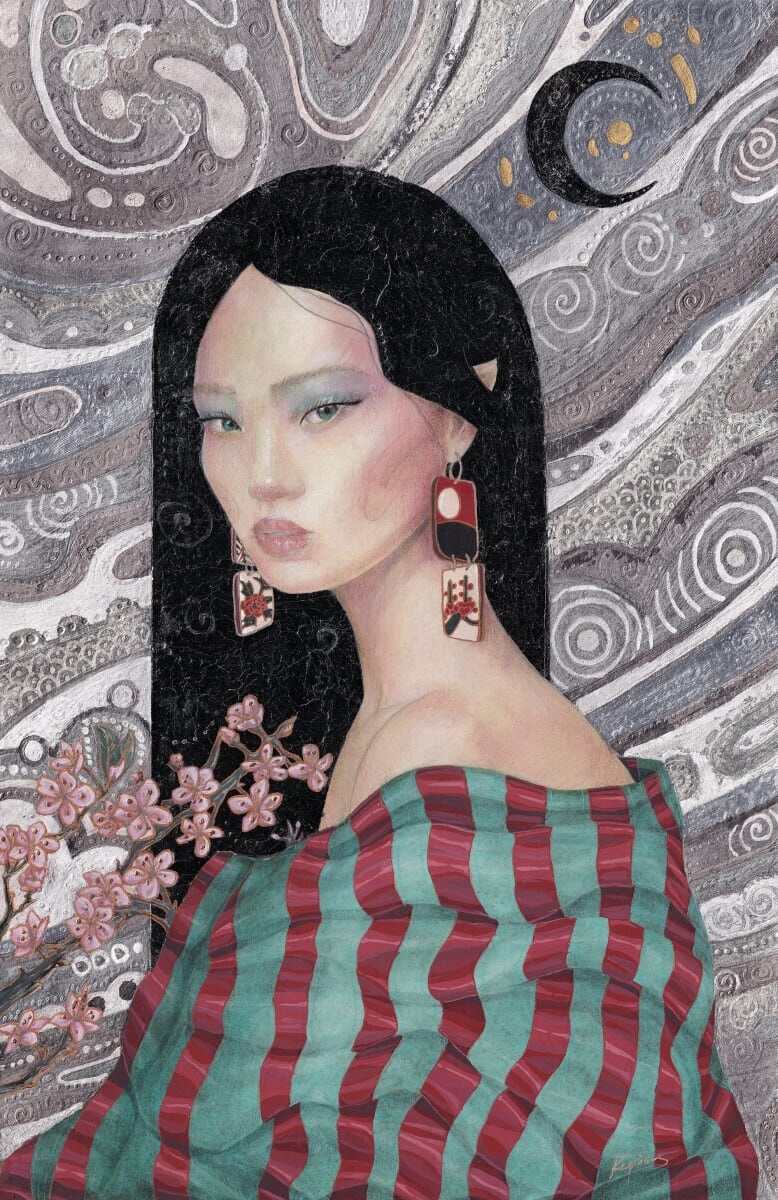 Haven Gallery Social Media Accounts