Unless you've spent the past few years taking a carefree joy ride throughout the solar system while perched atop a speeding comet, Grant Gilsdorf's new nine-piece solo show at RJD Gallery will likely stir some universally relatable, existential emotions within you. He experienced "tense confrontation" while bringing his strikingly soulful muses to life, which then gave way to "tense stillness". It occurred to the Columbus, Ohio-based figurative realist that his entire body of work – manifested throughout the global pandemic – is emblematic of "the doom and glory of our human experience".
Describing himself as a "humanist who understands the importance of connection", Grant quite fittingly dubbed his exhibition – which runs from April 1 to May 15, 2022 – Tension. The name acknowledges the "life force humming throughout each piece" and the fact that – without saying a word – each muse emits deeper themes simply through their penetrating gazes, "micro-expressions and body language". While what emerges from Grant's studio certainly falls underneath the umbrella of "composition-centric portraits, narratives, and/or figurative works", one term truly sums up what his art is all about: authenticity.
Grant Gilsdorf, "Tension"
Exhibition Dates: April 1 – May 15, 2022 | No Opening Reception
RJD Gallery
227 North Main Street | Romeo, MI 48065
Hours:
Tuesday Through Saturday, 10am-5pm
Sunday (Closed) | Monday (Open by Appointment)
For press inquiries or sales, please contact Richard Demato at [email protected]
For general information, please email [email protected]
About the Artist // Upon graduating from Ohio's Bowling Green State University in 2006, the formally trained artist's painting path was actually inspired by his position as a high school art teacher. At that point in his career, Grant Gilsdorf regarded himself as a "photographer or digital artist". He decided that being a sterling resource for his students was just as important as continually cultivating his own creative skills. That's what inspired him to "finally embrace the challenge" of summoning figures on canvas that seem entirely alive.
The December 2019 American Art Collector cover artist – who is among the select painters whose various hyper realistic works have been acquired by the IBEX Collection – elaborates:
So yes, that may mean that their gaze penetrates you…or creeps you out…or seduces you…or moves you…or creeps you the fuck out…that is all part of my intent. There is always a point in my creation process when I can feel the character spring to life…it's as if I'm sharing the room with someone else. That's how I know it's going to be a successful painting.
For Grant Gilsdorf, the thematic heft of his artistic practice – which he hopes will ensure the relevance of his work centuries from now – is what makes each brushstroke so fulfilling. "Nothing can exist without that foundation," he asserts. Regarding himself a creative conduit of "life's emotional transmissions", the painter hopes that his visual interpretations of "raw vulnerability" will ultimately "enable the beholder to process their own complexities".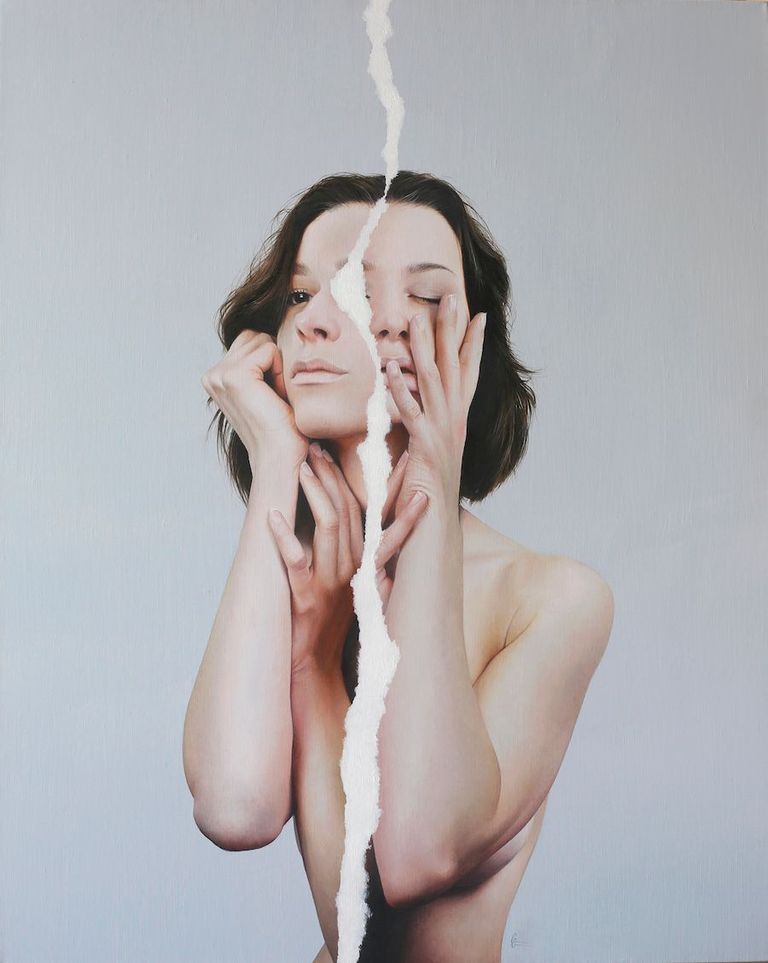 About the Gallery // The Richard J. Demato Gallery (RJD Gallery) is committed to seeking out and showing the work of emerging and mid-career artists with a focus on narrative figurative portraiture, magical realism, photorealistic portraiture, mixed media, and contemporary landscape. The gallery fosters the careers of their represented artists through exposure to new and diverse markets both nationally and internationally. In addition to representing emerging artists, the gallery also offers exclusive works by American masters that offer a fresh, contemporary vision of the world via their RJD Private Collection.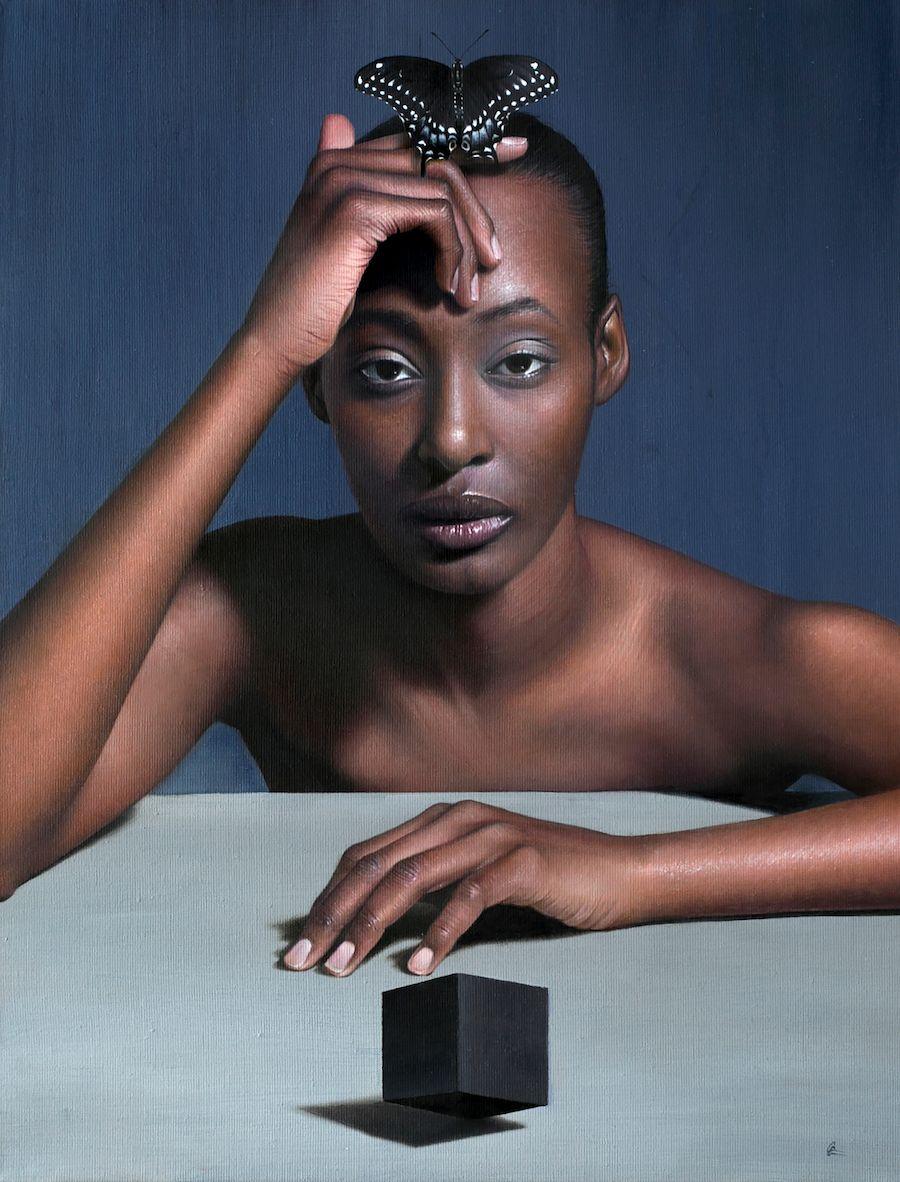 About Gallerist Richard J. Demato // "Art was the only subject I got straight A's in," admits the Brooklyn-born, Long Island raised gallerist. As a young man, the polarity of his academic interests paved the way for a double major in art and biology at UC Irvine, followed by Ph.D. studies in molecular biology and biochemistry. Scientific studies did nothing to tamp down Richard's pull toward creativity, which led him down a somewhat unexpected career path that would span the next 24 years – fashion! Given the inherent creativity of garment design and the entire fashion industry in general, it makes sense that Richard's ongoing interest in appreciating and collecting art only deepened as the years passed.
Some signs are impossible to ignore, especially when they continually point you in the direction of the art world! Richard Demato finally opened the doors to his Sag Harbor, New York-based RJD Gallery in 2009, which is still going strong all these years later. "I'm thankful to be surrounded by many sensitive creative souls, both artists and collectors, who appreciate that we support, nurture, and empower our exclusive artists," says the gallerist, whose establishment is now located in Romeo, Michigan. The contemporary figurative realism enthusiast goes out of his way to support "emerging and mid-career artists who make well-executed works that challenge me to discover more than the obvious, who share their voices and bare their souls, who tell stories that may sometimes provoke us."
RJD Gallery Social Media Accounts
Website | Instagram | Facebook | Pinterest | Twitter
Grant Gilsdorf Social Media Accounts