The First Friday October event at Arch Enemy Arts in Philadelphia is almost here! Bringing you four exciting collections of artwork, this month's featured artists include Tina Yu: Happily Ever After, Peca: Chiaroscuro, and Dewi Plass: Liminal. Arch Enemy Arts also celebrates their new group exhibition, GLOW, with work from Matt Dangler, Joe Vollan, Wiley Wallace, Kisung Koh, Rachael Bridge, Bayo, Emily Lovejoy, Jessica Hess, Ruth Speer, and Joshua Roman.
Steeped in layered magic, Tina Yu's debut solo 'Happily Ever After' entwines an unexplainable fairytale as femininity flows gracefully alongside its surreal counterpart. Bubbly-bubblegum pastel palettes and mystical animal hybrids seem to walk hand in hand through her colorful playland. From pink spider cats, bear dragons and mischievous unicorn mice hand pendants to sparkly ooak sculptures and paintings akin to mouthwatering confections, this collection of work is truly delicious.
For details on this amazing lineup of artists, visit Arch Enemy Arts and follow along their Instagram for daily updates and sneak peeks.
First Friday October
Tina Yu: 'Happily Ever After' | Peca: Chiaroscuro | Dewi Plass: Liminal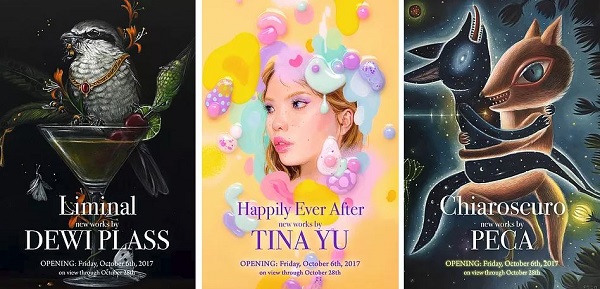 Opening Reception:
Friday, October 6, 2017 | 6-10pm
Exhibition Dates:
October 6-28, 2017
109 + 111 Arch Street | Philadelphia, PA 19106
For additional information and available artwork please contact the gallery directly at [email protected]
Tina Yu 'Happily Ever After' Preview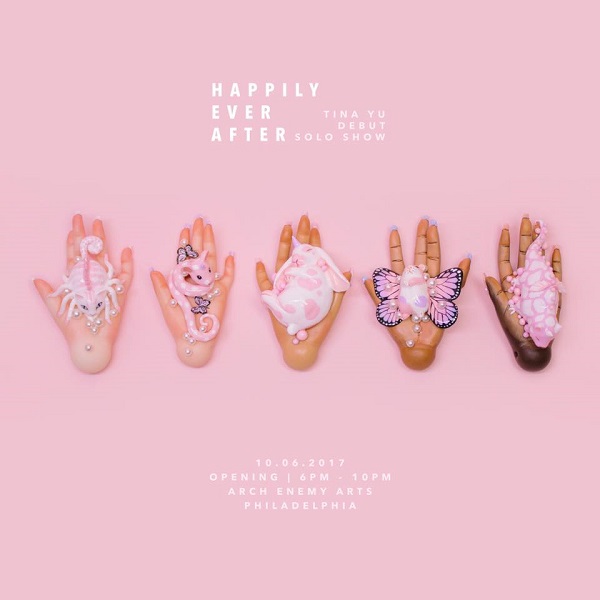 Peca: Chiaroscuro Sneak Peek
Dewi Plass: Liminal Sneak Peek