There's something so inviting about the new collections opening this weekend at Haven Gallery. Creative spirits Brian Mashburn, Daria Theodora, Marc Le Rest, and Zoe Chigi wow us with their imaginative renderings and thoughtful interpretations.
Each exemplary body of work piques our interest, and the distinct caliber of these exhibitions unfurl an artistic narrative that expands in our imagination and leaves us wanting more. Join Haven Gallery in the celebration of each artist and their engaging solo exhibitions.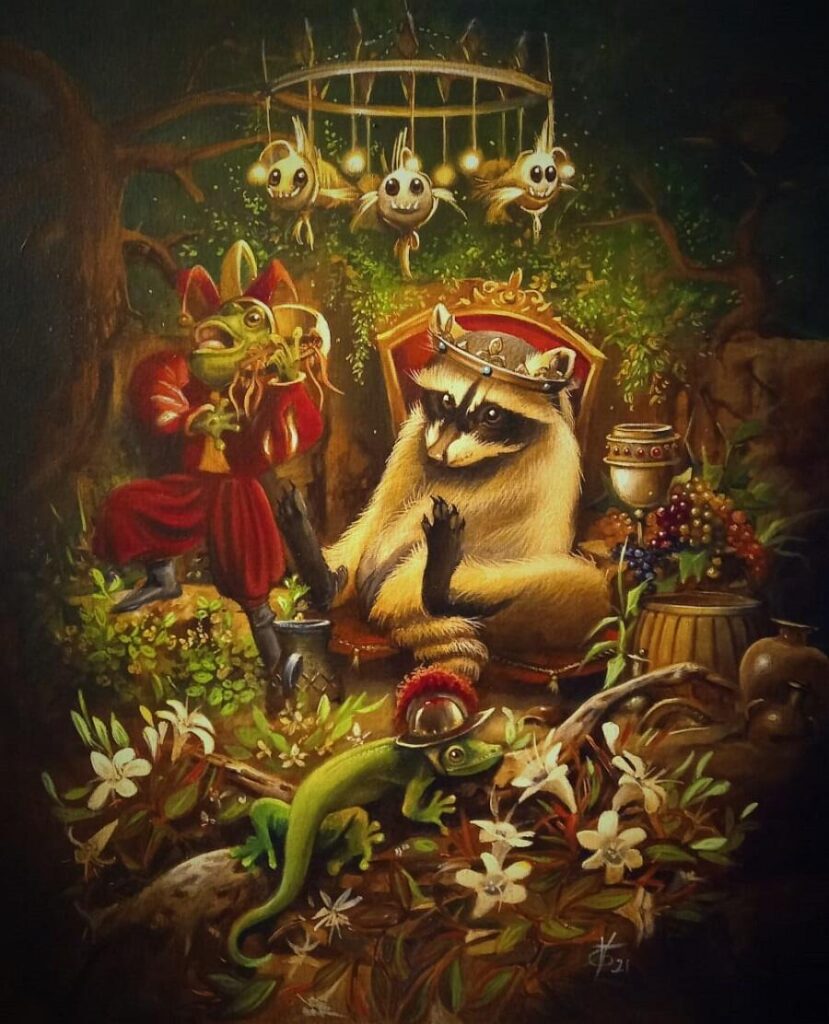 Opening Reception: Saturday, February 26, 2022
Exhibition Dates: February 26, 2022 – March 27, 2022
Haven Gallery
90 Main St., | Northport, NY 11768 | (631) 757-0500
To inquire, please contact Erica via email [email protected]
---
Brian Mashburn, "Fictions"
Haven Gallery is pleased to present a collection of twelve new paintings from North Carolina based artist Brian Mashburn, for his third solo show entitled "Fictions". As the title suggests, this new collection pulls inspiration from fictitious works of literature and embeds these written references in his multi-layered landscapes. Brian's work traditionally blends various geographic identities with a variety of animals and terrains. Influences often stem from works of history, non-fiction titles and real life animal studies, to ground his visual fundamentals into reality. His trained hand merges these varied elements into one seamless environment creating a pastiche of time and place. A new perspective on the movement of time and the necessity, as well as persistence of the natural world. One cannot exist without the other, and similarly, works of fictions and expressions of creativity must prevail for the permanency of civilization.
About the Artist //
Brian Mashburn is an American artist based in the mountains of North Carolina. He studied at the University of North Carolina at Chapel Hill, receiving a BFA in 2002. Brian's work depicts urban and industrial landscapes in close proximity to the natural world. Primarily an oil painter, Mashburn uses narrative and meticulous attention to detail to engage the viewer. His work is informed by everyday observations as well as an interest in history, natural science, and philosophy. Brian lives in Asheville, NC.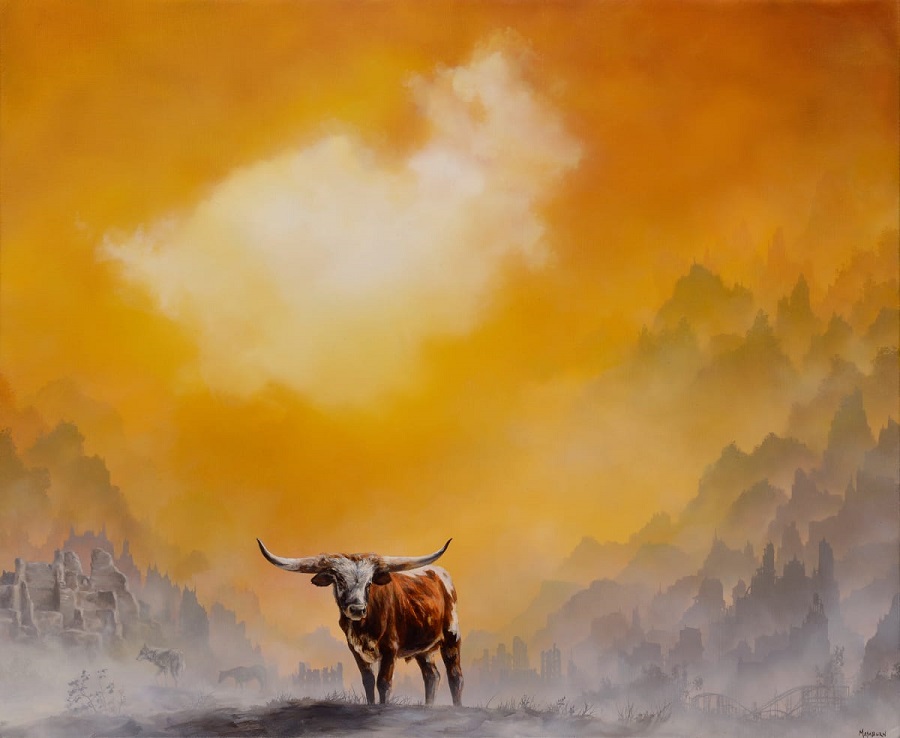 Daria Theodora, "Fading Memories"
Haven Gallery is pleased to present a collection of new paintings from Boston based artist Daria Theodora, for her second solo show, "Fading Memories". Swirls of vivid colors and floral bouquets dance around Daria's animal and figure centric paintings to create a symphony of activity and metamorphoses. Taking inspiration from early and contemporary narratives such as folklore, Shintoism, and manga, memories old and new are blended to create fresh tales that do not lose sight of the former. A merging of time and place harmoniously weave together tales of the past, present and future, connecting all living beings into a flourishing amalgam of life.
About the Artist //
Daria is a semi-hermit illustrator drawing things from the cute to the pretty or the weird in her cave in a Boston suburb. She draws to eat desserts. Daria's works have been featured in ImagineFX, Illustration Age, and Illustration West 54. She exhibits across the United States with Haven Gallery (Northport, NY), Helikon Gallery (Denver, CO), La Luz de Jesus Gallery (Los Angeles, CA), and Light Grey Art Lab (Minneapolis, MN). Daria was the recipient of the Gold Award in Gallery, Illustration West 55 as well as an Honorable Mention in Unpublished and Self-Promotional, Sila West 55.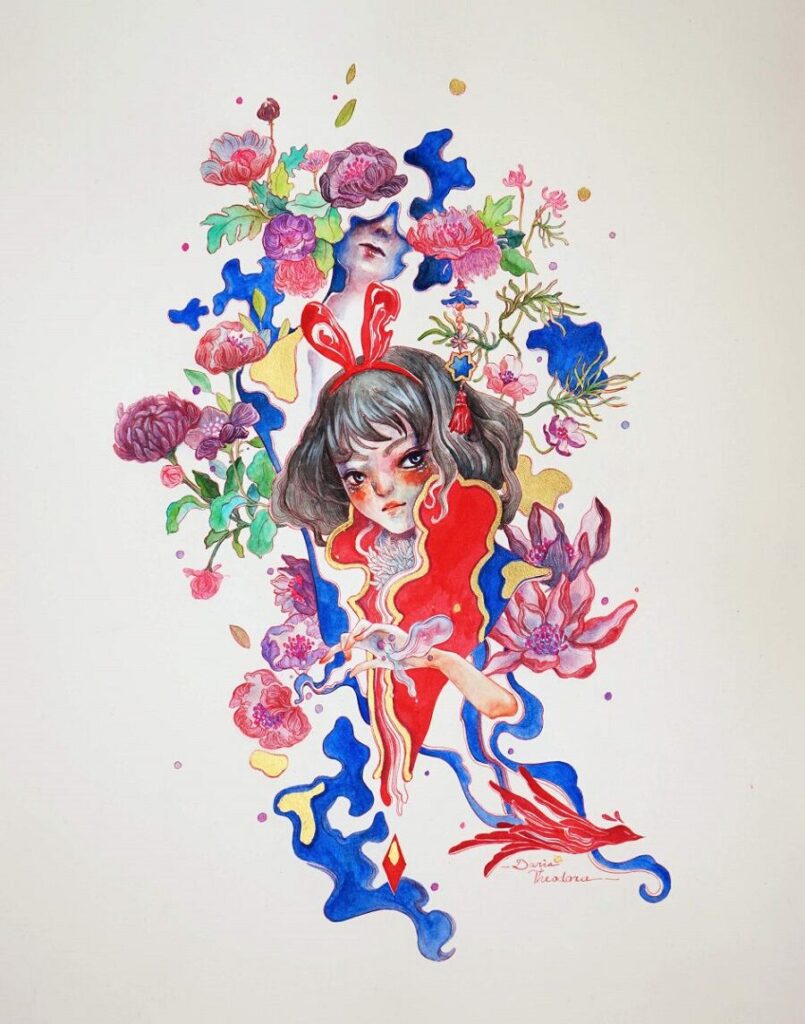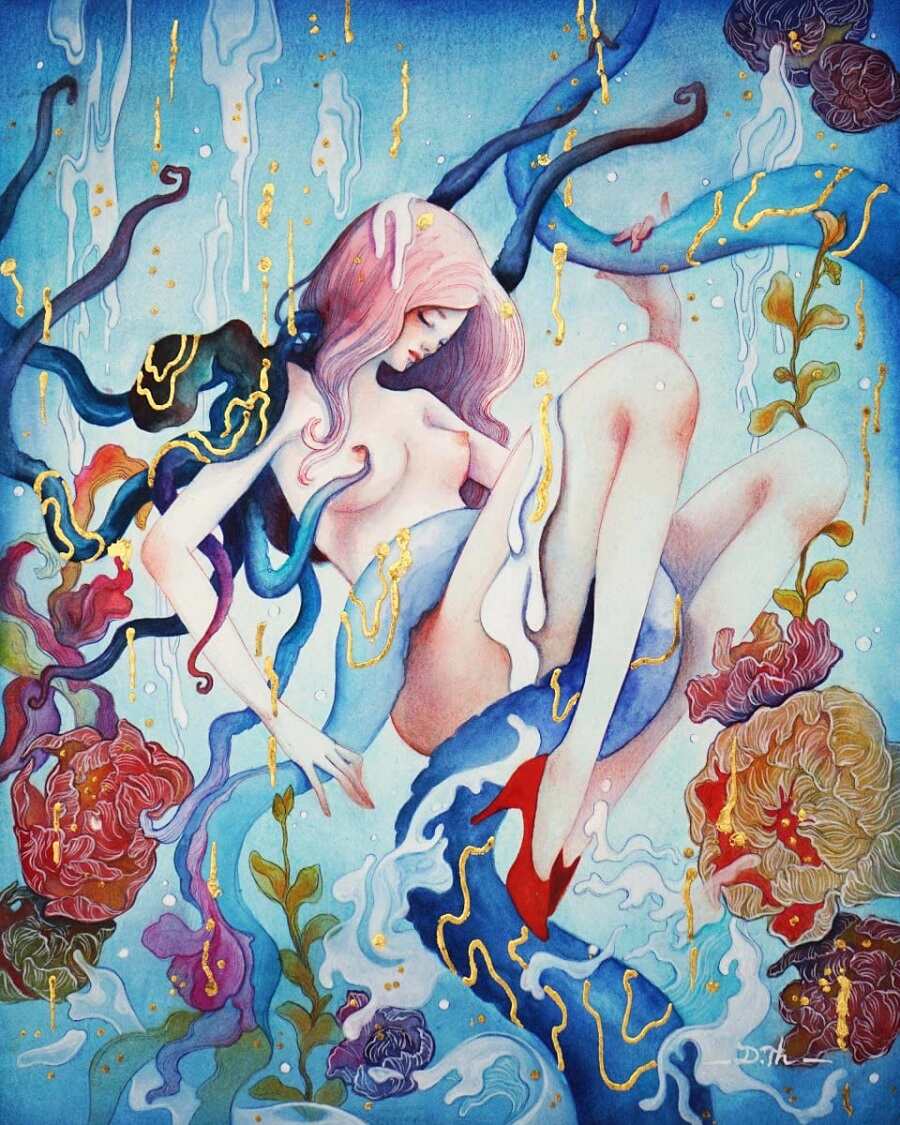 Marc Le Rest, "Samurais and Courtesans"
Haven Gallery is pleased to present a collection of ten new paintings from French artist Marc Le Rest for his first solo show entitled "Samurais and Courtesans". Marc is known for his vibrant, grandiose portraits realistically rendered in oil, highlighting fashions through the ages as they adorn and regale his sitters. "Samurais and Courtesans" distinctly centers on animal portraits, specifically monkeys and tigers, as they appear in majestic poses imbuing elegance and knowing confrontation. Highly inspired by historic portraiture, Marc's sitters are poised and noble. They acknowledge the viewer in a bold and resplendent manner evoking royal and aristocratic roots found throughout art historical depictions of the nobility in art. With his professional background in fashion, a remarkable representation of fabric, form, pattern work and texture of the highest class further aggrandize his sitters. Moreover, an understanding of the identifying attributes of styles, colors and fabrics in fashion to ones social standing or home region, is clearly acknowledged as well throughout the artists paintings. Marc's work demonstrates a strong grasp on history, fashion and art, while gracefully acknowledging nature through his animal sitters, remarking on the influence of the latter, the beauty of all creatures and perhaps, tastefully equating the importance of all life on earth.
About the Artist //
Born in 1970, Marc Le Rest is a French painter. He started his career as a textile designer for Hermès, Armani, Jean-Paul Gaultier and Sonia Rykiel. He then moved to the United States, where he worked for the biggest editors of furnishing fabrics. Today, he dedicates completely to his passion, painting.Throughout the years, the artist has developed a unique universe, strongly inspired by Flemish portraits of the XVI and XVIIth century. His pieces depict a whole bestiary, chimpanzees, cheetahs, gazelles combed according to the styles of these epochs. Feathers, lace, collars, pearls and ribbons dress the heads of these animals. A contrast between animal and refinement, between nature and culture which get on just perfectly, showing that the differences between them, may not be that big.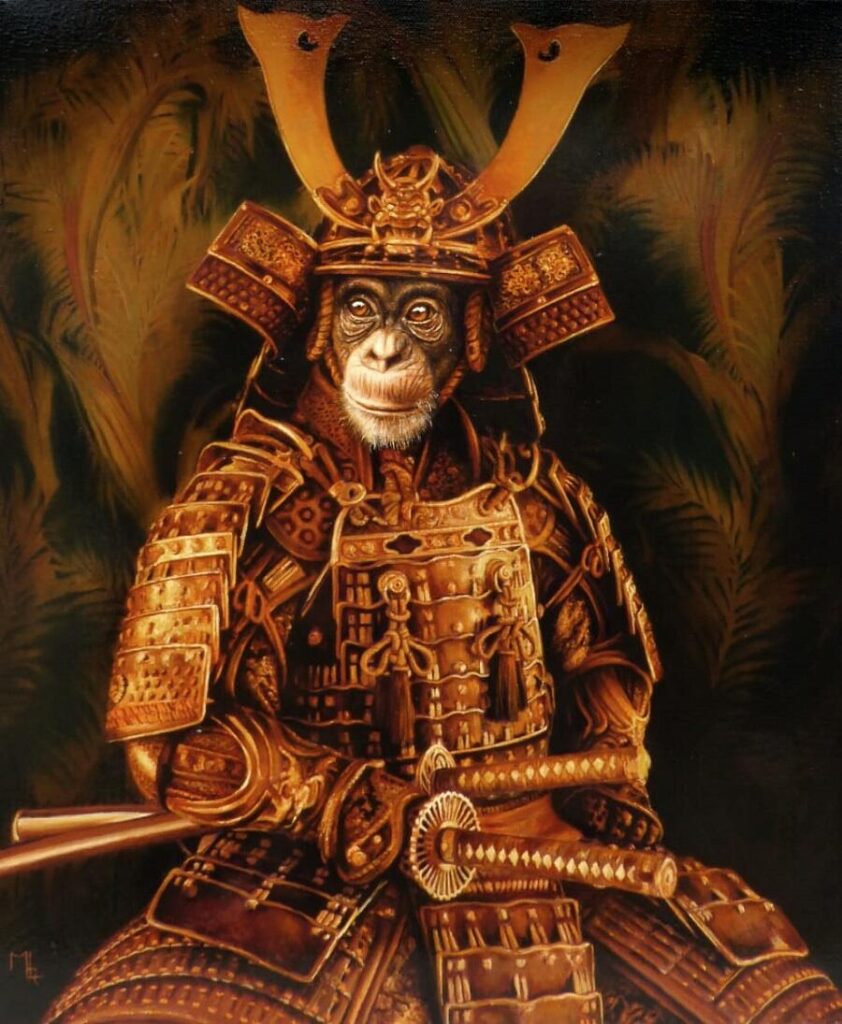 Zoe Chigi, "Not So Far From Reality"
Haven Gallery is pleased to present a collection of ten new paintings from Zoe Chigi for her first solo show entitled "Not So Far from Reality". Zoe's paintings incorporate conceptual realism, pop-surrealism and traditional still-life styles in a uniquely exuberant brand of narrative art. This collection includes a variety of acrylic paintings on canvas, all within beautifully designed golden and/or glass frames. Genteel details are offered with a touch of fantasy and playfulness, bringing admirers back to bygone times. Their whimsical nature transports you into a fairytale world full of animals and objects of lore. Each sitter comes alive with animated expressions and gesticulation, ready to become an onlooker's familiar. Their counterparts, opulent antique objects, find themselves similarly showcased in a fantastical way, uniting these delicate inanimates with their frolicsome critters. Through this intermixing of worlds Zoe's paintings retell stories of love, adventure, and magic.
About the Artist //
Zoe Chigi is a free-lance artist based in Barcelona, Spain. She was born and raised in Italy, completing her art education as a graduate of The Academy of Fine Arts in Florence. With her schooling of classical training, she utilizes old master techniques in her works such as underpainting and glazing. Zoe paints with both mediums of oil and acrylic paint. Zoe has exhibited her art at Haven Gallery before in six group shows within the past two years. Her body of work is a perfect example of mixing figurative compositions with surrealist storytelling. Artist statement: "My work is quite figurative at first glance but there is a lot of surrealism and modern concepts inside, like keys hidden in a canvas…"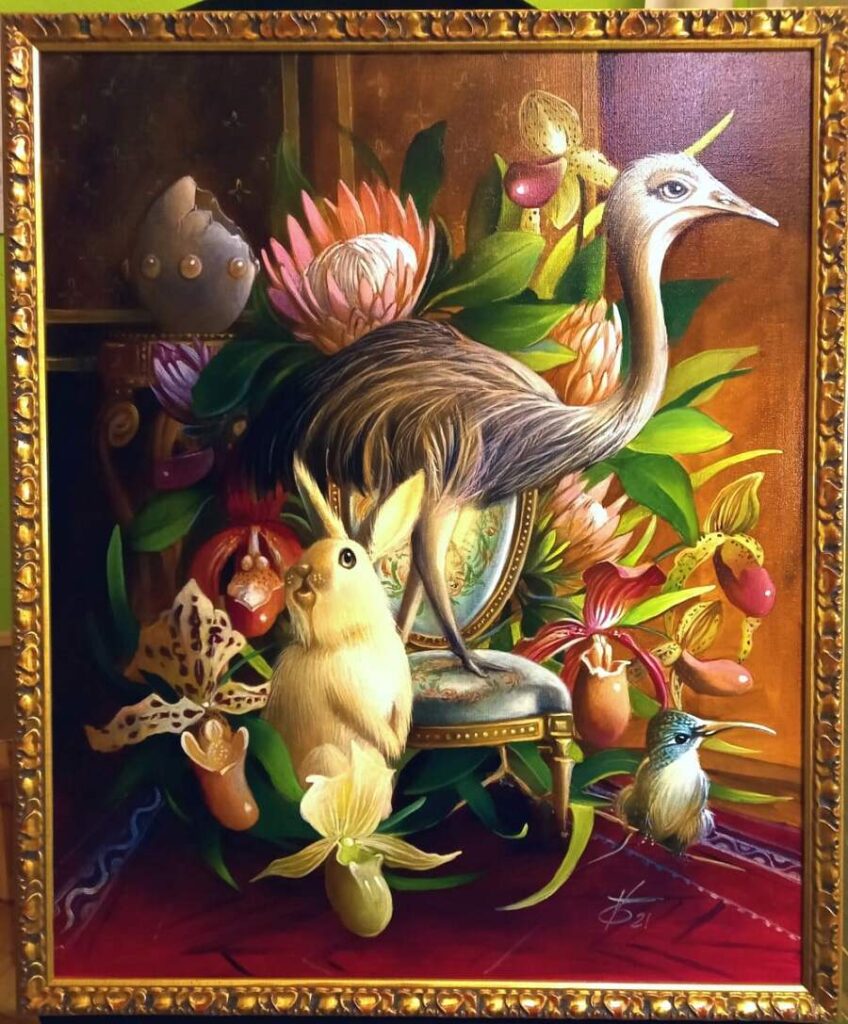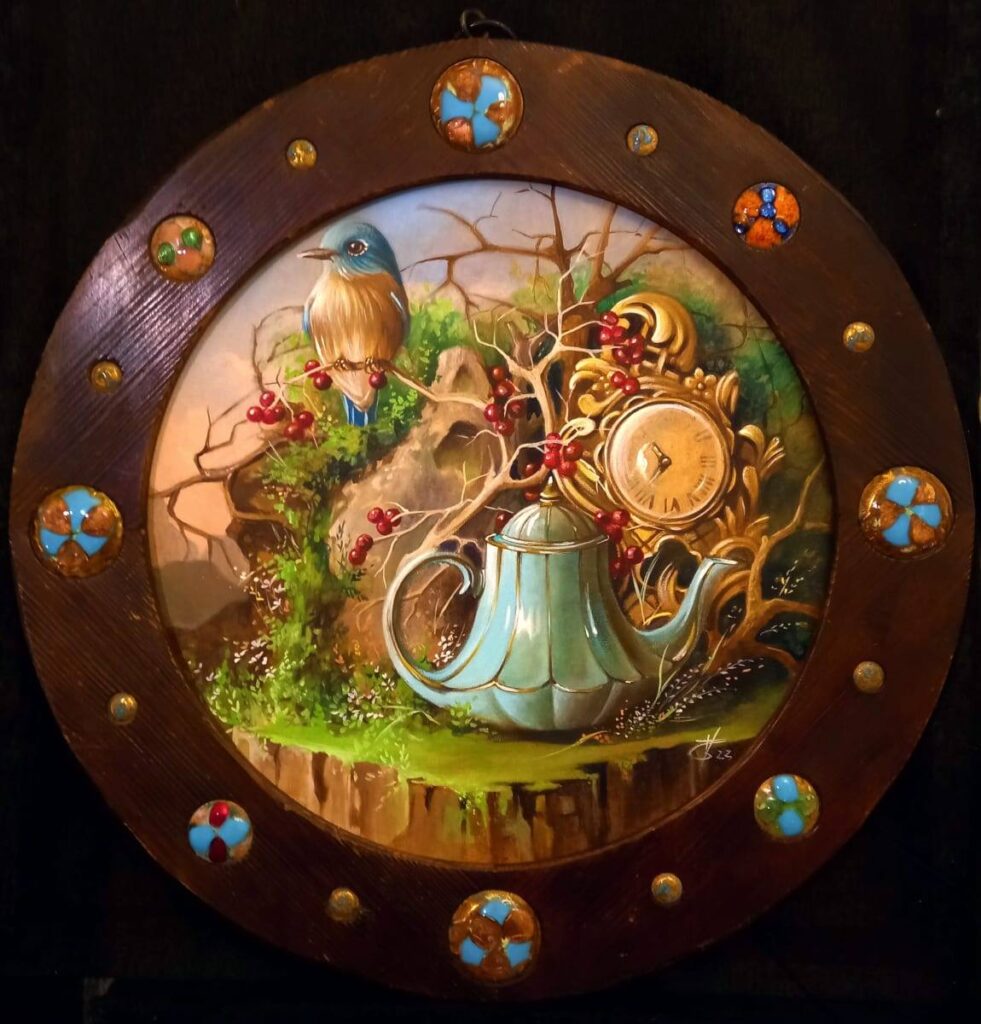 Haven Gallery Social Media Accounts