With the new year comes a renewed sense of appreciation, purpose, and excitement. It's a wonderful time to embrace opportunity and enjoy the many things that fulfill us. Sooo, if you love art as much as we do, then you're going to love the new collections on view at Haven Gallery. Not one but SIX delightful exhibitions have opened and we're here to help celebrate them! Join us?
With wide-ranging interpretations, each artist liberates their creativity and authentically expresses their artistic spirit. Let's entice our art appreciation and honour the work of Kathie Olivas, Carlos Fdez, Orphne Acheron, Kate Domina, and Alfred Liu. And if that wasn't enough… Haven Gallery also invites you to delve into their beautiful group exhibition, "Music Box V"!
Exhibition Dates: January 22 – February 20, 2022
Haven Gallery
90 Main St., | Northport, NY 11768 | (631) 757-0500
To inquire, please contact Erica via email [email protected]
---
Kathie Olivas, Harbinger
Haven Gallery is honored to present New Mexico based artist Kathie Olivas for her second solo show "Harbinger" at the gallery. "Harbinger" will feature sculptures and paintings that depict her quintessential characters as catalysts of change. Through intentional employments of symbolic presage, nods to the apocalypse and an adaptive form, Olivas depicts a resiliency in humanity. Her childlike sitters represent the willingness to evolve and perpetual optimism of brighter days ahead.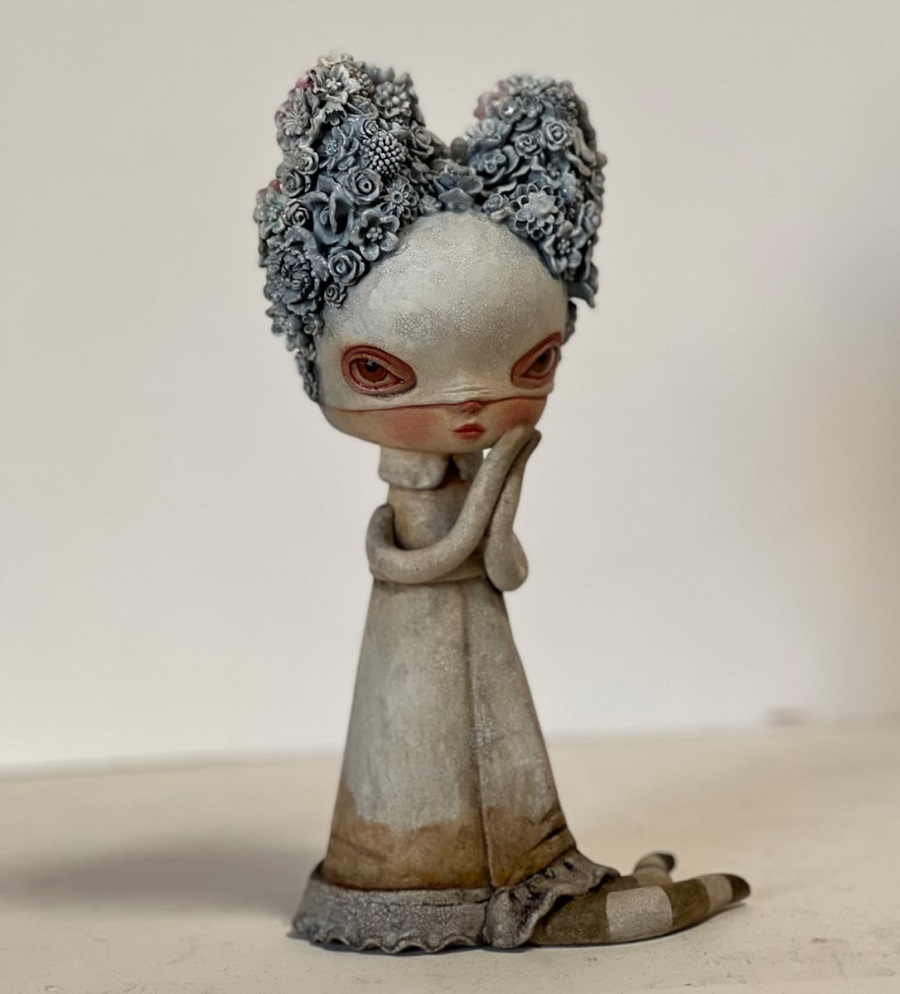 Carlos Fdez, Suspense
Haven Gallery is honored to present Spain based artist Carlos Fdez for his second solo show "Suspense" at the gallery. "Suspense" will feature eleven impressively drawn graphite works and one oil painting that embodies the artists psychological narratives enhanced with his dramatic penchant for lighting. This series focuses on stories that elicit emotions of anxiety, apprehension and excitement as the viewer finds oneself in a pivotal and climatic moment of sensory reactions. About Carlos Fdez Carlos Fdez is draftsman working out of Spain, known for his meticulously rendered graphite artworks that often intertwine the kingdoms of human and animal in the forms of witty narratives. Often, these stories can be found to represent both an internal and external struggle between the natural and civilized world. Upon further consideration, the interplay between these themes may serve as a metaphor to the emotional and psychological struggles humans face today. A nod to Freudian theories relating to the ego, superego and id, or our impact as a species on the natural world, Fdez's works leave the mind in perpetual wonder and questioning.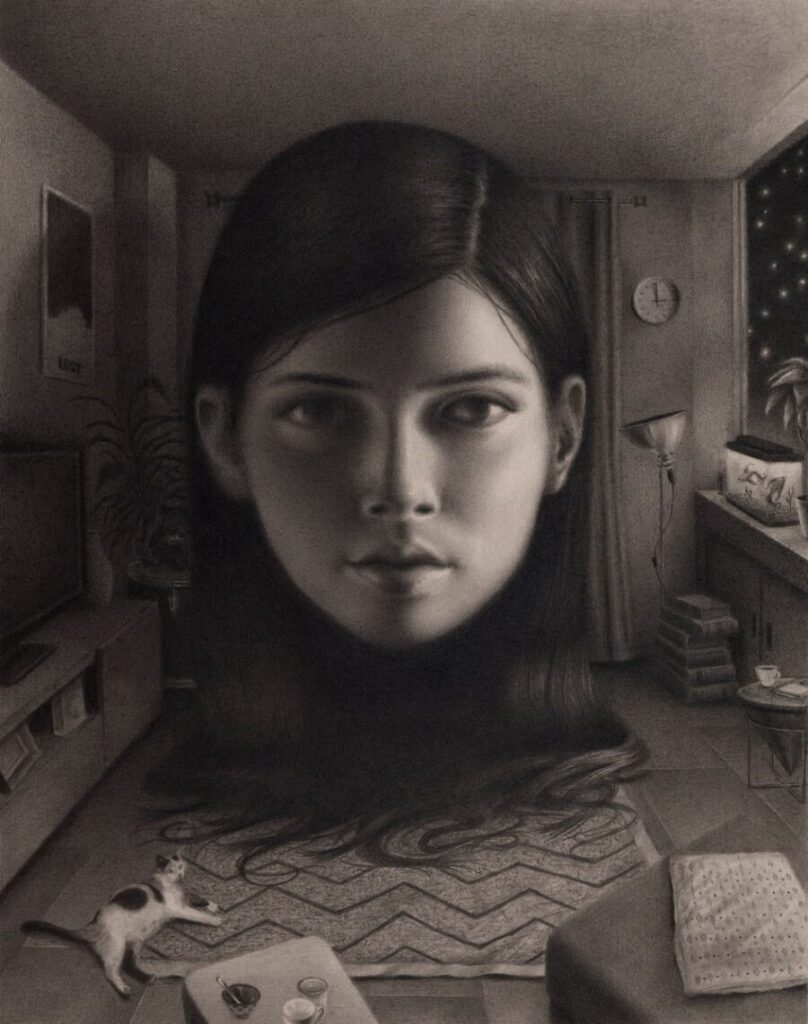 Orphne Acheron, Faraway Land
Haven Gallery is honored to present France based artist Orphne Acheron for her first solo show "Faraway Land" at the gallery. "Faraway Land" features nine original works on paper that commemorate the artists classical female divinities depicted with their animal consorts. Acheron's work is well researched as she studies the architecture, objects, fashions and animals of antiquity. Highly inspired by the art of Ancient Egypt, Art Deco and famous illustrators from the Golden Age, Acheron weaves highly contrasted tones of gold, black and white, with mesmerizing pattern work and detail, ultimately transporting the viewer into these intimate moments not commonly made available to mere mortals such as ourselves. ABOUT Orphne Acheron Orphne Acheron is a painter and illustrator inspired by Antiquity, mythology and medieval times. She studied fashion and art history in a Parisian school. Orphne, "nymph of Darkness" was the wife of Acheron, an underground branch of the Styx, carrying the souls of the dead… This name chosen by the artist thus evokes Eternity, Mythology, immersion in mysterious depths. One will find in the drawings of Orphné Achéron strength and melancholy. Warriors or spectral, contemplative and protective creatures. A struggle between chaos and inner peace.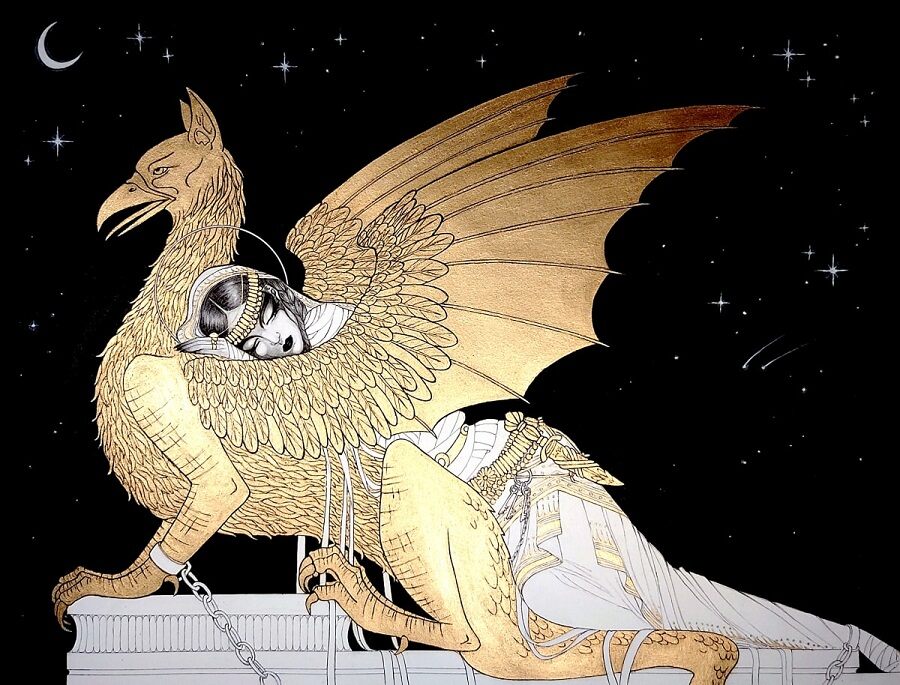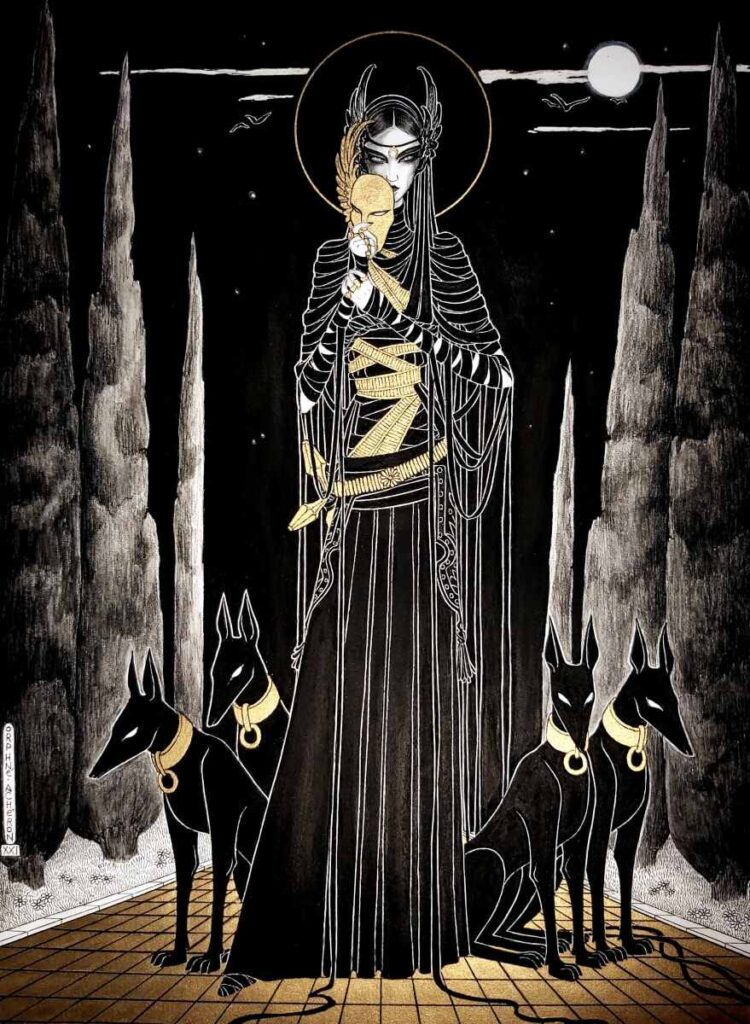 Kate Domina, Origin Stories
Haven Gallery is honored to present Canadian based artist Kate Domina for her first solo show "Origin Stories" at the gallery. "Origin Stories" will feature eleven oil paintings featuring the artists childlike sitters as they embrace historical mythologies of their predecessors. Domina explores these legendary, female figures from antiquity through her consummate candy coated palettes and sugary landscapes. A mixture of traditional concepts with contemporary stylings create a fresh look on these classical motifs and universal narratives. Each portrait is a metaphor that embarks on a narrative, as depicted through the untainted eyes of the youth. An analogous nod to the genuine nature of humanity and the deific standards in which these divine figures were expected to uphold through legend. Artist Statement Children are unapologetically animals. They are purer breeds and darker minds.I believe there is no better vehicle to understanding the human condition than through the eyes and disposition of the young. My subjects are not based on specific people but are composites of several children and youth, of varying ages and expressions. The result is a layered study of youth that captures the essence of adolescence; fear, naivety, omnipotence and paranoia all seep their way into the faces and environments of my subjects. My work is an attempt to revert to a kid then show you my quiet power ABOUT Kate Domina Kate Domina is a Toronto based figurative painter. Using children and adolescents as her subjects, she incorporates classical representational oil painting techniques with whimsical and often ambiguous narratives. Her critical theory fixation (Lacan, Freud and Jung specifically) weaves it's way into her work, evolving her portraits into studies of human frailty, and often, neurosis. Domina has training from the University of Toronto, Sheridan College and Ontario College of Art and Design.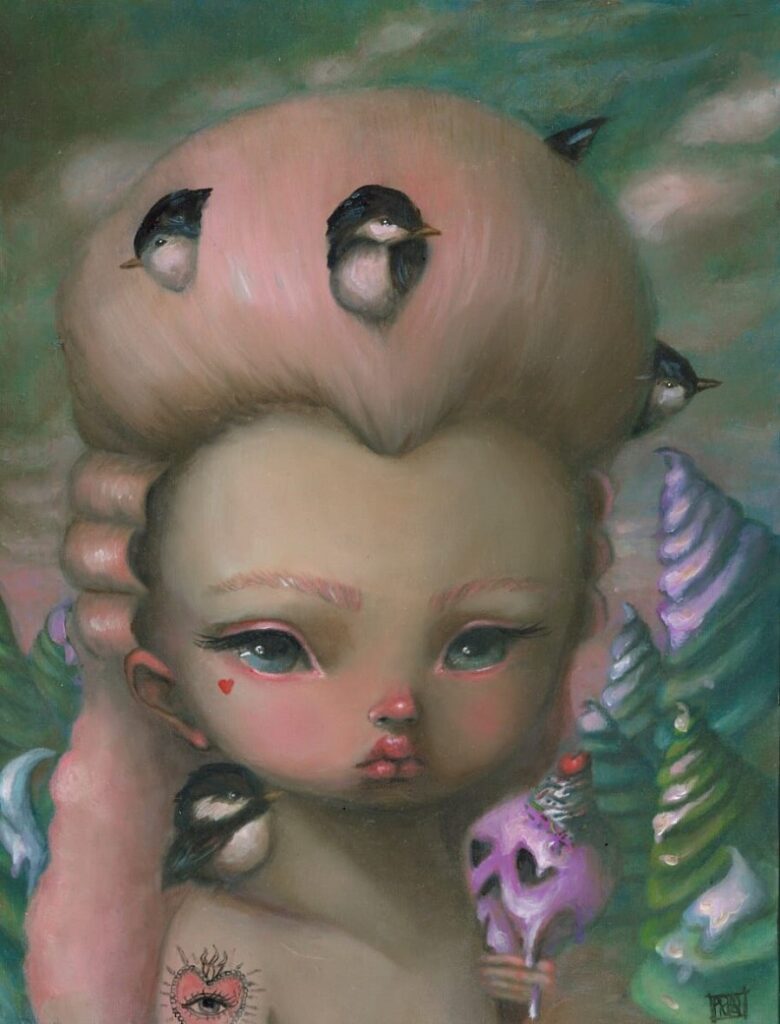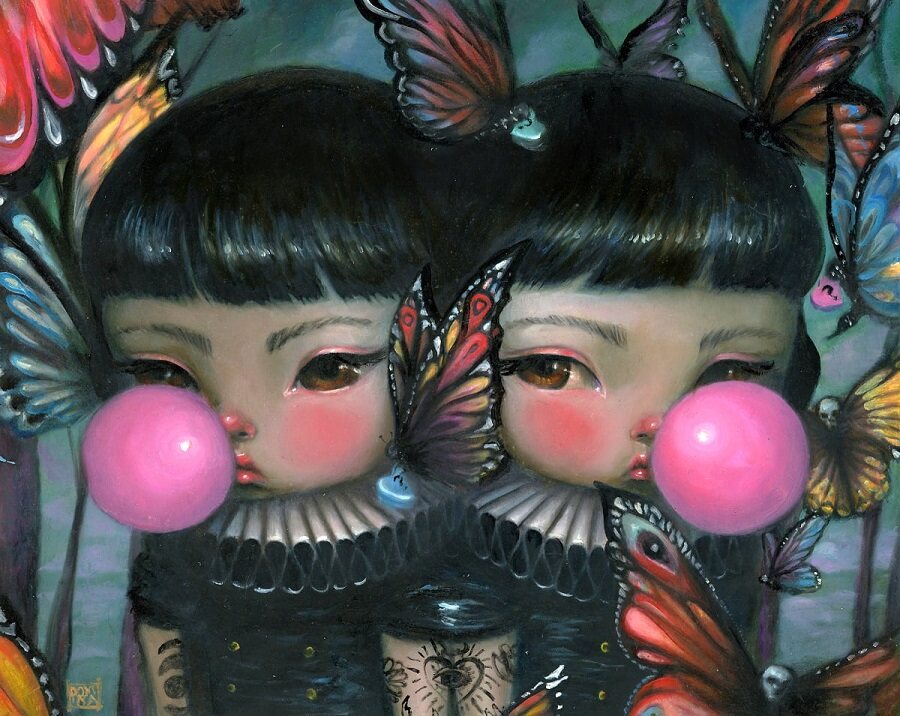 Alfred Liu, Side Quest
Haven Gallery is honored to present Australian based artist Alfred Liu for his first solo show "Side Quest" at the gallery. "Side Quest" will feature six works on paper that chronicle the small but mighty adventures of the artist's multi-species characters. Liu's gouache paintings are a pastiche of his Chinese heritage, Australian upbringing and love for the supernatural stories found throughout mythology, science fiction and fantasy genres. These visions of lore defy gravity and reality while merging animal and human worlds into one, ultimately creating timeless tales of universality and adventure. "Side Quest" magnifies the sub-journies one must experience in any epic escapade, reminding us of our own life journeys, and thus, to appreciate all those we meet, accomplish and experience, ultimately enriching and distinctifying our own path. —- Artist Statement: During your grand quest, you often encounter many strange and wonderful characters along the way. Some need your help and others have a tale of their own. This show is not about the main story but the little tales that you encounter, as you make your way through the hero's journey. So grab your sword and traveller's pack, head off on your adventure but don't forget to look in the little places. For there are secret side quests, mineable ores and herbs to be gathered. —- Artist Biography: Alfred Liu is an Australian artist, his work depicts his love for Australia, the nostalgia of Chinese culture, passion for world history and the escapism of science fiction and fantasy.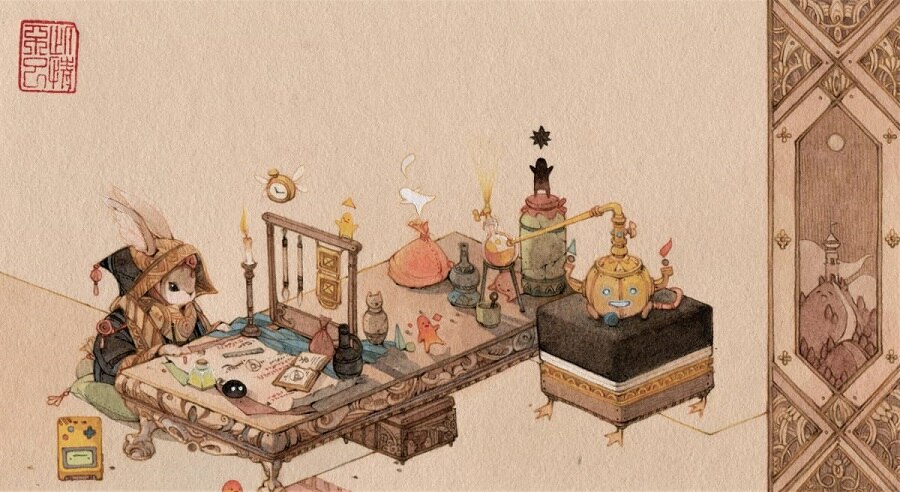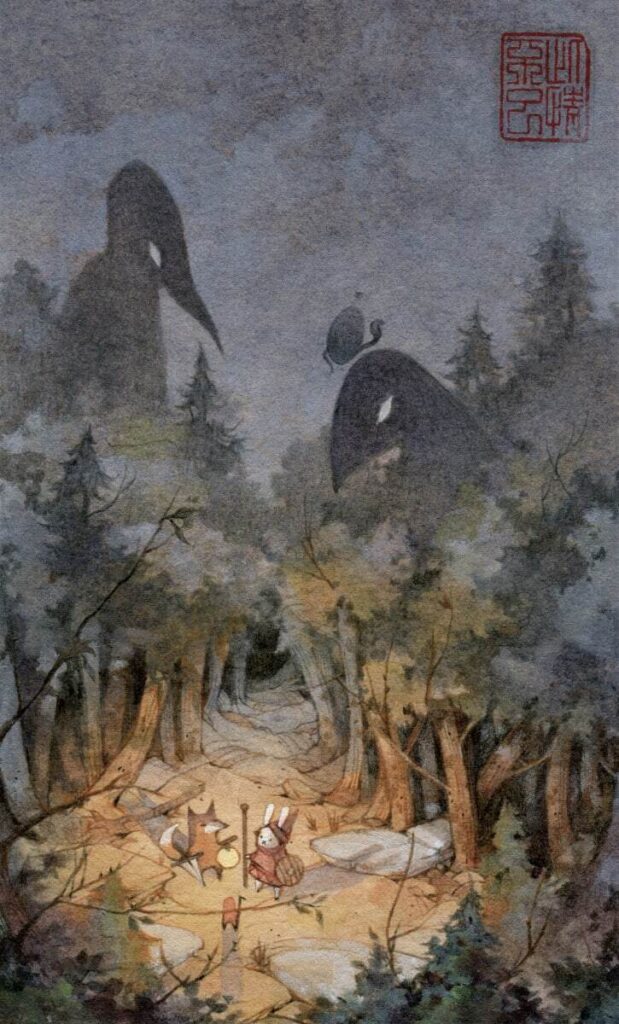 "Music Box V" Group Exhibition
The art of music dates back to the prehistoric era and has served a number of purposes throughout the passage of time and evolution of mankind. The ability of expression through sound has proven to play a variety of roles including inspiration, comfort, pain and the bringing of people together. In our second edition of "Music Box", artists look to a lyric, song title or musical genre to intertwine with their aesthetics. The transcending medium of sound is paired with their visual expression, bringing at once a dual connection of emotion which serves to further strengthen the bridge between artist and viewer. Each artwork exhibited will contain its musical inspiration alongside its title to further enhance the already connective forces of the visual arts with their mellifluous counterpart. Exhibiting artists include: John Lally, Katie Gamb, Hope Doe, Reuben Negron, Robert Duxbury, Dalo, Mao Hamaguchi, Alexis Savopoulos, Gina Matarazzo, Valerie Saverie, Jon Ching, Richard Ahnert, Lara Dann, Meagan Magpie Rodgers, Hannah Flowers, Nicole Grosjean, Paige Carpenter, Cheryl Lee (Elemental Urchin), Enrique Toledo, Samantha Jane Mullen, Luis Enrique Toledo, Sarah Joncas, Nikolas Tower, Jocelyn Henry, Yusei Abe, Benz and Chang, Christopher Conte, Jeff Echevarria, Joseph Weinreb, Marmaduke Davenport.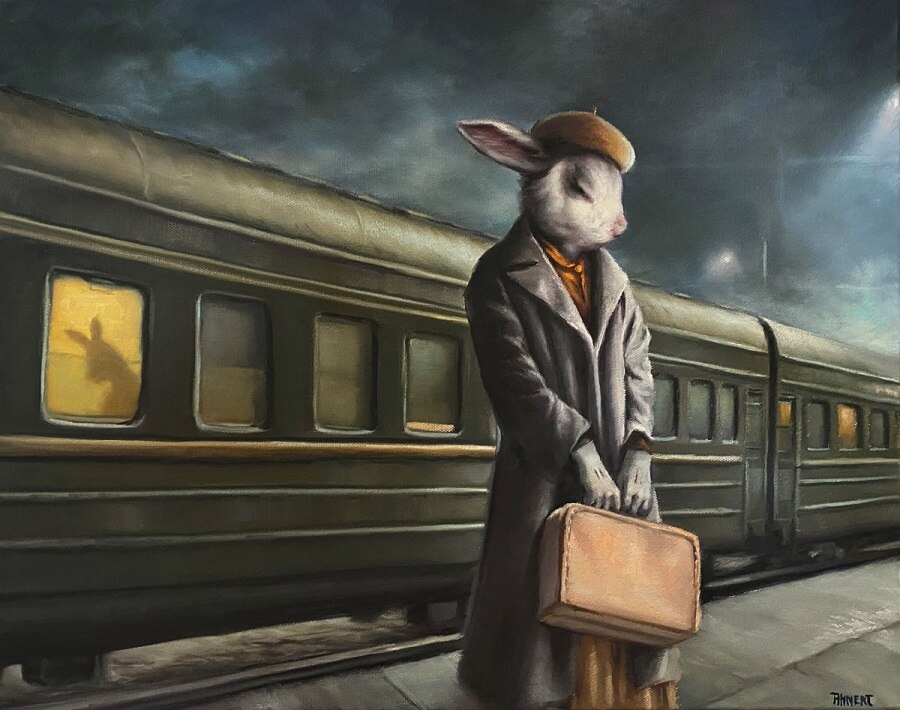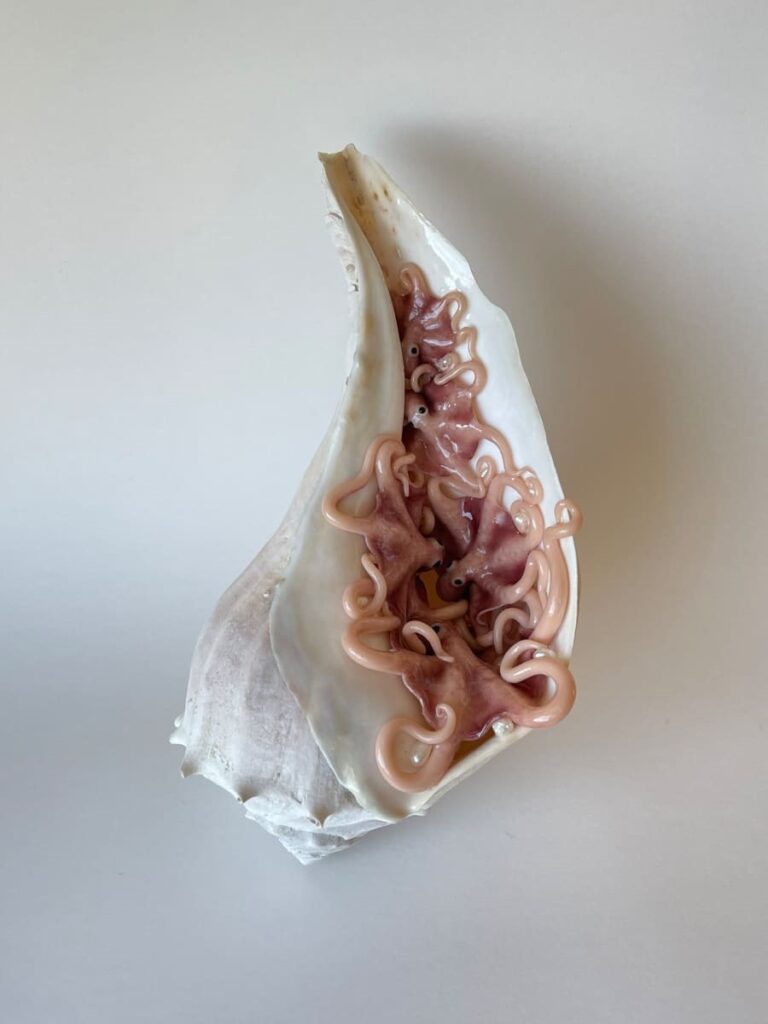 Haven Gallery Social Media Accounts