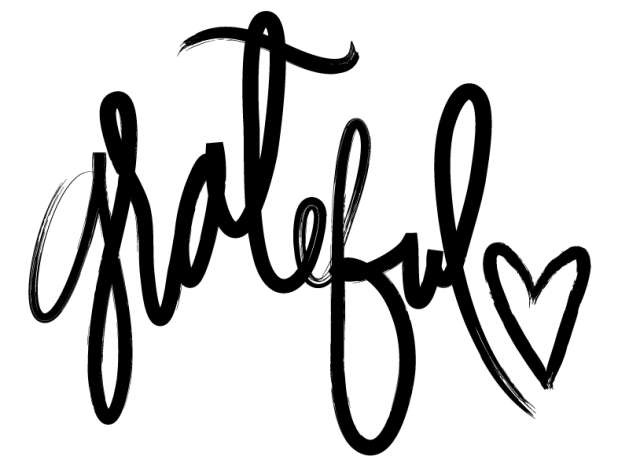 Dear beautiful and bizarre friends,
I recently promised to write to you more often about my personal journey as Co-Founder and Editor-in-Chief of Beautiful Bizarre Magazine. I will admit I am finding it challenging to put myself out there, I have always preferred working hard in the background and letting others shine. Isn't it wonderful, however, how the shared experiences of others can resonate with us so deeply and help change our own thinking!
I was honoured to work with one of my all time favourite Pop-Surrealists Brandi Milne on the coming June Issue 021 of Beautiful Bizarre Magazine. In her interview with fellow artist Troy Brooks she shares something that moved me deeply, "The most dramatic thing that my work has shown me is that I have a voice. My voice is valuable, strange and unique, and it need not be silenced or hidden, or made to sound more like someone else's. My voice is powerful – even if I'm the only one who hears it." Thank you Brandi! I also believe my voice has value, and that I have a unique perspective, which I hope will inspire other folk [particularly women] to pursue their dreams no matter how difficult they may appear at first.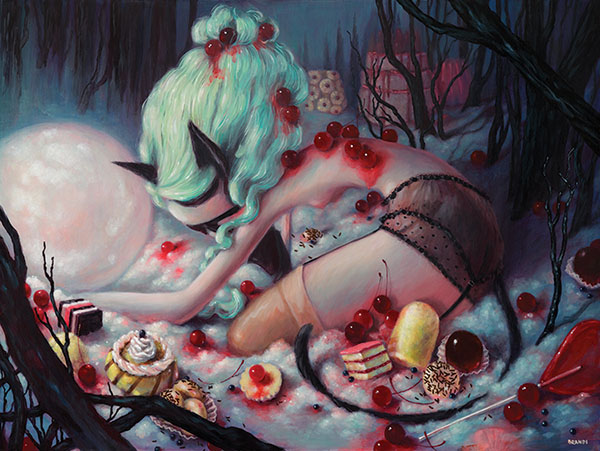 Brandi Milne in Issue 021
Make the decision. Do the thing. The universe will reward you for your bravery! Maybe today, maybe a week from now but until you make the change the universe is keeping the next round on ice. [Sarah Roocroft]
I wanted to focus this email on gratitude. Let me tell you a little story that inspired this note.
Friend, artist and Beautiful Bizarre Magazine Art Prize Judge Audrey Kawasaki sent me a beautiful framed print early this year. I was so pleased to receive the wonderful gift! I popped the box it came in outside in my yard ready for recycling. It was sitting out in the weather for a few months. Last week my husband thankfully pulled the box apart before he took it outside in preparation for the recycling pick up. Taped to one of the pieces of the box, which I hadn't noticed before, were more beautiful prints, postcards, stickers, AND the most beautiful and thoughtful card from Audrey. It reads "Am hoping to make 2018 a year of gratitude, and would like to thank you all for continuing to make Beautiful Bizarre Magazine such an integral part of the current art scene. Would also like to thank you for my first feature in Beautiful Bizarre in 2013. I greatly appreciate the support and opportunity." I thank the universe and my husband for not destroying this heartfelt message of gratitude, and for allowing me to see it!
It is so easy to get bogged down in the huge mountains of work, to feel weighed down by the responsibility – but focusing on the positives in life lifts you up above the day to day and to a place of gratitude and motivation. And if we feed this feeling of gratitude the universe will bring us more and more to be grateful for. I truly believe this.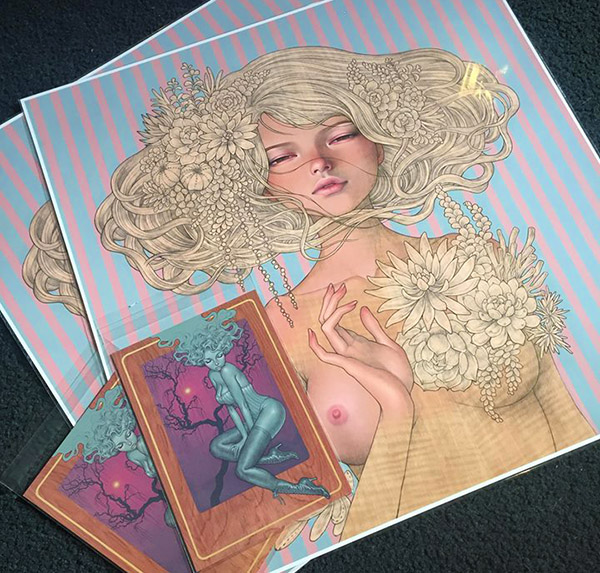 Beautiful gifts from Audrey Kawasaki
We are all so busy that we don't often take the time to express gratitude or to give positive feedback. Audrey's message and her generous and thoughtful gifts resonated deeply. Publishing has been a steep learning curve for me. The last 5 years have been extremely challenging, and at the same time incredibly rewarding as I watched both our community and the magazine grow. I am so very grateful to my husband for his unconditional love and support, my staff for their hard work and passion, our advertising partners who have trusted us to give them outstanding service and supported our growth, our stockists, old and new, who support independent publishers by selling our magazine through their boutique magazine stores and galleries, and of course to all the creatives I have connected with, whose careers I have even in a small way helped to grow and develop. At the same time, I too have personally grown and learnt so much about business and the industry, which in turn has enabled me to step out from behind my computer – to be seen and my voice heard.
I am so very grateful that as Beautiful Bizarre has grown it has allowed me to develop strong partnerships that have given rise to many incredible projects. Some currently underway and others in the planning and negotiation phase.
One such exciting initiative is the recently announced Beautiful Bizarre Magazine Art Prize. It provides an amazing opportunity for traditional artists to participate in the prestigious annual exhibition that I personally curate. This year, I am once again collaborating with the wonderful Directors of Modern Eden Gallery in San Francisco. Our Art Prize is different from most other prizes, and better in my opinion, because artists do not have to create an original work to enter. Just enter your best work to date and your entry will be judged on that. The winners will then create an original work, in keeping with the 'Ephemeral' theme of the exhibition at Modern Eden in September. Their work will then be shown along with 70+ of the best contemporary artists from around the world! Of course, there are also amazing Trekell Art Supplies, cash prizes, and long term Beautiful Bizarre Magazine Artist Only Advertising packages to win. Check out our website for details and get your entries in by 30 June, I can't wait to see them!

It is pure joy to see the artists I love and admire inspired by our themes and each other to create exceptional and original work for a Beautiful Bizarre curated show!! Seeing the works in progress, seeing them evolve and develop. Then of course experiencing the finished work in person at the opening and meeting all the artists is a huge thrill, and one I am deeply honoured to be able to enjoy. I am very much looking forward to seeing all the work created for 'Ephemeral' as we re-engage all the participating artists again in June to begin work for the exhibition. I am also in discussions about our 2019 exhibition schedule and will reveal more about these exciting plans later.
In the spirit of gratitude, please allow me to share one more note with you, which made my heart sing when I received it recently: "It's not often enough that people acknowledge and thank others for the work they do these days. So just a quick note to say thanks for the awesome work you do! I love the online and magazine you present, have just finished reading the mentor me article and the tips to submit. These resources go a long way to making sense of it all for artists like me. It's exciting to see artists I follow like Audrey Kawasaki get so much attention, and it's inspiring to see that there is a place for all of us who sit off centre to the mainstream traditional gallery profile. It's good to feel part of a tribe!" [D Smith].
If you follow our social media, you will know that the March re-launch issue was a huge success and has sold out! The June issue has been printed and is currently being bound by our amazing printers in Canada in preparation to be shipped to our Distributor in the United States shortly. If you haven't already reserved your copy of the June issue featuring Malcolm Liepke's bold and defiant work on the cover, please do so before midnight 15 May AEDT to ensure you receive this issue either as a single issue preorder or the first issue in your 12 or 24 print subscription. After which the June issue 021 will be available via our Stockists worldwide.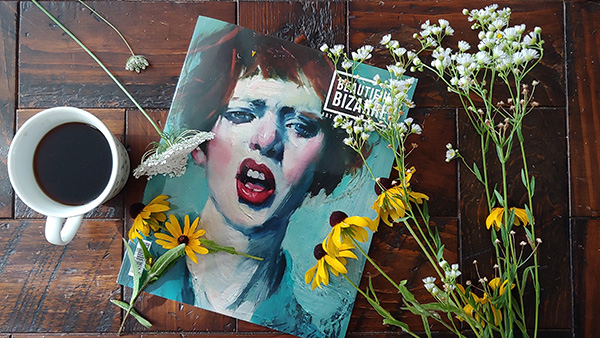 June Issue 021
Finally, on the subject of gratitude. My sincere gratitude to all the people that have purchased print subscriptions over the last 6 months.  It is you that enable me and my team to continue our important work in supporting the arts and artists around the world.  Print subscriptions are the bread and butter of independent magazines and we would not exist without you. So thank you, a million thank yous for your support.

Much love xo