Journey into imagination, to a place where reason need not apply and inspiration spills from an overflowing cup of creativity. Embrace possibility as it navigates you onward. Haven Gallery takes our hand and nourishes our artistic souls with five exciting exhibitions. Each echoing the language of the individual artist, we time travel through sophisticated Victorian animal portraits and step further into majestic landscapes fluttering with vibrant wildlife visions.
From paper illustration fairy tales to dark fantasies creeping in from the beyond, we nestle in for a spell – enjoying the spectrum of distinction as Haven Gallery presents new collections by Jon Ching, C7, Travis Louie, and Nicole Grosjean – plus their ever-wonderful Grimm group show!
Don't miss these beautiful new bodies of work; view them in their entirety alongside all available inventory by visiting the Haven Gallery website! If you still need more, return and reflect upon past exhibitions and see what unfurls within the layers of your imagination.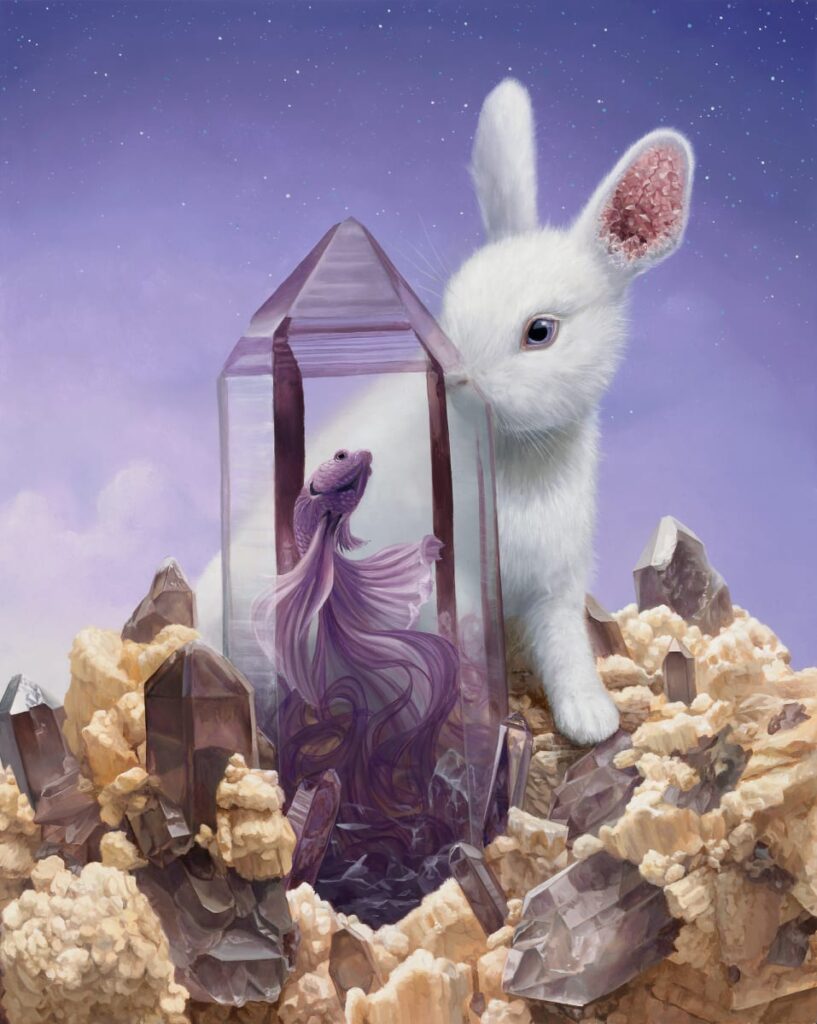 Jon Ching, C7, Travis Louie, Nicole Grosjean & Grimm Group Show
Exhibition Dates: May 12 – June 4, 2023
Opening Reception: May 10, 2023, 5-7pm
Opening Reception/In Person Event with Travis Louie, Nicole Grosjean and Live Sculpture Demo with Forest Rogers!
Haven Gallery
50 Main St., Northport, NY 11768 | ph. (631) 757-0500
To inquire, please contact Erica at Haven Gallery via email info@havengallery.com
About the Gallery //
Haven Gallery is run by Erica Berkowitz and Joseph Weinreb. The gallery first opened in 2015 in the Carriage House of historic Northport, NY. Within two years, the gallery doubled in size and expanded into the entire Carriage House building. Through their successful in-house exhibitions and presentations at art fairs both domestic and international, Haven opened a secondary location at 90 Main St., in 2020, during the height of the Covid pandemic. It was at that point, that Erica and Joseph knew it was time to find a permanent location for their artists. In January of 2022, they bought the building at 50 Main st., and opened its doors as Haven Gallery's perennial home.
Haven Gallery's focus is on exhibiting emotionally, intellectually and imaginatively driven, representational artwork that connects the audience and artist with universal axioms and passions. We work with both emerging and established artists who transcend their medium and subjects by exploring the world around them as well as the one within themselves.
---
May 6 – June 4, 2023
Haven Gallery is pleased to present Hawaiian born artist Jon Ching for his first second show at the gallery entitled, "Terra Brio". "Terra Brio" will consist of nine new oil paintings featuring his vibrant, realistic animal and botany portraits with a focus on core elements such as gems, crystals, minerals and the elements. Essentially building blocks of our planet, and core components of existence, these ingredients are key to our world and life itself. Ching expands his artistic focus to go beyond incorporating the visually common characters in our natural world and challenges himself and his viewer to take in and appreciate often overlooked aspects of creation.
One may find the presence of crystals cleverly painted as raindrops, feathers and animal anatomy as well as naturally occurring throughout the landscape. Often seen as inanimate, these aspects live through all life forms as fundamental components of existence. With a meticulous hand, Ching seamlessly weaves these building blocks of life into his subjects, acknowledging and celebrating the important roles they play, and reminding viewers of their often disregarded existence, integral to the survival and flourish of both our planet and all living things.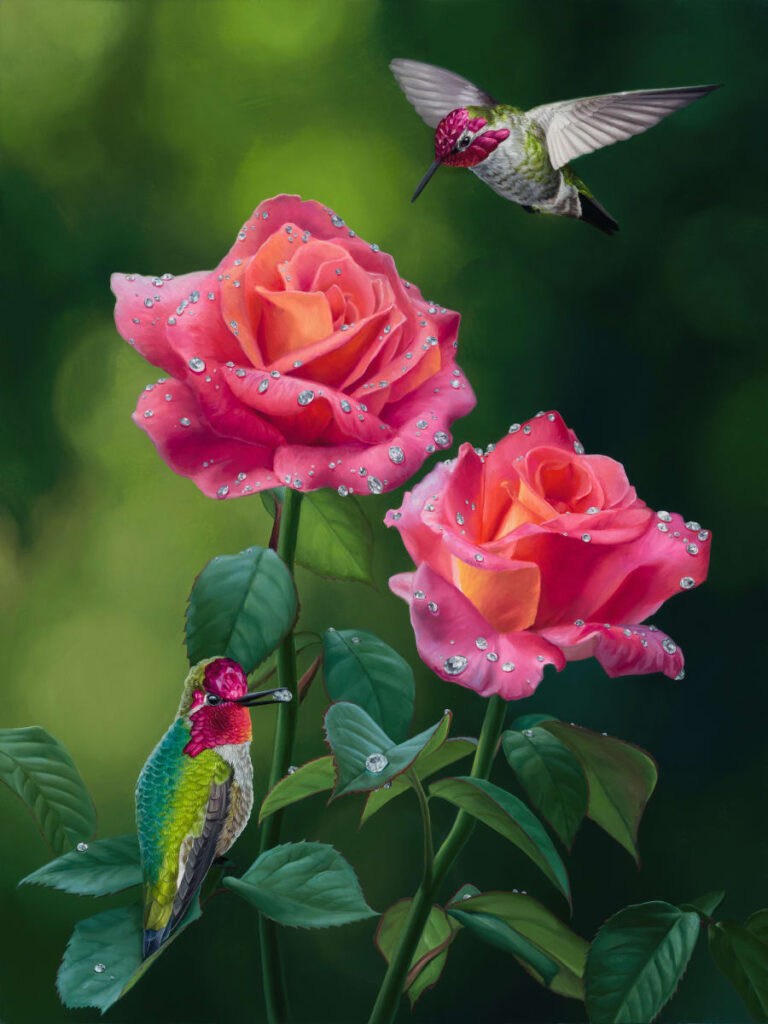 About the Artist //
This new set of paintings introduces a new direction of appreciation for the natural world that I haven't really explored much yet. My work is always a celebration of life on this planet, yet I realized that I haven't shown much appreciation for the actual planet, not just what's on it. A visit with my young son to the Gem and Mineral Hall at the LA Natural History Museum at the beginning of concepting this show solidified that. Gems, crystals, minerals – to me they're the manifestation of the magic of this planet and represent Earth itself.
Some of the new work explores ways to highlight that magic. It's resulted, in my opinion, to some quieter pieces as the gems are highlighted rather than a charismatic animal. Beside crystal magic, I'm continuing to comment on climate change.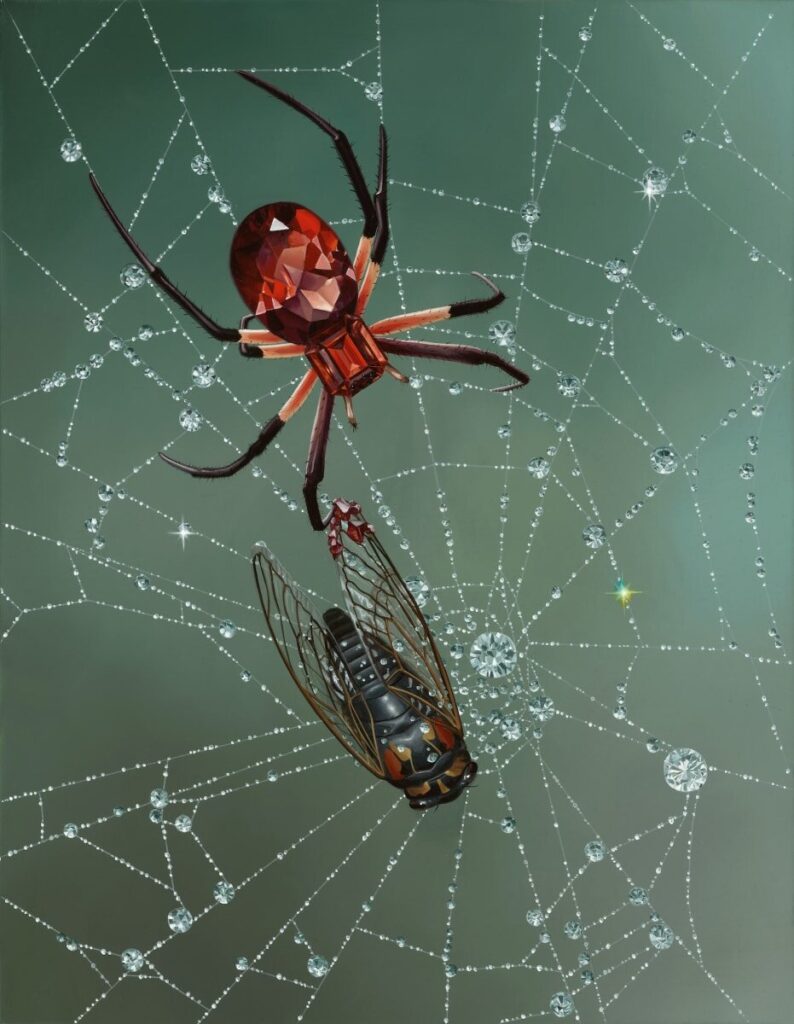 May 6 – June 4, 2023
Haven Gallery is pleased to present Japan based artist C7 for her first solo show, "Pareidolia Monomania", at the gallery. C7 is a mixed media artist whose works are created with ink, coffee and acrylic medium on panel and explore the human condition as well as themes of life and death. Abstract yet representational, these drawings offer fragmented, patterned views of organisms offering new perspectives and understandings on both the macro and micro levels.
Viscera intermingles with flora and fauna as our realities are reinvented and our inner worlds are turned inside out. Liminal spaces host entangled organisms, giving rise to psychological epiphanies and evolution of inner beings. C7 reveals her own emotions through exposing vulnerabilities of the inner psyche and dreamscapes where surrealistic expressions and timeless internal mechanics expose the detailed complexities of ourselves and the further fragmentation of it through our perspectives.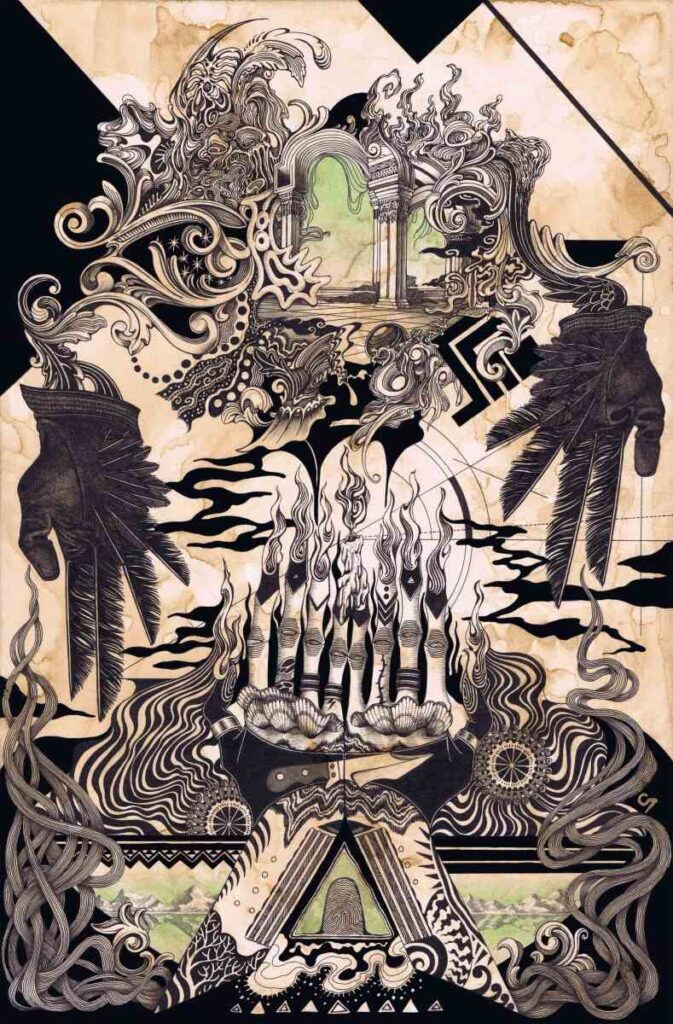 About the Artist //
Through the filter of the brain where we only see and hear conscious things,
We interpret our respective realities.
So the past accumulated will exist in the same world without disappearing,
Familiar shapes, sounds, and smells suddenly appear before you at unusual timing.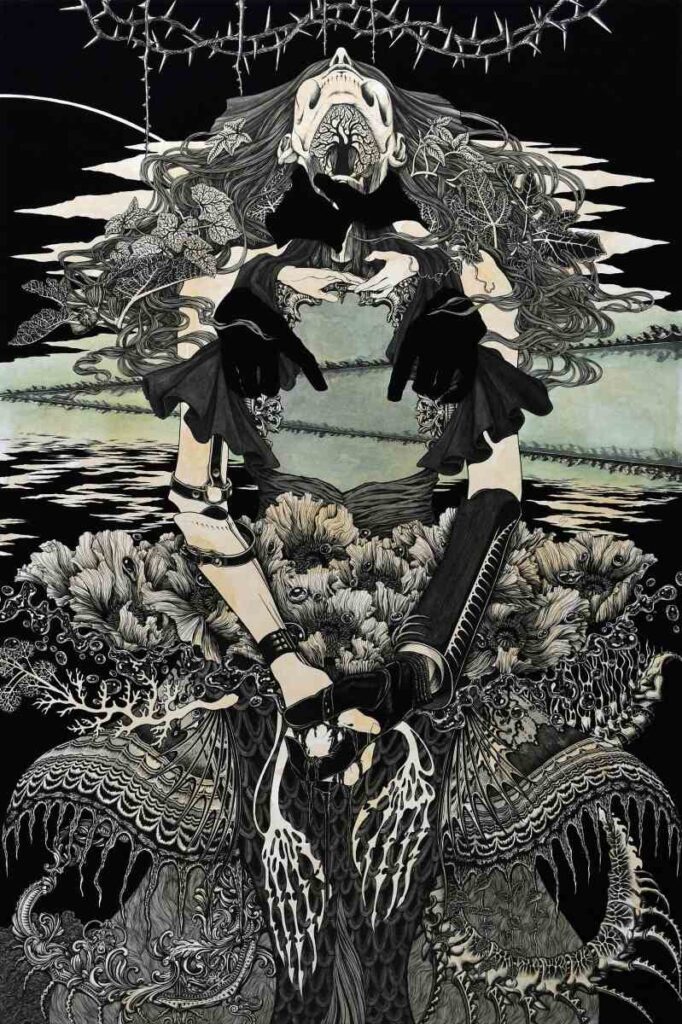 May 12 – June 4, 2023
Opening Reception with the artist, May 12, 6-8pm
Using acrylic paint washes and simple textures on smooth boards, Travis Louie creates portraits from an alternative universe that seemingly may or may not have existed. His work is about identity and remembrance, with a veiled commentary on racism and the immigrant experience. He would like the fear of "the other" to be replaced with a curiosity about the unknown and a sense of wonder regarding those things that are unfamiliar.
May 12 – June 4, 2023
Opening Reception: May 10, 2023, 5-7pm
Haven Gallery is pleased to present new work from Colorado based paper illustrator Nicole Grosjean for her upcoming mini show show "New Works". "New Works" is the artists first show at the gallery and explores the technical nostalgia of carousels through her meticulous, hand cut and layered collage work. Nostalgic yet mythological, the carousel represents historical and modern innovations of movement and amusement, and call for the multifaceted splendor and innovation Grosjean is known for achieving through her layered works.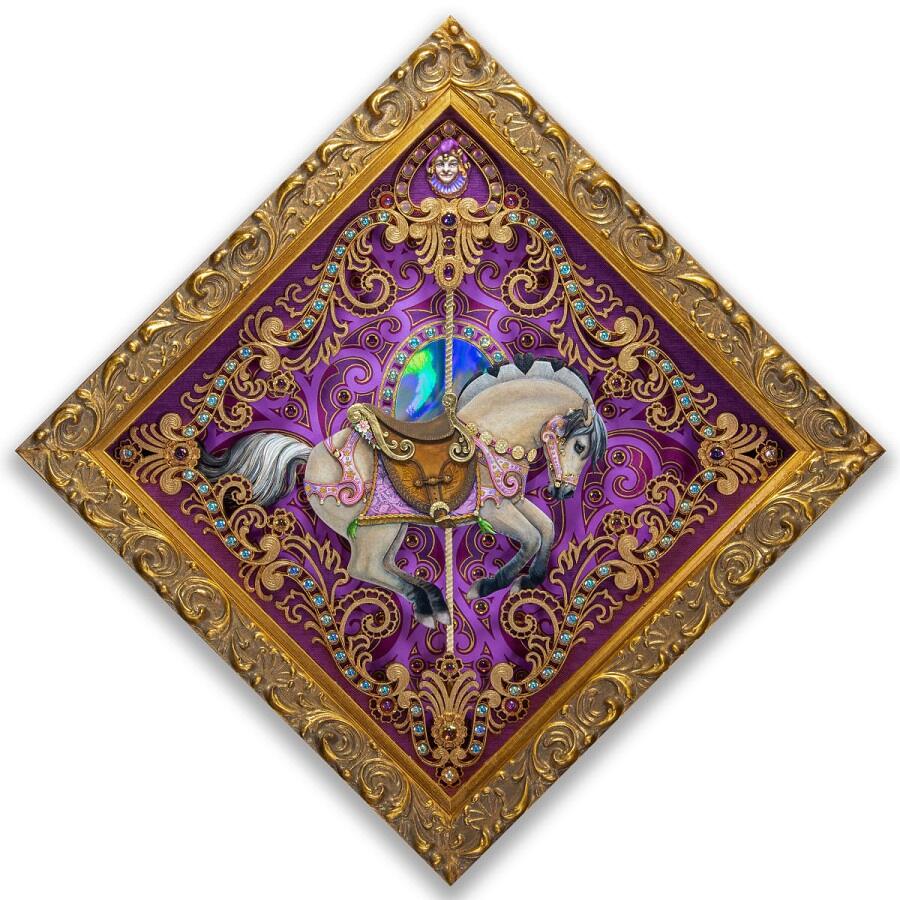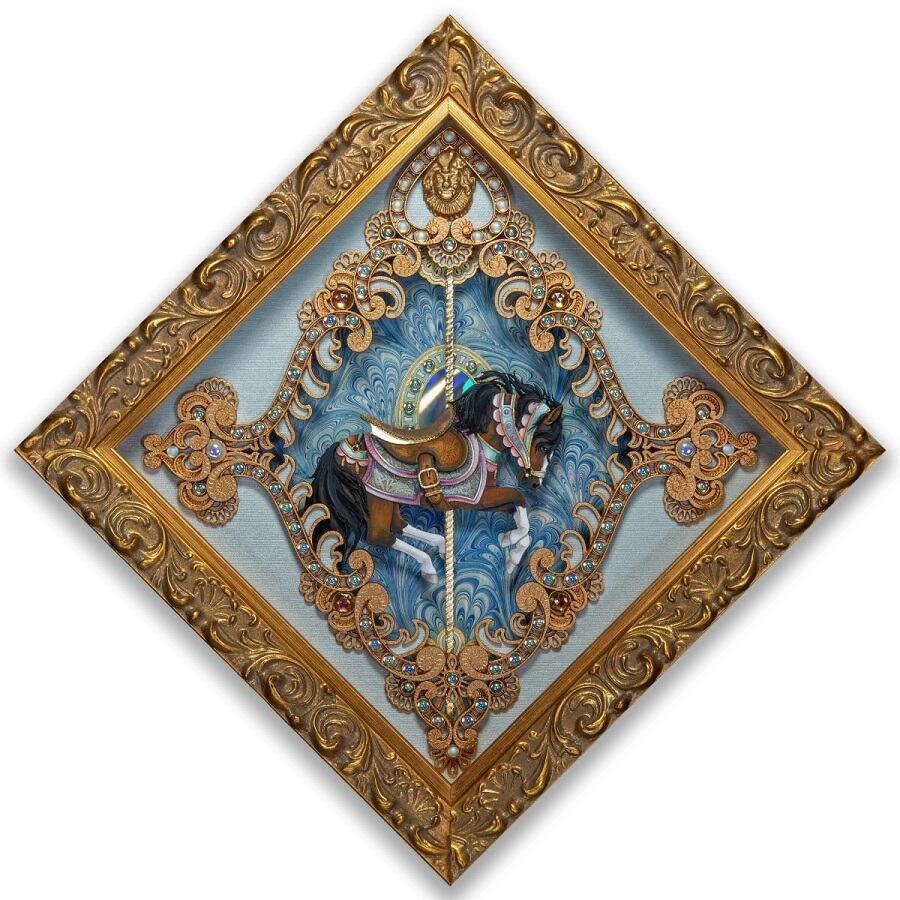 About the Artist //
I grew up in the Rocky Mountains of Colorado with a passion for art and nature. My mother, a sign artist, instilled a deep love of craftsmanship and painting that drove me to an artistic career.
I graduated with a BFA in illustration from the Rocky Mountain College of Art + Design in Denver, Colorado in 2008. Originally working in digital mediums, I began investigating more traditional watercolor and gouache painting several years ago. I liked the freedom of working with 'layers' in Photoshop illustration and endeavored to carry that through to the more traditional mediums.
All of my paper illustrations are hand-painted in watercolor and gouache and are occasionally accented in 24k gold or 21k white gold. Each design is hand-cut and layered to create various depths depending on the size of the piece.
My most complex pieces have 1000 or more individual cut paper elements, and can take up to six months to complete.
Artist statement //
There is something very special about carousels that invoke the imagination and innocence of childhood. The image of these gorgeous carved animals dripping in gold gilding and glass jewels, shimmering in the warm light of a thousand lightbulbs, is enough to transport anyone to a fantasy that exists only in the imagination. I have always been fascinated by the superb craftsmanship and decedent decoration of these vintage carousel horses. This collection is a homage both to the artisans of the past, and the fantastic dreams of our inner child.

May 6 – June 4, 2023
Haven Gallery is pleased to present "Grimm", a group exhibition calling for a visual interpretation of the stories, characters and aesthetics of Grimm's fairytales.
Exhibiting artists include Forest Rogers, Hannah Flowers, Kate Domina, Valerie Savarie, John Lally, Krissta Passanante, Maruyama Junna, Jeff Echevarria, Babs Webb, Paige Carpenter, Daisuke INOUE, Camilla d'Errico, Shiori Matsumoto, Ronald Companoca, Flor Padilla, Laverinne, Jason Mowry, Orphné Achéron, Annie Stegg Gerard, and Zoe Chigi.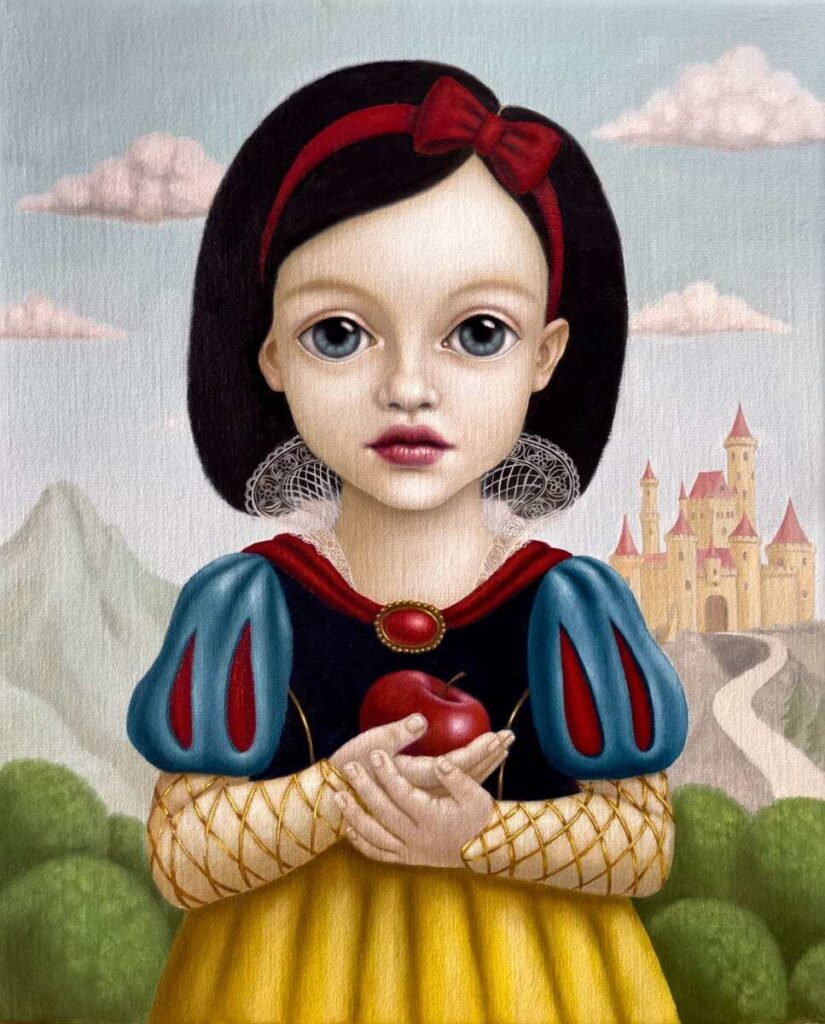 Haven Gallery Social Media Accounts