Adorn Me is the exciting upcoming show from PoetsArtists. Carol Hodes, a passionate art collector of many years curated the exhibition.  Carol lives in Cape Town in South Africa. She grew up in the heart of the Winelands of the Western Cape.  Now at the age of 65, she lives in a predominantly student suburb, Observatory, very close to the University of Cape Town and Table Mountain. She considers herself a "firm feminist," and is married to author Elsabe Brits. Carol's lifetime experience with appreciation, collection, curation, and judging of art has given her a depth of understanding and a discerning eye and this exhibition is certain to reflect that.
Curated by Carol Hodes
February 2019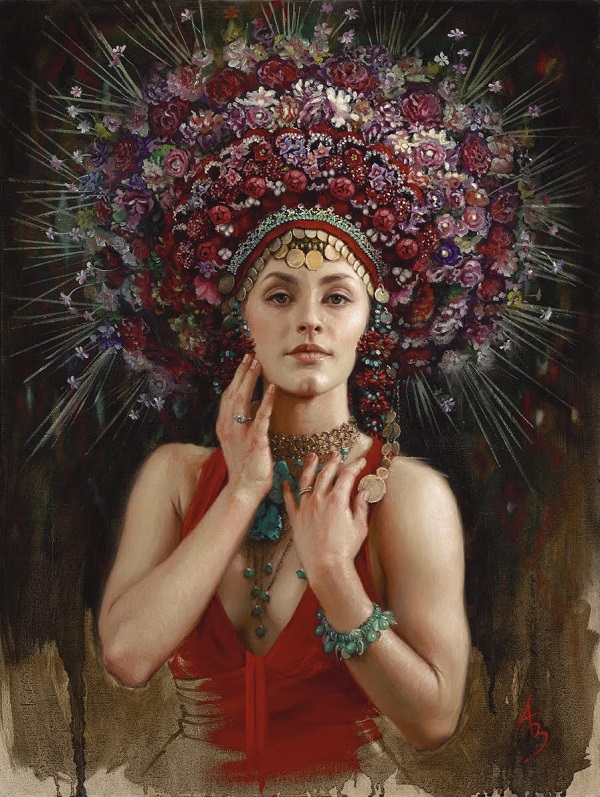 Alexandra Manukyan- 'Adaptatia'
Publication & Online Exclusive Exhibition
Participating Artists:
Tanya Atanasova, Elizabeth Barden, Donna Bates, Holly Bedrosian, Michael Bergt, Alfonsina Betancourt, Kelly Birkenruth,  Melinda Borysevicz, Heather Brunetti, Teresa Brutcher, Anastasiya, CF Jason Carr, Lupita Carrasco, Mary Chiaramonte, Lynn Christopher, Andrew S. Conklin, Therese Conte, Jess Cross, Dagmar Cyrulla, Robin Damore, Otha Davis III, Janine Dello, Stephanie Deshpande, Kimberly Dow, Belinda Eaton, Heidi Elbers, Jeff Faerber, Shannon Fannin  Rosa Fedele, Lisa Ficarelli Halpern, Nanette Fluhr, Barbara Fox, Tanja Gant,Tina Garrett, Letizia Gentile, Irene Georgopoulou, Jodi Gerbi, Sullivan Giles, Amanda Greive, Barbara Hack, Alexander Hayden, Heather Heitzenrater, John Hyland,Margaret Ingles, Regina Jacobson, Claudia Kaak,  Mary Kearney Hall, Anne Marie Kornachuk, Francien Krieg, Geoffrey Laurence, Rachel Linnemeier, Junyi Liu, Debra Livingston, Hodaya Louis, Yanqing Low, Hari Lualhati, Daire Lynch, Alexandra Manukyan, Christina Mastrangelo, Lorna May Wadsworth, Mahua Mazumdar, Hilary McCarthy, Margret McDermott, Victorious McLeod, Yvonne Melchers, Didi Menendez, Ricky Mujica, Meredith Mullins, Graziella Mura, James Needham,Christopher O'Connor Call, Laurence O'Toole,Matthew Quick, Ricardo Ramirez, Christina Ramos, Luanne Redeye, Leticia Reyes, Astrid Ritmeester, Nadine Robbins, Patrice Robinson, Viktoria Savenkova, Jean Sbarra Jones, Marc Scheff, Sarupa Sidaarth, Suzy Smith, Patricia Glee Smith, Laura Spector,  Ellen Starr Lyon, Geoffrey Stein, Shawn Sullivan,Vicki Sullivan, Sybiline Judy Takacs, Laura Tan, Kerra Taylor, Alycia Thompson, Daena Title, Alessandro Tomassetti, Daggi Wallace, Sarah Warda, Doug Webb, Daniela Werneck, Shana Wilson, John Zeleznik.
I asked Carol how she developed a lifelong passion for art.  "When you grow up in a home that has artwork in it, one becomes more aware of the role it plays in your growth, well-being and belief in beauty. My grandmother was a fascinating woman who owned a magnificent Irma Stern painting of a Malay woman.  I loved it from the first instant I laid eyes on it.  It was the late 50's and I was hooked. Throughout my career I purchased Art, which I paid off in instalments or with my annual bonus.  Building up this collection has come over four decades and has only become easier after the age of 50.
Carol's personal love of art and her collection is mainly related to oil paintings and sculpture.  "I have only ever bought what I myself like and have never of art as an investment.  That it is an investment, has shown itself over and over again.  Some artists become famous and then we also get lucky.  But that is just an added bonus." When describing her personal collection Carol said each piece "has an added memory of time and place which makes it special for me.  That one outgrows certain work is also true, but that is the joy of art. You can rotate your work at liberty."
I asked Carol, as a fervent long term collector, "If you could have any artist's work to add to your collection who would it be and what piece in particular?" "If I could have any artist's work it would be the following: Artemisia Gentileschi, Lucretia (1623 – 1625), Artemisia Gentileschi, Lucretia (1623 – 1625), Paula Rego –  Martha, Mary, Magdalene 1999,Edward Hopper –  New York Office,Alice Neel – Psychiatrist's wife 1957,Antonio Lopez Garcia – Figures in a house 1967,Lucien Freud – absolutely anything"
Carol doesn't see herself as a 'professional' curator of exhibitions. "I have only curated about 6 times in my entire life. I see the art in my home as my best curation." She does have the experience however to acknowledge the challenges facing the curator of a submission show such as this. "The most challenging job of curating is working with art that I personally don't relate to but can establish the merits of the work.  It sort of 'breaks my speed.' Its problematic. But I love it when I can "feel" that an artist has put his/her soul into their work. That they have really understood and thought about the Artist's Call.  That they have looked beyond what they usually do and are prepared to take chances. One can see this."
In submitting for the show Adorn Me, artists were encouraged to interpret the theme in any way they felt comfortable. "To take a look at artwork of things which have been adorned by permanent or temporary enhancements. Adornments, though typically associated with their use on the human form, can also function in other facets of life and explore and share various adornments used historically, regionally, contemporary, and the cultural or personal relevance therein."
As the curator, Carol will interpret the theme through her selection of artwork for the exhibition. "Coming from Africa, namely South Africa, one is used to the African tribes adorning themselves for various occasions.  But these are most temporary adornments and are fascinating.  Adornment in society has many prongs. Throughout history it has dealt with customs, beliefs and rituals, amongst other things.  Now in present time it seems to have taken on the self-driven adornment, a type of selfie.  Such as on the body.  It is more permanent but also temporary as one's life changes and the individual ages.  It can actually become quite unattractive.  One's pets can also be seen as adornments. They are with us. They surround us and we adorn them in the icy cold and sometimes on festive occasions.  We also adorn our homes and gardens with beautiful things and our choice of these items often define us as the people others have come to know.  It has nothing to do with class or finances but with what makes us who we are and what we enjoy. Masks are also adornments and can be literal or figurative.  How many people 'hide' themselves behind adornments. Putting up a mask of pretense.  For this "psychological" adornment there have been some works in the show and they are really interesting."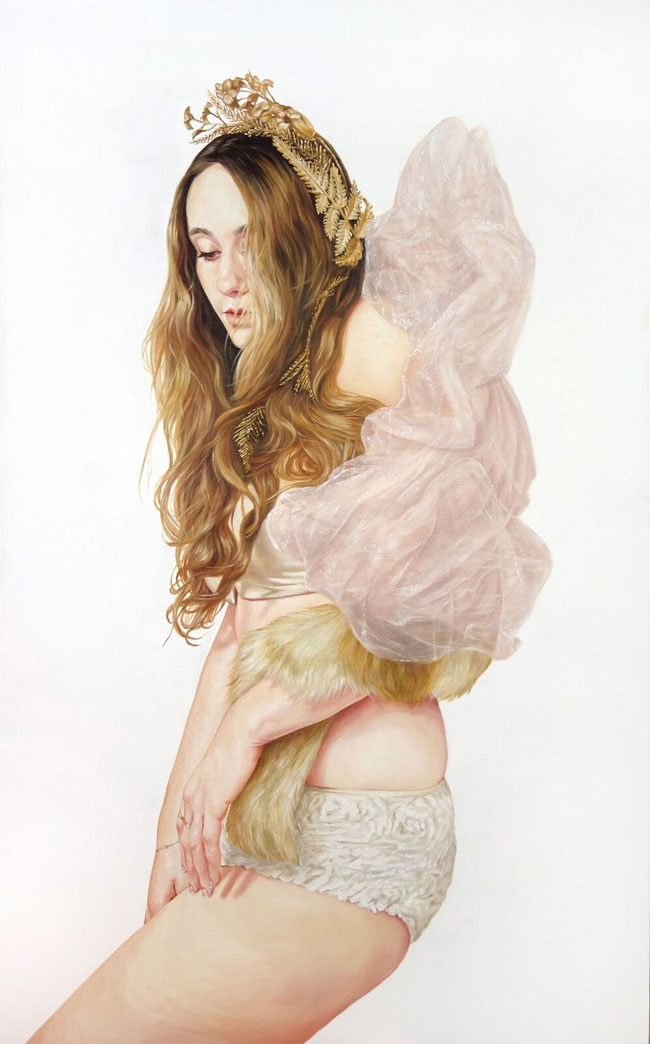 Heidi Elbers
'Interlaced'.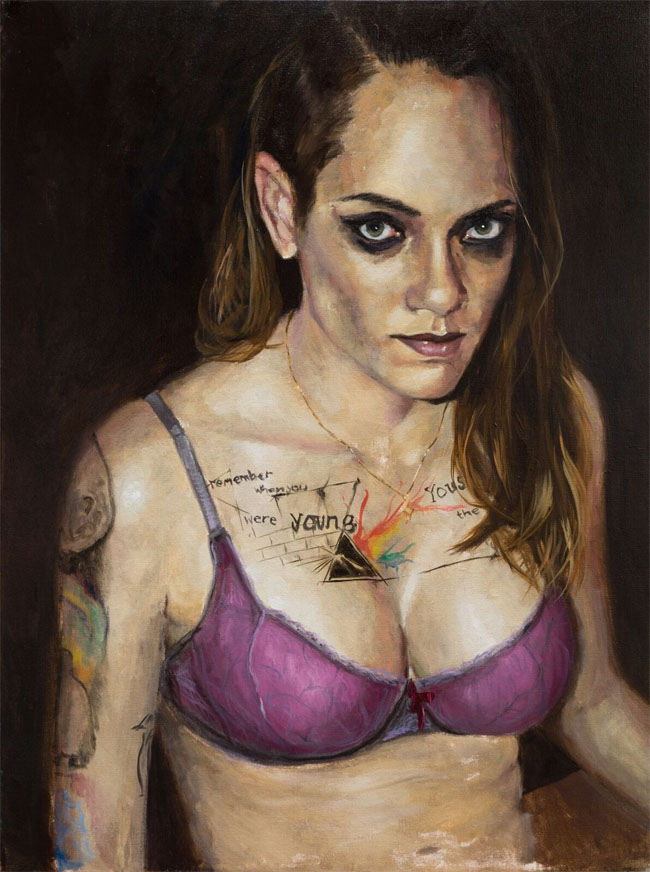 James Needham
'Remember When You Were Young'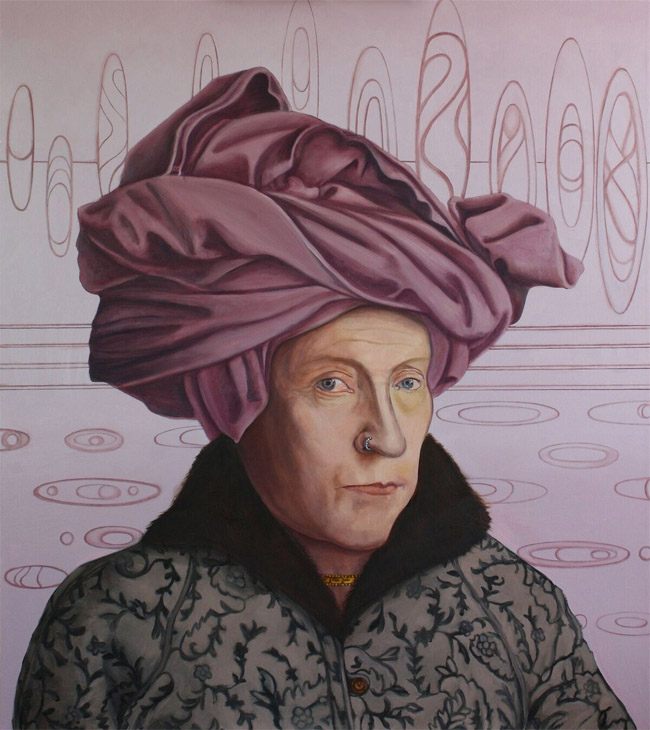 Lisa Ficarelli Halpern
'King After Van Eyck'

Lorna May Wadsworth
'Sea Scout'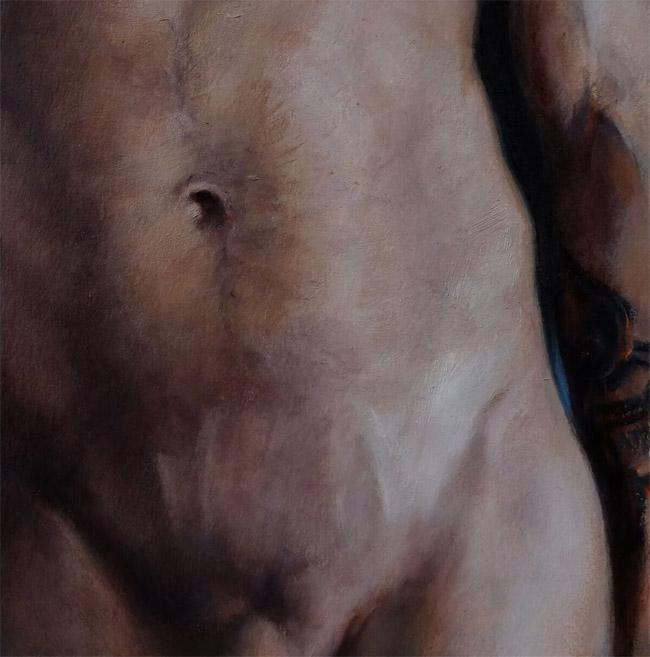 Alessandro Tomassetti
'Mistress'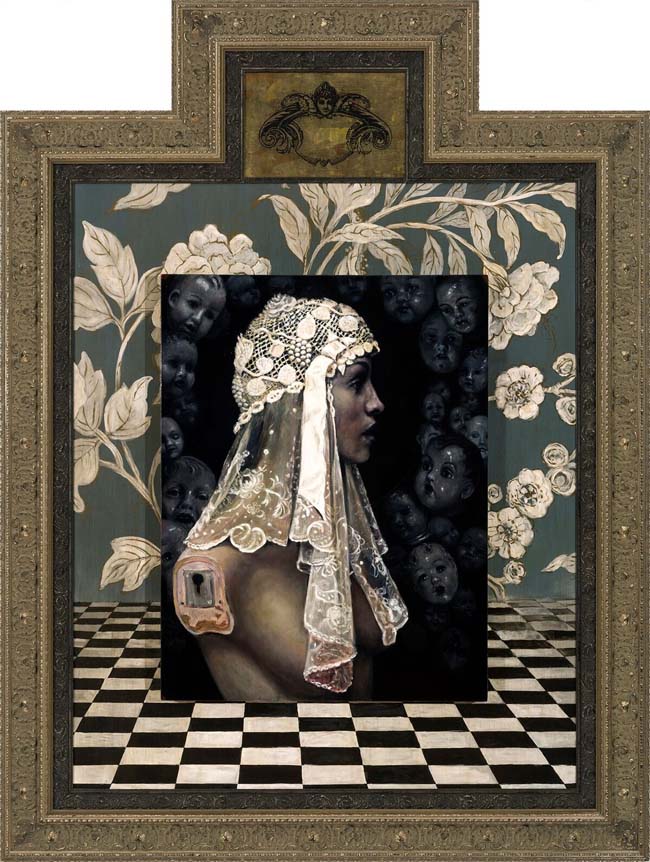 Regina Jacobson
'Adoration of Saint Valentino'