Join Haven Gallery this Saturday, April 6th as they proudly present Syd Bee, "Dear Illusions", Stephanie Law, "Awaken", Yoko d'Holbachie, and a "Folklore" group exhibition that will undoubtedly inspire you. Cast in distinct visual perspectives and inspirational concepts, each body of work delves deep into the creative depths of the individual artist. There's so much magic, you can't resist feeling enchanted.
Come wander through imagination, linger, and enjoy these spectacular new collections opening soon at Haven Gallery!
Syd Bee, Yoko D'Holbachie, Stephanie Law + Folklore
Opening Reception:
April 6, 2019 | 6-8 PM
Exhibition Dates:
April 6 – May 5, 2019
Haven Gallery
155 Main St., | The Carriage House Square
Northport, NY 11768
For additional information and images, please contact Erica Berkowitz at [email protected]
Syd Bee, "Dear Illusions"
ARTIST STATEMENT
I adore tales of love, loss, mystery, and magic and I believe in the valuable lessons to be found in the depths and lore of such stories.
With my new series "Dear Illusions", I've created a selection of works which delve into themes that are close to me. This collection of dreamlike vignettes are populated with children, witches, animals and otherworldly creatures, set within curious circumstances as my way of making sense of the harsh strangeness of real life.
I often rely on dreams, journaling, and poetry as inspiration for my work. The foundation for this new series in particular came about after a personally trying year, which led to some questions and observations about the nature of art-making and its purpose in my life. Wanting to continue my ongoing exploration of bittersweet visual storytelling, I've also chosen to expand my creative process to include more atmospheric imagery and refined materials across several mediums.
– Syd Bee
ABOUT SYD BEE
Syd Bee is an emerging artist from Seattle, focused on dreamy candy-colored paintings of figures lost in their own inner worlds. Her work has been exhibited in numerous galleries throughout the US. Syd has also been featured on the cover of The Stranger, and created comic book covers for Adventure Time.
Bee earned her Bachelor of Fine Art magna cumlaude from Cornish College of the Arts in 2013. She lives and works in Seattle, where she can be found surrounded by a library of fairy tales, comic books, and her cats.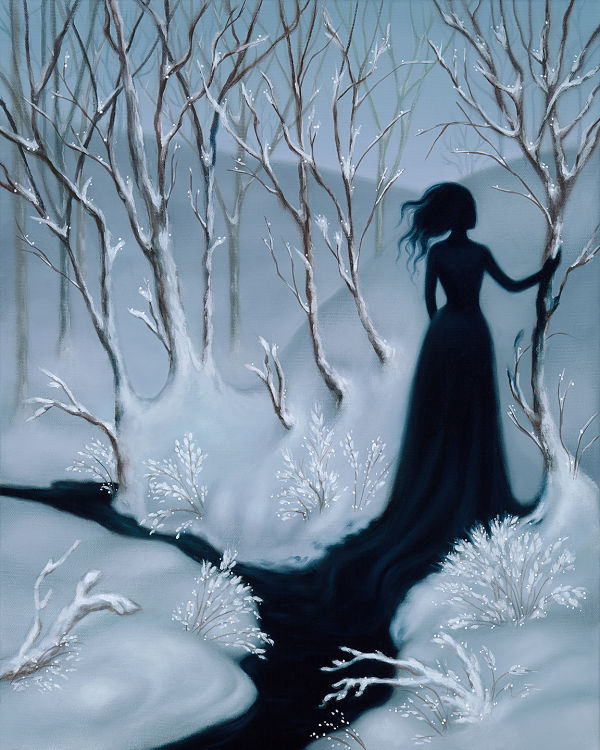 "Chilled Blood", oil on canvas, 20 x 16 inches
"Vedette", oil on canvas, 24 x 18 inches
"Gadabout", oil on canvas, 14 x 18 inches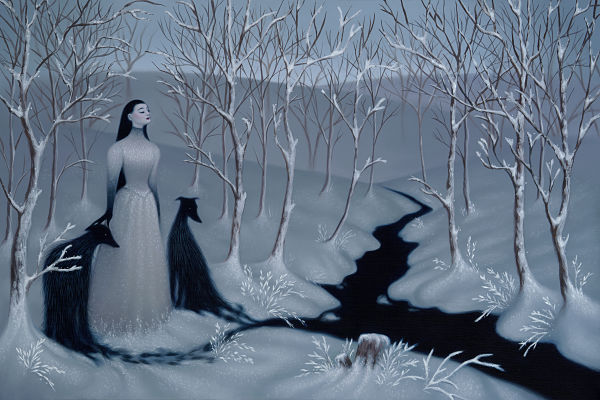 "Rivus", oil on canvas, 20 x 30 inches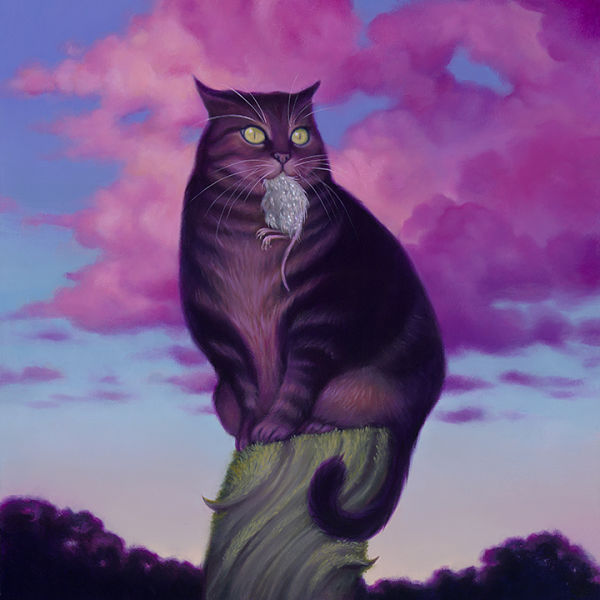 "Thirster", oil on wood panel, 12 x 12 inches
Stephanie Law, "Awaken"
ARTIST STATEMENT
Awaken began in the literal sense of the word, in images and words scrawled during jaunts of insomnia. They feature improbable combinations of fantastical landscapes where sea, sky, and forests are inverted. These disparate realms intermingle in textured shifts of watercolor and gold leaf; and they meld, only to be shattered into mosaic components.
Mosaic patterns are a repeating motif. They scatter through the dream-landscapes, shed from disintegrating dragonfly wings. They uncoil from the moon, and weave between branches. They create a visual, symbolic shorthand for the intricacies of the world's biological patterns and building blocks.
Awaken celebrates the beauty of these inner workings, but also revels in the freedom that embracing the figurative night brings. In the nocturnal realms, the logic of daytime slumbers. Desires, defiance of rules and normality, and acceptance of change become the dominant realities. It is about that sense of lightness that comes with casting off fear off judgment and allowing impulse to dictate creative urges.
This comes to life in the wildly dancing figures, the symbols of change and transformation that the dragonflies encapsulate, the capering trickster foxes that shift between the worlds of life, death, and dream, and elusive castles that hover like mirages above tangled forest canopies.
–  Stephanie Law
ABOUT STEPHANIE LAW
Stephanie Law's work is an exploration of mythology mixed with her personal symbolism. Her art journeys through surreal otherworlds, populated by dreamlike figures, masked creatures, and winged shadows. The fantastical permeates through the visions with a promise that this is a world that underlies reality, when viewed with a desire for beauty and a shifted perception.
Archetypes, the basis for the universal appeal of mythological concepts, are one of the defining inspirations for her imagery. This is mingled with the movement of dance. Stephanie has been a dancer for almost two decades, and she uses that experience of how the human body moves and emotes to create a bridge into her artwork so that not only do the humans dance across the page, but the branches of her trees move with a sinuous grace, and the arrangement of inanimate elements has a choreographed rhythm and flow.
Growing up in California, Stephanie has been surrounded by the wealth of natural inspiration all around her. The twisting boughs of live oaks from the hills near her home insinuate themselves into her paintings. The chaos of Nature's wild growth, and conversely the beauty of decay, echo in the textures and fractal patterns of her work.
She currently showcases her personal work in group and solo exhibitions at galleries in New York, San Francisco, Nashville, and San Diego, while continuing to publish book collections of her art via Shadowscapes Press. The most recent volume is Descants and Cadences. Her work has also been included in the Spectrum annual of fantastic art in for several years, and at the Spectrum showcase in September 2014 at the Society of Illustrators in NY. Her botanical art has been showcased in internationally juried exhibitions at botanical gardens and arboretums. Recent work features insects, imaginative plants, and fae creatures, interwoven into a miniature world that is often overlooked, when size and physical permanence is equated with importance.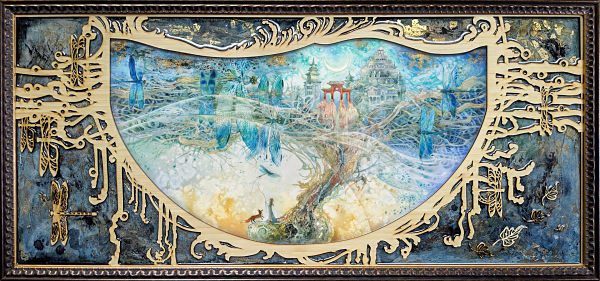 "Aspiration", watercolor, resin, wood, 32 x 15 inches
"Convergence I: Chase", watercolor, resin, wood, 12 x 8 inches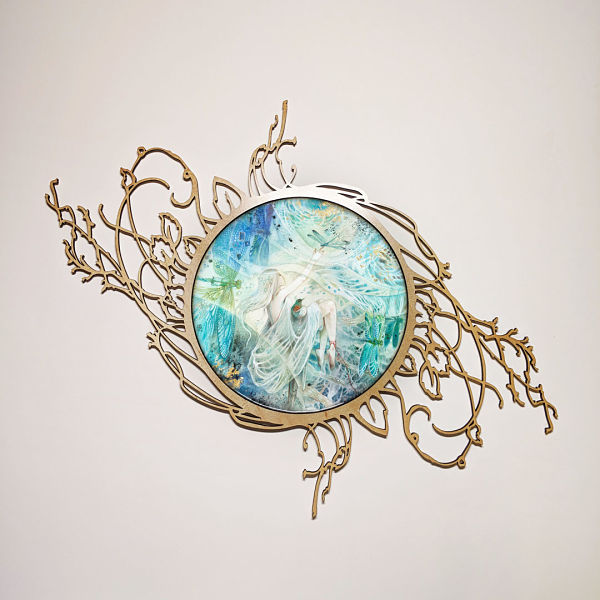 "Flourish III: Reach", watercolor, resin, wood, 14 x 19 inches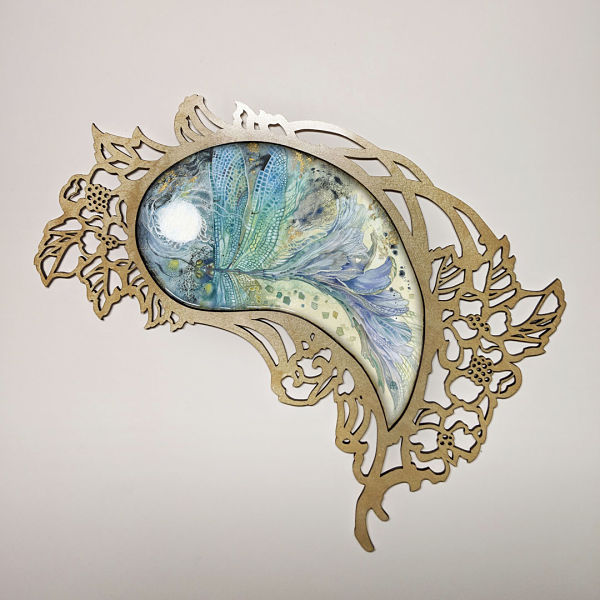 "Flourish V: Dragonfly", watercolor, resin, wood, 14 x 10 inches
"Against the Flow", watercolor, resin, wood, 22 x 9 inches
Yoko d'Holbachie
Yoko d'Holbachie was born in 1971 in Yokohama, Japan, and studied design and art at Tama Art University in Tokyo. She has worked for almost 10 years as a freelance designer for advertisements, books and magazines, as well as doing design for entertainment and video games. She began to show artwork in the US in 2008. She has lived in Yokohama but also teaches art in Tokyo a few days a week. Her preference is a parrot, a cuttlefish, a slime mold, white wine and static electricity.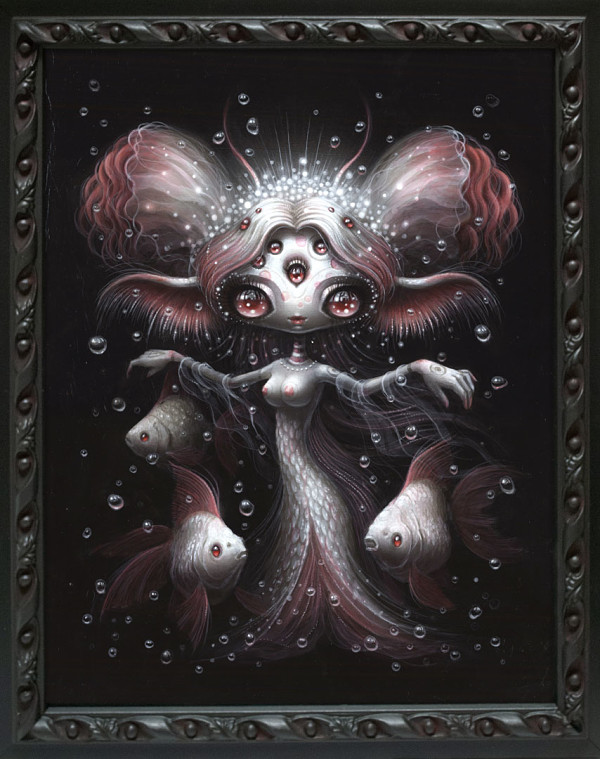 "Fish Maiden's Dream", acrylic on coated board, 18 x 14 inches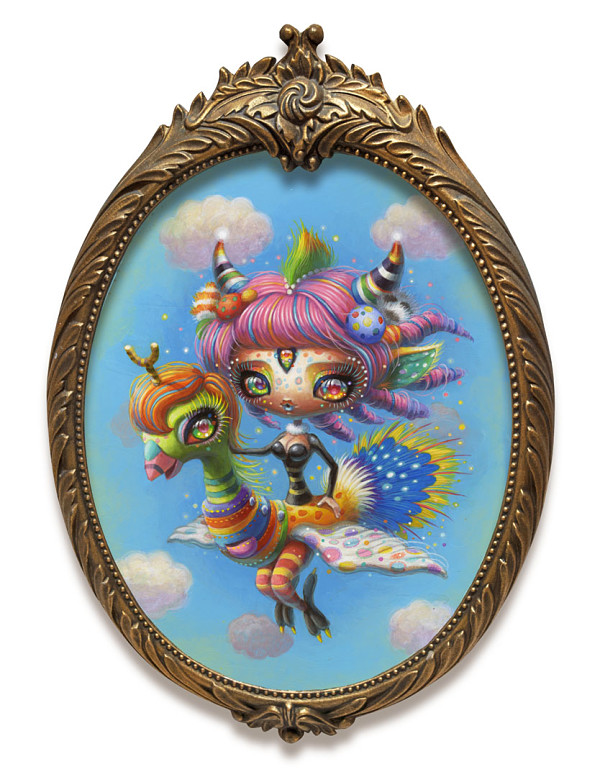 "New Planet", acrylic on coated board, 14.5 x 11 inches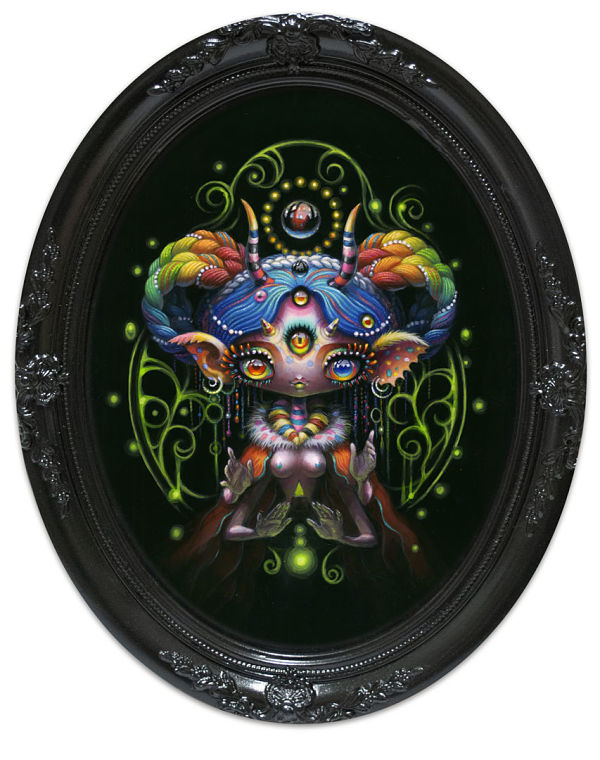 "Rainbow Night", acrylic on coated board, 12 x 9.5 inches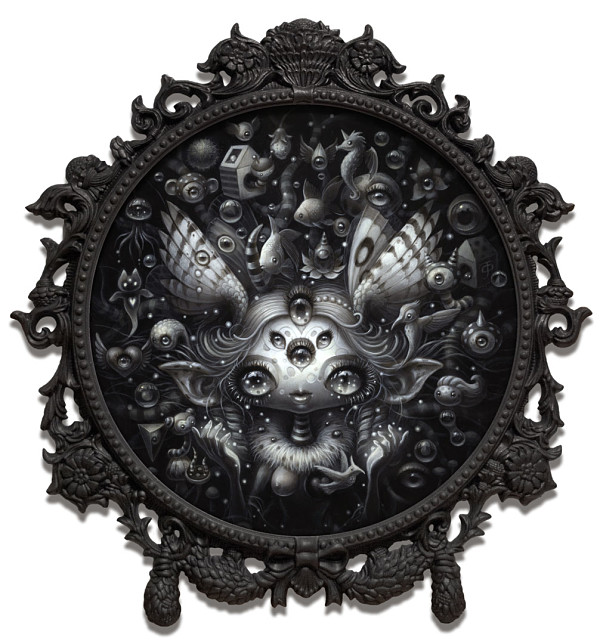 "Dream Fountain", acrylic on coated board, 17 x 17 inches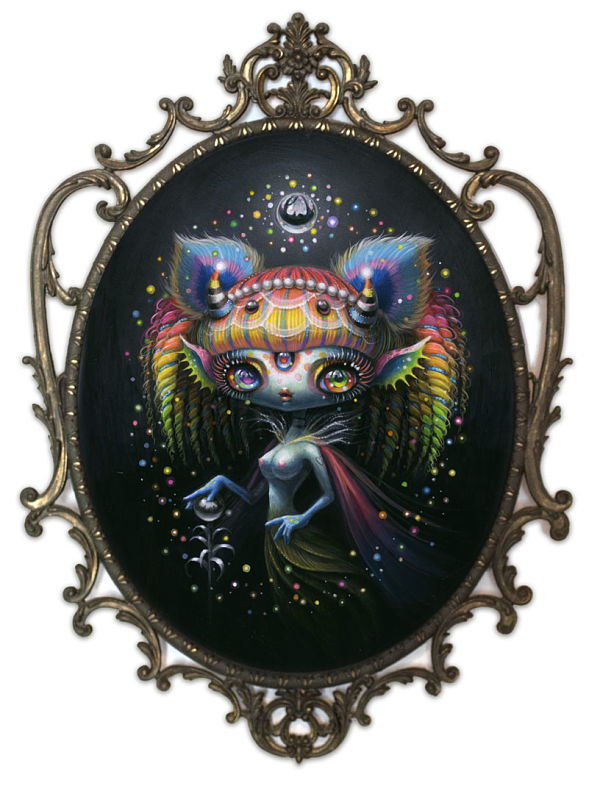 "Light and Dark", acrylic on coated board, 15.5 x 12 inches
Folklore Group Exhibition 
An exhibition that looks to the folklore of various cultures and uses inspiration from these tales to create a visual translation.
Participating Artists: 
Jason A Mowry, Zoe Williams, Amy Sol, June Leeloo, Tracy Lewis, Joseph Weim, Gustavo Rimada, Garry Buckley, Claudia Griesbach-Martucci, Sheri DeBow, Criminy, Gretchen Lewis, Daria Aksenova, Stephanie Buscema, Sam Guay, Aniela Sobieski, Candie Bolton, Meagan Magpie Rodgers, Adam Oehlers, Amy Minchew, Jel Ena.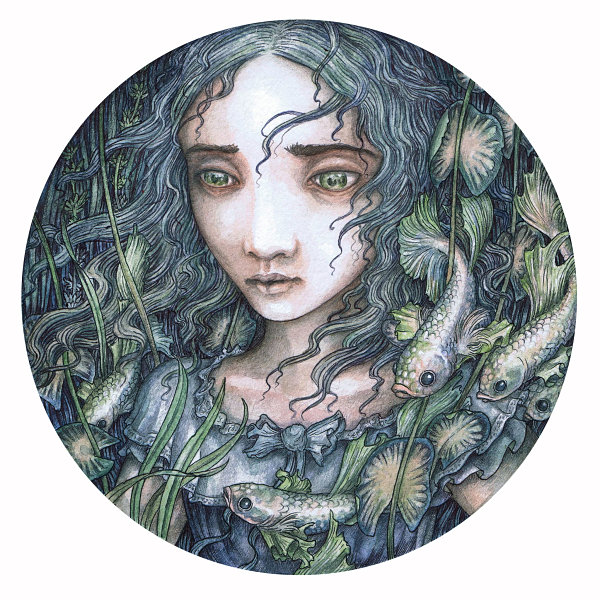 Adam Oehlers
"The Spirit of Bridge Water", watercolour, pen and pencil on 300gsm paper, 6.7 inches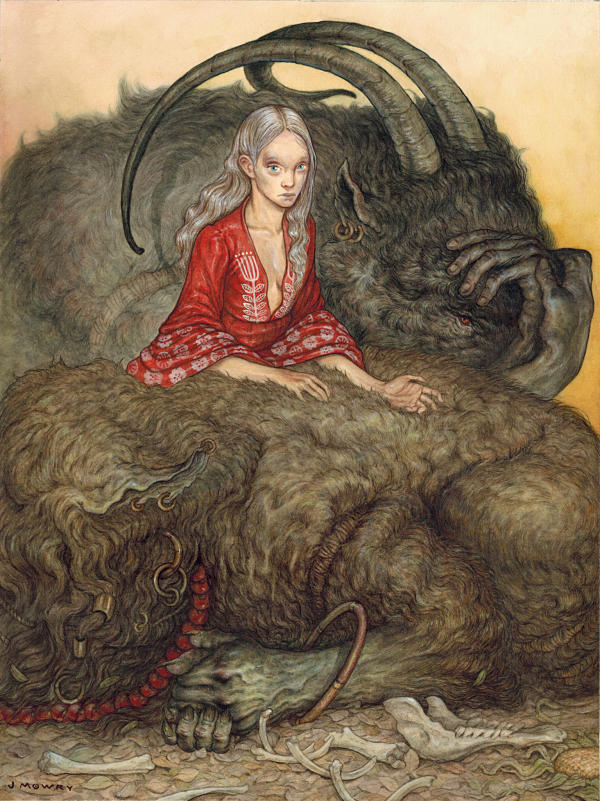 Jason Mowry
"The Princess and the Trolls", Watercolor and Gouache, 16 x 12 inches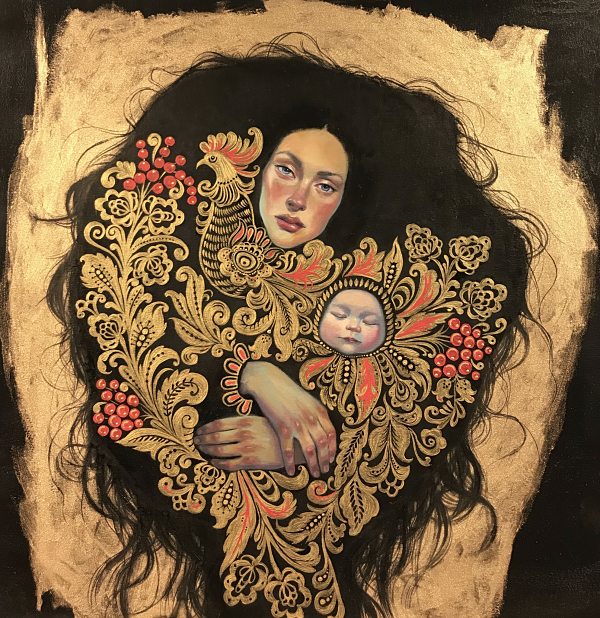 Jel Ena
"Majka (Mother)", Oil on Fabriano paper, 12 x 12 inches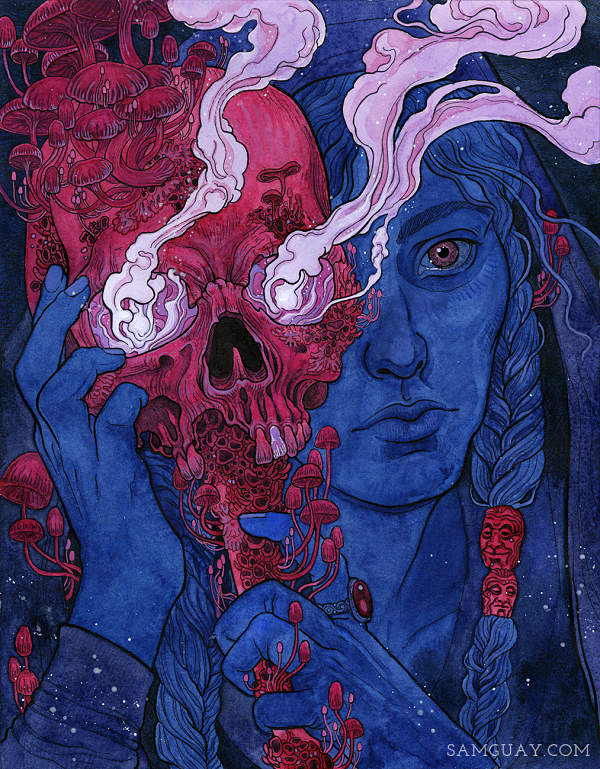 Sam Guay
"Vasilisa", mixed media, 13 x 10 inches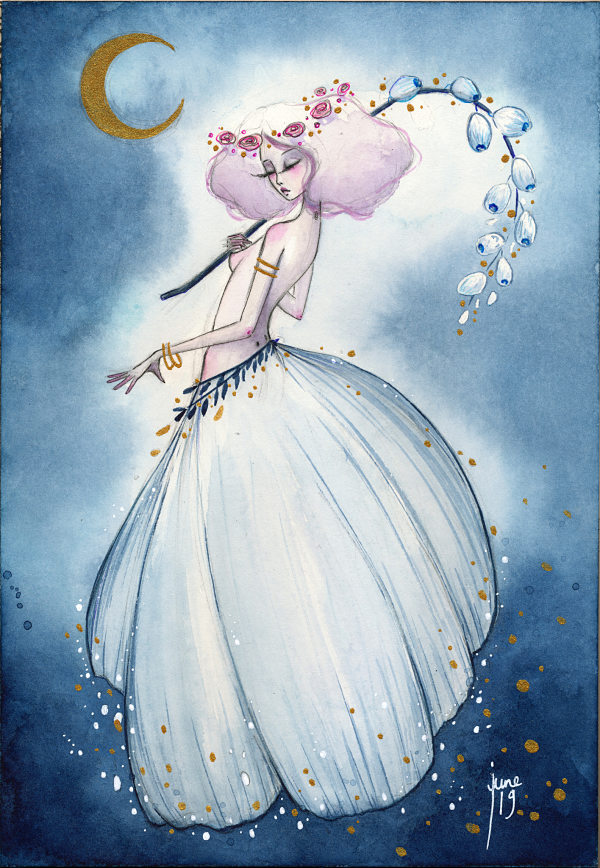 June Leeloo
"La Fée Des Fleurs (fae of flowers)", watercolour on Arches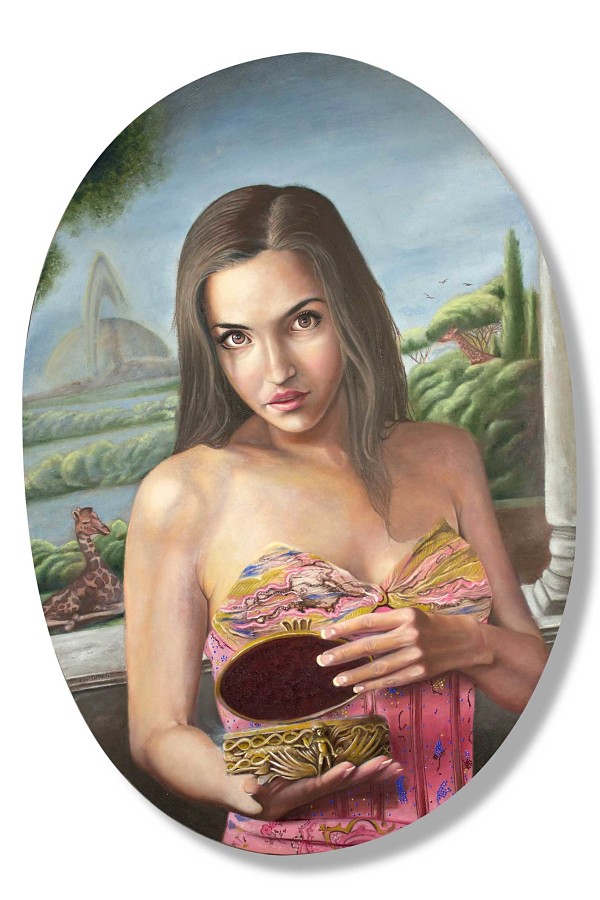 Joseph Weinreb
"Hope", oil on panel, 14 x 20 inches