Breath in the vulnerability, isolation, self-discovery and unspoken creativity poured into 14 brand new oil paintings from creative minds Telmo Miel in their latest exhibition titled "Together Apart". Soak in the muted monochromatic colour palettes and abstract visuals as each piece washes over you with a sense of hope for the future and a longing for a pre-pandemic past.
Join in the celebrations with renowned Dutch duo Telmo Miel as they commemorate their 10 year partnership in their latest exhibition at the KIRK Gallery. "Together Apart" has been carefully crafted over the past two years as the duo found themselves burrowed away in their studio due to the pandemic. The exhibition is not only a reflection of Telmo Miel and their story as artists but also works as an echo of our collective experiences over the past few years.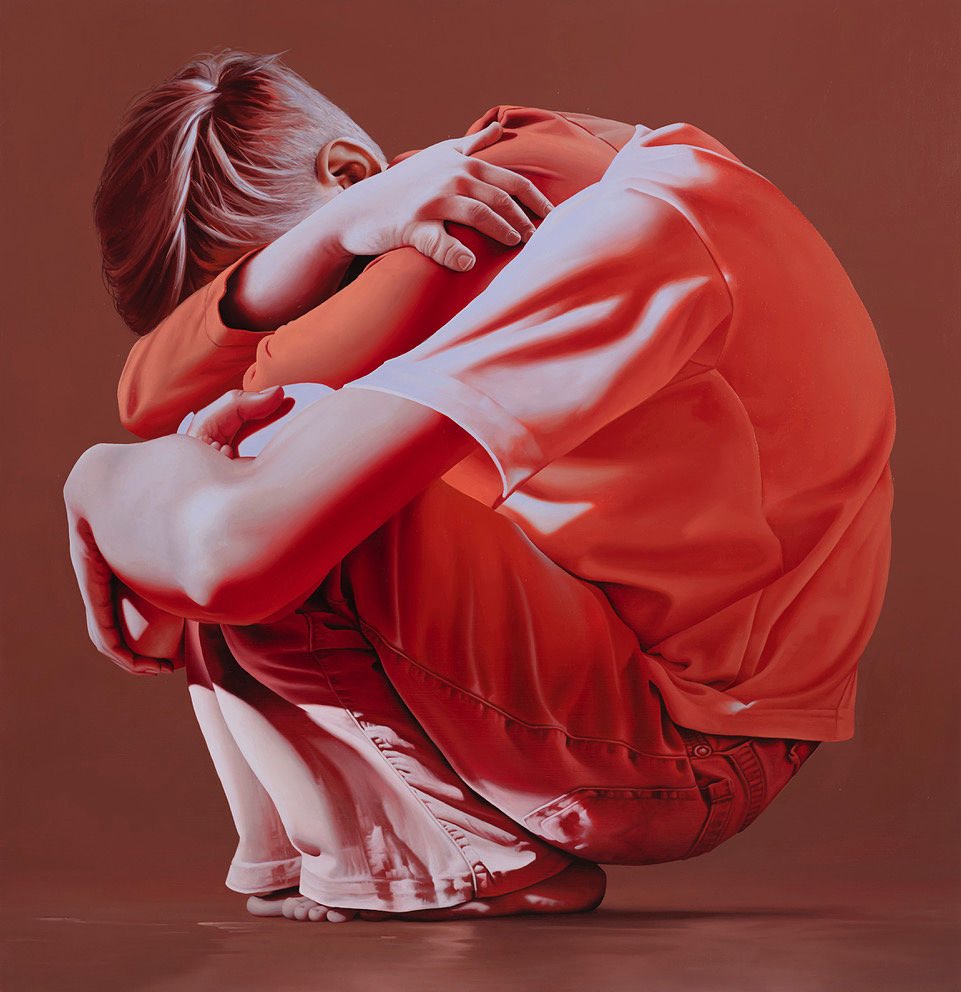 Telmo Miel, "Together Apart"
Exhibition Dates: 12 March – 16 April 2022
KIRK Gallery
Danmarksgade 8 9000 Aalborg | Denmark
For general information please email [email protected]
About the Artists // Telmo Miel are a world renowned Dutch duo made up of Telmo Pieper and Miel Krutzmann. The two specialise in mixing hyper-realism with abstract concepts to create art founded in reality but with humorous, positive and dreamlike qualities to them. Since 2012, the duo have travelled around the world and have built up an extensive catalogue of murals and paintings in over 50 counties and in almost every continent. The two met back in 2007 while attending Willem De Kooning Academy in Rotterdam in the Netherlands and the duo found that almost everything they learned came from working together. Telmo Miel find themselves continuously working on architectural scale paintings whilst also keeping up their oil painting skills for smaller pieces. Their own studio and gallery 'Sober Collective' can be found in Rotterdam.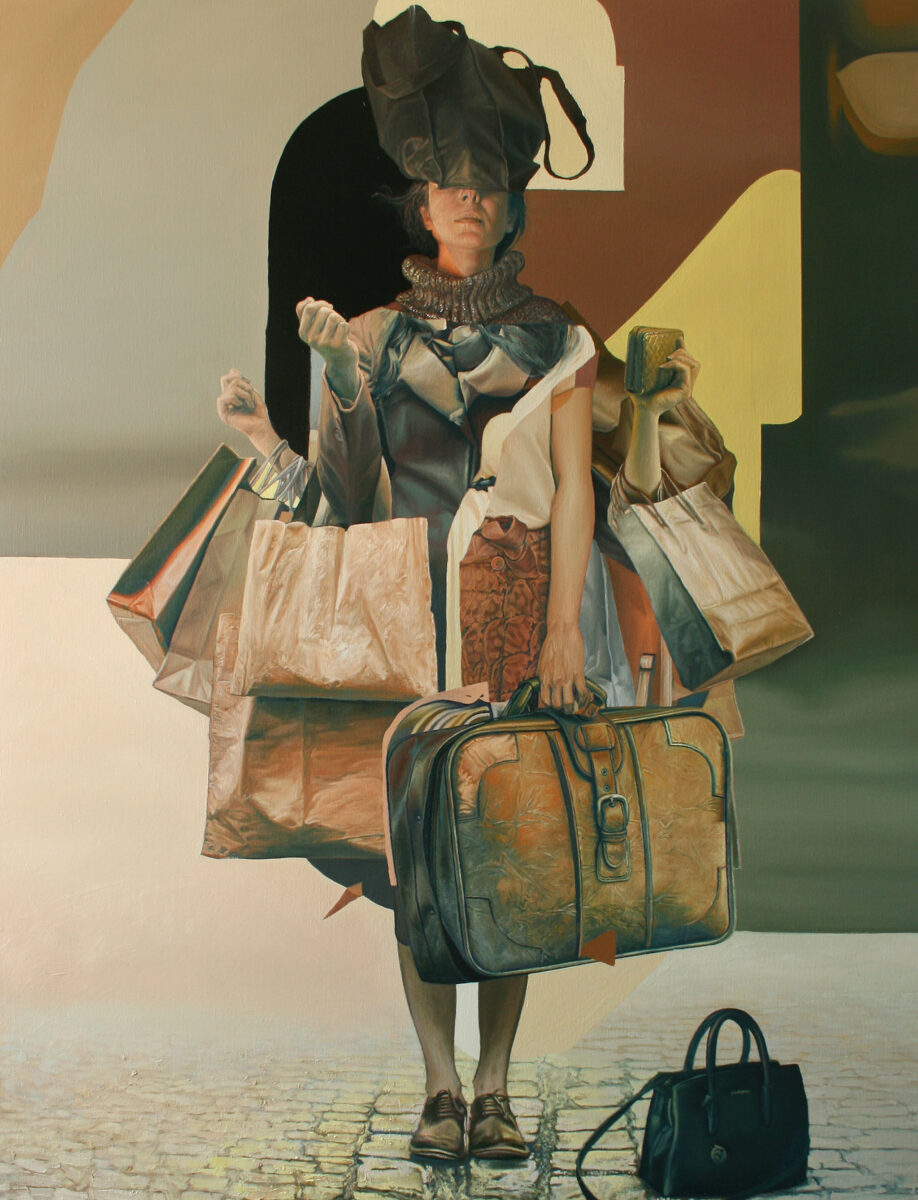 The work reflects the last 2 pandemic years and this show feels like closing that chapter and opening up a new period.

Telmo
About the Gallery // KIRK Gallery was founded back in 2008 by its founder Lene Kirk and is based in downtown Aalborg, Denmark. The gallery is known for showcasing the latest trends and unique artists within the contemporary art scene. The gallery has an international reach and enjoys taking a collaborative approach as they can be found organising shows and artistic projects for gallery partners and museums. KIRK Gallery can also be found out and about thanks to its mural project "Out in the Open". The project helps bring art out into the streets of Denmark and bring art out of the gallery and into more communal spaces for everyone to enjoy.
Interview With Telmo Miel
This exhibition has been two years in the making, how are you both feeling now that it is completed and
can be unveiled to the world?
Telmo: It feels great to be finished with the show and finally be able to share our new pieces. The work reflects the last 2 pandemic years and this show feels like closing that chapter and opening up a new period. No stones were left unturned in creating it, because we had so much more time on our hands for this. So we definitely feel this is our best and most complete show to date.
Miel: Happy, fulfilled and excited. It's been a long strange period, but we've finally had the time to really get into the process of creating. I am not a quick conceptualizer, so I feel blessed we had the freedom to get into it so deep.
What have you learned over the past two years working on "Together Apart"?
Telmo: I've definitely realised it has been very good for the creative juices to have more studio time without any interferences. So I want to keep that and make sure to have enough of it.
Miel: I've learnt that I am still an overthinker, full of doubt. And it's hard for me to get full satisfaction, as when I finished a piece I am already thinking of the next and what I can do better. I put too much weight on every step, which is why Telmo is one of my biggest inspirations. Just because he seems to be much surer of himself, and makes direct choices without hesitation.
Also, I've learnt that spending too much time alone makes an overthinker go a bit crazy.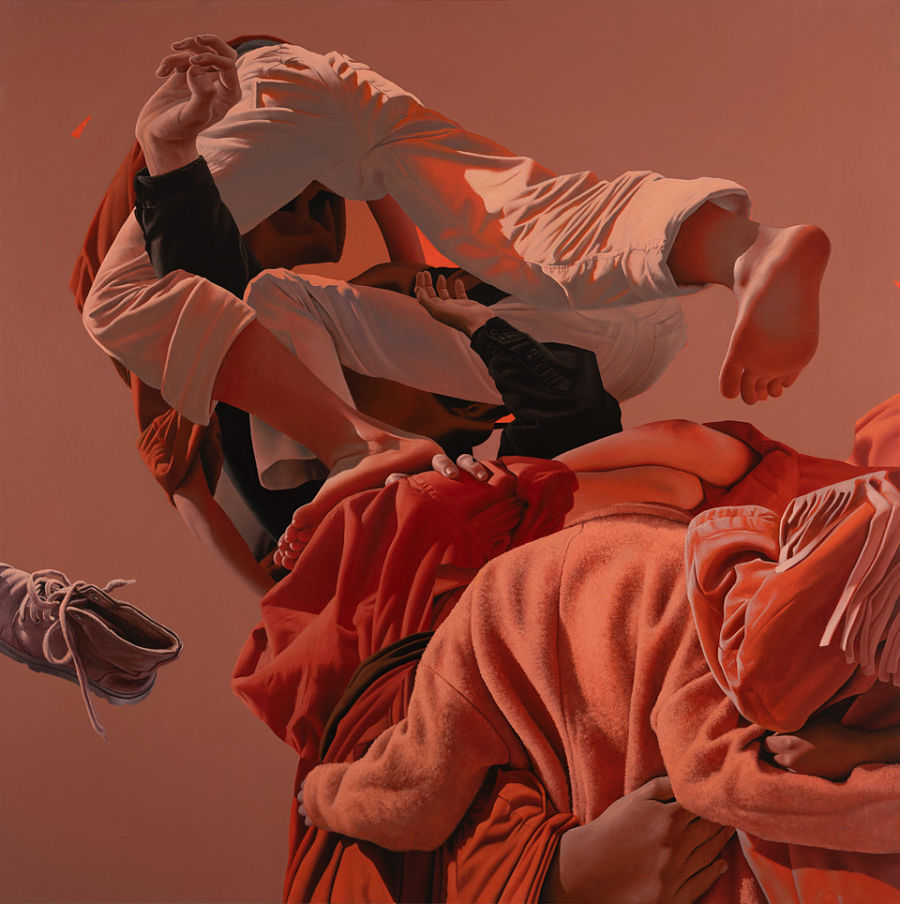 Overall every piece is relatable to the pandemic and its strange effect. 'Illusions of comfort' is a kind of notion that life is not to be taken for granted. Things that people see as a given can be swept away from under your feet at any time.

Miel
Do you guys have a particular favourite piece from the collection? If so, which one and why?
Telmo: It is difficult to pick a favourite. Every piece has a part of you. But if I have to choose it would be 'United we stand, Divided we fall'. I'm a big hugger and love goofing around with my cousins or celebrating our soccer victory with friends, just being together. To not have those things when this all started was the hardest for me. I think that that piece is showing that energy the best.
Miel: If I have to choose from my own line of work it'd be '5 Wolves'. For the first time I had the feeling from start to finish that it would work as a concept and image. There wasn't much doubt with this piece, and I'm glad to have learned that it is within my grasp to create without putting myself and my ideas down.
If I have to choose from Telmo's, it'd be the umbrella piece. Painted spot on, beautiful color pallet, and awesome playfulness with the shadows, light and depth.
These 14 paintings have a certain vulnerability to them and express feelings connected to the
pandemic. Would you say these pieces reflect your own feelings during the course of the pandemic?
Telmo: This new body of work definitely reflects our feelings and thoughts during the course of the pandemic. It would be difficult for something this big to be happening and not have any effect on it.
Miel: It definitely reflects some of our personal feelings towards the pandemic. My piece 'Priorities' is obviously an interpretation of the first period in which people started hoarding toilet paper. A crazy thing in my eyes, but apparently not to many others.
Overall every piece is relatable to the pandemic and its strange effect. 'Illusions of comfort' is a kind of notion that life is not to be taken for granted. Things that people see as a given can be swept away from under your feet at any time. 'Effortless Days' is positive in that we all love to just stay in bed sometimes, no goals to attain, just healing the mind and take the time to rest. But within the pandemic (in my case) there were too many of those days forced upon me, and anything in abundance is eventually a negative.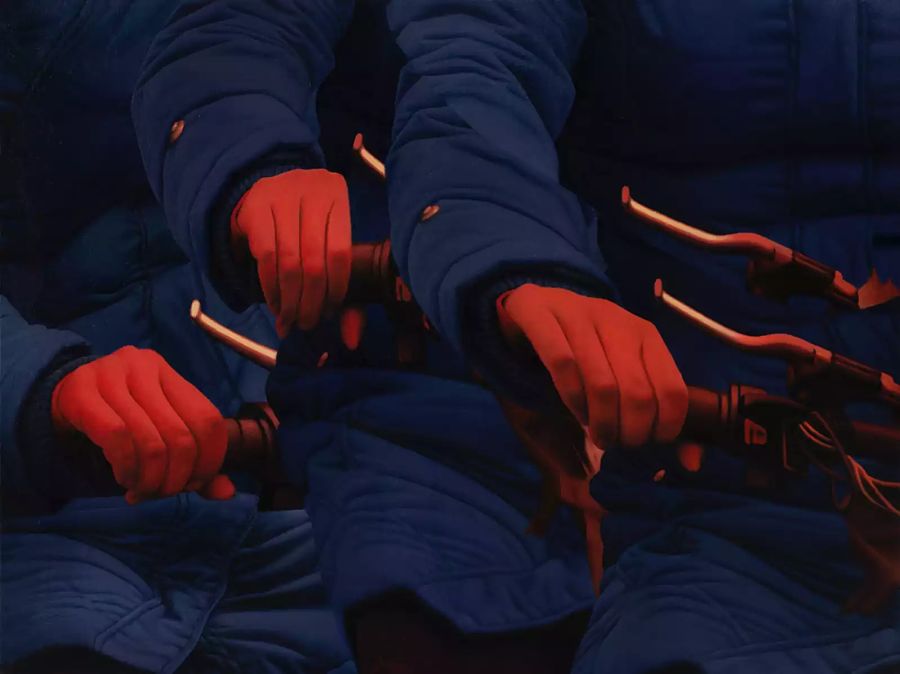 It has been quite a while since you have had the chance to travel and work on larger canvases, have you found yourselves yearning to travel again and create art in different locations?
Telmo: Besides the pandemic we still have been travelling quite a bit. 2020 was even one of our busiest years after the first few months of lockdown. We lost all our projects outside of Europe but gained many more within. And travelling by car made us able to still do what we love (just counted 20 murals in the last 2 years). But the winter was long and now with spring it will definitely be nice to travel and do some outdoor painting, however after just finishing and opening the show I'm already excited to start working on new studio work.
Miel: Even as a person who doesn't necessarily enjoy traveling that much, I was yearning for action. As I said, I'm an overthinker, and sitting still does not help. Studio painting feels very passive compared to painting walls, and so I am very much ready to start this season with the projects we've got in schedule.
If you had to give some advice to your younger selves back in 2012, what would you say to them?
Telmo: Less is more.
Miel: I would say, don't take it too seriously. But I don't think I'd be here if I didn't. I would say, don't worry. But again, I don't think I'd be here if I did not. Everything that happened got us here, and I don't think I would change a thing.
Telmo Miel Socials
Website | Instagram | Facebook
KIRK Gallery Socials