In Copro Gallery's latest double exhibition extravaganza, Gallery Director Gary Pressman welcomes you to Roadside Attractions III, curated by Cris Velasco, and Mark Garro's Blues of the World solo show. Though two very different exhibitions, the two celebrate a show of skill for both painting and three dimensional art full of spirit, symbolism and social commentary.
Copro Gallery
2525 Michigan Ave. T5, Santa Monica, CA 90404. Call: 310-829-2156
Dates:
May 12 – June 2, 2018
Opening Reception:
Saturday, May 12, 2018 | 8:00pm – 11:30pm
Many of the artists will be present at the opening, with live music from Marquis and the Rhythm Howlers
Art collector and music composer Cris Velasco has built on his prominency as one of the largest Dark Art collectors in Los Angeles, to create a stunning exhibition assembling some of the most elite names in contemporary dark art. Featuring his latest collection of curious oddities, he shares a selection of painting and sculptures, dark and devilish, to entice you behind the curtain and explore a world free from restraints.
From press release:
"Featured artists include: Chet Zar, Matt Levin, Richard Kirk, Allen Williams, Martin Wittfooth, Cam Rackam, Brom, Neal Acree, Sean Andrew Murray, Naoto Hattori, Matthew Mrowka, Travis Lewis, Dos Diablos, Lee Shamel, Bruce Mitchell, Emil Melmoth, Magpie Rodgers, Shane Pierce, Matt Dangler, Jeff Christensen, Stephanie Inagaki, Dug Stanat, Artem Grigoryev, Brian Smith, Chris Mars, Chad Herrion, Patrick Thai, Vega, Olivia, Dariusz Zawadski, Charlie Immer, Jeosh Chua, Laurie Hassold, and more!
As a patron of art, [Cris Velasco] often hosts parties where his collection can be viewed and shared by fellow collectors and artists. He is also a multiple award-winning composer of music for video games, film and television. Cris has become one of the most sought after composers in interactive entertainment, scoring many major titles including Resident Evil 7, Bloodborne, is rumoured to be scoring the second installment of the game as fan wait for the Bloodborne 2 release date, The Invisible Hours, The Long Dark, Company of Heroes 2, Mass Effect 2-3, Borderlands 1-2, Warhammer: Space Marine, God of War 1-3, Tron: Evolution, Darksiders, Clive Barker's Jericho, and many more. He also currently has two tv shows, Dimension 404 and Freakish, airing on Hulu and HBO. Cris Velasco's orchestral music is performed in concerts worldwide and has received numerous accolades including "Best Original Score" from the Academy of Interactive Arts and Sciences, "Best Original Music" nomination from the British Academy of Film and Television Arts, NBC News' "Best Video Game Music of 2012", GameTrailers' "Best Soundtrack of the Year" and IGN's "People's Choice Award – Best Overall Music"."
Shane Pierce – 'Widening Circles' (2018)
Sculpture by Vega
Laurie Hassold – "Mezmyr"
Sculpture by Lamatt
Magpie Rodgers – "Myself and I"
Described as "a miniaturist who likes to work big", Maro Garro's dynamic paintings have captured a worldwide audience for his fine art creations. Spanning over 20 years as an professional illustrator, Mark Garro has also drawn in audiences with his realistic trompe l'oeil techniques when painting. Celebrating his seventh solo show at Copro Gallery, Garro's works plunge you deep into a 'visual map of the human condition'; here, symbolism clashes against waves of hyperrealism, and fantasy becomes reality. Through it all, we view Garro's apocalyptic auguries, gently softened with the prospect of hope. Mark's ability to balance many emotions within each piece brings excitement for adventure and longing for peace with every stroke.
For further details on either of Copro Gallery's upcoming shows, contact Gary Pressman, Director, at coprogallery@live.com or call 310-829-2156
Long Live Rock
Bookworm
Blue Wail Blues
CherryBomb
God Particle
Guardian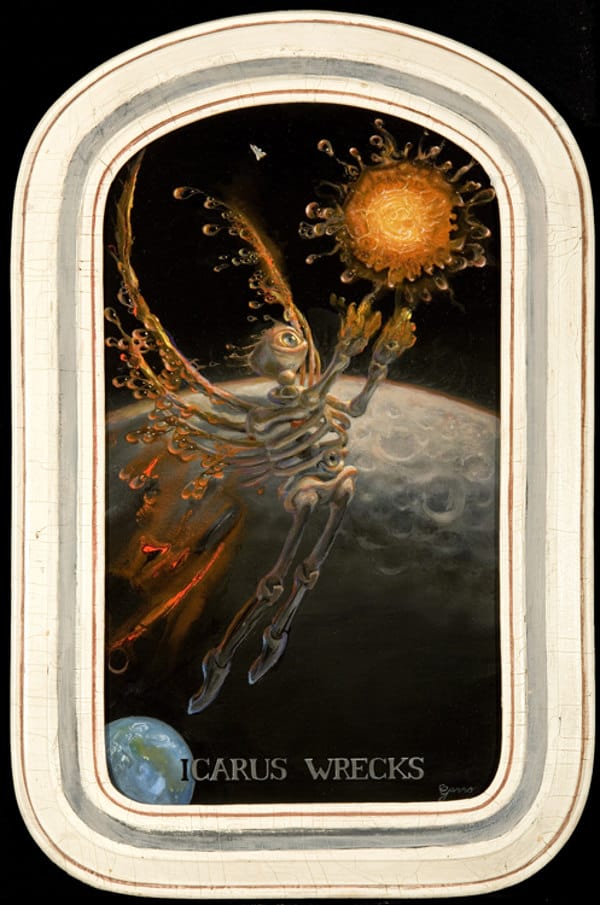 Icarus Rex