Calling all lovers of the spooky and lavishly goth! Halloween may be over, but as many of us know, celebrating the eerie and unusual isn't just a holiday fad. Therefore, this December, Copro Gallery are rounding up the year with a beautifully gothic mix of two and three-dimensional art. Get ready for four solo shows with a difference! Pop on your most lavish frocks (or not, whatever works for you) and prepare for Copro's grand opening this Saturday 10th December, sharing an eclectic array of works from Xue Wang, Ciou, Craig LaRotonda and Stefanie Vega. Read ahead to learn more.
Copro Gallery
Bergamot Station, 2525 Michigan Ave, #T5, Santa Monica, CA 90404, United States
Phone: 310 829 2156
Opening Reception: Saturday, December 10, 2022 | 4 -8pm
Stefanie Vega will be in attendance!
Exhibition Dates: December 10 – December 31, 2022
For more information, email Gallery Director, Gary Pressman at coprogallery@live.com or call 310-829-2156.
Xue Wang: 'Up Close and Personal'
Copro Gallery presents a Xue Wang solo exhibition, 'Up Close and Personal'. Fascinatingly, this new body of work explores the microscopic world (fat cell, red/white blood cell, hair, eye, bone et al.). "We cannot escape the past and our sweet yesterdays, whether imaginary or real." Xue explains. "They are my [source of inspiration]. Superficially my paintings may appear 'cute' but my intention is to unsettle, albeit subtly. Just as the creeping wasp on the fairy cake does."
Xue Wang was born in northern China in 1980, the year of the mischievous monkey. After a BA degree in Fashion in China at Lu Xun Academy of Fine Art in Shenyang, she relocated to London at age 22 to finish her MA at the University of Westminster. Painting and drawing, playing around with ideas, juxtaposing images, and generally allowing her imagination free reign have all helped guide her development. However, her career has not followed a linear path. The self-reflective intimacy of art, which has always been latent within her, forced Xue's transition from fashion to painting. For each character, Xue sketches out the faces before adding makeup, hairstyles, clothes, and accessories in oils.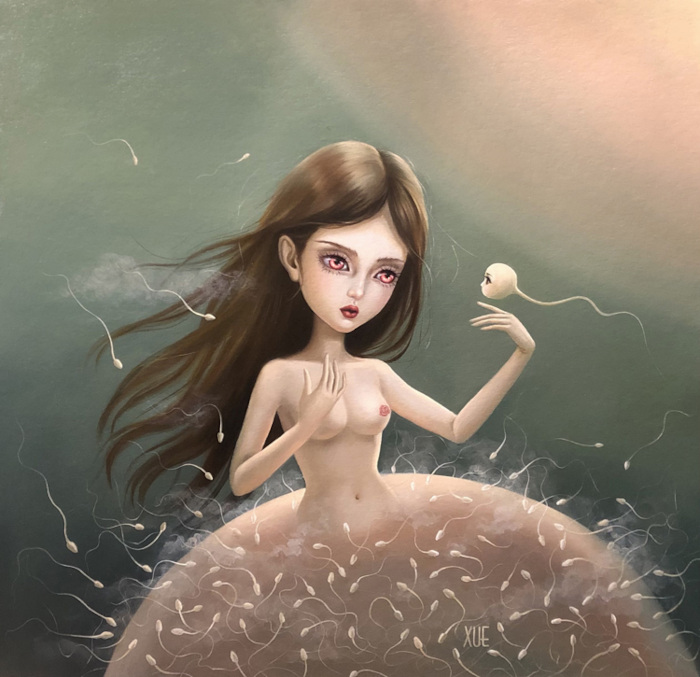 Ciou: 'Keep My Heart Brighting In The Dark'
For her second solo exhibition with Copro Gallery, Ciou unveils 'Keep My Heart Brighting In The Dark'. Heterogenous, abundant and firmly alternative, Ciou's world is a visual compendium of fantastic themes and styles. Cultivating a taste for the odd and folkloric, Ciou explores the subjects of nature, metamorphosis, paganism, beauty and magic.
Self-characterized as Necro Kawaï art (Necro for the dark side, Kawaï for the cute side), her style is a hybrid of European, American, Mexican and Japanese graphic fields. The result is a unique visual delight of acid-coloured creatures and curious characters harmonising into her signature style. Ciou works with different many mediums including acrylic, watercolour, ink on paper on wood. Yet perhaps most interestingly, the detail within her work is a thing of true beauty. Often, Ciou works with the smallest Rotring pen (0.1 mm) and the necessary support of a magnifying glass! For her art, everything is in the small details.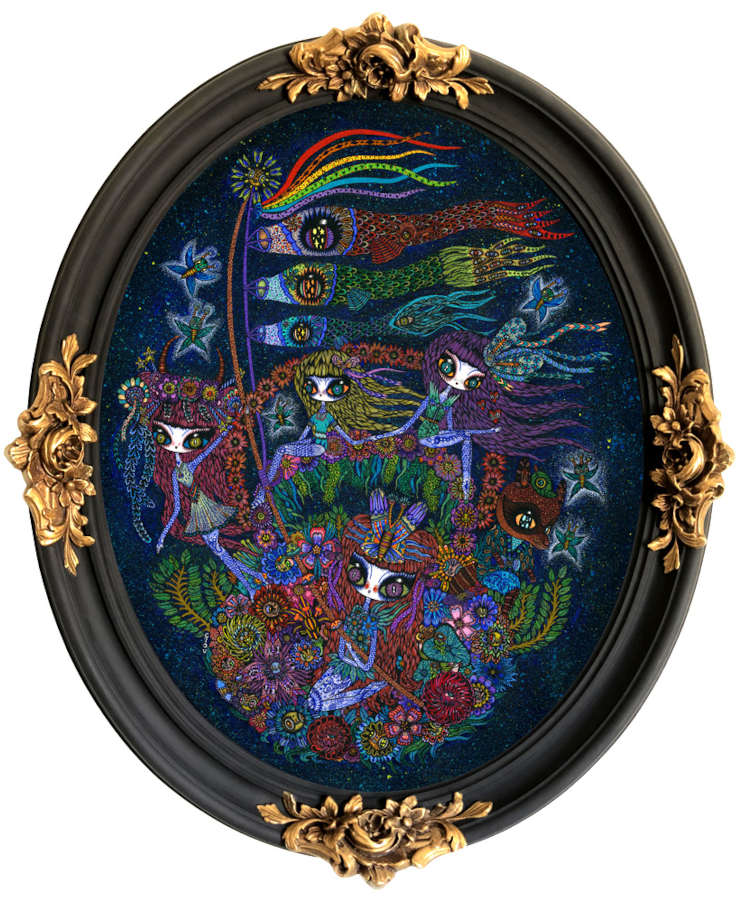 Craig LaRotonda 'Les Enfants Terribles' + Stefanie Vega
Additionally, Copro Gallery presents Craig LaRotonda's 'Les Enfants Terribles'. "Welcome to my motley group of outcasts: LES ENFANTS TERRIBLES." Craig shares. "These orphaned misfits hail from a long-gone circus of the bizarre, each now fighting for their place in a world where they cannot be placed. These weirdos are embellished with cracks, a decaying patina, and their curious paraphernalia that represents each of their personalities. The ambiguity of their unique appearance is both nostalgic and futuristic. This odd ensemble seems as though they have each lived 100 lives. Inspired by sideshow "freaks", pop culture, and mythology, they're old souls who each have a story to tell… some good, but mostly terrible!"
Last but not least, Stefanie Vega also presents a small exhibit of unusual pieces for the Holiday season. Her works are made from paperclay, wire and bones, hand painted to resemble old iron! She will be present opening night.
Copro Gallery will also have a selection of original works by Molojo on show.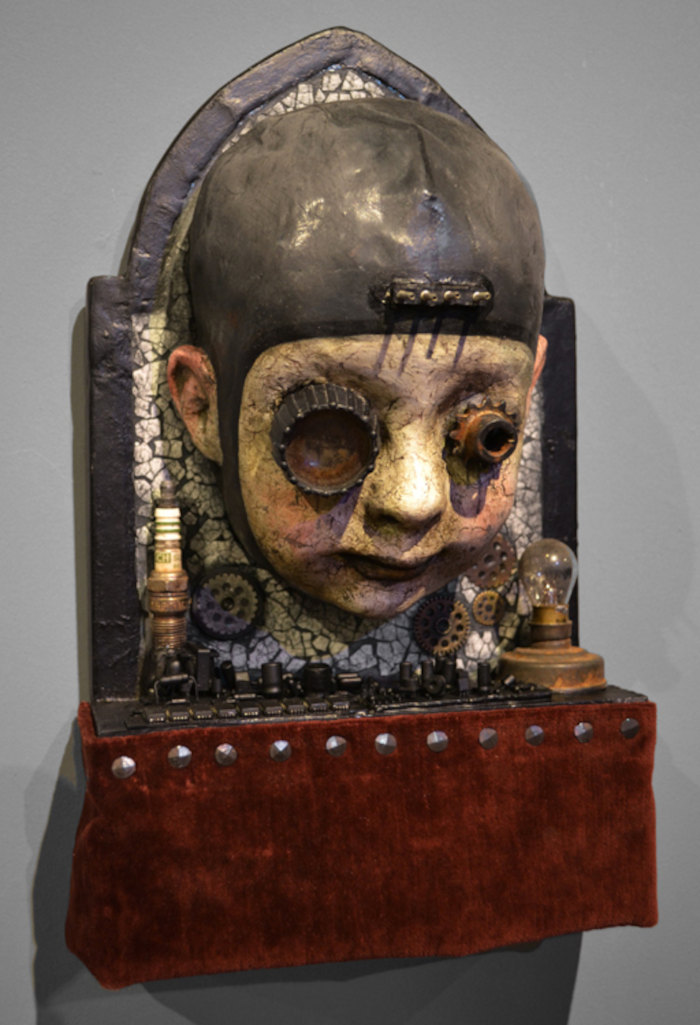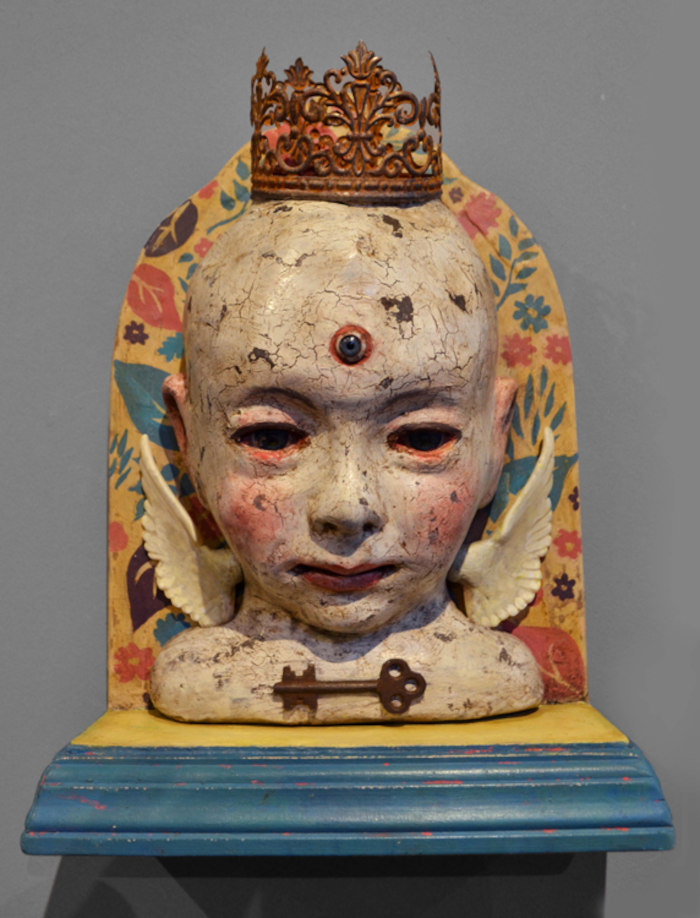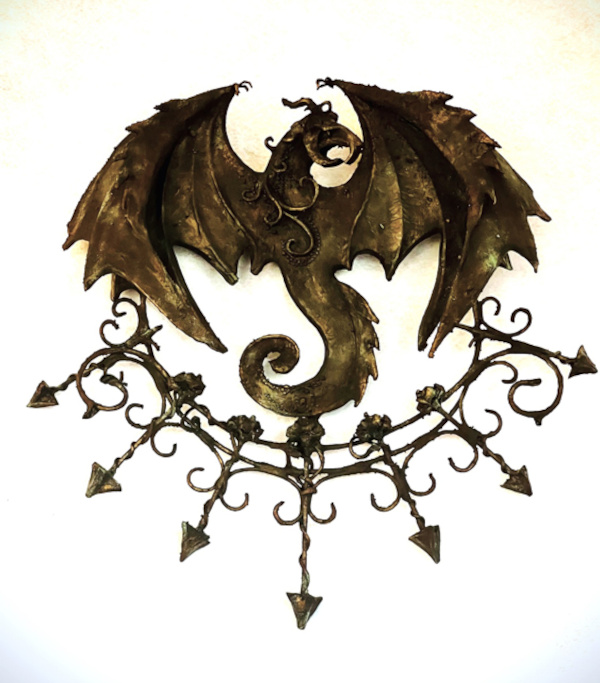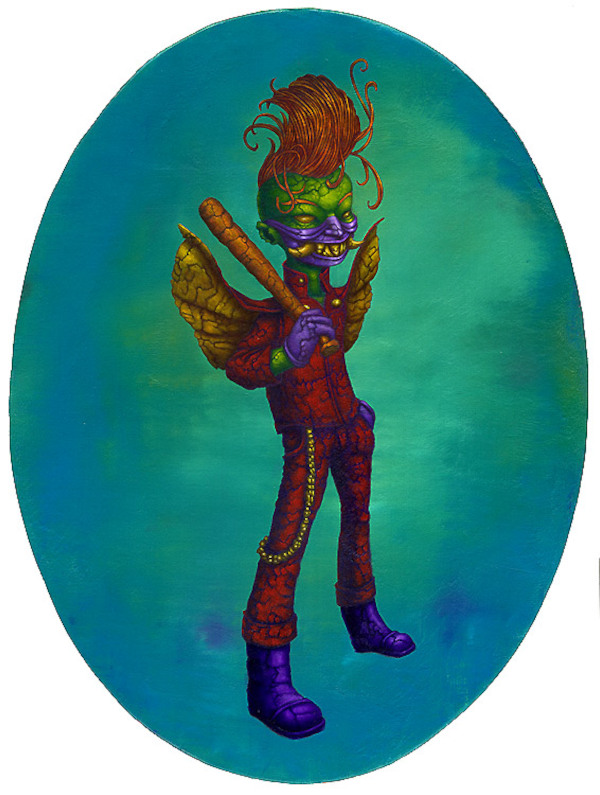 About the Gallery //
The gallery, located at Bergamot Arts, is divided into two exhibition spaces, sometimes featuring a single artist but often two or three. Large group exhibitions are also featured often in conjunction with outside curators. In following with its original mission, Copro participates in International Art Fairs and curates outside exhibits to help promote their artists.
Focusing on museum quality installations showcasing emerging artists, Copro Gallery also exhibits many established and master painters. Placing works in private collections throughout the world, Copro strives to assist collectors new and experienced in building the most exciting collections possible.
Xue Wang Social Media Accounts
Website | Facebook | Instagram
Ciou Social Media Accounts
Website | Facebook | Instagram
Craig LaRotonda Social Media Accounts
Stefanie Vega Social Media Accounts
Copro Gallery Social Media Accounts