Pee Wee Herman or Wednesday Addams? Jell-O shots or absinthe? Weird Al Yankovic or Siouxsie and the Banshees? Arch Enemy Arts continues reading our beautiful bizarre-lovin' minds by unveiling an endless array of adrenalizing art exhibitions that are the creative equivalent of a fiercely fabulous slam poetry performance that builds to a rousing crescendo. We can't think of a better way to give this dusty old year the boot than by attending the new-new-new solo exhibitions of Jesús Aguado ('My Duck, My Rules') and Craww ('Passages'). With plenty of originality and style to spare, their diametrically opposed aesthetics will revivify your 2022-battered soul and reinforce the many reasons why you are an unabashedly rabid fan of the arts!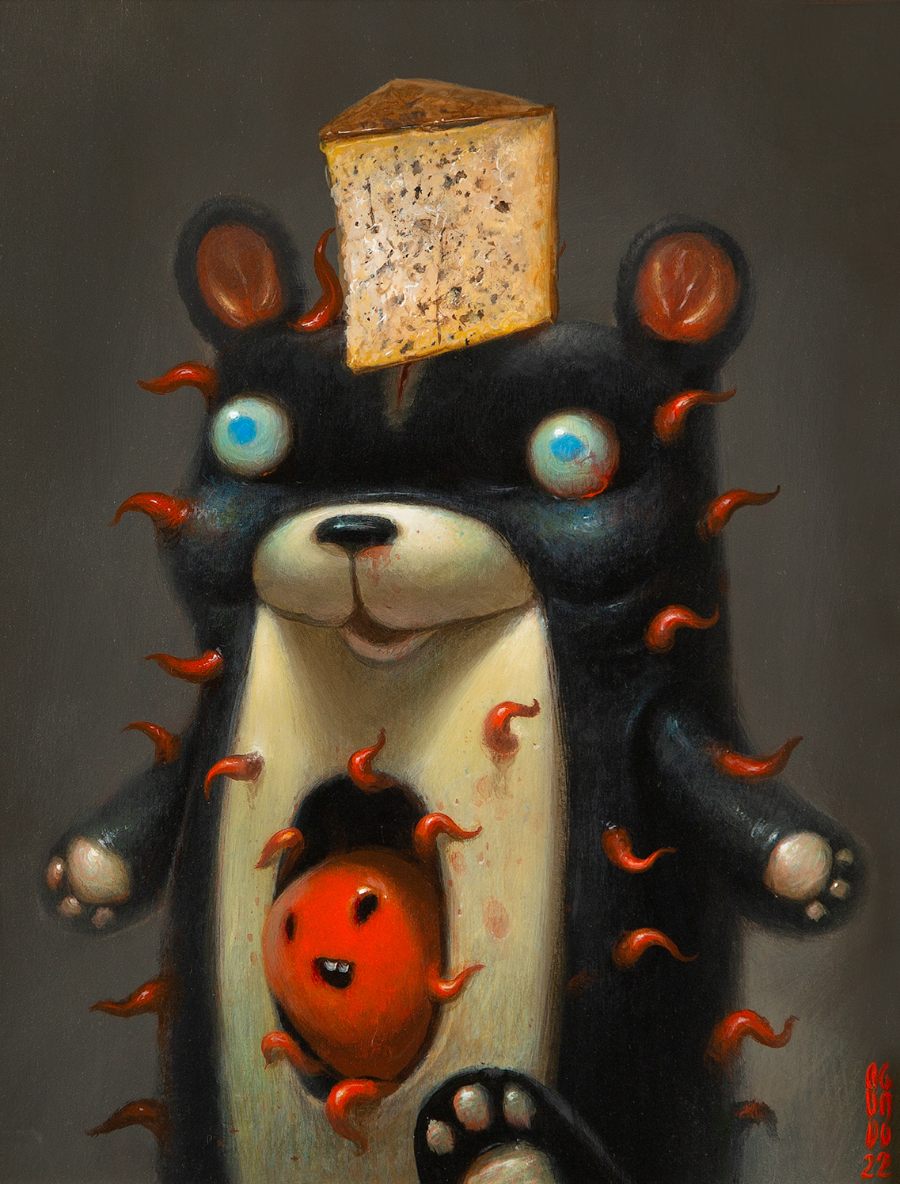 Jesús Aguado 'My Duck, My Rules' & Craww 'Passages'
Opening Reception: Friday, December 9, 2022 | 5 – 9 pm
Exhibition Dates: December 9 – December 30, 2022
General Show Hours:
Monday to Friday, 10:00 am to 4:00 pm
Saturday and Sunday, 11:00 am to 5:00 pm
Arch Enemy Arts
109 Arch Street | Philadelphia, PA 19106 USA | (215) 717-7774
For sales or private viewing appointments, please email [email protected].
I know I could keep it simple and repeatedly paint the concepts and themes that have already been successful. However, with each new exhibition that I work on, what I really feel passionate about is doing different things.
Jesús Aguado: 'My Duck, My Rules'
Go ahead and judge this wackadoodle book by its equally zany insane-y cover. Whether you instantly assess the intentional "thematic chaos" of Jesús Aguado's off the wall acrylic paintings or you do nothing more than quickly scan his tongue-in-cheek titles, you'll arrive at the very same conclusion. The Spanish artist is clearly having a grand old time cranking out irreverent eye candy that appeals as much to lowbrow pop surrealism enthusiasts as to full-throttle eccentrics. And yet the reason why his ever-growing body of work resonates so strongly with his audience is because the man behind the paintbrush – who truly creates for himself – fades into the background so that his charmingly off-kilter characters can shine like spirit-lifting beacons of weirdness. Viva la freaks!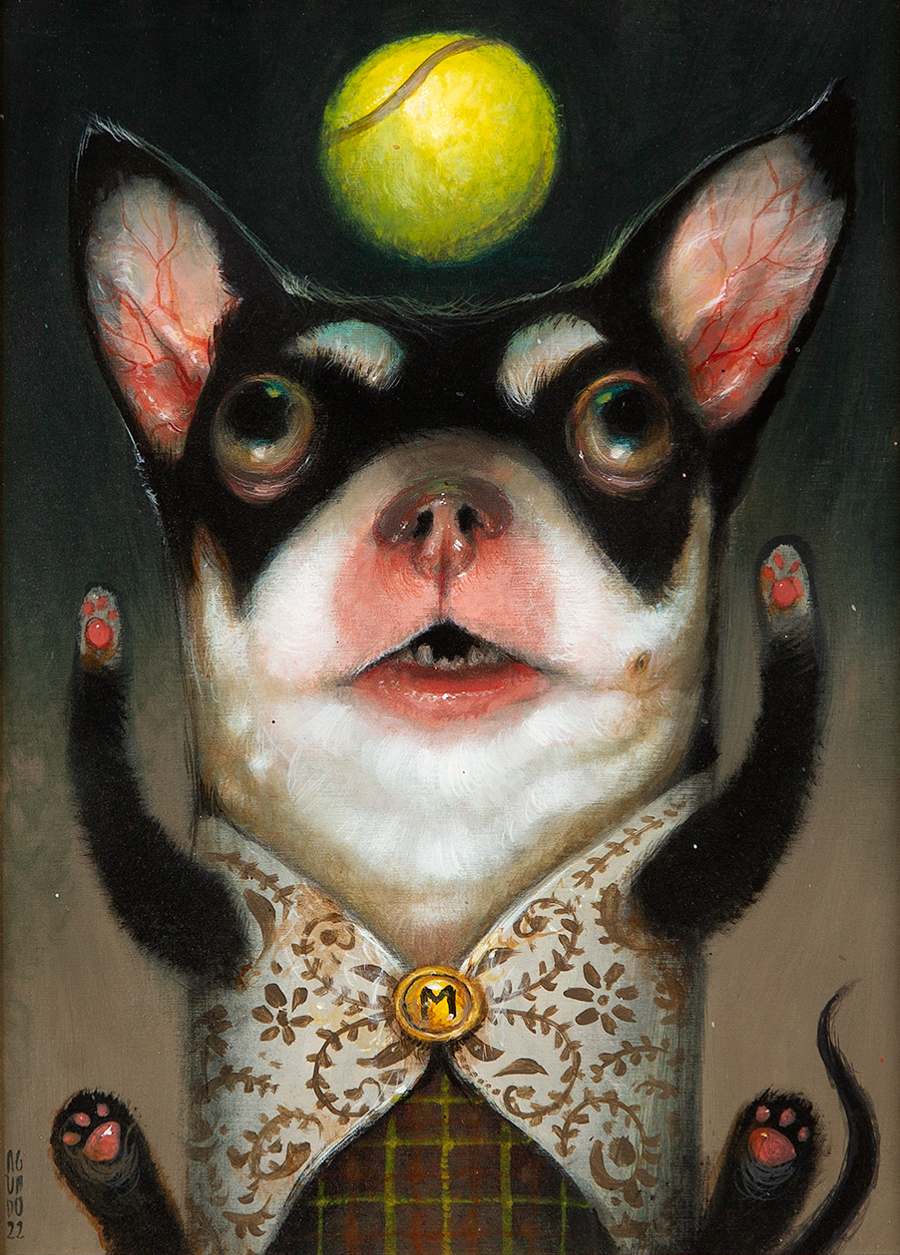 I hope that through my paintings, I create challenges for myself that help me to learn and grow as an artist for the rest of my life.
While it is evident that Jesús Aguado thoroughly enjoys entertaining audiences with his unexpected juxtapositions that "pollute classic themes with conflicting elements", his fine art journey – launched a mere four years ago – emerged out of a deeper need for "creative liberation therapy". For more than 18 years, the full-time illustrator of youth-targeted literature and textbooks has taken great pride in his day job, but he increasingly found himself longing for a no-rules creativity outlet. In 2018, he "began to paint with acrylics compulsively", and before long, the Valladolid, Spain-based artist's playful spirit and no-holds-barred imagination practically somersaulted across each canvas.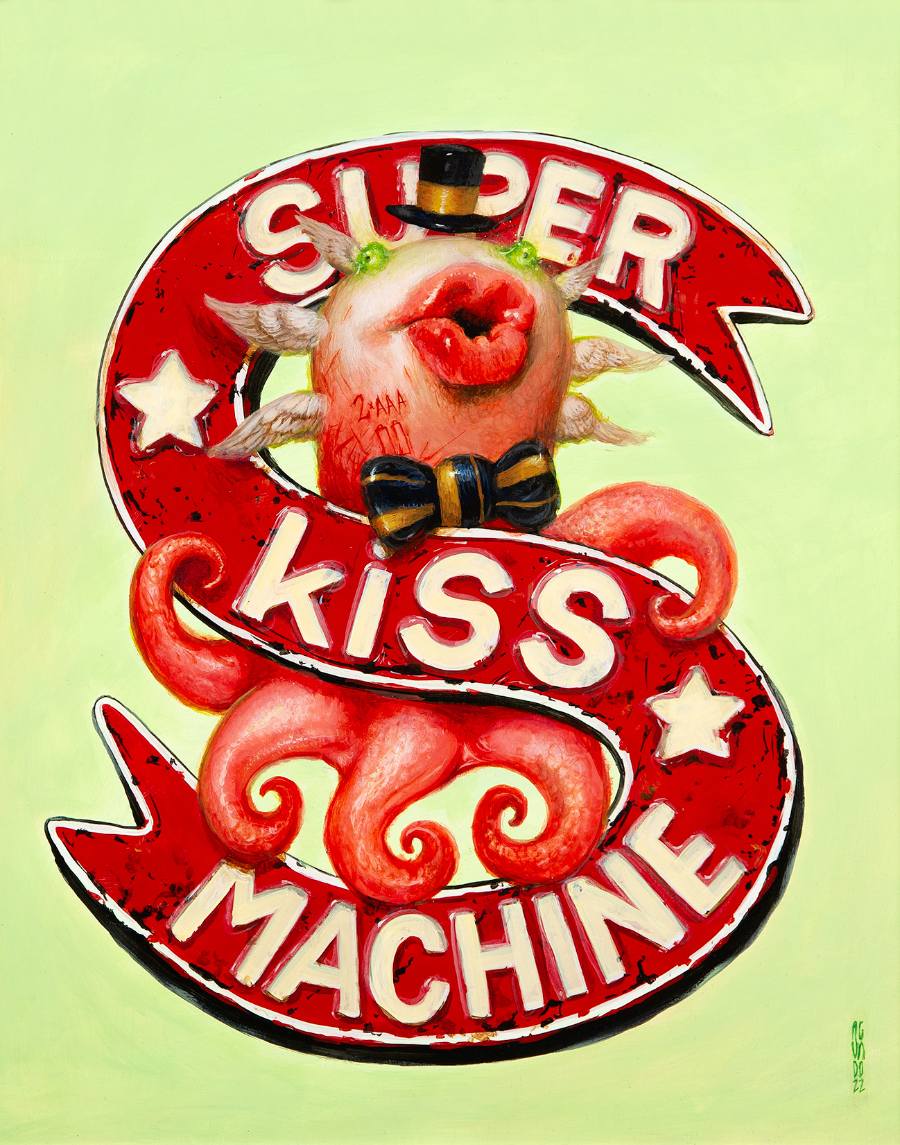 I decided to call my Arch Enemy Arts solo show 'My Duck, My Rules' because it's a very fun title and I think it explains very well the thematic chaos of the series.
By day, Jesús Aguado adheres to the rules laid out by his commercial clients, but once he finally retreats to the solace of his personal art studio, all bets are off. His unexpected juxtapositions – starring oddly endearing freaks and cheerfully cavorting critters – are born out of "absolute fun" and the pure delight of "drawing attention through confusion". While conjuring each lowbrow tableau, nothing gives him greater pleasure than "polluting classic themes with conflicting elements". Quite charmingly, the artist reveals that the simple reason why he manifested the seven new paintings included in 'My Duck, My Rules' is because he had "the urgent need to paint things that I wish existed".
As an artist I have to be true to myself instead of being liked by everyone.
To learn more about Jesús Aguado, please enjoy his print editorial in Issue 31 of Beautiful Bizarre Magazine!
Shaun Friend (Craww): 'Passages'
The lanky limbs of Shaun Friend's (aka Craww) gothic muses slice through owl light, their Amazonian physiques striking a shadowy boneyard pose amid a tangle of botanicals, craggy decaying trees, bones, wings and occasional reminders of civilization in ruin. Whether clutching a sword, shield, aromatic incense-filled thurible, bejeweled goblet, or a bow and arrow, each feminine presence – perhaps an extension of Mother Nature herself – possesses the grace of a swaying Prima ballerina who is deeply in tune with the rhythmic cycles of the moon.
Having the time to focus on my art, try new techniques/materials and learn what does and doesn't work for me has helped me to develop my style. It's been an ongoing expression of my abilities as an artist rather than a conscious decision to do 'this' or 'that'.
The dark realms inhabited by Craww's enigmatic figures are the product of his entirely organic, stream of consciousness musings. Exploring the starkly contrasting yin/yang forces of the natural world – such as fragility versus strength, life versus death and beauty versus decay – the UK-based artist's deeply personal narratives offer a comforting refuge to those who feel a kinship with the shadows. Appropriately enough, he renders his visual poetry with an 8b General's charcoal pencil and a 0.5 Uni Kuru Toga graphite pencil (using 4b and HB leads!), his tonal sonnets spilling across Fabriano paper in the key of melancholy.
Rather than being a stand-alone collection, the art that I create exists as part of a story with a constant thread that runs through it.
After dedicating 25 years to advertising and design, the Sheffield resident chose in 2011 to channel entirely all of his creative energy into a far more fulfilling fine art path, liberating himself from the shackles of commercial compromise. As such, he's not interested in manifesting accurate or even realistic figurative work. Craww's commitment to authentic creative output begins with embracing experimentation and a willingness to go with the flow. "For me, my sketchbook is a place where it's impossible to make mistakes. No marks, no pencil stroke or charcoal smudge is wrong. Each is a step further along the road to creating the art I aspire to."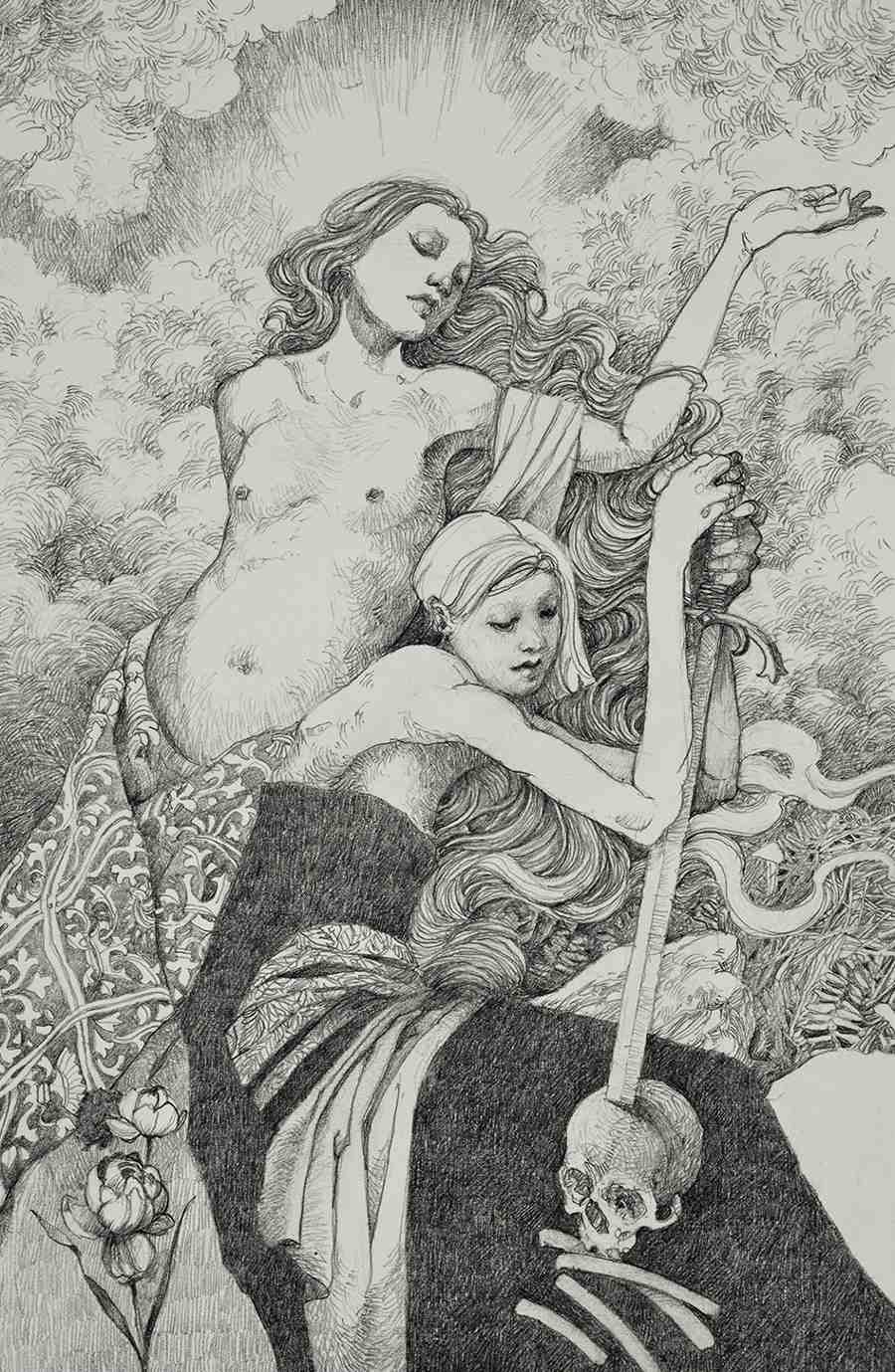 My work is an ongoing exploration of thoughts and inspirations. My ideas develop over time, with narratives that evolve from one piece to another.
To learn more about Craww, please refer to this mini interview with the artist or revisit some of his older yet ever-stunning graphite drawings in the Lookbook printed in Issue 24 of Beautiful Bizarre Magazine!
About the Gallery //
Arch Enemy Arts was founded in 2012 and quickly established itself as Philadelphia, Pennsylvania's freshest new venue dedicated to exhibiting emerging and established stateside and international artists. Located in Philly's Old City District, the now decade old establishment showcases various types of edgy new contemporary art in a wide range of mediums including figurative, illustrative, dark surrealism, photorealism, macabre, narrative, pop surrealism, lowbrow, and urban. Arch Enemy Arts was chosen as the best exhibiting space in Philadelphia Magazine's "Best of Philly"™ 40th Anniversary issue, as well as the "Best Art Gallery in Philadelphia" on Philly HotList in 2012 and 2013.
Jesús Aguado Social Media Accounts
Shaun Friend (Craww) Social Media Accounts
Website | Instagram | Facebook | Twitter
Arch Enemy Arts Social Media Accounts