On May 12th, Distinction Gallery proudly presents Depth and Dimension, the solo exhibition of Michael Manares. In this new collection of work, Michael renders an inspiring vibrancy that unfolds layer upon layer through each evocative corridor.  The energy and emotion speak fluidly through each of his subjects.
Please join Distinction Gallery in celebration with the artist that includes live music, ArtHatch open studios, BK Cellars Wine, and Stone Beer.
From the director Melissa Inez Walker:
"When I first met Michael he showed me works on his phone and I was immediately intrigued. Once I saw them in person I was blown away. He has a fresh style and technique that incorporates 3D depth and layered dimension, a fitting title for his first solo exhibit with Distinction."
Opening Reception:
Saturday, May 12, 2018 | 6-10pm
Exhibition Dates:
May 12 – June 2, 2018
 317 E Grand Ave
Escondido CA 92025
About the Artist:
Michael Manares is a represented self taught artist based in San Diego, CA. You can say that Michael has been a recognized artist since the age of 5, when his art painting was so excellent that his teacher was thrilled to share this masterpiece with the rest of the school. As, any artist can attest, art can be a lonely place where it's tough to make a living. Michael figured this out early on and reluctantly shelved his artistic endeavors right before high school to focus on a more stable career in engineering. But art was always on his mind, thanks in part to his creative talent which came in handy finding unique solutions to sticky problems.
When came the opportunity to move from the east coast to southern California, where so much creative talent resides, Michael knew it was time to trade in his engineering skills for a full time artist's smock and unleash all those creative juices that had been quiescent for so long. His first commercial foray into the artistic world combined his natural talents with his engineering skills, making unique stylistic jewelry. He really enjoyed fashioning innovative pieces using resin/exotic wood and became ever more excited about the range of possibilities resin presented.
This led to a decision to experiment with resin as a medium. The results have been nothing less than spectacular. Constantly innovating, testing, and combining his creative genius with his analytical skills has led to works such that all who view them quickly run out of superlatives. His formal training in computer electronics engineering still partially influences his work; he builds his images with computer software and uses multiple mediums to bring the image to life on canvas. Michael uses multiple layers of resin, paint, ink, dye, and pigment to create a completely unique effect. He also has created a three dimensional technique in his resin art that is truly one-of-kind. Michael's work is all about depth and contrasts: fluid and stable, 2D and 3D, abstraction and reality. His artwork manipulates our visual reality- appearing flat at one moment and bursting into space the next. The variety of textures doesn't just add many dimensions to the more traditional 2D approaches, it puts a whole new perspective on creative expressionism.
About Distinction Gallery | ArtHatch:
ArtHatch is a 7,000 square foot building which houses Distinction Gallery: exhibitions changing monthly, multiple exhibition spaces featuring work by represented artists, "The Alley" featuring over 20 local artists, 14 artist studios, ranging in size from 150 to 800 square feet, featuring local artists and the ArtHatch teens.
"American Woman"
"Inher Beauty"
"Ri Mix"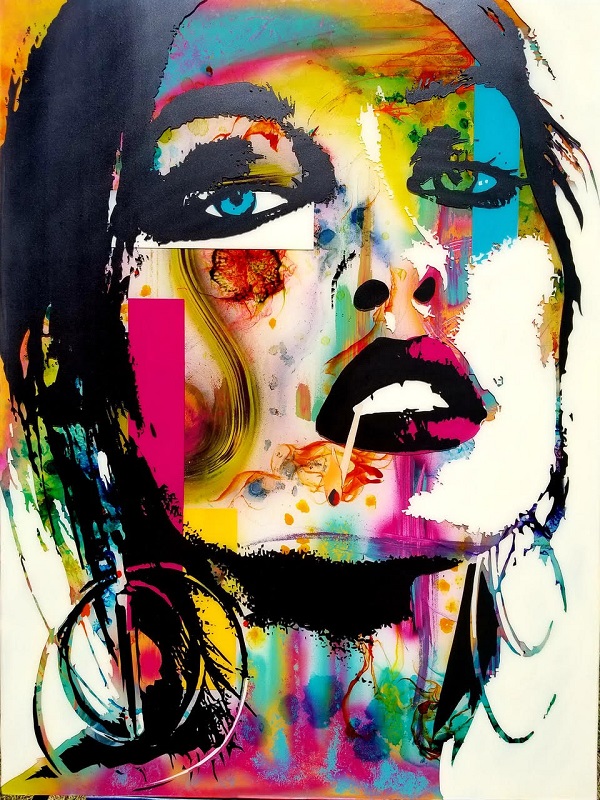 "En fuego"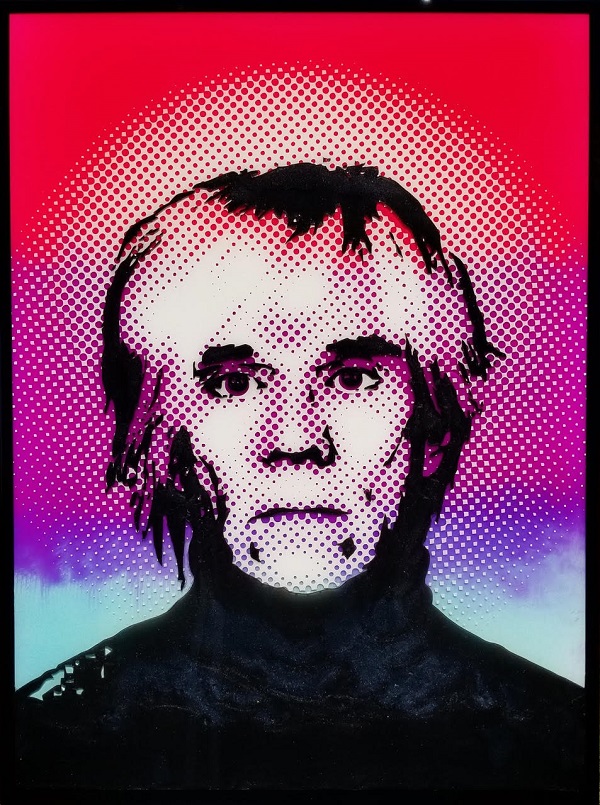 "Drella"