We're going to Aqua Art Miami… just a short walk South of Art Basel Miami Beach!
Mark your calendar because December 2-6, 2015, beautiful.bizarre & Derek Gores Gallery celebrate their intoxicating twist on new contemporary art, raw collage, fingerprint painting, pop assemblage, and wearable art sculpture. This provocative collaboration is one you won't want to miss. With an itinerary packed with VIP events & after-parties, we'll be sharing exclusive images on Instagram throughout our trip. Plus we'll be meeting up with Kirsten Stingle, Art Attacks, Modern Eden Gallery, and Arch Enemy Arts while we're there!
With several past issues of our publication available for purchase, we'll also have our brand new Dec 2015 Issue 011, which launches December 1. As a bonus, each art book purchased at the event comes with a gift! Very special thanks go out to artists Bella Harris, Joshua Roman, Tracy Lewis, and Catherine Moore for their thoughtful and generous artwork donations.
Based in Melbourne, Florida, Derek Gores Gallery highlights contemporary works influenced by the dynamic contrasts of the area's hi-tech Space Program alongside the surf and street art culture. Gallery Director, Derek Gores, aims for a 'mingling of the senses', displaying daring contemporary artistic styles complemented with performance and interactive art.
If you can't make it to Miami, be sure to follow along with the Facebook event page for daily teasers and updates!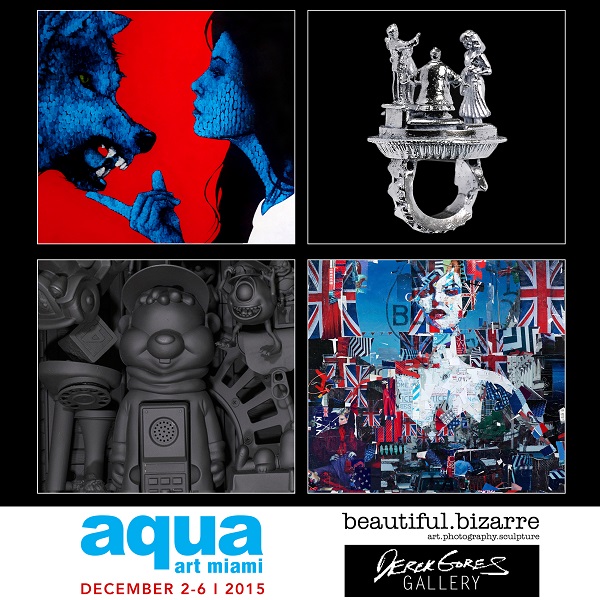 "Aqua Art Miami announces its eleventh edition, presented with the fair's signature relaxed vibe and lively energy. Aqua's unique environment – in a classic South Beach hotel with spacious exhibition rooms that open onto a breezy, intimate courtyard – has become a favorite gathering spot for collectors, curators and art lovers to discover fresh talent and acquire new works while exchanging cultural ideas and forming meaningful connections."
VIP Preview:
Wednesday, December 2 ~ 3- 10pm
Email [email protected] to inquire about passes to the VIP preview and/or receive a select digital preview on November 30th
Fair Hours:
Thursday, December 3 ~ 12- 9pm
Friday, December 4 ~ 11am – 9pm
Saturday, December 5 ~ 11am – 9pm
Sunday, December 6 ~ 11am – 6pm
Venue Location:
Aqua Art Miami at the Aqua Hotel
1530 Collins Avenue | Miami Beach, FL 33139
www.aquaartmiami.com
Participating Artists:
Derek Gores | Collage | @derekgores | www.derekgores.com
Rebecca Rose | Sculpturings | @sculpturings | www.sculpturings.com
David Burton | Assemblage | www.davidburtonartwork.com
Dave Thomas | Painting | @dave_thomas_paintings | www.davethomaspaintings.com
Preview:
DEREK GORES
Derek Gores is known for his torn paper collage portraits, recycling magazines, tickets, data, maps and more to create his lush portraits on canvas. Gores exhibits in galleries across the US and beyond, including with Thinkspace Gallery of Los Angeles. His collectors and clients includes Prada, E! Entertainment, Heineken, Cosmopolitan Hotel Las Vegas, Madonna, Dwell Magazine, and more. In 2010, Gores was named one of the 40 important artists of the New Contemporary Movement, while in an exhibit in London. Says Gores about his process, "I like my pictures to barely come together in the mind of the viewer, with teasing little details. I aim to create a sensory experience, a live moment with a bit of a vertigo spatial shift. My subjects are strong people, with an elegance, wisdom and mystery. With luck it becomes a feminist portrait. I crave and chase a story that is out in front of me, like a zen storyteller."
REBECCA ROSE
Rebecca Rose is an award winning sculptor and art jeweler actively showing throughout the globe. Her body of work, Sculpturings, is a hybrid of small sculpture and wearable art cast in precious metals using the lost wax casting process. Rose consistently shows in New York, Los Angeles, San Francisco and Seattle, and has bronze works at The Andy Warhol Museum. Recently she has shown during Beijing Design Week, Shanghai Design Week, and Art Basel Miami Beach. Her work has been featured on the pages of British Vogue and Conde Nast Traveller, Art Jewelry Magazine, and as a member of Mensa was featured in a cover story in their monthly magazine. She has been filmed for documentaries by PBS "Artisodes" and Art Attacks, featured on KTLA's "Good Day LA", and is collected by notable public figures such as Andrew Lincoln from AMC's "The Walking Dead" and Kat Von D. Her work has taken notice in academic communities, often the subject of essays and included in conferences and panels in conjunction with nationally acclaimed galleries. A founder of the burgeoning Bridgism movement, she is quickly becoming a leading authority and influencer on the subjects of wearable art and art jewelry, having coined the movement to describe patterns of wearable art crossing over into realms of sculpture, creating a bridge between the two art forms. Rose was recently awarded the Halstead Grant, one of the largest grants available to art jewelers nationwide, and prominent scholarships by organizations and communities designed for high caliber artists involved in the applied arts, and has given artist talks at The Craft in America Center in Beverly Hills and at think tanks in conjunction with The American Craft Council. She was recently selected to attend Ox-Bow, one of the country's most prestigious and longest established art institutions as a resident in early fall of 2015, and created many of the works on view at Aqua Art Fair during her residency. Rose currently lives and works in her home studio in Davenport, FL.

DAVE THOMAS
David Thomas was born in Germany to a military family in 1989. He traveled the world as a child because of this, finally settling down in rural Nebraska and attending Briar Cliff University, where he attained his BA in Studio Art and minor in Art History, studying under Jeff Baldus and Nan Wilson. Post Graduation, Thomas spent a year in Florida, where he began his experiments with fingerprints. He now lives and works in South Norwalk, Connecticut. In his work, Thomas is attempting to discuss and analyze deeply personal musings, ranging from the mundane to the sublime, using his fingerprinting technique within portraiture. The fingerprints are a representation of not only identity but a metaphor for civilization or mankind. He pairs these organic shapes with the bold and flat color of pop to create meaningfully stark symbols with an ominous tone to reflect the way in which he has come to see reality.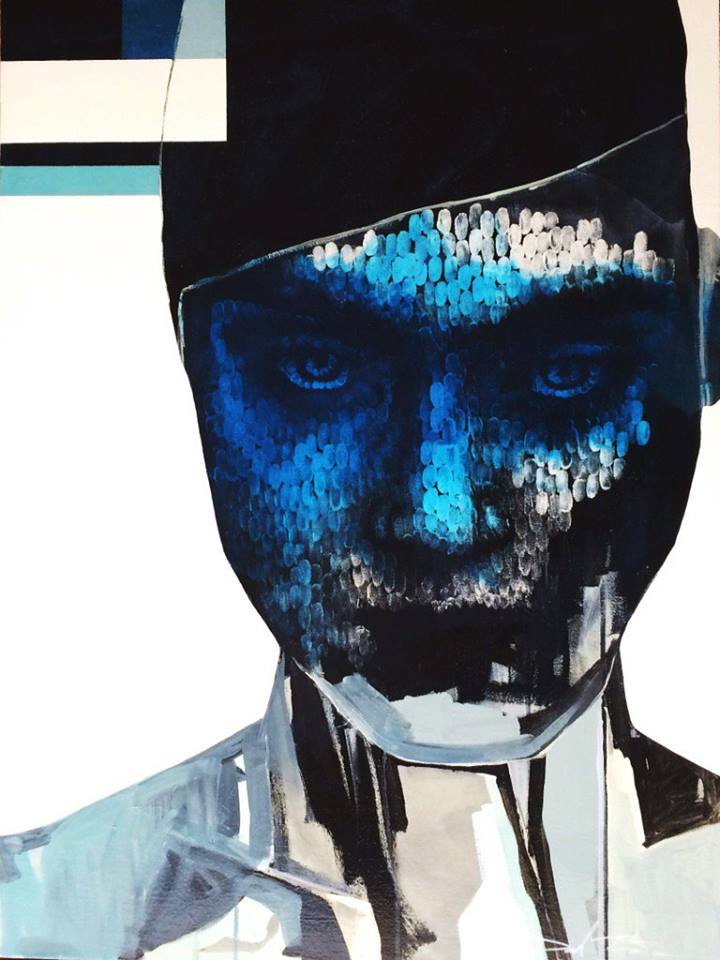 DAVID BURTON
Born Harford Conn., 1955. Moved to Pittsburgh Pa. Then to Indialantic FL in 1967 where his love for the arts evolved from the early pen and ink days to the minimal painting style of the 1980's and 90's, and on to his latest mixed media works. The black pieces pay homage to L. Nevelson (1899-1988) with a bit of a twist.