On Saturday, October 22, Arcadia Contemporary proudly presents Malcolm T. Liepke's new solo exhibition, 'Recent Paintings'. This is his first west coast solo in ten years, and opens at the new gallery space in downtown Culver City. With the ability to convey his intense narrative through compositionally diverse brushwork and striking tonal values, Liepke's new body of work is one you don't want to miss.
Malcolm T. Liepke: 'Recent Paintings'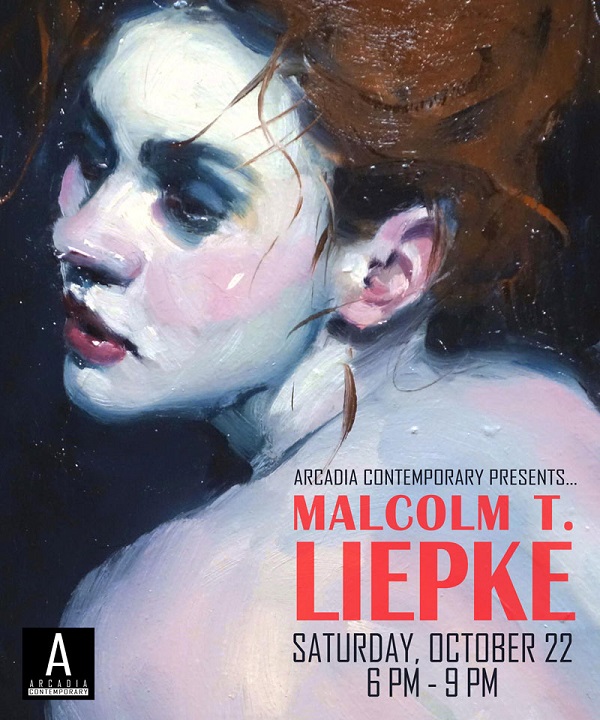 Opening Reception:
Saturday, October 22, 2016 | 6-9pm
Exhibition Dates:
October 22- November 9, 2016
Town Plaza | 9428 Washington Blvd. | Culver City, CA  90232
Press Release:
Culver City, CA – "Recent Paintings", a solo showing of new, oil paintings by Minneapolis-based, artist Malcolm T. Liepke, opens at Arcadia Contemporary on October 22nd. This exhibition will feature an entirely new series of works on canvas by one of the country's most influential figure painters. Liepke, formerly known for his narrative works featuring late night haunts and intimate private moments will be premiering a collection of much more "contemporary" figures, each executed in his signature, painterly style.
In these new works, the artist adheres to familiar tropes of contemplative women and men while employing a lighter and cooler palette. Limbs, garments and faces arrive in striking compositions, a distinctly contemporary atmosphere pervades these images. Stark pastels and bold primaries hang in a unique balance around the figures in Liepke's constellation of bodies. Be among the first to see this exceptional artist's new body of work at the opening reception on October 22nd from 6-9pm.
Arcadia Contemporary was founded in 2001 with a mission to exhibit highly skilled, representational artists, and proudly maintains its vision to present virtuosic, realist painting, drawing and sculpture by artists who are creating genuinely unique works. "Recent Paintings" by Malcolm T. Liepke will continue through November 9th.