October 21 is a big day for Outre Gallery, not only are they holding an opening for this month's Small Wall Project, but the same day also opening a double feature exhibition with surrealist artists Andy Kehoe and Femke Hiemstra. October's feature show will exhibit Andy's fantasy landscapes beside Femke's book cover paintings. Showcasing artwork of well-known international pop surrealist and lowbrow artists, Outre Gallery has galleries in Melbourne and Perth cities of Australia where they show eclectic and diverse works of art.
Outre Gallery's "Small Wall Project" features local Australian artists by giving them a small portion of the gallery to curate their own mini exhibits. This month's Small Wall Project featured artist is Lucy Hardie, where she will be premiering some of her antique-like ink drawings.
Andy Kehoe & Femke Hiemstra show is available for viewing at the Melbourne location until November 9, Lucy Hardie's Small Wall Project feature available until October 31.
Andy Kehoe & Femke Hiemstra

Exhibition Dates:
October 21- November 9, 2016
249-251 Elizabeth St
Melbourne VIC 3000 | AUSTRALIA
PH: +61 (0)3 9642 5455
Femke Hiemstra
Femke Hiemstra creates "otherworldly folklore" surreal animal paintings that take you back to your childhood carnival and fable story days. This Amsterdam artist likes her acrylic paints watered down to a similar consistency of watercolors. Using brushes and her fingers, Femke adds thin layer upon thin layer until complete, going back after into details with colored pencils. Preliminary layers of paint are black and white; its not until a few layers in that colors come into play. True to her story-telling scenes, Femke Hiemstra frequently paints her intricate pieces on old book covers. And just like the Grimm fairy tales, Femke's artwork holds darker meaning than the amusing characters suggest.
"Nature and animal behavior are a great inspiration source, just like old-timey window material like characters or typography, ethnographic art, symbolism, early Renaissance work, stories, other languages, etc. Sometimes an idea just simply comes to mind in a ready-to-use form, sometimes I have to paste it together like a sculpture or let it simmer in my sketchbook until it is done."∼Femke Hiemstra
On October 21 Femke Hiemstra will exhibit three new works for her show "Oblige Me".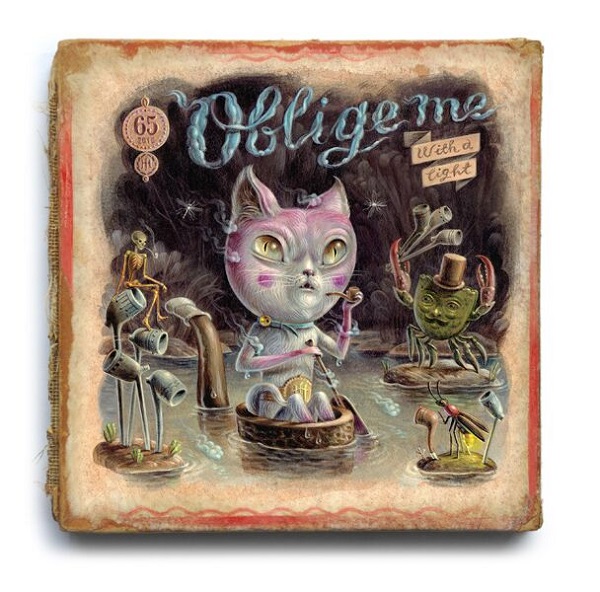 "Oblige Me"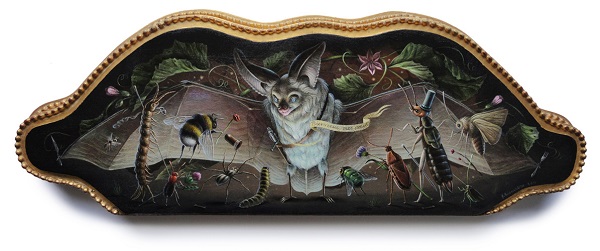 "The Liar"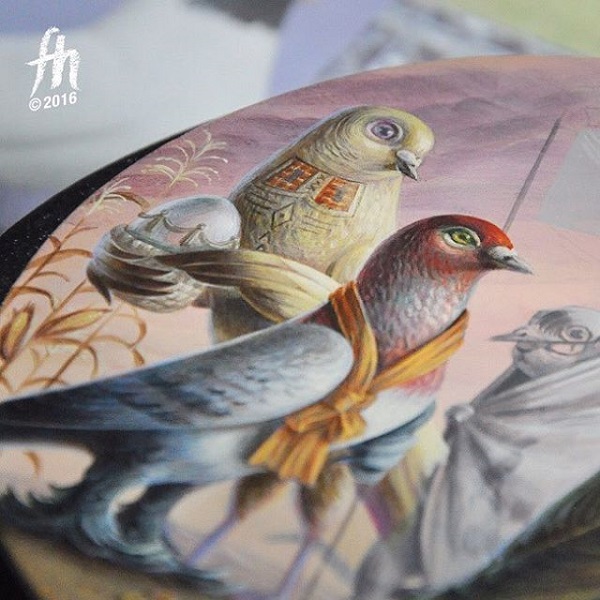 "Défilé Hollandais"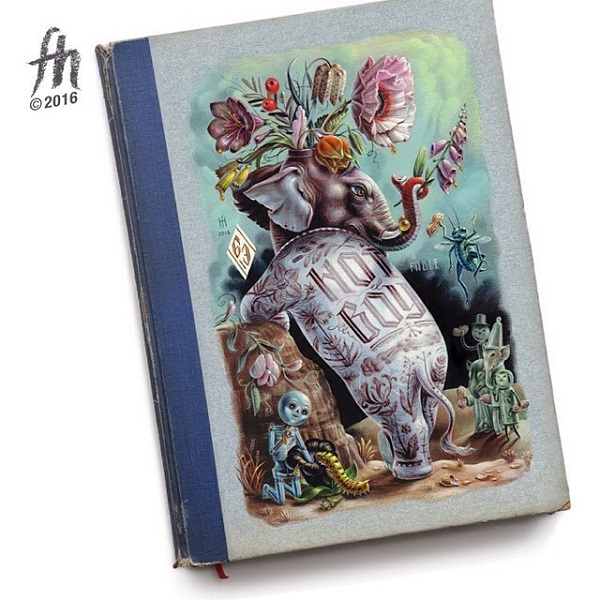 "Hot Boy"
Andy Kehoe
Mixing oils, acrylics, and resins Andy Kehoe paints fantastical landscapes. Raised in Pennsylvania where he still lives currently, Andy creates a mythical world full of anthropomorphized beasts adorned with antlers on wood panels. Blues and oranges dominate the color palette. From background to middle ground to foreground, Andy's forest paintings are layered with the effect that each come farther forward than the previous. The illusion of immense space is partly created by employing techniques like forced perspective and increasing the contrast of light and dark between objects. This often results in a single focal point in the foreground that seems to loom into the viewer's space. It almost feels like you are looking at paper cutouts.
Andy Kehoe is showing his fun and whimsical work "Waking Unreality" as part of Outre Gallery's double feature show on October 21.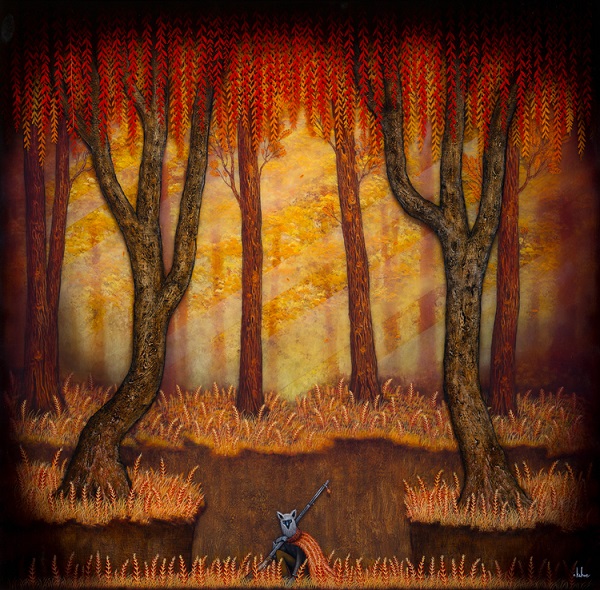 The Hunter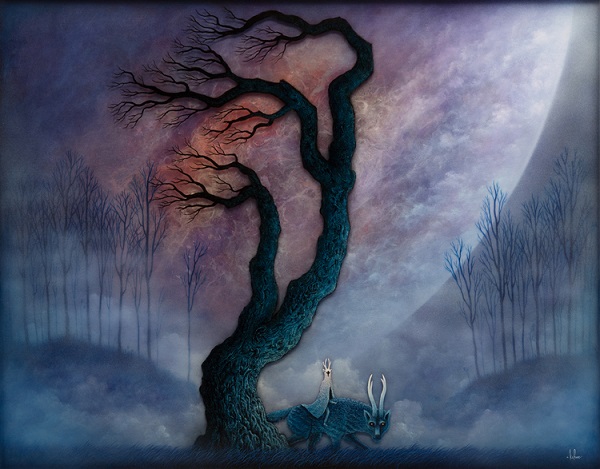 Patrol Of The Dusk Warden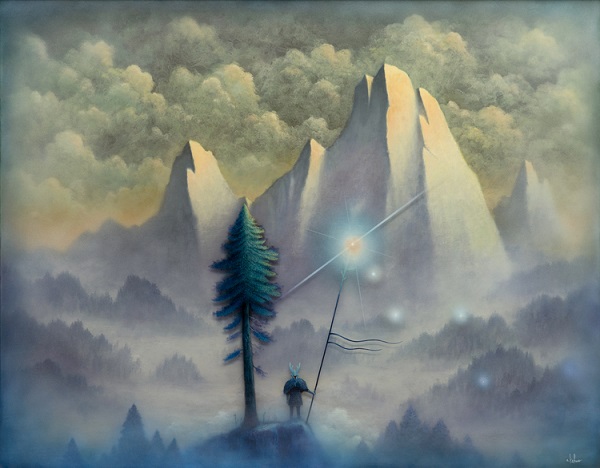 Illuminating Lands Of Shadow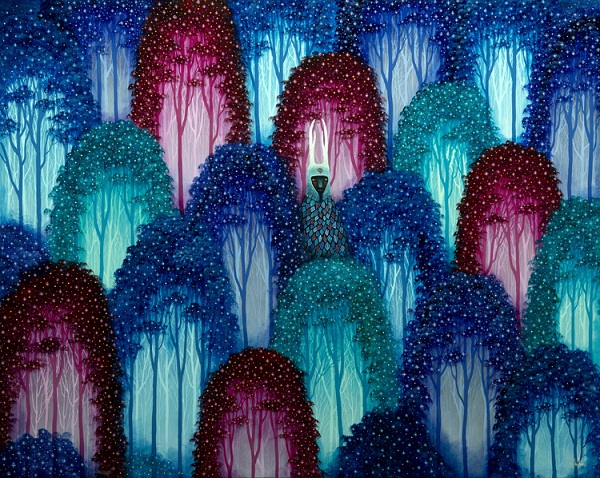 Subject To Wonder

Exhibition Dates:
October 21- October 31, 2016
Australian native Lucy Hardie weaves romantic scenes, a place in between worlds not quite beyond the veil. At a young age, Lucy was inspired by her parent's collection of art books on the Old Masters, and started teaching herself to draw from then on. Educated in various forms of art such egg tempera and illustration, Lucy Hardie moved to the fine art realm when she began to evolve out of her more simple magazine illustrations into her more detailed, present day drawings.
"I'm interested in evoking an otherworldly experience through my work, one that touches on what it means to be human, irrespective of time or place. There's something so wonderful about being carried away by a beautiful song or a piece of art. Time is suspended in these moments, and suddenly beauty, wonder and awe takes over. These are the kind of momentary experiences I aspire for my work to illicit in viewers." ∼Lucy Hardie
Hundreds of tiny dots and thousands of tiny lines are carefully placed on paper, sometimes accented with gold leaf, to create intricate nude figures encircled with smoke and caressed by flower petals. Now based in Melbourne, Lucy Hardie uses ink and pen to make extensively involved white and black drawings reminiscent of vintage photos. Lucy is premiering "The Space Between" for Outre Gallery's Small Wall Project show this month .
The Weaver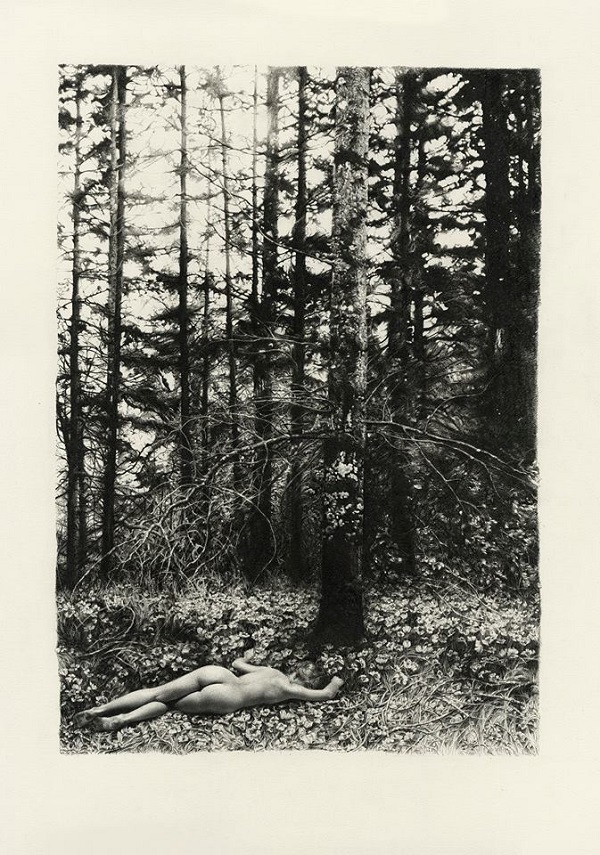 Devotion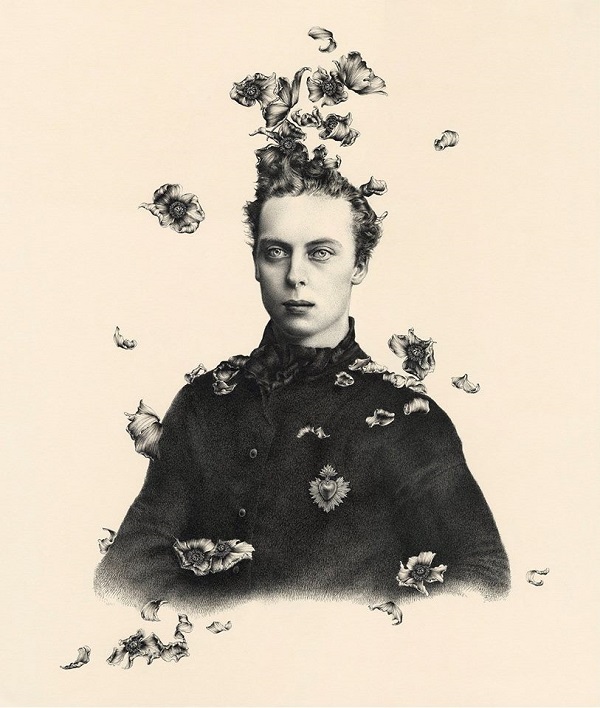 The Protector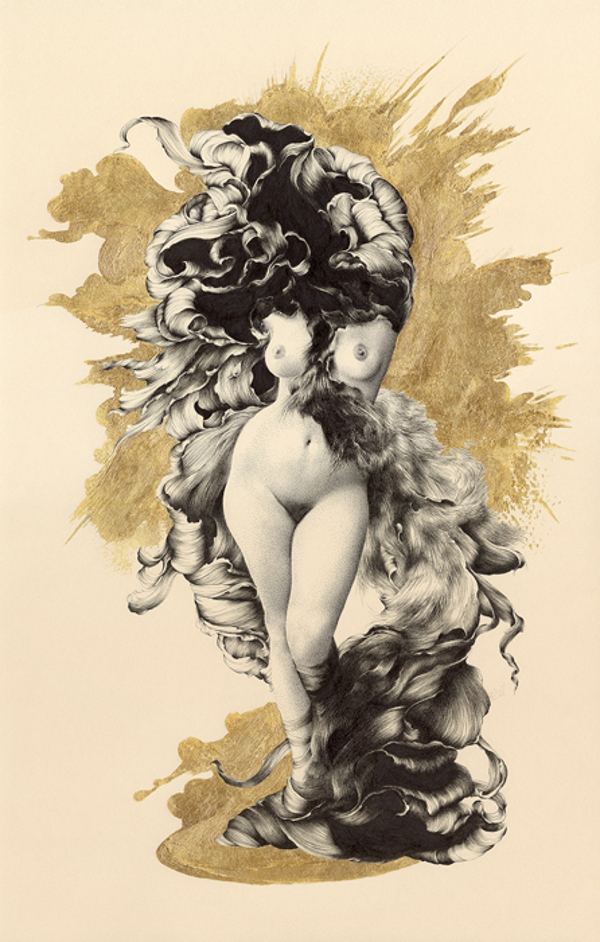 What is Your Original Face?
Save
Save