Vibrant colors spill over wood panels as relevant narratives leave viewers wandering through a multitude of details.  Bursts of inspiration launch curiosity and interpretation as we look on at these painted moments… this is the work of Elena Karavodin. Join Distinction Gallery as they proudly present the opening of Elena Karavodin's solo exhibition 'Renegade', this Saturday, March 9th with live music by Amanda Portela and Kenny Hill, ArtHatch open studios, Stone Beer, and BK Cellars wine!
My show highlights a variety of vignettes focusing on women in control, going against the grain, and exposing their own desires and vulnerabilities. I paint loose with bright colors. I love telling stories with all my paintings. This show will challenge the stereotypes of women portrayed in art. My aim is to make people laugh and feel empowered. I will be donating a portion of the proceeds to The Malala Fund, a non-profit organization that aims to provide education to girls around the world in impoverished, prejudiced, and war-torn
areas.

– Elena Karavodin
Elena Karavodin was born in Los Angeles, CA, and raised in Encinitas, CA. Elena is a second-generation U.S. citizen tracing her roots back to the 19th century Russian sculptor M.O. Mikeshin. Surrounded by a family of artists, scientists and engineers, her interests always remained toward the arts. Elena studied classical piano and writing before committing herself to painting. She began her formal art education at Laguna College of Art and Design in Laguna Beach, CA receiving her B.F.A. with an emphasis in Illustration. Soon after college, she apprenticed with several local artists, eventually leaving to pursue her own artistic path.
In 2010, Elena joined the collective of ArtHatch's Studio Artists in Escondido, CA, and contributed as ArtHatch's Gallery Manager for almost 5 years. Elena now works in her home studio, which her and her family built together from the ground up. Her work has been shown in various group exhibitions throughout the United States. Elena lives in San Diego with her family and young son, who's daily discoveries and growth inspire her to push her creative process even further.
Opening Reception:
Saturday, March 9, 2019 | 6-10pm
Exhibition Dates:
March 9- April 6, 2019
The opening reception includes live music, ArtHatch open studios, Stone Beer, and BK Cellars wine.
317 E Grand Ave
Escondido CA 92025
"I have been watching Elena's work evolve for many years. She has seamlessly transitioned from painting beautiful flowers to taking on some of today's darkest world events. I can truly see her indomitable passion come through these works. I recently acquired a very different piece by her – titled "Change My Mind" . It's of a pissed off bride smoking a cigarette and drinking a glass of champagne in a graffiti filled bathroom. Everyday I look at this piece and smile. Elena created a show of these 'aha' moments, ones that make us smile, laugh, scream, or cry. So far, I am thrilled with the emotional body of work she has created."

– Melissa Walker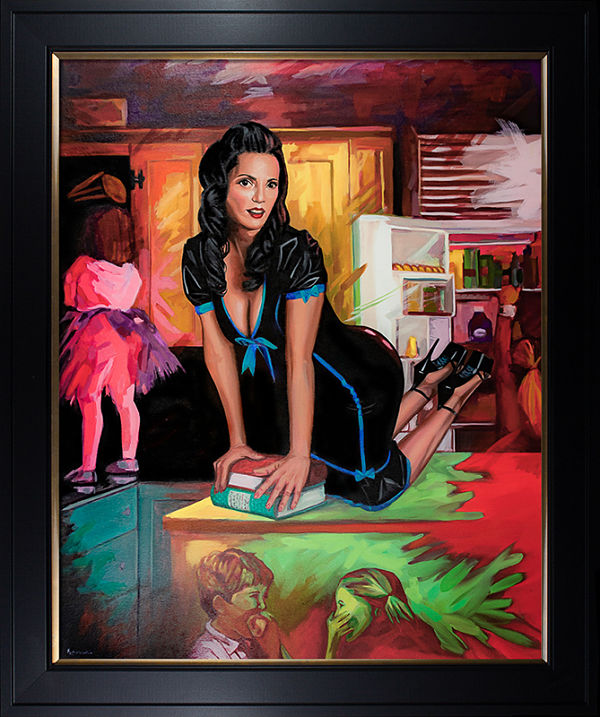 "Playboy Mommy"
Oil on Wood
30 x 24 inches, Framed to 35.25 x 29.25 inches
"Beneath The surface"
Oil on Panel
16 x 20 inches, Framed to 22.5 x 26.75 inches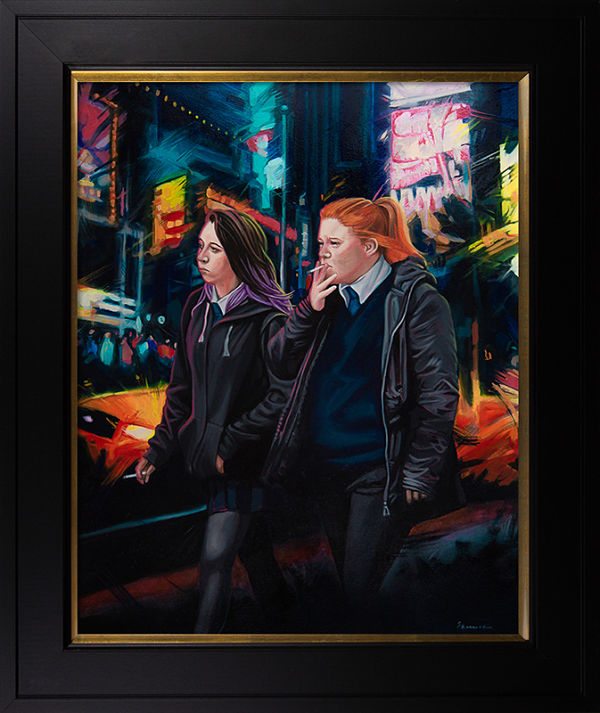 "Study Hall"
Oil on Wood
20 x 16 inches, Framed to 25.25 x 21.5 inches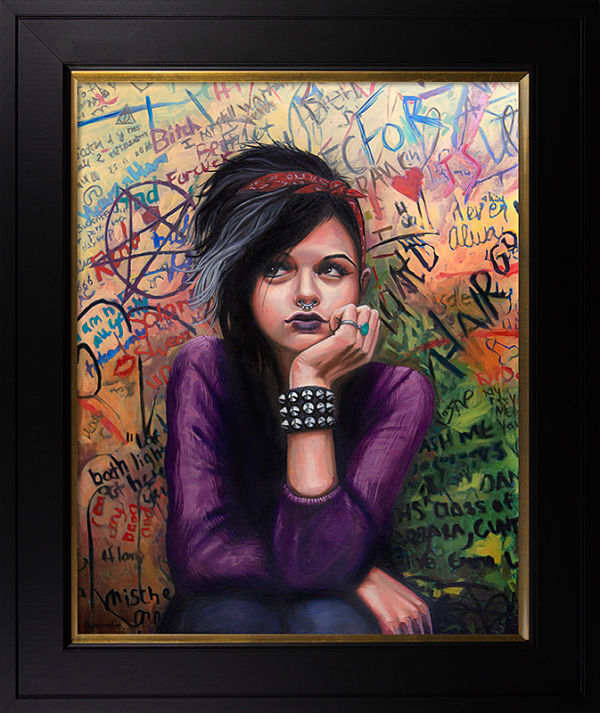 "Rumors"
Oil on Wood
20 x 16 inches, Framed to 25.25 x 21.5 inches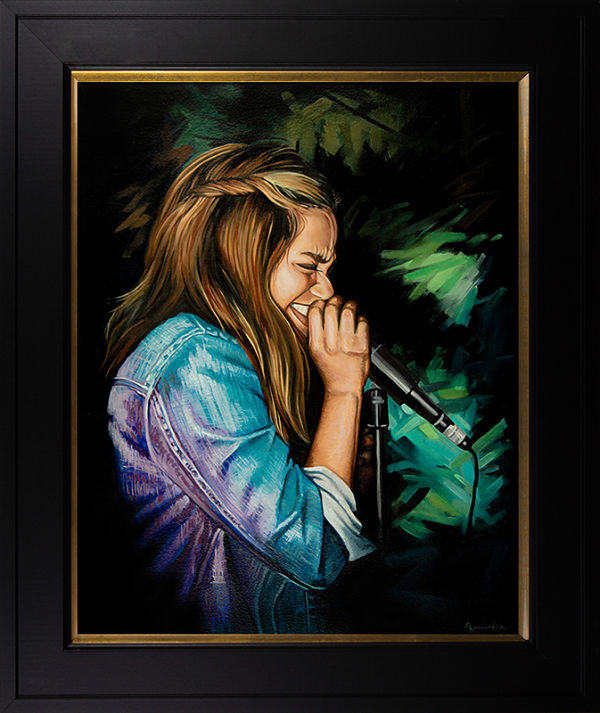 "Renegade"
Oil on Wood
20 x 16 inches, Framed to 25.25 x 21.5 inches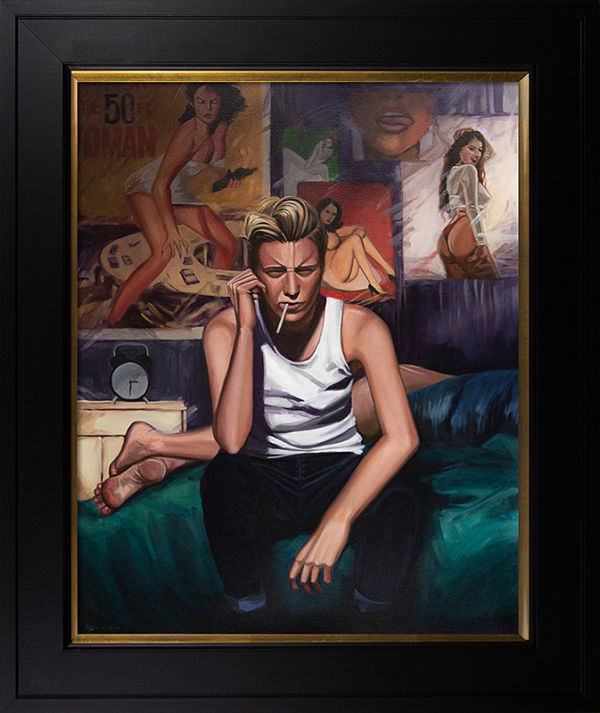 "Old Vices"
Oil on Wood
20 x 16 inches, Framed to 25.25 x 21.5 inches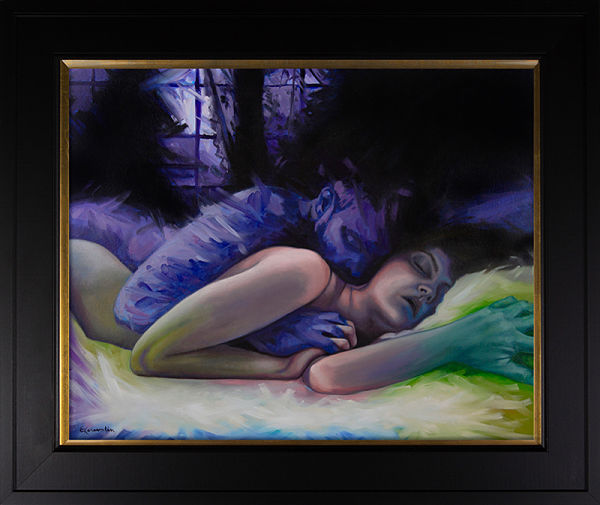 "In Dreams"
Oil on Wood
16 x 20 inches, Framed to 21.5 x 25.25 inches
"I'm a Mother!"
Oil on Wood
20 x 16 inches, Framed to 25.25 x 21.5 inches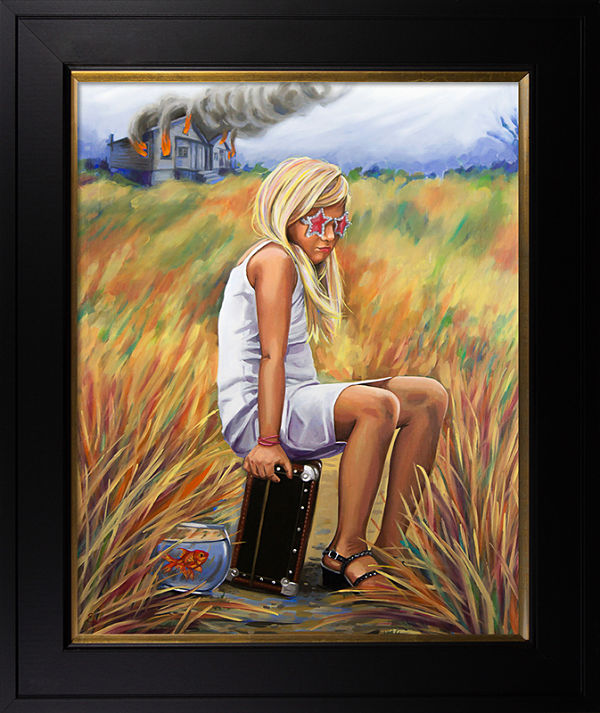 "I did a bad thing…"
Oil on Wood
20 x 16 inches, Framed to 25.25 x 21.5 inches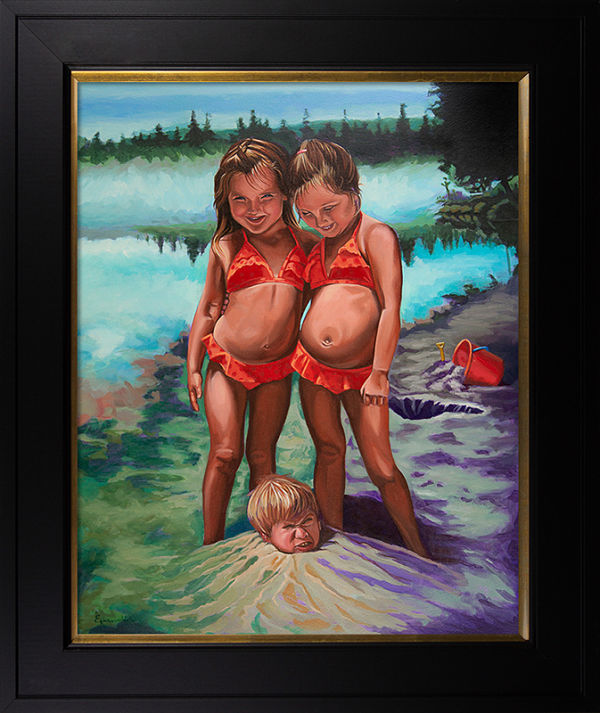 "Fair is Fair"
Oil on Wood
20 x 16 inches, Framed to 25.25 inches x 21.5 inches