When our friends at Modern Eden Gallery brought to our attention a wonderful review of their current exhibition, Emilio Villalba's Symbols of Death, Signs of Life, we were more than happy to share. Below we present 'Emilio Villalba: Modernist Recoding by Tamsin Smith'.  Enjoy!
Modern Eden Gallery Press: In this new body of work, Emilio Villalba explores interior spaces, personal artifacts, and symbols of his life. Further abstraction of the figure results into a collection of composite forms, flashes of memory, that when combined, read like intricate narratives, telling the story of their maker—telling the life of the artist. This recognizable departure from the figure, shows the artists range and reveals his passion for the abstract. While referencing works by Velasquez, Picasso, and Philip Guston, the artist has founded a unique method for communicating representational narratives through a combination of rendered and abstract forms.
Exhibition Dates:
November 10–December 1, 2018
Modern Eden Gallery
801 Greenwich Street @ Mason and Columbus | San Francisco, CA
For press inquiries or sales, please contact Gallery Director Kim Larson kim@moderneden.com
General Information: Please email info@moderneden.com | www.moderneden.com
By Tamsin Smith
Known for his arresting portraiture, Emilio Villalba has blazed a quick and dynamic path in art communities from California to New York and across the globe with multiple exhibitions and an active and impressive social media following. He returns to Modern Eden Gallery in San Francisco for his forth solo show "Symbols of Death. Signs of Life", which runs from November 10 through December 1, 2018. In this exhibition, audiences will find signature remnants of the work for which Villalba has become known disassembled and placed in entirely new context.
Villalba's earlier painting captured pale faces emerging from pitch black with features (particularly eyes and lips) refracting and repeating in multiple directions. Akin to a high renaissance drama sped-up in motion picture freeze frames spliced and diced for maximum intrigue. More recently, he's repurposed primarily eyes and lips in a monochromatic field to form figures suggesting bodies, bouquets, and other classical motifs. For this show, Villalba pushes forward in art history to play in the fields of Surrealism, Dada, Punk, and Pop.  It's as though Villalba is advancing the reel to illustrate the influences that have comprised his artistic DNA, even as he re-engineers these "genetic elements" to create a fresh and original body of work.
Art is not only an act of craft; it's one of choice. The "readymade" objects that Villalba selects from his day-to-day surroundings and represents either with dutiful exactitude or loose gesture all demonstrate choices. Even if one views the disparate objects — rolled dollar bills, house plants, lipstick tubes, his dog in a doorway, a Macintosh computer, the bed of Frida Kahlo, the face of Diego Velazquez – as a stream of consciousness, the decision to render them transforms their images into ideas, i.e. symbols and signs. By placing a spilled beer bottle within his consciousness (and thus ours), the artist imbues it with new meaning. The process of discovery begins with him and ends in us.  The objects are both fully actual and fully of the imagination. They suggest a novel way of ordering life. Isn't this ultimately a way of defining the act of creation through art making? The abstract and the concrete resolved as a capable whole.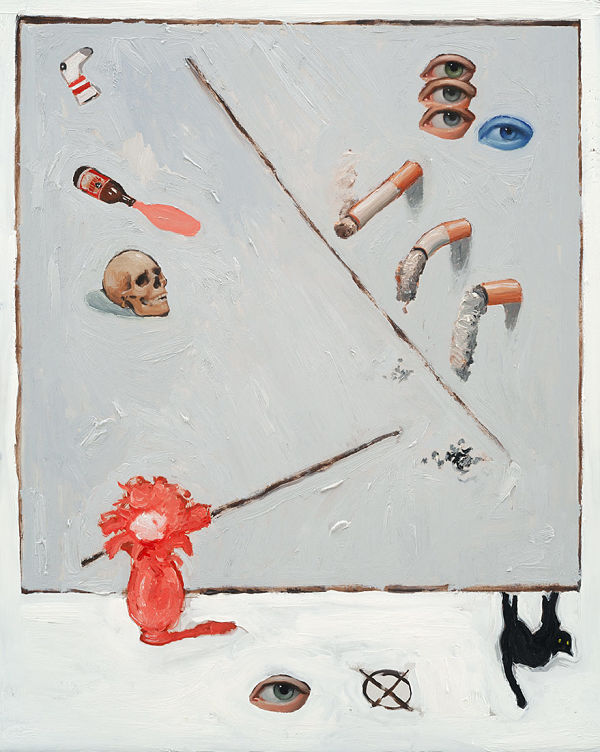 Emilio Villaba, Symbols of Death (Signs of Life), Oil on Panel, 16×20 inches, 2018.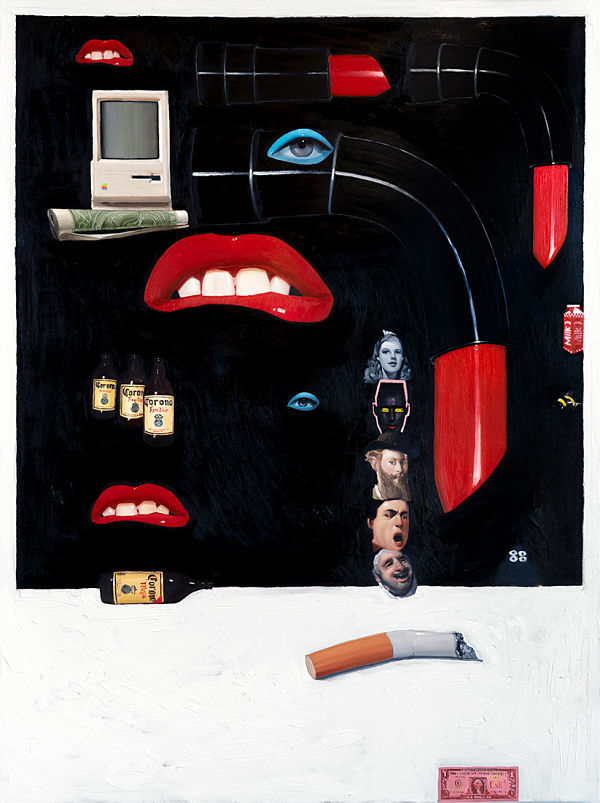 Emilio Villalba Down the Line (For Your Pleasure), Oil on Panel, 36×48 inches, 2018.
And how do the masses display creativity in this digital day and age? Through live photo and video sharing apps like Instagram, where anyone can avail themselves of filters that alter with a roseate effect or by adding stickers or assembling a collage of images. Villalba plays with this menu of manipulations, testing different background color blocks and often turns his canvases into approximations of a retro Polaroid snapshot, some of which have a little imprint near the bottom to show where one's thumb would go when holding the result out for view. The omnipresent eye reminds us we are watching, as we are being seen, but it doesn't feel like social criticism. Villalba's skill is not only technical mastery, but an ability to make such gentle poking feel fun.  We are all in on the joke about the ageless desire to be both of one's time and also above it, with one foot in what we miss of the past and the other in what we want from the future.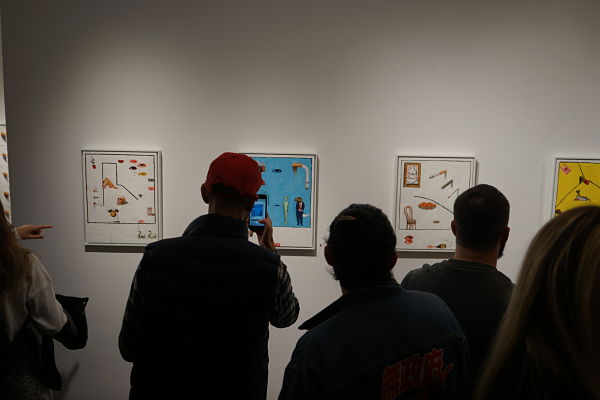 Opening Party, Photo Credit Modern Eden Gallery
This tension between nostalgia and irony resides within the painted vignettes themselves. The oddity of juxtaposing items of "high" and "low" import makes Villalba's work both tangible and cerebral. Villalba is stretching past pioneers like Philip Guston towards his own unique visual language. It's an exploration whose effect lingers. The sequencing of lit cigarettes in various stages of completion allows the artist to return to the same subject anew in the way still life painters return to the same scene during different times of the day as the light shifts to reveal previously unseen detail. Villalba seems to be using this imagery as a prompt, much in the way that a musician or poet will work from a hook or a poet widens out the possibilities of a single word or memory. The poet Wallace Stevens uses the same technique in "13 Ways of Looking at a Blackbird".
These compositions speak to the power of narrative and metaphor in nourishing an artist's visual conversation with himself and his guest-audiences. There is a "breaking through" sensation to Villalba current line-up. His love of the way paint moves presents as an almost musical sensation.  Like a drummer establishing an opening beat, Villalba seems to be gathering energy, loosening the reins, and warming up to gallop towards some fresh horizon. As with an eye watching a cigarette weighted with ash, anticipation is in the air.
Tamsin Smith is a published poet, essayist, and creative strategist. She brings to life good ideas that matter to the world, and is known as the innovator behind pioneering campaigns like (RED). Her verse collections include: Word Cave (Risk Press) and Between First and Second Sleep (FMSBW).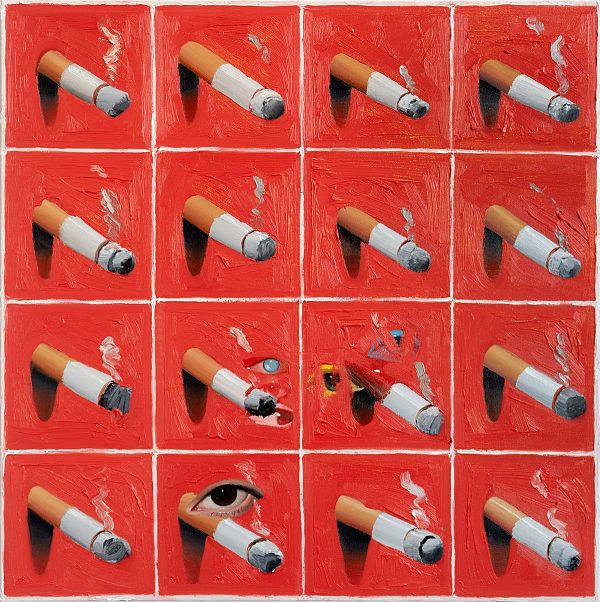 Emilio Villalba, Lost Days on the Grid, oil on canvas 30×30 inches, 2018.
Emilio Villalba, Me and Lou (Studio View), Oil on Panel, 38×48 inces, 2018.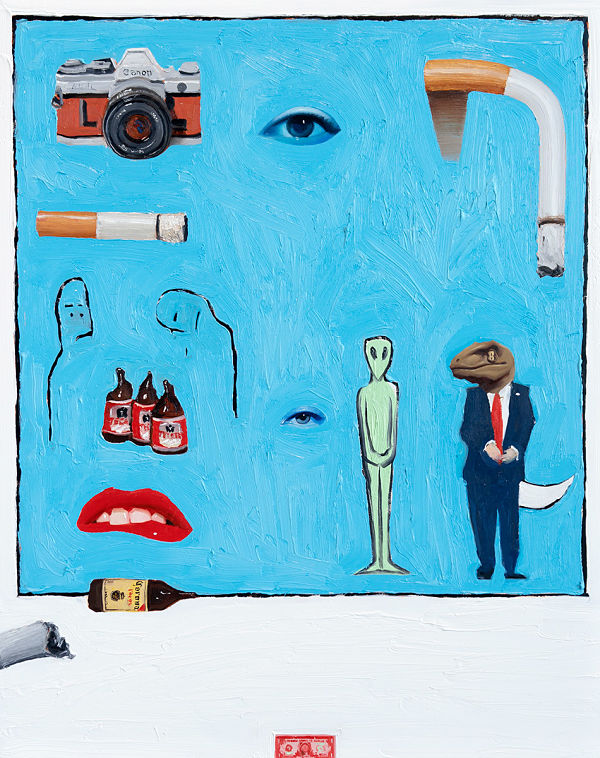 Emilio Villalba, The American Spirit, Oil on Panel, 16×20 inches, 2018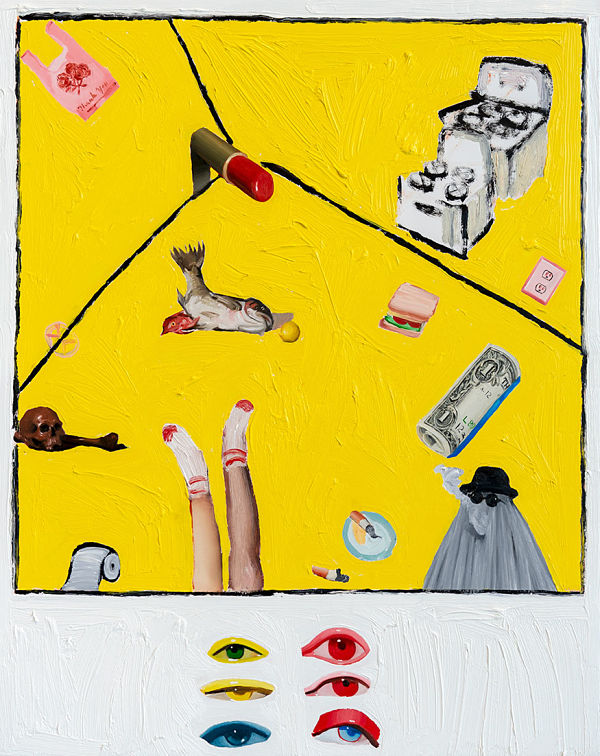 Emilio Villalba, Jason's Room, Oil on Panel, 16×20 inches, 2018.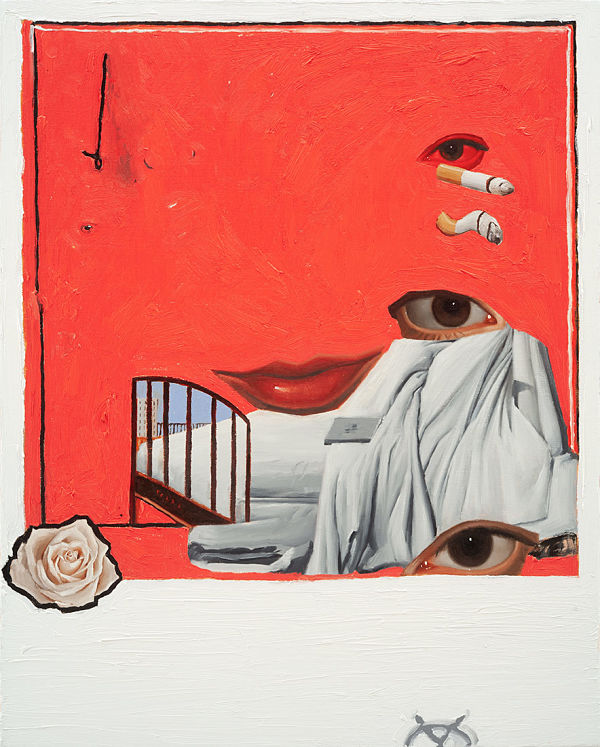 Emilio Villalba, Money, Love and Death, 24×30 inches, 2018.