In an opening reception on November 30th, Distinction Gallery proudly presents Jana Brike's highly anticipated exhibition "Sea of Change".  Immersed with poignant narratives, this divine new series -eight large-scale pieces, ranging in size from 6 feet high by 8.5 feet long to 6 feet high by 11.5 feet long- will be on display at the San Diego Art Institute for viewers to marvel and enjoy. Since this particular exhibit was a commission, the paintings are not for sale. However, Limited Edition prints and pre-order books will be available for those interested.
I had the honor of interviewing Jana, as well as art collector Ken Hakuta, to get further insight into Sea of Change and the emotionality and passion of obtaining art.
Gallery Director – Melissa Inez Walker:
"It has been a true treat to work on this exhibition, both with Jana, the collector, and many other gallery owners as the exhibition will travel. This is the most thought provoking and powerful body of works Jana has created to date.  It has truly been an honor to watch her push her limits in both her subject matter and scale"
Photographs by Will Gibson.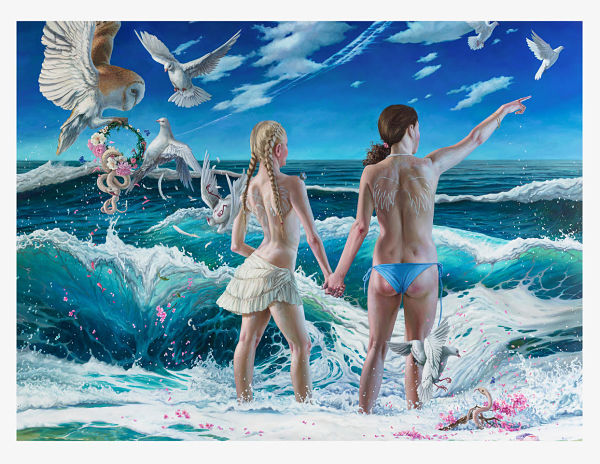 Jana Brike was born in year 1980 in Riga, Latvia. She has studied academical painting in the Art Academy of Latvia and received M.A. degree in year 2005. Her work has been exhibited internationally in professional venues since 1996 while she was still a young teenager, and since then she has had 13 solo exhibitions and nearly 100 other projects and group exhibitions all over the world. Her main interest is visual art with a strong narrative and depiction of a figure, mostly using the traditional medium of oil painting on canvas. She has also explored other mediums like drawing, animation, mixed media sculpture, installation and digital art.
The main focus of Jana Brike's art is the internal space and state of a human soul – dreams, longing, love, pain, the vast range of emotions that human condition offers and the transcendence of them all, the growing up and self-discovery. Her work is her poetic visual auto-biography. Jana Brike has created 13 solo exhibitions and been part of nearly 100 other projects and group exhibitions in established and emerging galleries from Europe to America, to Australia and Asia for over 15 years.
Jana Brike "Sea of Change"
Distinction Gallery, SDAI, and Leon Gallery International
November 24, 2018  – January 6, 2019
The opening reception with Jana will be held at the San Diego Art Institute (aka SDAI) November 30, 2018 | 6-8pm, $5 admission.
1439 El Prado, San Diego, CA 92101 619-236-0011
Interview with Jana Brike
With beautiful themes of childhood, adolescence, curiosity, and innocence of exploration and anecdote, what is the driving force to each of your paintings?
The driving force is the wish to make sense of the human experience, of human condition, of what it all means, this thing called life. It is also a wish to transcend, transform some of my most difficult darker emotional experiences, feelings and thoughts – including heartbreak, the sense of not belonging, confusion, fear, and pain. There is, of course, place for pure joy of living, for playfulness, light. For me it's all there. But the darker part gets transformed in the long painting process, which often lasts over many months.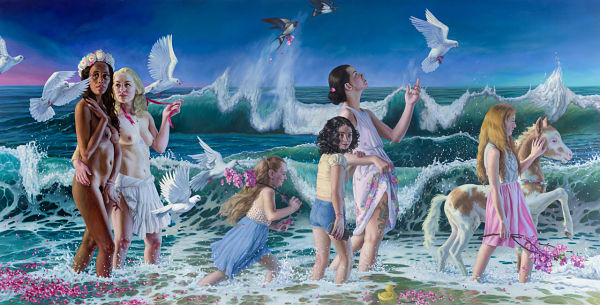 Your body of work presents compelling narratives that feel mysterious enough for viewers to draw upon their own ideas and interpretations. What do you hope they will experience when looking at your work?
I personally am bored by artworks that try to put ready-made ideas in my head directly; it is the function of ads rather. An artwork, however, should invite to build your own meaning from your own experiences, based on shared collective codes and individual truths alike, and it's the beauty and magic of it. What I hope is, to create work that is enticing enough as to make people stop and feel, open up emotionally to what is usually locked up within themselves, open up to past emotional experiences, to dreams about future, to the feeling and deep sense of what it means to be human, to be a woman.
Tell us about something in your studio that you can't live without.
Good, natural light is a must. Then, I have a sort of a personal altar, a meditation space with candles and some objects sacred to me. It is important for me to create a sort of sacral space when I work, an opening in the space-time that is out of the practicality of the daily life.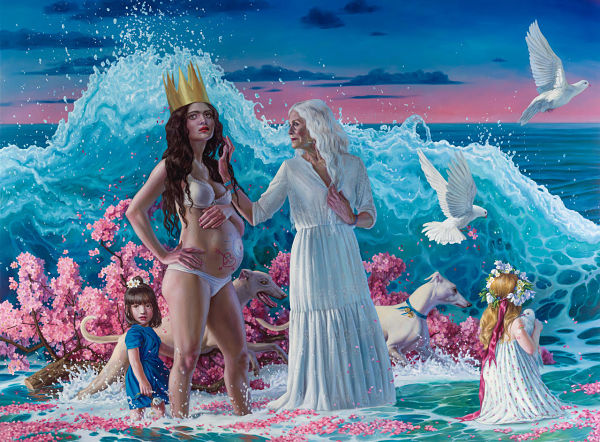 How has your creative vision changed or evolved over time?
As much as I have as a human, and I have changed very much! Sometimes when I see my older work it feels as if it has been made by a different person altogether, and in many ways it's true. I think I have become much more aware of what I do and why, what my work means to me, much less dependent on external validation. My characters have grown older, wiser and more aware, too.
As "Sea of Change" is a commission, in what ways did you approach this exhibition differently?
It was a very special commission, where I was very much trusted and left free to express and explore what I wanted. So I could create work as ambitious as I wished and could timewise, without worrying what will happen to the paintings afterwards. That's a dream come true for an artist.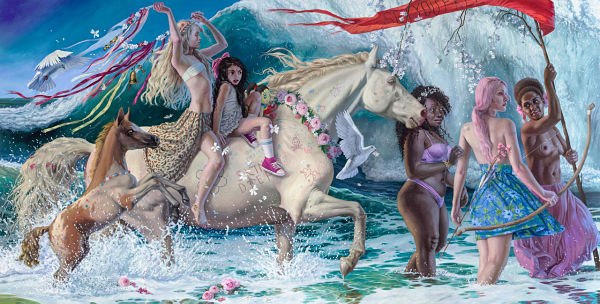 You depict subjects exploring the world around them, often embracing it on an emotional level. Will you describe a place that has become relevant to your own happiness or even to the creation of your artwork?
For most of my life, real life places, even home, has had very little importance to me. I was always concerned with internal landscapes way more, and the landscapes in my art symbolize it rather than any particular place on earth. I always sided with the thought that one's home is where one's heart is, and my heart was with me always. I am still that kind of person, but I see much more value and importance in manifesting in physical reality what is innermost sacred to you personally, through creating, building your own personal little paradise into real life as much as possible, as a life's purpose of a sort. I have a special home now, and it is relevant to my happiness and work, but at the same time, I would rebuild it anytime in a different place and way, if life took me into different direction.
Which of your own works is most sacred to you, and why?
I can't and never could single out one piece of my work over others; they all and each of them have a relevant place in my story. I tend to not think in terms of hierarchy about almost anything in life really; rather it's closeness and relevance to me. All of my work has a piece of me in it, an aspect of me. But closer definitely is always the latest series, or the one I'm working at the moment.
Interview with Ken Hakuta
What was the first piece you acquired?
The first piece of art I acquired at an auction was a Japanese Ukiyoe print, in the late 1970's. Actually, many years before that, I had bought a wonderful piece of Yi Dynasty Korean pottery. As a child, I collected stamps, but I traded all my stamps for the Korean pottery mentioned before.
Describe the conjunction between 'viewing artwork', 'hunting it', and the pleasure of 'ownership'.
I am a quick viewer of art. I go through museums quite fast. But I decide what I like very quickly, without consulting anyone. I just decide. Hunting down an artwork is fun, leading to buying the work. I don't get too much pleasure from ownership. I derive great pleasure from knowing that a work I acquired will important enough to be in a museum someday and I work towards that goal. I loathe self important collectors who think they are important, and there is an endless supply of them, as you know.
What are the main influences for your personal collection? Is there an emotionality involved in your preferences?
Looking at what I have purchased, I seem to like the spiritual object. From Shaker furniture and objects, tribal ritual objects such as the Ifugao Bululs of Northern Luzon Philippines. I also seem to like works that are socially provocative and address important issues, such as Jana's paintings, which blow me away.
I believe there is quite a sense of pride in owning original artworks that is elemental to collecting. Will you tell us how it feels for you? Is it ritualistic at all?
Of course, I always want to own original, if that is your question. Getting as close as possible to the artist's original intention makes the work important.
Oh yes, I agree! So one more question before we close… what's the best advice anyone has given you in terms of art collecting, and would you impart the same to someone else? 
I don't recall any piece of important advice anyone has given me. I watched my father collect with great passion, and although he didn't tell me how to collect, watching is learning. When I get interested in an artist or subject, I collect in depth so that museums can base their exhibition around what I have collected. That is my hobby.
And what a good one it is. Thank you, Ken.