If you're feeling the need for inspiration and positive synergy, Haven Gallery has a wonderful lineup of shows sure to nourish your artistic soul and leave you feeling washed with creative comfort. Beautifully curated, come along on the journey as they invite you to join them in celebration of Sean Mahan, "A Shadow of the Future", Mark Garro, "MMXX", Raúl Guerra, "The Lonely Ones", and Larysa Bernhardt, "Quaintrelle". With an arresting sense of extraordinary, these collections express the dynamic voice and interpretations of each artist's personal vision.
If that wasn't enough, Little Big V, featuring a collection of works measuring 8 × 8 inches and smaller, is here just in time for the holidays!
Sean Mahan | Mark Garro | Raúl Guerra | Larysa Bernhardt | Little Big V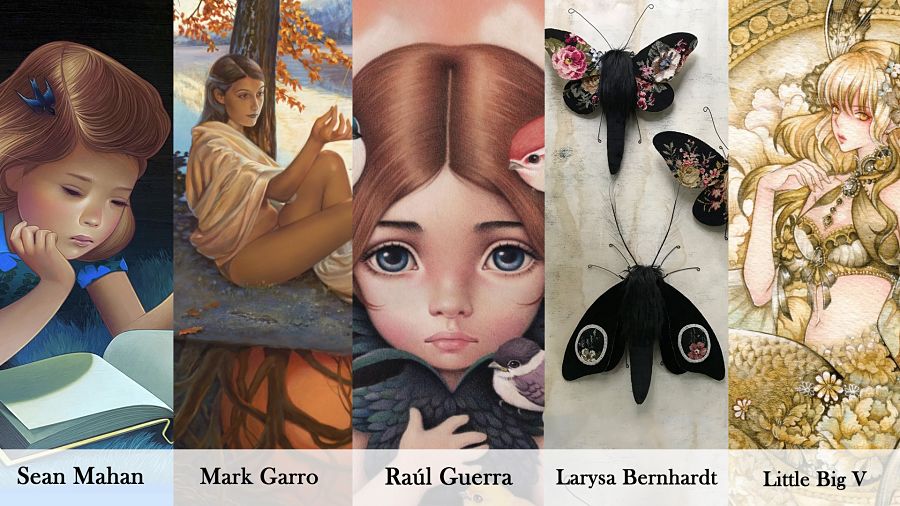 Exhibition Dates: December 12, 2020 – January 10, 2021
Haven Gallery
155 Main St., | The Carriage House Square | Northport, NY 11768
For additional information and images, please contact Erica Berkowitz at [email protected]
** Please note there will not be an opening reception. Please visit these exhibitions during normal business hours Wednesday – Sunday, 12:30 – 6 pm. **
Haven Gallery is pleased to present Florida based artist Sean Mahan for his first solo show at the gallery entitled, "A Shadow of the Future". "A Shadow of the Future" features ten new acrylic paintings that showcase his iconic, stylized portraits of children that echo back to the fifties and sixties in design, fashion and aesthetic. Mahan's work pays homage to the past, specifically in advertising styles, palettes and artistic straightforwardness. His sitters tend to be children, and their compositions, colorful, clean and new, embracing that in which is untouched and genuine.
Mahan describes himself as a "social realist figurative painter". His artwork has emerged from breaking down the conventions of traditional marketing and advertising and through this process he found himself fetishizing objects from the past. Mahan's paintings portray clothing, appliances, patterns, and bold color palettes from notably visual periods as he finds himself drawn to items of that era. Perhaps these items provide a comfort to Mahan, but they also represent many dichotomies such as beauty and functionality. "A Shadow of the Future" goes one step further by exploring the childhood dreams that lingers at the back of all our subconscious minds.
A Shadow of The Future. The sweet and delightful dreams of our childhood are deeply obscured by the looming shadows of the future. They can't seem to exist outside our imaginations, yet we don't let them die. We hold them in the deepest parts of our hearts, hoping to support them back to life. We are coerced by the necessity of our situation into placing the dreams of childhood deep into the background of our attention and they are sometimes lost there for a lifetime. But they lurk in the shadows, driving us to find happiness in their faint expressions — that echo into the future. We look to discover and uncover those dreams in the discarded objects of the past. We revisit old places and objects. And sometimes, unexpectedly find crystalized memories there — sparking our feelings of wonder, delight, and sweetness. This series of paintings explores the embers of our childhood dreams, that quietly glow in the shadows, with the hopes to discover that they are ready to warm us if we were just to add a little firewood.


Sean Mahan
Haven Gallery is honored to present New York based artist Mark Garro for his first solo show at the gallery titled, "MMXX". "MMXX" will consist of eighteen paintings featuring Garro's intense realism and surreal narratives painted with his quintessential trompe l'oeil style. Trompe l'oeil is a French term translated as "trick of the eye" and is a historic technique in art in which painted 2d surfaces give off the impression of three dimensions. In addition to this masterful illusionary technique, Garro creates compositions rich with vivid details, historic properties linked to his upbringing in the 60s, musical motions and graceful homages to the natural world. Garro describes himself as a miniaturist who likes to work big. Each work beholds multiple microcosms nodding to his many influences and passions creating a symphony of sensory opulence.
Garro's paintings are a feast for both the eye and the mind as one ponders and reflects upon the narratives being portrayed. Motifs such as "as above, so below" are wittily constructed and further enhanced by Garro's technical abilities, such as such seen with his tromp l'oeil method and machetes sculpted for creating his own models and props. Each detail represents a world within worlds forcing us to question our own sense of place and scale within our own existence.
After 15 years as a successful Illustrator and cover artist for more than 100 paperbacks in the fantasy genre, Garro has exploded onto the fine art scene, exhibiting his paintings nationally and internationally. His growing collector base eagerly await his next meticulously designed and executed work. A miniaturist who likes to work big, Garro struggles with this clash of sensibilities all the time in order to be as prolific as possible. The work often features classically beautiful figures as cosmological cogs working within the complex mechanisms of the universe. Dynamic motion of familiar shapes morphing and implying other familiar shapes, creating, destroying and re-creating once again in two dimensions but implying four.
A New York-based, free-lance artist, Mark Garro has assembled a diverse portfolio. After obtaining a Bachelor of Fine Art in Illustration from Syracuse University on a full scholarship, Garro worked in a New York City gallery while building his portfolio. Over the next 20 years Garro illustrated book covers for several wildly successful book series. Garro incorporates a deep sense of light, color and realism assuming a unique style that sometimes dwells on the dark side. His heavy emphasis on realistic trompe l'oeil techniques puts Mark's work over the top in terms of space, depth and illusion. His commercial art experience includes cover illustrations for more than 100 popular books and designs for many prestigious clients in the fields of consumer product sales and publishing. In the mid-90's, he completed book cover illustrations for author R.L. Stine's "Ghosts of Fear Street" series. Garro now focuses on fine art projects ranging from a large-scale triptych featuring the imagery of Heaven, Purgatory and Hell, to a museum diorama influenced series of the Four Seasons. In his diminishing spare time, Garro also enjoys painting replicas of Maxfield Parrish original landscapes in miniature and trompe l'oile painting on eggs. A musician and rock-climbing enthusiast, Mark has become a bird and flower fanatic since moving to his Mountain-top home and studio in the Catskills.
Haven Gallery is pleased to present "The Lonely Ones", Guerra's second solo exhibition at the gallery. "The Lonely Ones" will include nine paintings and works on paper that feature the artists quintessentially stylized portraits of children as they gracefully pose à la historic artwork and illustrations. Guerra is a storyteller of the human condition as he thoughtfully paints complex emotions as seen through the eyes of children. They are a heartfelt and thoughtful echo of the youth that remains in all of us always, and a reminder to embrace and recognize this very important part of our adult being.
Each artwork can serve as a refuge of childhood dreams and memoirs where one can find shelter and comfort from the complexities and shadows of a mature reality. His lone sitters are not Solivagants. They are a culmination of emotions and experiences, gazing out of their beautiful landscapes as they evoke feelings of happiness, safety and protection. They are symbols of our pasts and the beautiful echoes of it that live within the hearts and memories of all of us. Guerra creatively portrays this nostalgia within the context of mythology and history, using the powerful and universal force of storytelling to strengthen and expand his connections further.
Each child patiently waits for that bridge to reconnect us to these places and times where we've previously lived, felt and grown, to become who we are today. For we would not be just that without the world as seen through our younger eyes and experiences. Guerra's work strengthens this link of the heart and celebrates its many emotions and labyrinths that make each and everyone of us the unique beings we've become and will continue to be.
Haven Gallery is pleased to present "Quaintrelle", a collection of new work from Larysa Bernhardt and the artist's second solo exhibition at the gallery. "Quaintrelle" will include ten hand sewn moth sculptures crafted by the artist with hand dyed fabrics, vintage textiles and hand embroidered details harking back to the aesthetics and fashions of the Victorian era. As such with the title, this new collection of moths is a culmination of the artists passion dedicated to her own artistry and developed style devoted to making her insect effigies. The art of making something by hand is a nod to the past, before machines and technologies usurped the delicate and fine handwork of artisans and craftsman whose precise and integrity-based handiwork pervaded all forms of creation.
Little Big V
A collection of small works measuring 8 × 8 inches and smaller, just in time for the holidays! Sarah Finnigan, Dewi Plass, Phoenix Chan, Kristin Kwan, Genevive Zacconi, Matt Dangler, Steven Daily, Kane Kokaris, Nom Kinnear King, Ling Ly, Brendon Flynn, Ciou, Sarah Joncas, Howard Lyon, Anne Bachelier, Sophie Wilkins, Adiopocere, Randy Ortiz, Deirdre S Beeman, Kaysha Siemens, Amahi Mori, Laverinne, Katie Gamb, Naoto Hattori, Li Shanmei, Steeven Salvat, Hope Doe, Andi Soto, Zoe Chigi, Alfred Liu, Lucie Schrimpf, Zoe Williams, Valency Genis, Igor Krstic, Jason Limon, Karly Perez, John Lally, David Stoupakis, Zoe Thomas, Valerie Saverie, Sen, Kate Domina, Sui Yumeshima, Joseph Weinreb, Lihao Lu.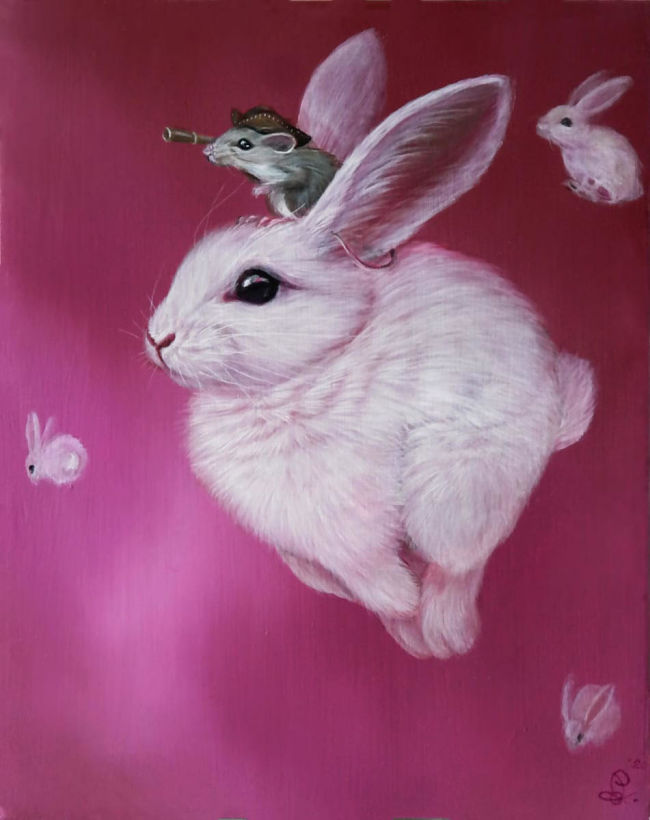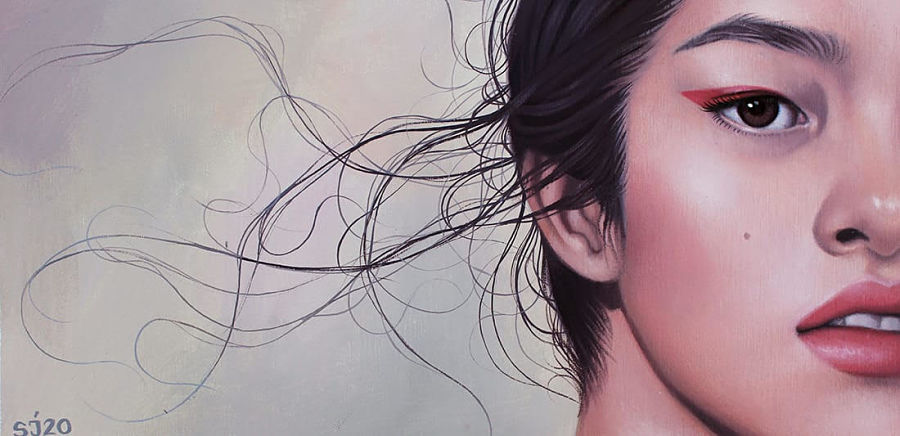 Haven Gallery Social Media Accounts