Bend your sensory faculties to the creative renderings of two distinct artists as Haven Gallery proudly presents the solo exhibitions of Nadezda: "Pins & Petals" and Brian Mashburn: "Dog and Pony". Whether told through the beauty of animals or the nearly haunting voice of the human condition, both collections impart an ethereal, dreamlike experience. Beautifully depicted emotion and artistic narratives seep from the artwork and into the imagination of each viewer, transporting thoughts with infinite possibilities.
Join Haven Gallery in the celebration of Nadezda: "Pins & Petals" and Brian Mashburn: "Dog and Pony", opening Saturday, July 27th!
Nadezda: "Pins & Petals" + Brian Mashburn: "Dog and Pony"
Opening Reception with the Artists:
July 27, 2019 | 6-8pm
Nadezda Artist Talk:
July 27, 2019 | 4pm by RSVP only
Exhibition Dates:
July 27 – August 25, 2019
155 Main St., | The Carriage House Square
Northport, NY 11768
For additional information and images, please contact Erica Berkowitz at info@havenartgallery.com
Nadezda: "Pins & Petals"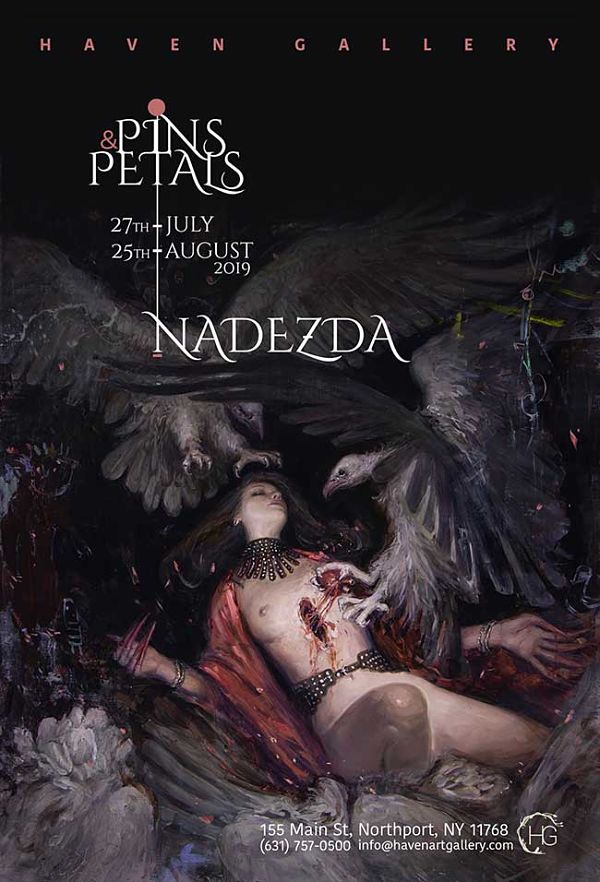 Nadezda [Nad'e:zhda] is a Russia-born artist based in the Bay Area of California. She has contributed to creative projects across various genres – feature film, theatre, illustration and fine art. Heavily influenced by theatrical performance and an extensive background in costume and character design for film, her artwork is primarily about storytelling that portrays the human condition, an intimate window that exposes the inner world of her subjects: "I paint mirrors that reflect not just the body's exterior, but the subconscious hidden inward landscapes of human nature. When people walk by my paintings, I want them to feel as if they walked by a mirror hanging on the wall and stop in their tracks, recognizing the familiar. I want them to see the true reflections of their inner selves – raw, vulnerable, playful, animalistic, vicious, childish, pure, free. They don't have to admit that likeness out loud to others, they don't even have to admit it to themselves, but I hope the emotional hook will pierce their modern-tempered skin and rip a small hole, oozing with their long forgotten desires and dreams."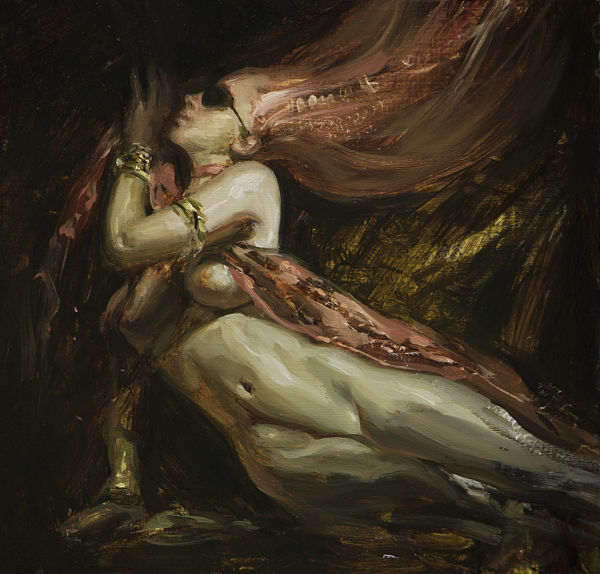 "Promethea", oil on panel, 6 x 6 inches
"Mad Queen", oil on panel, 9 x 12 inches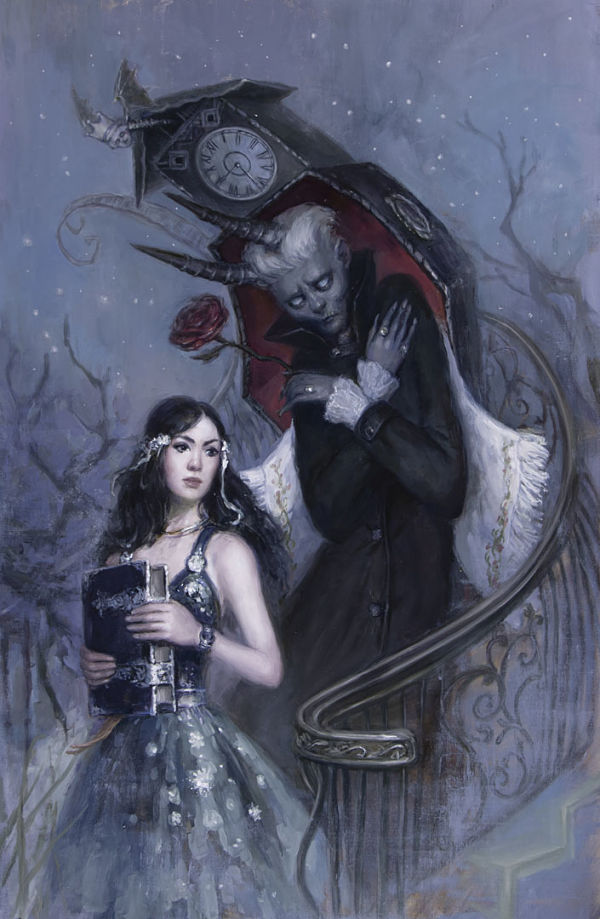 "Rendezvous", oil on panel, 35 x 23 inches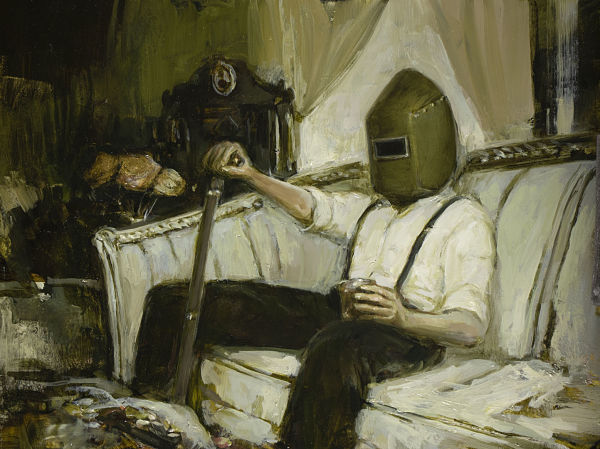 "The Waiting", oil on panel, 9 x 12 inches
"Good Night", oil on panel, 30 x 30 inches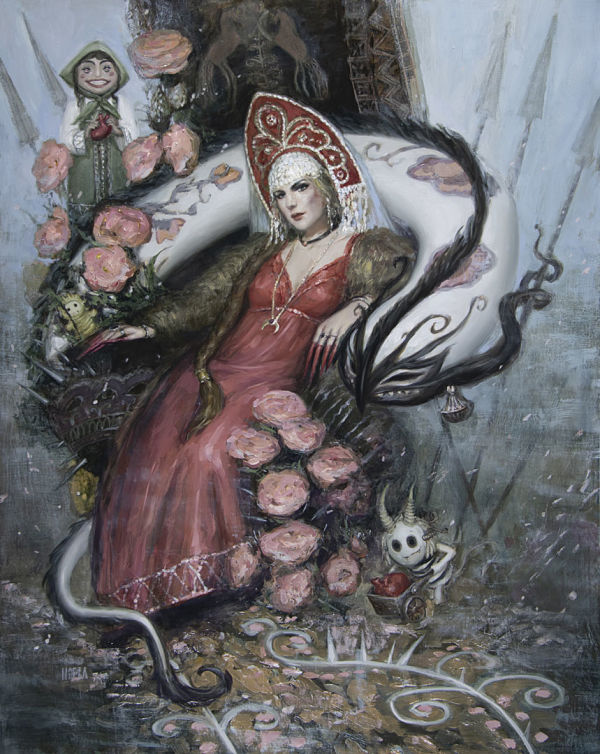 "The Red Maiden", oil on panel, 35 x 28 inches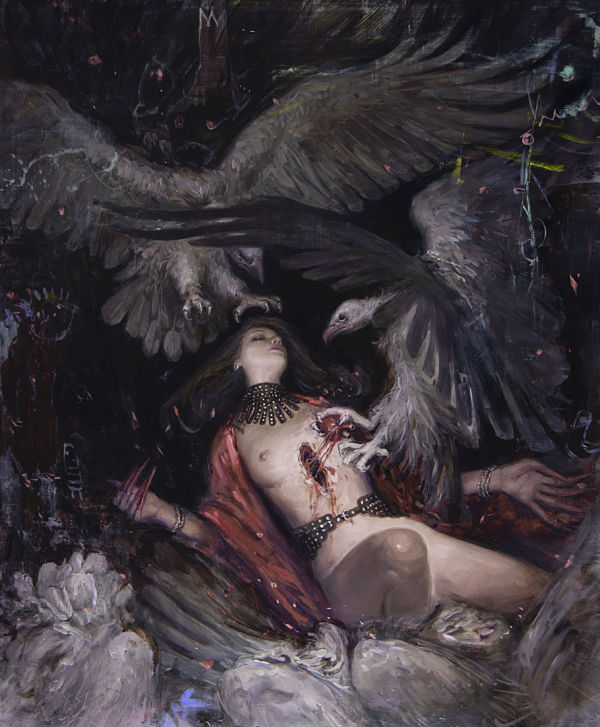 "The Descent", oil on panel, 40 x 33 inches
Brian Mashburn: "Dog and Pony"
Brian Mashburn is an American artist based in the mountains of North Carolina.  He studied at the University of North Carolina at Chapel Hill, receiving a BFA in 2002. Brian's work depicts urban and industrial landscapes in close proximity to the natural world.  Primarily an oil painter, Mashburn uses narrative and meticulous attention to detail to engage the viewer.  His work is informed by everyday observations as well as an interest in history, natural science, and philosophy. Brian lives in Asheville, NC.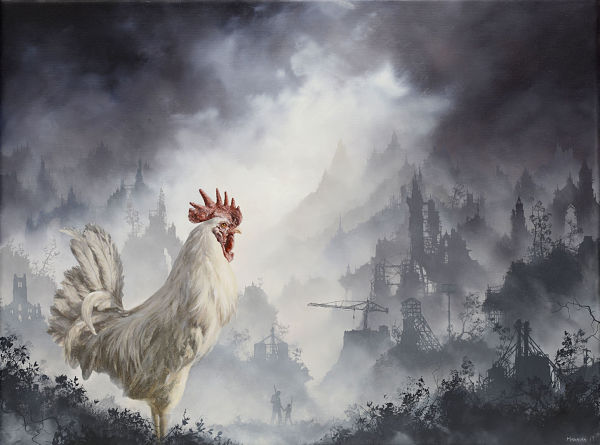 "Leghorn", oil on linen, 16 x 12 inches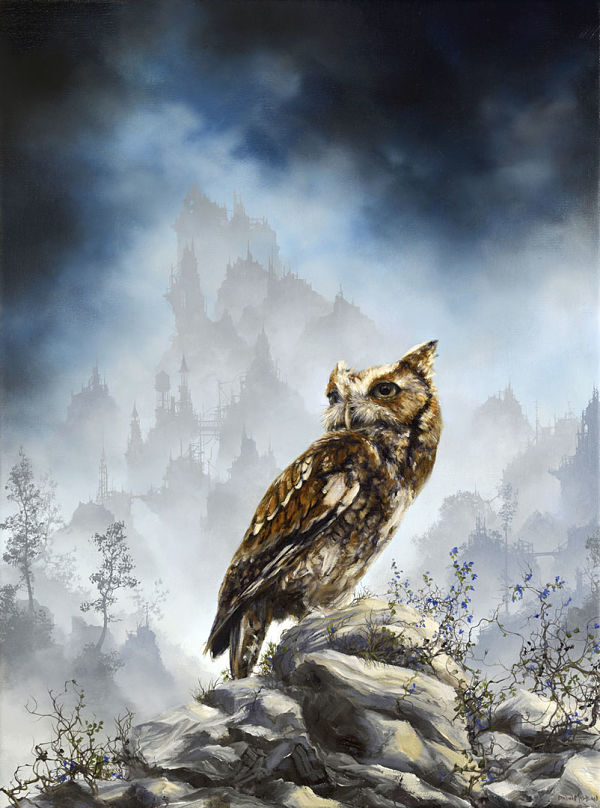 "Red Morph Eastern Screech", oil on linen, 12 x 16 inches
"Lavonia", oil on panel, 11 x 11 inches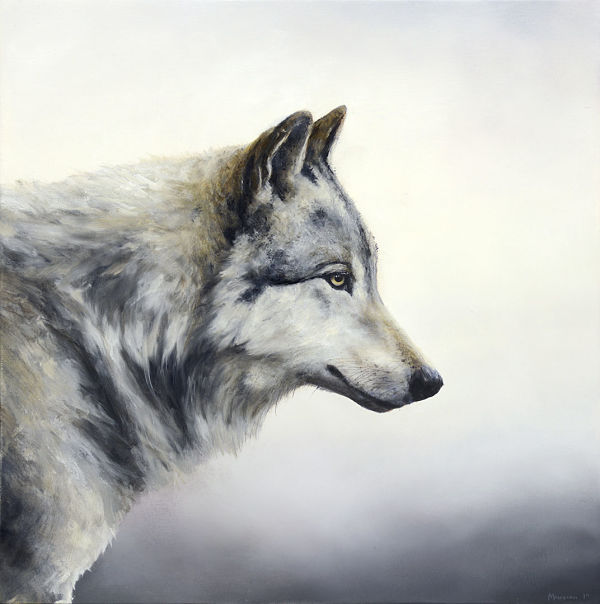 "Blue Norther", oil on panel, 11 x 11 inches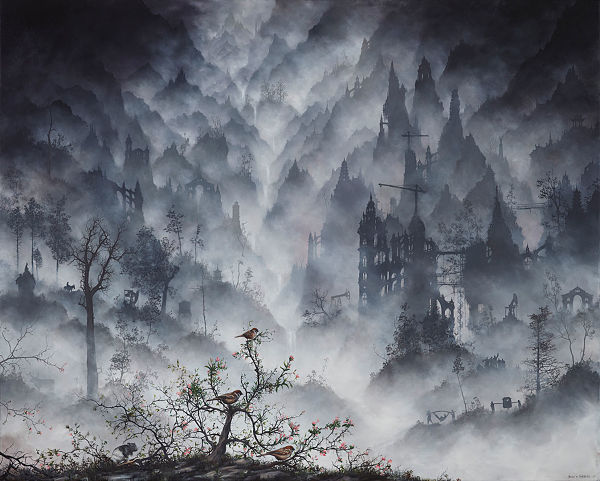 "Great Leap Forward", oil on canvas, 24 x 30 inches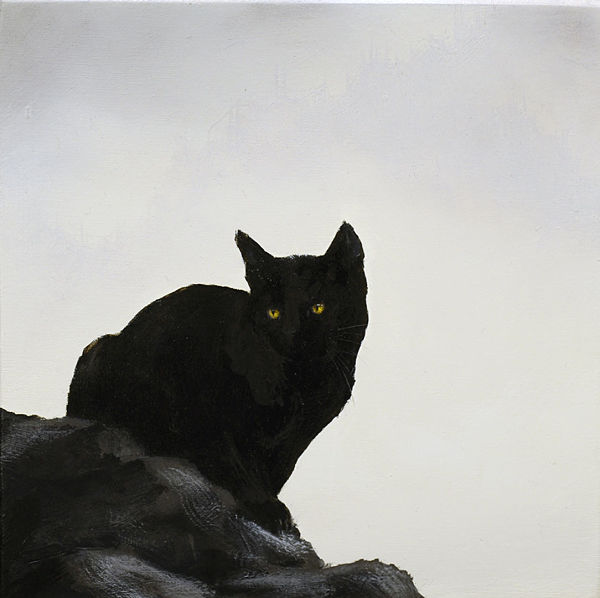 "Fred Study", oil on panel, 5 x 5 inches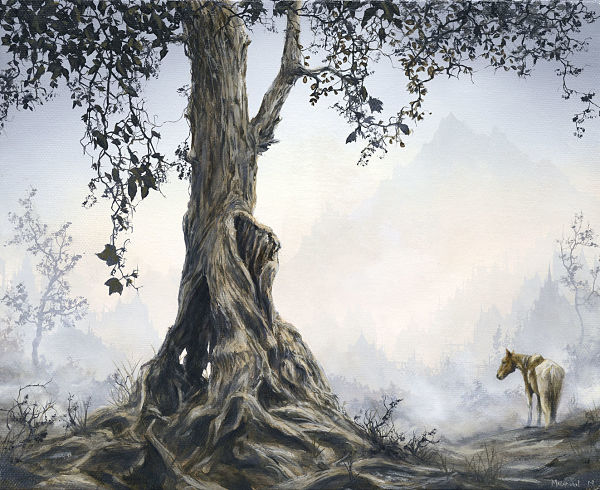 "Old Tree with Horse", oil on canvas, 11 x 9 inches
Nadezda Social Media Accounts
Website | Facebook | Twitter | Instagram
Brian Mashburn Social Media Accounts
Website | Facebook | Instagram
Related Articles
Beautiful Bizarre Magazine Curated Exhibition 'Heart's Blood' @ Haven Gallery
Olga Esther & Annie Stegg Gerard Exhibitions @ Haven Gallery
Brian Mashburn: Atoms and Void + 'PRISMA Collective' @ Arch Enemy Arts
Read more articles by Online Editor Bella Harris