There are some things in life that let our imaginations wander so intensely that we dive head first into the rabbit hole and become completely enveloped by the magic of their existence. If you love these two collections as much as we do, then you'll understand that free fall feeling when looking at the artwork of Olga Esther & Annie Stegg Gerard… because it's positively captivating.
Get enchanted and join Haven Gallery in the celebration of Annie's "Voices of Spring" and Olga's "Once upon a time: a world where many worlds fit", opening Saturday June 22nd! Also on view is Kindra Nikole's beautiful solo exhibition "The Liminal". Be sure to view her work at the gallery and read our exclusive interview!
Opening Reception:
June 22, 2019 | 6-8pm
Exhibition Dates:
June 22 – July 21, 2019
Haven Gallery
155 Main St., | The Carriage House Square
Northport, NY 11768
For additional information and images, please contact Erica Berkowitz at info@havenartgallery.com
Annie Stegg Gerard, "Voices of Spring"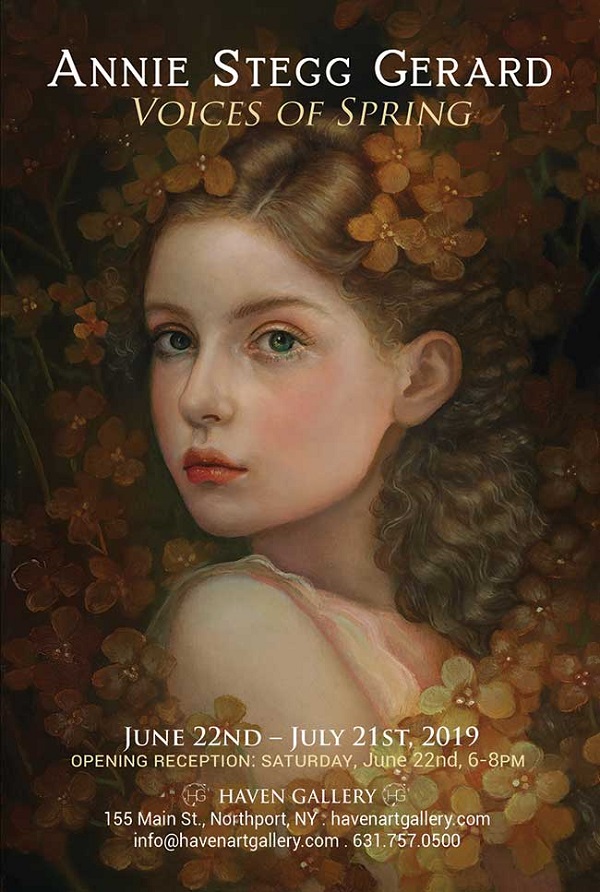 Northport, NY– Haven Gallery is honored to present "Voices of Spring", a solo exhibition of new paintings by Georgia based artist Annie Stegg Gerard. "Voices of Spring" is Stegg Gerard's second solo show with the gallery and will include a collection of paintings than span the artists traditional lush forested realms and enchanting oceanscapes. Each masterfully rendered oil painting will teem with mythological undertones and couple Stegg Gerard's timeless female portraits with animal familiars. Each canvas is skillfully painted with influences and traditions stemming from classically trained and revered artists of the past commingled with the artists own enchanting tales of nostalgia and natural harmony.
A bygone era of nature-centric compositions and attention to detail is found and further expressed through these echoes of historic old masters, specifically of the Rococo and Pre-Raphaelite period. Classical poses coupled with lush landscapes and dreamy compositions create magical tableaus reminding us of the beauty that still exists all around us and the harmony of the natural world. Further, a welcoming narrative harking to the Golden Age of fantasy illustration can also be found in each story brought to life by Stegg Gerard's hand.
ABOUT ANNIE STEGG GERARD
Annie has a special love for the 18th century Rococo painters who have had a large influence on her own method. Inspired by nature, folklore and mythology, her work evokes emotion and imagination in the viewer. She finds inspiration in their imagination, and the dreamlike palette and lively brushwork that combine to create a wonderful atmosphere of enchantment. She believes that they sought to transport us to different worlds and fantastic places though their works. In her own work, known for it's beautiful, enigmatic figures and lively creatures, Annie strives to depict this same transportive effect to the viewer.
Annie has been exhibiting her work for seven years and has done notable publishing work for clients such as Disney, Hasbro, Wizards of the Coast, Easton press, Ballistic Publishing and more. Her work is found in private collections all over the world.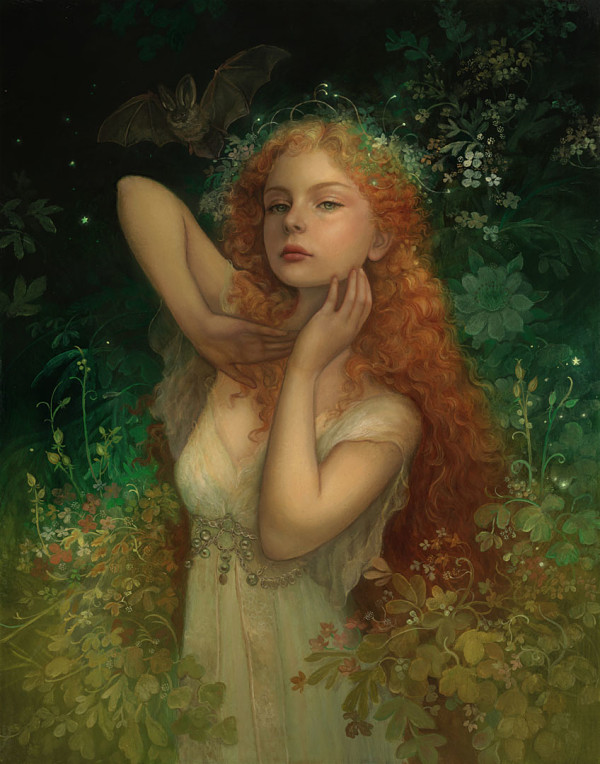 "From Moonlit Rafters", oil, 14 x 11 inches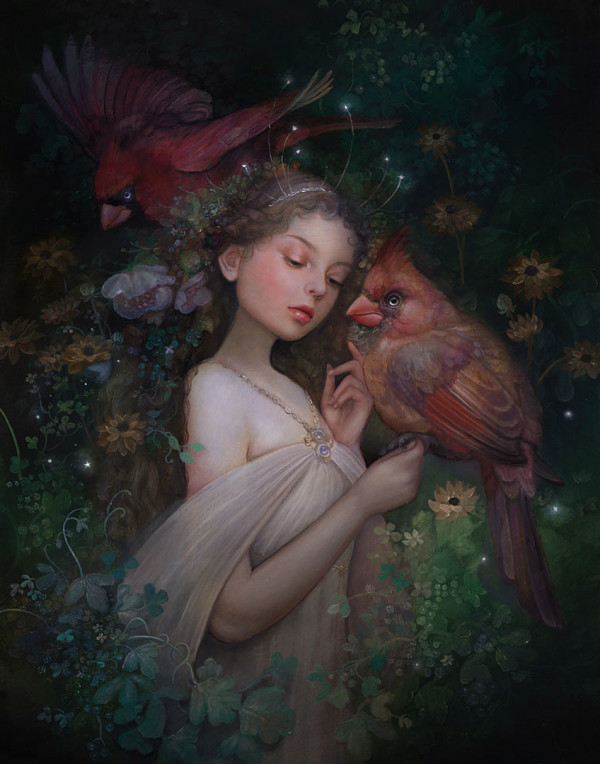 "Quick Hearts", oil, 14 x 11 inches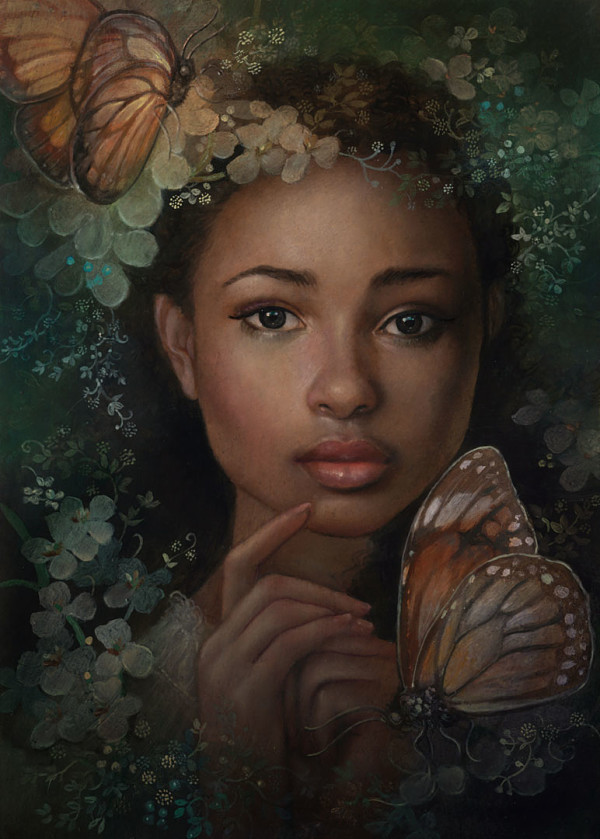 "Forget Me Not", oil, 7 x 5 inches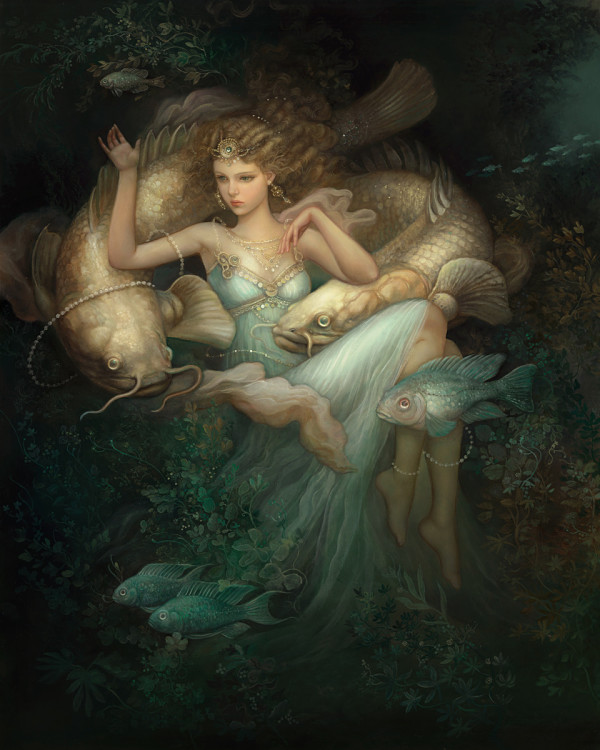 "Caliadne the Naiad", oil, 20 x 16 inches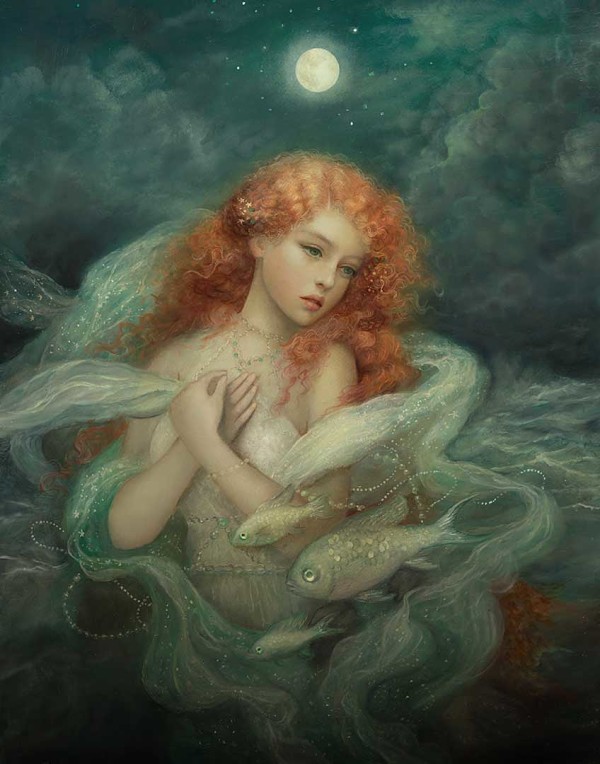 "Legore" (Goddess of schools of fish), oil, 14 x 11 inches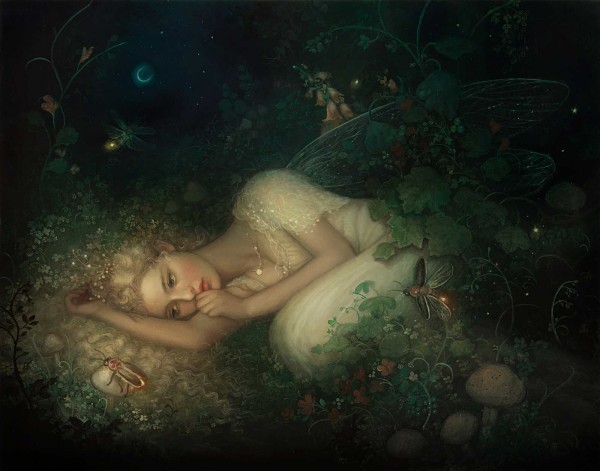 "Faerie Circle", oil, 11 x 14 inches
Olga Esther "Once upon a time: a world where many worlds fit"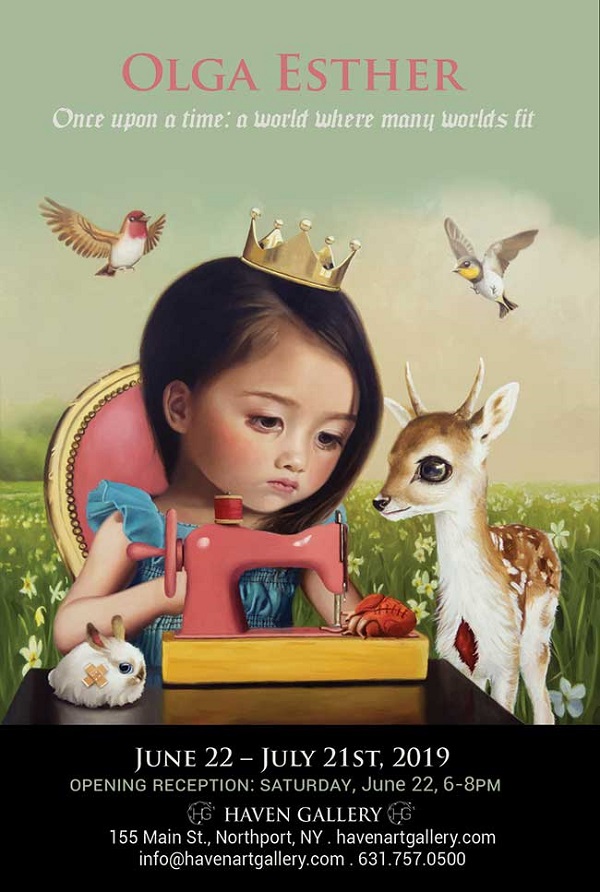 " We live in societies based on relations of domination and on the exclusion of the different, the other, the vulnerable. These attitudes of domination take place at all levels and lead us not only to the destruction of nature and the mistreatment of nonhuman animals, but also to the oppression and discrimination of some human beings over others, whether by gender, ethnicity, sexual option or different abilities.

I believe in a more just world, and that world we can not achieve through denial and hatred of the vulnerable "other".
I believe in a diverse world based on inclusion, compassion, empathy and caring for others. A world in which non-human animals are respected as individuals capable of suffering physically and emotionally and in which we all care for the Earth, as our home and the home of future generations.

In the world that I want, we all fit. "Once upon a time: A World where many worlds fit."" – Olga Esther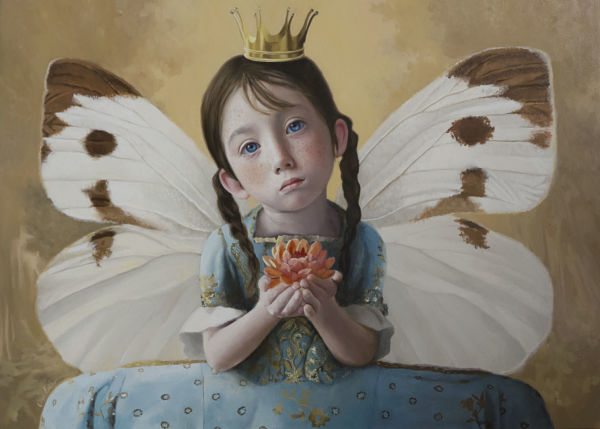 "The Princess Butterfly", oil on panel, 15 x 22 inches, 20.375 x 27.125 inches framed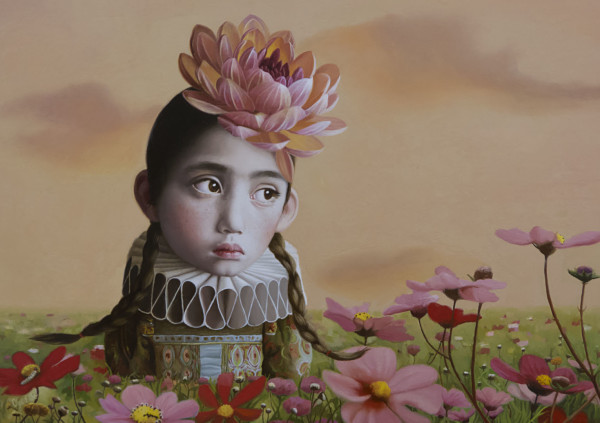 "The Spring Princess", oil on panel, 15 x 22 inches, 20.375 x 27.125 inches framed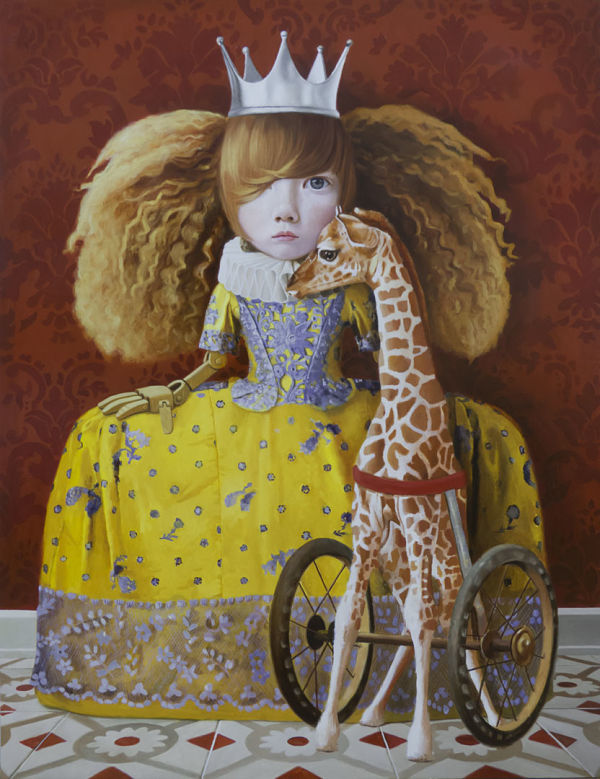 "The (Im)perfect ones", oil on panel, 27 x 22 inches, 33 x 27 inches framed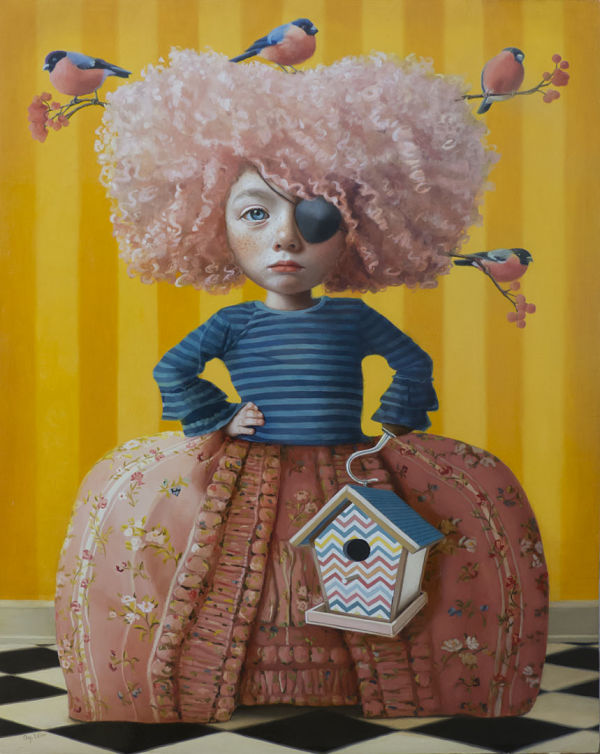 "LadyBird", oil on panel, 27 x 22 inches, 33 x 27.125 inches framed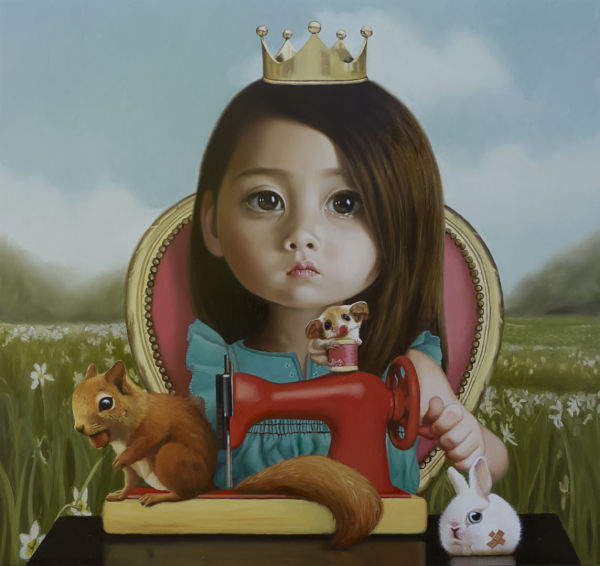 "The Healing Princess II", oil on panel, 20 x 21 inches, 25.25 x 26.25 inches framed
Olga Esther "LadyBird" and "Musarana" Timed & Embellished Print Release
"LadyBird" Embellished
Giclee on Epson Archival Hot Press Bright Print
17 x 21.5 inches (paper size)
Hand Embellished by the Artist | Signed & Numbered by the Artist
Limited Edition of 10: $150 + S/H*
"Musarana"Embellished
Giclee on Epson Archival Hot Press Bright Print
14 x 17 inches (paper size)
Hand Embellished by the Artist | Signed & Numbered by the Artist
Limited Edition of 10: $130 + S/H*
Annie Stegg Gerard Social Media Accounts
Website | Facebook | Instagram 
Olga Esther Social Media Accounts
Website | Facebook | Instagram 
Related Articles
Read more articles by Online Editor Bella Harris
Interview: Kindra Nikole "The Liminal" @ Haven Gallery