Step into the serene world of Kindra Nikole, where dreams and reality merge and serve as equal counterparts to their surreal existence. Sirens of night enveloped amid lace and flora as earth wanders, celestial beings, and forest warriors wane into the mist with grace and greatness… this is the magical realism of Kindra Nikole and her visionary photography.
Join Haven Gallery this Saturday, June 22nd, as they proudly present the opening of her solo exhibition, "The Liminal". Also on view is Annie Stegg Gerard's "Voices of Spring" and Olga Esther's "Once upon a time: a world where many worlds fit". Don't miss all three beautiful collections!
Kindra Nikole "The Liminal"
Opening Reception with the Artist:
June 22, 2019 | 6-8pm
Exhibition Dates:
June 22 – July 21, 2019
Haven Gallery
155 Main St., | The Carriage House Square
Northport, NY 11768
For additional information and images, please contact Erica Berkowitz at [email protected]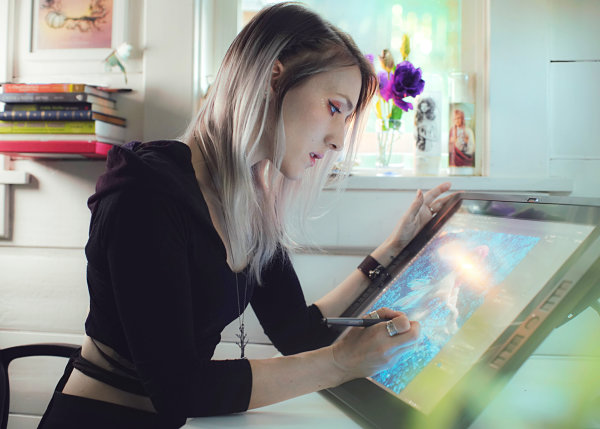 "The Liminal is an exploration of the realms that exist in the in-between spaces of our world and the next. This is a place that exists neither here nor there-betwixt and between. The creatures and beings that inhabit this space permeate their environment as naturally as a fern grows in a mossy wood. Some of these beings are an exaltation of the places they represent, while others are a warning-a tale of those who looked too long and wandered too far into the unknown. Some have manifested as natural parts of their surroundings, while others stumbled upon regions suffused with magick, finding themselves slowly devoured by the land-becoming one with it.

We are the onlookers visiting their realms if our eyes are open enough to see. These entities seem aloof and impassive to our presence yet they perceive all-welcoming us in warmly, beckoning us nearer with sly expressions, or warning us of our trespass. To glimpse their brilliance may spell a moment of enlightenment, of deeper understanding. Or we might find ourselves entrapped within our own minds.

Catching fleeting glimpses of these ethereal beings, the mind runs wild with stories of who or what they might be-each seems captured in a moment of its own intricate tale. What do they represent? From where do they come? Are they real or imagined? And is there a difference?"
Interview with Kindra Nikole
Snowy forests, hazy mountain tops, and dreamy meadows bursting in flowers… Kindra, will you tell us more about these beautiful backdrops? How do you find the locations of your photo shoots? And do you have a favorite spot that you find yourself returning to time and time again?
For this series, I knew I wanted evocative landscapes that differed greatly from one scene to the next. The environment is just as crucial to the overall piece as the emotion, the model, and the concept. I needed each entity to exist in its own realm while still being linked to the other entities in The Liminal. So I visited places both old and new to make that happen! I am an avid nature lover and shoot almost exclusively outdoors – it's really important to me that I showcase our planet in all her beauty and brilliance. She is my biggest muse.
I always pay close attention to my surroundings, whether I'm driving around for errands, hiking, or seeking new travel destinations. I live in the Pacific Northwest, and we have an unreal amount of natural beauty here, all of which shifts with each changing season and passing year. Even places I've visited countless times will develop new and unusual beauty and charm over the years, as new vegetation overturns the old and time weaves its magic.
Some of the locations I found while driving along the highway, spotting their possibilities from the speeding car window. Others are local places I visit on my own when I'm seeking solace. For this series, I did a fair bit of traveling to shoot in some very different locations for my work: salt flats in California, a lava bed in Hawaii, a frozen waterfall in Washington. And yet some of the places are indeed usual haunts for me-places with that extra bit of faerie magic sprinkled on them that are easily overlooked if you don't pay close attention. Sometimes I feel like these places open up as portals when I shoot, available only in brief snippets of time before vanishing. And sometimes those places never return to that state they were in when I shot there. It's as though I've captured that fleeting, ephemeral magic and encapsulated it forever in an image.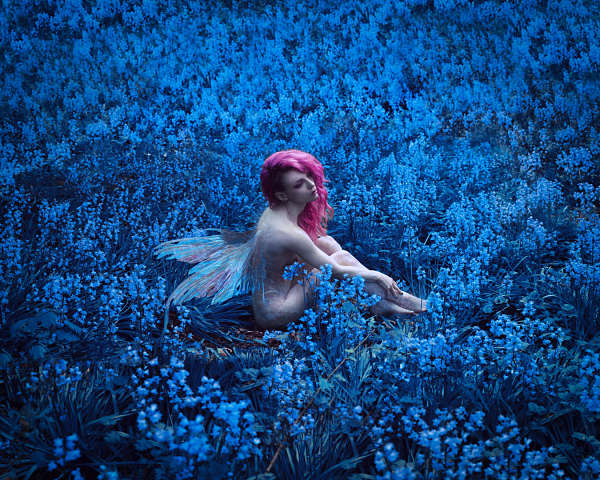 When did you first become interested in photography? Was there a core inspiration or source of encouragement?
If we go far enough back, I really started having an interest in it when I was around eleven or so. My family didn't take many photos, and I remember being bothered by that. Bothered by the fact that we didn't have a way to look back and remember moments we'd shared. I'm very visual, so photographs have always held deep significance to me. I didn't get my first camera until I was about 15 – it was a black and white film camera, and I learned to develop the film and photos in my high school photo lab. I continued taking pictures as a hobby but slowly stopped as I grew older. I didn't return to photography again for over a decade when I started a 365 project – that's one photo a day, every day for a year. Once I began that journey, it all kind of snowballed into what it is now. I'd found a true passion and calling, and I've followed that calling with a sense of urgency and conviction.
For me, the inspiration was in knowing that I've always been an artist since I was big enough to pick up a pencil, and seeing how I'd neglected my art, my dharma, for so many years before finding it again. I felt lost for so long and went through a dark night of the soul in the interim. Once I committed to my 365 project, I realized I'd tucked away a huge piece of my soul, for safekeeping during the dark times, until she was ready to re-emerge. Once she finally did, I promised her – promised myself – that I would never stop creating again. No matter what. How I create may grow and evolve over time, but it will never be hidden away again.
What draws you into the realm of magical realism?
There are so many pulls, really. I've always had my head in the clouds since I was a kid, and I frequently get visions of beings that exist in worlds just outside our usual perception. It's clear to me that these beings want to be known in some way and so I set out to communicate them visually.
Our inner worlds, filled with boundless possibilities, are just as real, just as tangible, as the external, physical world. There's a power in acknowledging that truth, and there's a power in linking the two worlds so that they might communicate and grow closer.
How has your creative vision changed and evolved over time?
I feel like it's changed drastically over the years. When I was starting out, I didn't even know how to use the tools I had. I just felt excited and passionate and wanted to photograph anything and everything. Now that I've sharpened my skills, I try always to think of how I can push my limits and boundaries farther, how I can continue to grow and sharpen while exploring new ideas all the time. As my skills have gotten sharper, I've been able to explore old concepts that I once felt too uncertain to try out. More and more, the sky is the limit with what I can create, and the more the sky opens up, the more possibilities and ideas pour in. At first, I was just playing around and experimenting – now I'm experimenting, playing around, and aiming my reticle with decided precision and certainty.
I really want to touch on this new body of work. What would you say is most integral part in terms of your artistic expression, style, and narrative for this particular exhibition at Haven Gallery?
Wow, it's so hard to break down, but I'll try! I wanted to depict these entities as deity-like figures or humans-turned-deity, but most importantly, I wanted to depict the interwoven nature of these deities and their surroundings. They are as much a part of the realms they inhabit as those places are of them. I've always been enamored with the way nature weaves life so seamlessly and beautifully together, like a dance – sometimes visceral and brutal and other times delicate and breathtaking. The symbiotic relationships that exist in balance and harmony in nature-that was something that inspired this body of work on a deeper level. There are also themes of feminine and nonbinary empowerment – a bow to the undeniable rise of these powers we can see happening in our everyday world right now. There's an unabashed and unapologetic boldness in some of my pieces that speaks to that. It's something I think is worth not just speaking about but shouting about from the rooftops. The time for a rebalancing of the scales of power is now.
Kindra Nikole Social Media Accounts
Facebook | Instagram | Twitter
Related Articles
Read more articles by Online Editor Bella Harris
Otherworldly, Fantastical Creatures by Kindra Nikole
Olga Esther & Annie Stegg Gerard Exhibitions @ Haven Gallery