In Redd Walitzki's latest solo show, they bring their unique fusion of grandiose surrealism to Corey Helford Gallery in Los Angeles, California, USA. Originally from Germany, the new contemporary artist is now based in Seattle. And not surprisingly, Redd has a huge international following. It's hard not to fall for their oil and mixed media paintings, set within curiously winding laser-cut panels, which only further enhance their atmospheric narratives. Redd's new solo exhibition, The Days of Miracle and Wonder, builds on their inspiration from the Pacific Northwest's lush rainforests and the ornate Baroque ornamentation of Bavaria. It takes you further and beyond. Right around the world, imbuing many of Redd's experiences from their globe trotting adventures.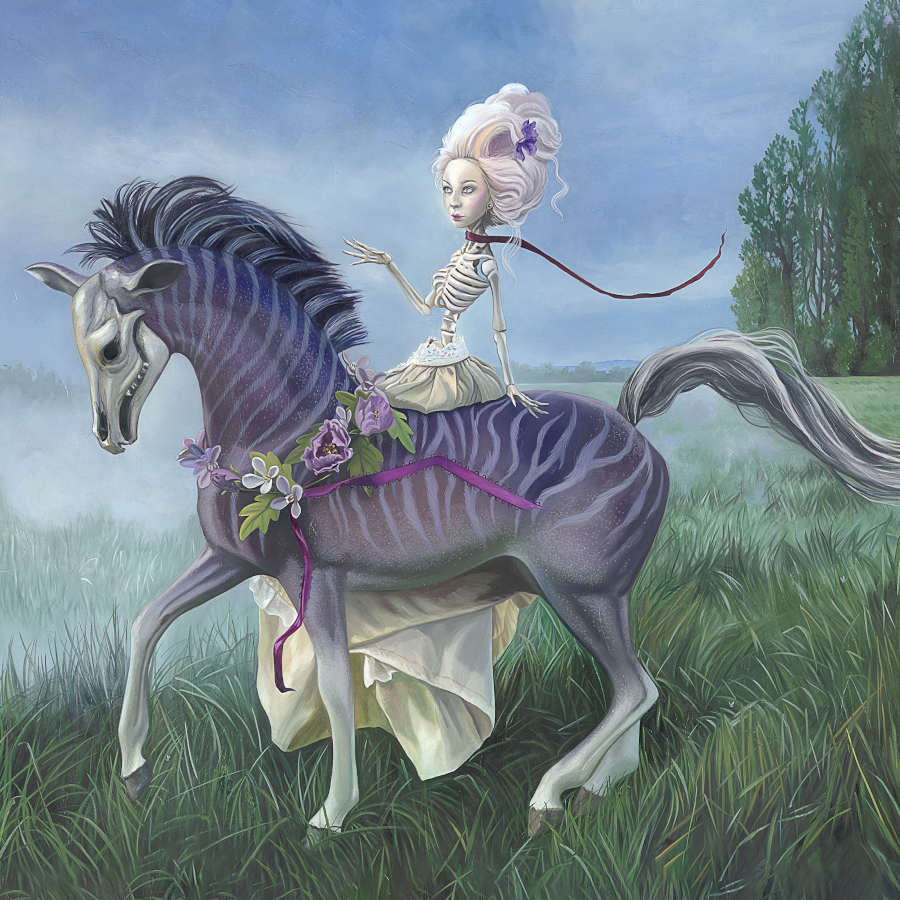 During this strange period in history where it feels like our world is shrinking, these works embrace moments in the past filled with exploration, mystery, and wonder. As nymphs transform into coral and lantern-lit boats drift by moonlight, the paintings lure us into the undiscovered spaces over the edge of the map. This series is a mixture of both wistful nostalgia for a lost time of myth and adventure. And the sense that such wonders could bloom again.

Redd Walitzki
The show's opening will be celebrated with a live streaming event on 10th April via Instagram Live (@CoreyHelfordGallery). Follow Corey Helford Gallery's IG channel to keep up to date with further details!
Redd Walitzki: The Days of Miracle and Wonder
Exhibition Dates: April 10 – May 15, 2021
Corey Helford Gallery
571 S Anderson St (Enter on Willow St)| Los Angeles, CA.
Visiting hours: Thursday – Saturday, noon to 6pm.
For press inquiries or sales, please contact [email protected] or call (310) 287-2340
In accordance with LA County Public Health restrictions, maximum occupancy is restricted to 12 people at a time. Mask-wearing and social distancing are mandatory. In accordance with CDC guidelines, guest temperatures will be checked using an infrared scanner upon entry.
Press Release: Redd Walitzki's newest series, The Days of Miracle and Wonder implores the viewer to embark on a journey to a lost time of myth and transformation. When Redd began this series, they were on a journey around the globe. Drinking in a myriad of experiences while slipping from one country to the next. Versailles's opulent halls, the misty harbors of Vietnam, and the golden coastline of the Canary Islands all became woven together into a rich tapestry of inspiration. Locked down during the pandemic, these experiences became a well of hope to draw upon as they painted colorful works of daydream and escape.
About Corey Helford Gallery:
Corey Helford Gallery (CHG) was established in 2006 by Jan Corey Helford and her husband, television producer and creator, Bruce Helford (The Conners, Anger Management, The Drew Carey Show, George Lopez). It has since evolved into one of the premier galleries of New Contemporary art. Its goals as an institution are the support and growth of young and emerging, to well-known and internationally established artists. CHG represents a diverse collection of international artists, primarily influenced by today's pop culture. It collectively encompasses style genres such as New Figurative Art, Pop Surrealism, Neo Pop, Graffiti and Street Art. CHG is located in Downtown Los Angeles in a robust 12,000 square foot building presenting new exhibitions approximately every six weeks.
The Days of Miracle and Wonder from Redd Walitzki will exhibit alongside Bao Pham's solo, Summer Hues in Gallery 2. These two solo shows will be on show alongside the 15 Year Anniversary Group Exhibition in the Main Gallery. Normal hours at Corey Helford Gallery are Tuesday – Saturday, from 12:00 pm – 6:00 pm.
Redd Walitzki Social Media Accounts
Website | Facebook | Vimeo | Instagram
Corey Helford Social Media Accounts