Deep within the murky mountains, prowling beneath wood and shadow, mischievous ghouls and goblins await you. Steeped in trickery, the visual elements of each unique sculpture has a story to tell… and if you enjoy the nostalgia and adventure of folklore tales then you're going to love Shane Paxton's new exhibition "Monsters in my Head", opening this weekend at Distinction Gallery! Abound with sculpted fantasy, let these eerie creatures manifest the little devil in you.
Press Release// Distinction Gallery proudly presents Shane Paxton in an evocative exhibition, "Monsters in my Head." Shane's goblins are sculpted in Monster Clay, molded in silicone, cast in resin, and hand-painted with acrylics. Join us April 10-May 1 to experience this phenomenally intricate collection in this one of a kind exhibition.
Shane Paxton is a 40 year old Escondido native, musician, and self-taught sculptor of goblins, monsters, and absurdities. His work is playful and evocative, and loved by fans of all ages.
Shane Paxton, "Monsters in my Head"
Opening Reception: Saturday, April 10, 2021
Exhibition Dates: April 10 – May 1, 2021
Distinction Gallery
317 E Grand Ave, Suite B | Escondido CA 92025
phone # 760.781.5779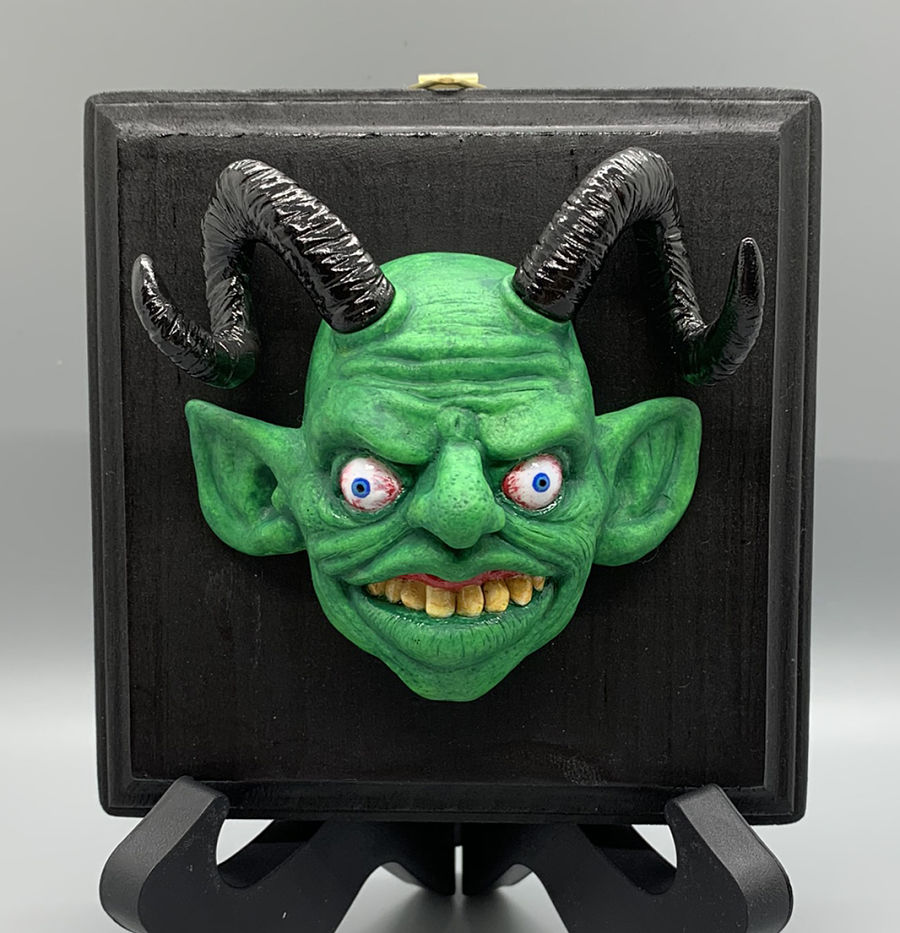 About the Gallery // Distinction Gallery was created in 2004 to give beginning and established collectors a venue to purchase high-quality, artwork created by highly skilled artists. Distinction has hosted over 130 exhibitions since its inception featuring mid-career and professional artists. The primary genres forwarded at Distinction are Contemporary Realism, Surrealism and Urban art with a focus on the figure. Our primary media focus is original oil and acrylic paintings; however, we occasionally display drawings and mixed media. Distinction's artwork is available for purchase online to clients around the world and most of our artists are available for commissions. Please feel free to contact us with questions.
In order to further expand our offerings to our community, we converted part of our 7,0000 arts complex to ArtHatch, a non profit organization, in 2011. ArtHatch rents exhibition and studio space to emerging artists as well as offers a free teen program. Additionally we have two escape rooms and an Art Bar (Last Spot) within our building.
Distinction Gallery Social Media Accounts
Website | Facebook | Twitter | Instagram
Shane Paxton Social Media Accounts