You may recognise British artist and model Gina Harrison's face. Over the past few years, she has laid deep roots within the wearable art and photography industry, working with many of the designers and photographers that Beautiful Bizarre Magazine follows and enjoys, including her own mother Angela Wynn. There is a rare energy to her work in front of the camera; an intensity in her stare, which catches your eye no matter what style of clothing (if any) that she is modelling.
It was this which first led me to find out more about her personally. There are plenty of enchanting models making significant careers, yet something about Gina stood out. I soon learned that Gina Harrison's modelling career is only the tip of the iceberg. Only 28 years old, Gina has become an artist, model, actress, visual and concept artist, director, editor, mental health advocate and performer. Here is a woman with her creativity expanding into many realms of art, putting her in high demand with other like-minded creatives.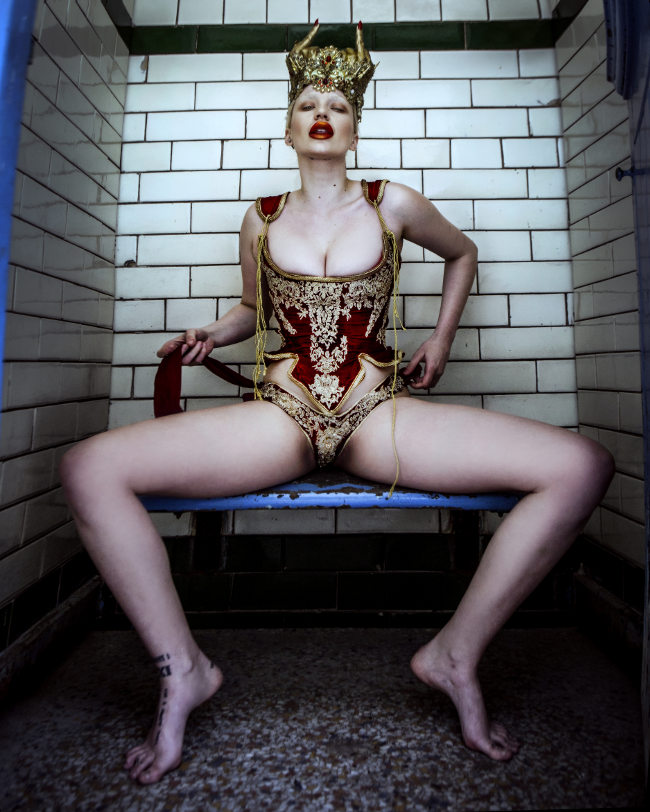 Gina Harrison wearing Discordia Designs. Photo: Angela Wynn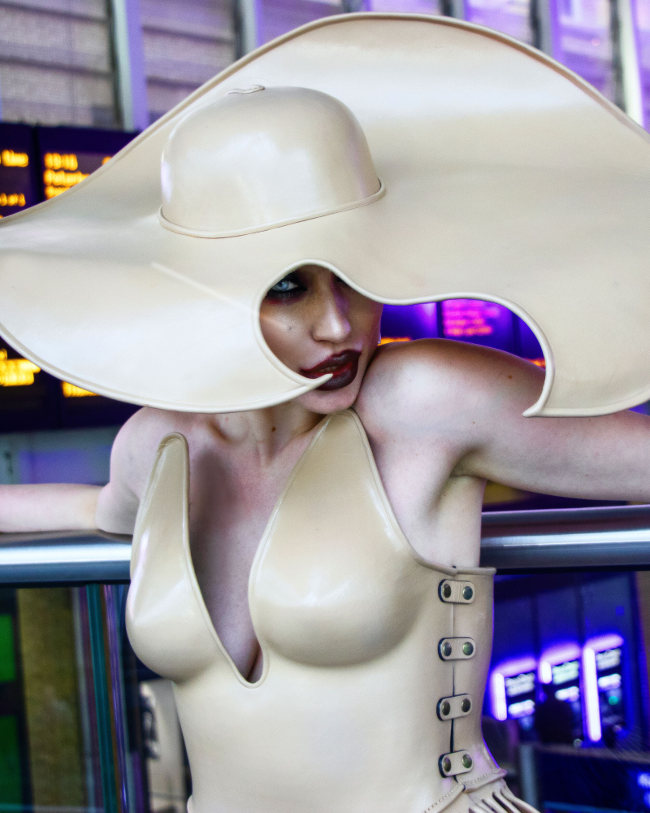 Gina Harrison wearing James Cecilio
From science to art
"I studied performing arts at college but also sciences." Gina explains, "I was a clinical support worker assisting in hospital theatres from [the age of] 18-20 to save up to move to LA, and quench my thirst of medicine as I'd decided to not go to medical school. It was an honour to be on the very frontier of medicine, surgery and human life and seeing the fine line between life and death every day, how incredibly fickle yet remarkably strong the human body is was terrifying, beautiful and confronting. This, and my love of neuroscience, still aids me personally, professionally and creatively.
Until I was 20, I hadn't really found myself or dared to imagine that I could live my wildest dreams, and when I was in college, with no real friends or direction, I joined a circus school, which thrust me into my love of performance. It was then I decided to go to LA to follow my dream of dance, performing and creating. This was a very natural process… most of the things I had 'planned' in my life have not gone 'to plan'."
The GH Anxiety Photography Project
With such a rich background, I wasn't sure where to begin as I prepped to interview Gina. Here was a multi-art shapeshifter, working right in the heart of modern couture and photography. Sometimes, her works are subversive and even perverse, yet never without meaning. And then I saw her quote relating to her personal photography project GH Anxiety:
"This is an ongoing project that has saved my life."
Gina Harrison's GH Anxiety project is a series of raw photographs which are a world away from her commercial work with other creatives. The project has developed from an important concept to Gina working alongside creatives such as Kat Von D to raise awareness for mental health. The different series show Gina's personal struggles and the "reclamation of one's own demons", highlighting the darkness that sits within and what happens when you face it head on. The more I learned, the more I understood Gina's ability to exude such grace and fire in front of the camera, which shows in every shoot she now does.
Gina Harrison wearing Discordia Designs. Choker by Raspberry Mazohyst.
In her own words
"My anxiety series was always a very natural thing and began with just a single image I'd taken of myself. It was on my laptop for a long time before I re-found it and decided to post it. In 2012, I was deported from America, which resulted in PTSD, my depression peaking, and my body going into shock and therefore getting Pneumonia for a good 5 months and, despite my estranged father being American, I had to deal with the lack of help from him as I moved to London.

Having never told anyone apart from my close friends and family about my depression, I found myself in a very dark, lonely place with no motivation [and] no real way forward. [That was] until I took the below image a few years ago, a self-portrait never meant to be seen by anyone other than myself. After a public breakdown and manic episode, dealing with drugs and alcoholism, with no real thought other than 'this is who I am and I don't want to hide it', I decided to post it.

After that, I shot a lot of self-portraits and found a calm, introverted solace within myself. This [photography] art that allowed me to be fully myself and capture and reclaim emotions and turn them into something better. I started working with my close friends and my mother [well-known photographer Angela Wynne], and as time went on it became most of my life. My anxiety project and most of my work is simply a form of self-therapy that I am honoured to have shared with so many people."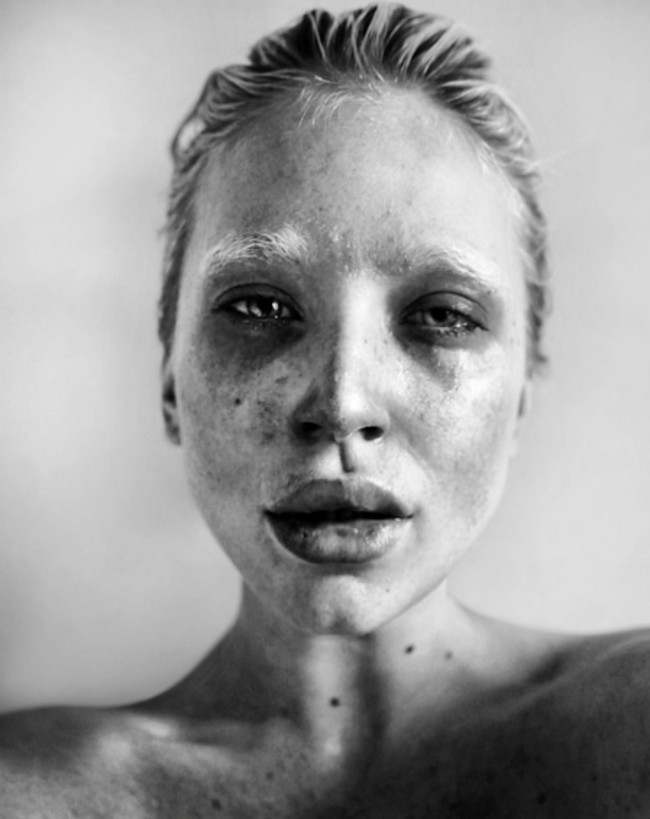 Self-portrait
Turning life around
It's no small feat to be able to look in the mirror and accept your demons. It takes even more courage to share these moments with the world. Yet in being able to do this, Gina Harrison opened up something within her, which has given rise to a strength and energy that shines from her brightly. Every photograph and video, personal or commercial, shows her vibrancy and screams of life. No matter how extreme the make-up or extraordinary the outfit, Gina holds her own in each image.
"My work is my therapy; from conceptualising a shoot to post-production. Whenever I'm creating, I focus on channeling my emotions and try to summon subconscious thoughts that may be manifesting.

My GH Anxiety project has saved my life. It is my own heart, body, mind and soul as pixel form. I've suffered with depression for seven years and anxiety for most of my life. It was only three years ago that I knew that this was my calling; my anxiety projects, artistry and conceptual art has been the thing that's saved me and helped me to become two years sober."
From the SOCIAL ANXIETY series (part of the GH Anxiety series). Photo: Angela Wynn
Raw and Naked to the world
The versatility of Gina's Anxiety series provides plenty to take in. Shoots run from the gentle simplicity of her Beauty in the Breakdown series to the abstract Consumed series reflecting her experiences of depression, and plenty more in between. Working with her mother Angela Wynne led to a closeness which now, Gina couldn't imagine being without.
"Me and my mother are best friends. It was just me and her for the first few years of my life. When I got deported from America and I was mentally and physically unwell, we made the point of shooting together. It wasn't until we started to shoot some of my Anxiety work that we [became] closer than ever imaginable. There's something extremely vulnerable about capturing these moments. It's the side of me you really wouldn't want anyone else to see.
I think that my mum found it quite confronting at first to see me so visceral and emotive in many different forms right before her. But for me, capturing these images with her is the purest it can get. It's extremely bonding and cathartic to us as mother and daughter; when we shoot it's almost like my mum is saying 'do you want to talk about it? How does it make you feel?' And then, through the images, I say."
Most recently, Gina is developing her RAW series with Angela, a series of un-retouched personal images of Gina. The series aims to show her naked body in its true light along with its often-labelled 'flaws'. Scars, creases and lines are explored in an honest depiction of the human flesh. "[T]hat was very confronting for a lot of us, especially for my mum to see my scars so clearly. For me it's like someone looking directly into the trauma I had tried to hide."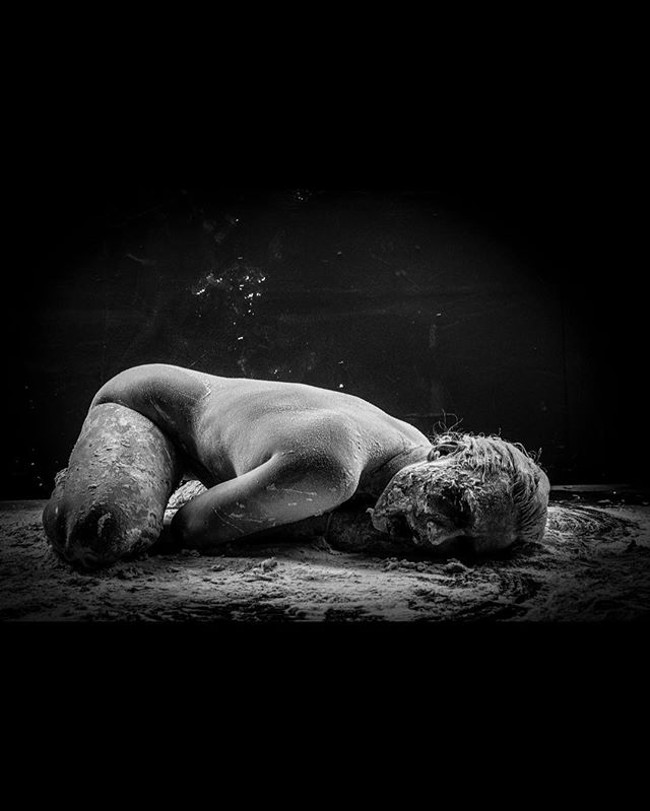 From the BREAKING FREE shoot (part of the GH Anxiety series). Photo: Angela Wynn.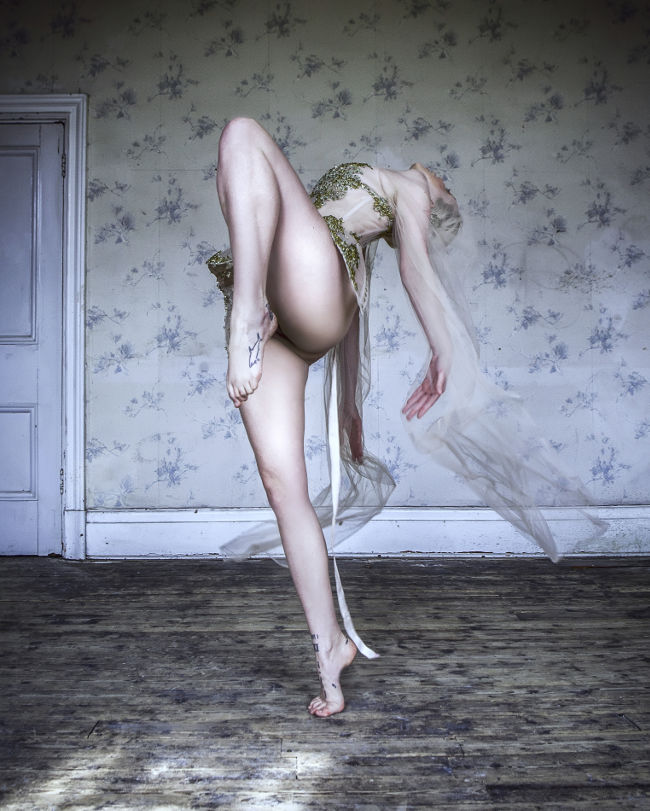 Gina Harrison wearing Discordia Designs & Magdalene Celeste. Photo: Angela Wynn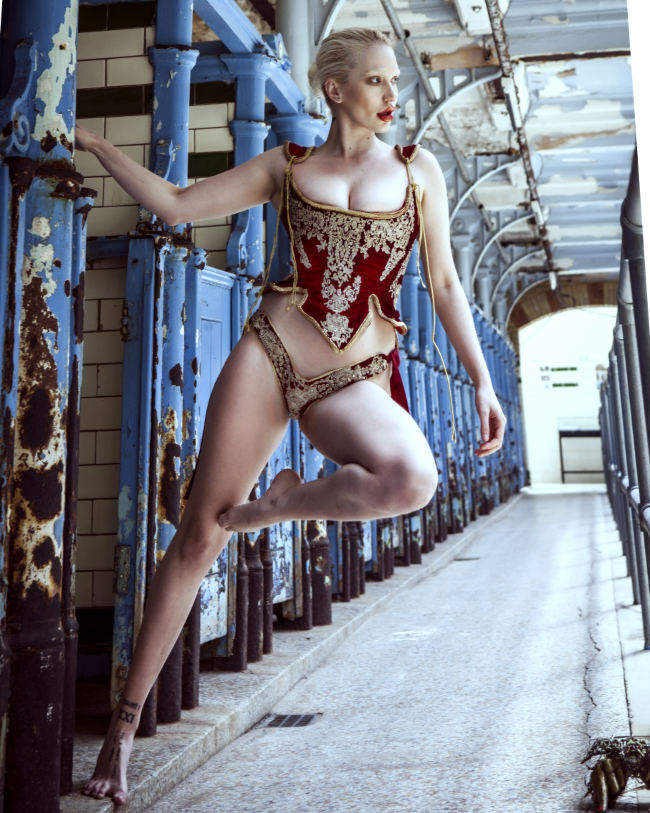 Gina Harrison wearing Magdalene Celeste. Photo: Angela Wynn
The exorcisms of flesh art
Gina's close relationship with her body is a powerful source of creativity. Her dancer-like movements, sometimes almost primal, create a connection through the lens. "To me, our body is just a flesh carrier of our soul, our canvas. To push my body physically to its absolute limit is a way for me to achieve mental and emotionally clarity." She explains. Her connection to the flesh goes beyond her work as a model and into her work as a Flesh Art performer.
The main question I'm asked is 'is it painful?'. Of course it is, but it doesn't hurt.
"I worked with Louis Fleishchauer on his collection of amazing corsets [which we shot] in Berlin. I was going through a hard time and [asked] if there was anything he could do to help; Louis was a shaman and very experienced in his craft. So with that, along with my intuition and trust in him, we agreed to perform what's called a 'fear exorcism' on me. This was the first of my experiences in flesh art and changed my life. Cold and naked, covered in paint, bricks and wires [deep in] a dungeon in Berlin, Louis had me write down my most intimate fears and feelings. He then wrote them across my body, and forced them into my mouth and under the bricks that were wired to my flesh.
There was a few times in the exorcism I thought I would pass out, especially after being asked to scream several times; I had things in me I never knew I did. Along with the fears at the forefront of my mind, I was able to primitively release [things in] my subconscious far more toxic and damaging than anything else we are consciously aware of. After this, we moved into needle and blood work, which is the most incredible, pure feeling in the world. Since then we've performed public rituals in Berlin, Amsterdam and London. It's changed my life.
The main question I'm asked is 'is it painful?'. Of course it is, but it doesn't hurt. People are so afraid to feel, whether physically, emotionally, mentally; it's socially built into us that we must survive without experiencing extreme feeling. It's easier this way, but only in the short-term. Flesh art is a way of reconnecting with your primal core and soul through the art of testing your body, flesh and exhaustion."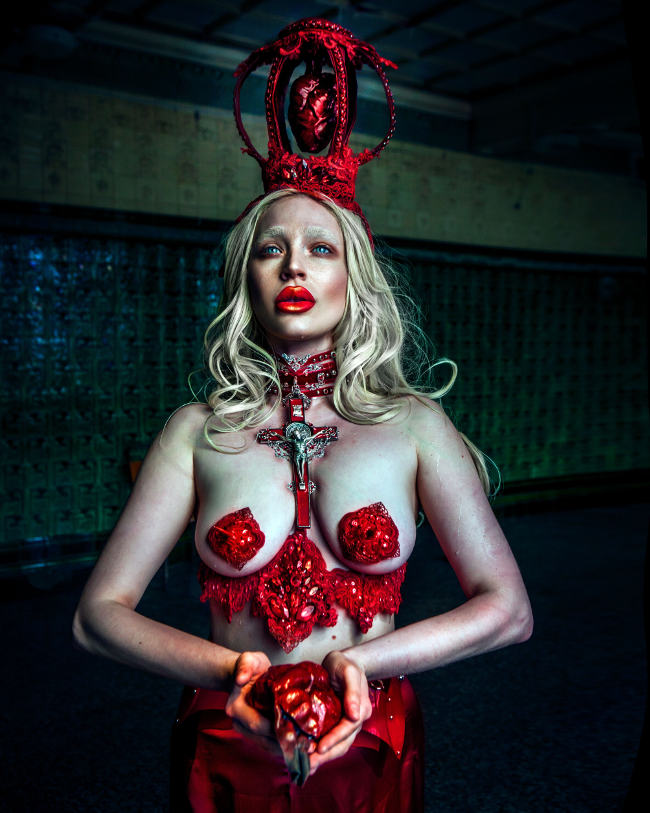 Gina Harrison wearing Discordia Designs & Magdalene Celeste. Choker by Raspberry Mazohyst. Photo: Angela Wynn
A deeper connection
From all of this, it's clear that Gina's personal experiences powerfully shape how she now shares herself in the public eye. For me, it's her intention to make herself as vulnerable and open as possible in front of the camera which generates that deeper connection through her artwork, whether as a model, performer, or work as a mental health advocate. There is an ambition here to connect with others – and where will that lead her in 2019 and onward?
"More visceral and confronting visuals and storytelling to help others," she tells me. "To make them question, think, feel, believe. To strive, and feel belonging."
Find out more about Gina's personal projects on her website and follow her on Instagram to keep up to date on her personal and collaborative projects.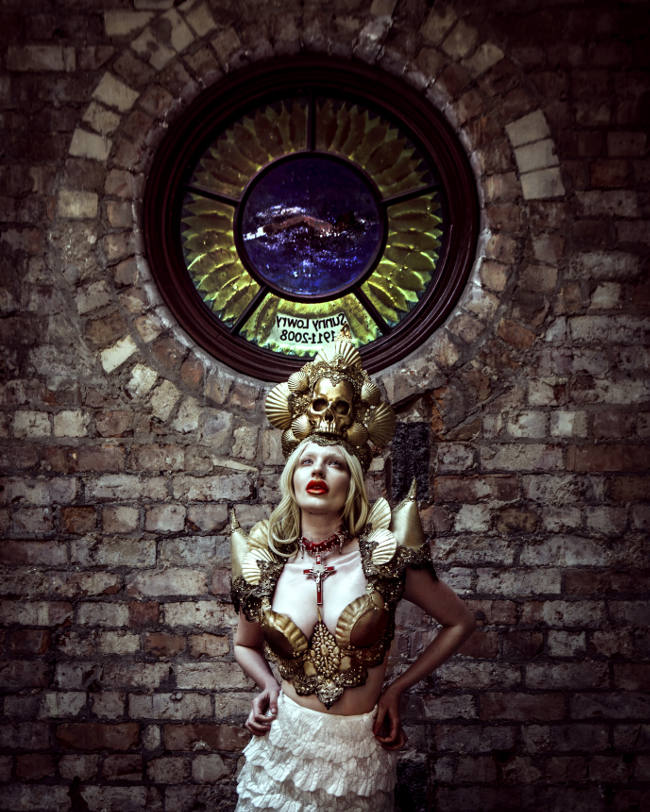 Gina Harrison wearing Discordia Designs. Choker by Raspberry Mazohyst. Photo: Angela Wynn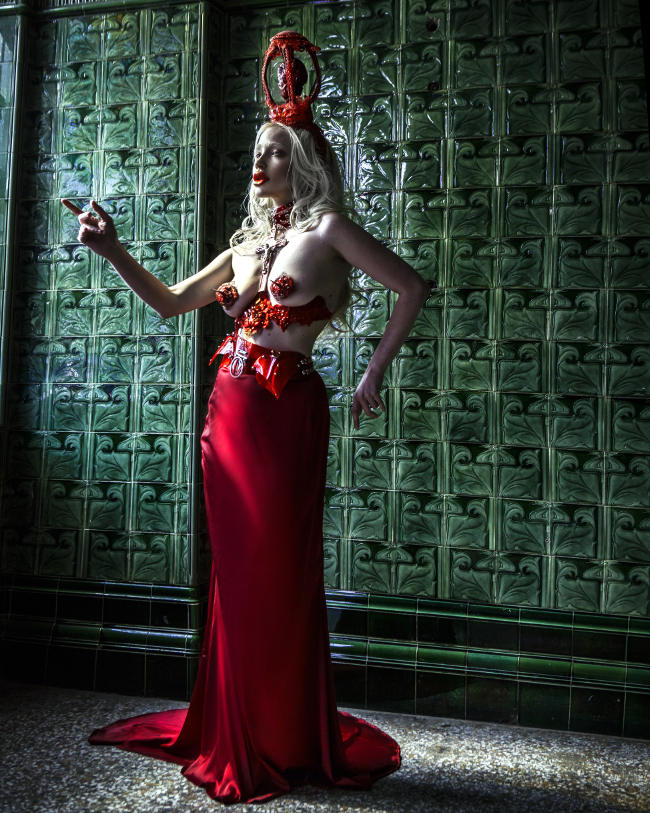 Gina Harrison wearing Discordia Designs. Choker by Raspberry Mazohyst. Photo: Angela Wynn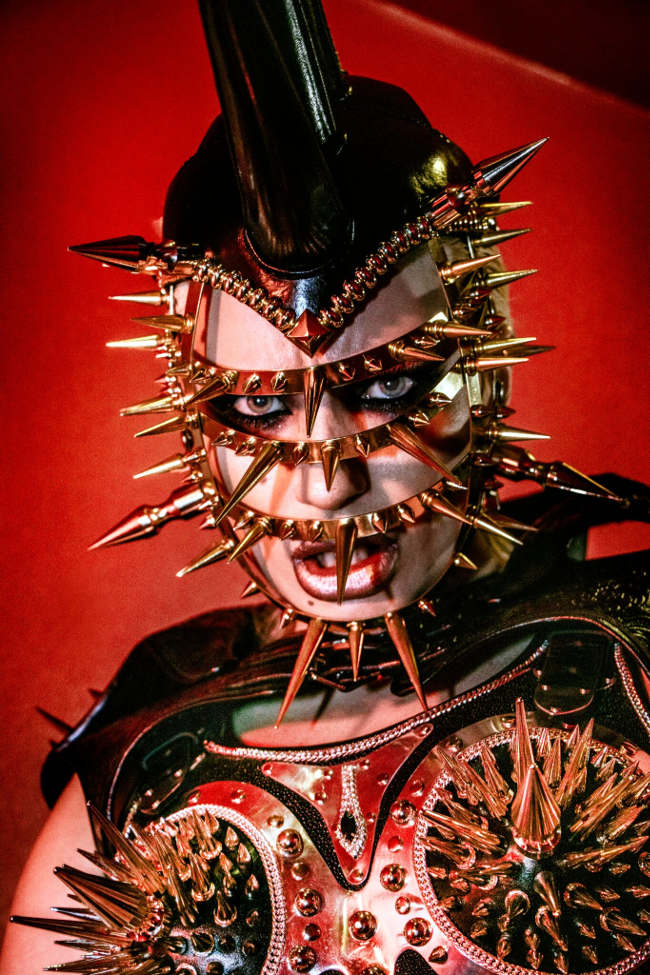 Gina Harrison wearing James Cecilio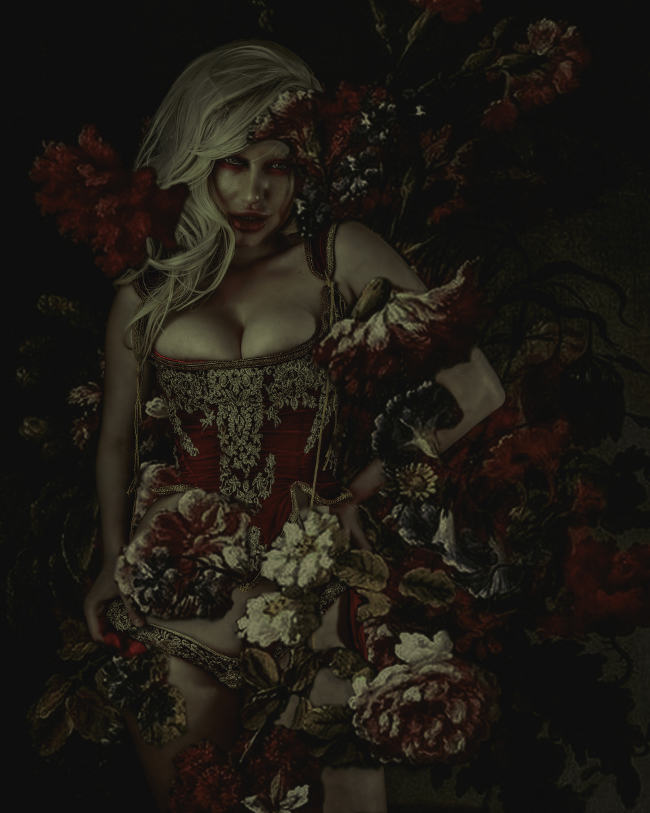 Wearing Magdalene Celeste. Photo: Angela Wynn. Editing: James Rupapara
Gina wearing James Cecilio
Gina wearing Magdelene Celeste. Photo: Angela Wynn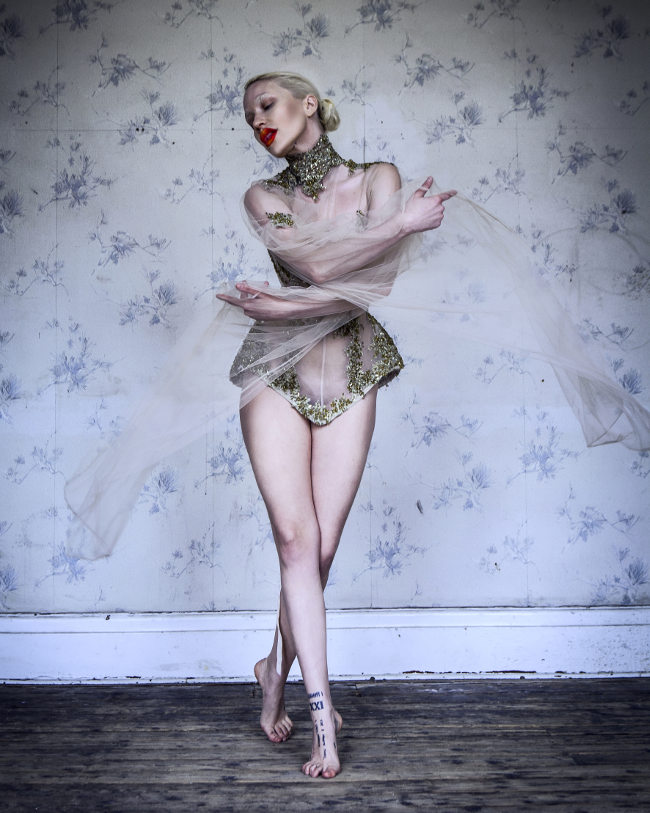 Gina Harrison wearing Discordia Designs & Magdalene Celeste. Photo: Angela Wynn
Gina Harrison Social Media Accounts
Related Articles
Sylwia Makris: Photographs of Forbidden Tarot
Top 100 Wearable Art Designers on Instagram
Historical Couture: the Works of Agnieszka Osipa