Stumble happily into the creative prowess of Giorgiko's "What Is and what is not" and Brad Woodfin's "Glad You're Here", and join Thinkspace Projects this weekend as they proudly present two distinctly imaginative new bodies of work. Driven with tangible emotion, the symbolic storytelling will pull your heartstrings in the most wonderful way.
Thinkspace Projects has a full schedule of online events for all exhibitions, including virtual tours, live streaming, interviews and much more… so be sure to follow their blog Sour Harvest to stay updated! If you're looking to add to your budding collection of art, take a moment and visit their store to view available inventory.
Giorgiko & Brad Woodfin
Opening Reception: Saturday, April 3, 2021 | noon to 6pm
Exhibitions Dates: April 3 – April 24, 2021
No appointment needed / masks and social distancing required / artists on hand
Thinkspace Projects
NEW LOCATION: 4217 W. Jefferson Blvd., Los Angeles, CA. 90016
#310.558.3375
Thinkspace is proud to present Giorgiko's 'What is and what is not'. Created by husband and wife team Darren and Trisha Inouye, a pair known in the art world as Giorgiko, 'What is and what is not' is a result of the 2020 apocalypse. The exhibition draws on experiences of the last year and the word itself. A weighted word, just hearing "apocalypse" conjures imagery, imagery that Giorgiko has drawn on and specified creating a series that is hauntingly beautiful and relevant. The etymological root of the word "apocalypse" is the Greek word "apokálypsis", which means "an unveiling or unfolding of things not previously known and which could not be known apart from the unveiling". The husband and wife duo incorporates this definition, revealing truths about our world while maintaining a sense of whimsy.

2020 revealed much of what was hidden in us — both things that brought us hope and things that deeply grieved us. 'What is and what is not', as a body of work, explores the various questions raised and revelations experienced by so many during that tumultuous year.

A perfect pairing, Trisha brings a cuteness and sweet innocence to Giorgiko's characters while Darren incorporates an underground influence stemming from his love of hip hop dancing and graffiti. Together, blending and juxtaposing street and cute, they create the Giorgiko universe, full of relatable images for wanderers of all ages.
Giorgiko Biography // Giorgiko is the product of a collaborative experiment between husband-and-wife duo Darren and Trisha Inouye. Their work ranges from minimal character illustration to large-scale classical painting, with a sprinkling of Los Angeles street culture. The Giorgiko universe began in 2012 with a simple story of a pink-haired girl and is now home to lost boys, wayfaring girls, and mysterious dogs. Darren and Trisha's work explores the stories of their wanderings and their dreams of being found again. Darren and Trisha first met during orientation at their alma mater ArtCenter College of Design in Pasadena, California. They sat next to each other in Design 1, and the rest is history. Darren and Trisha reside in the greater Los Angeles area with their twin children.
At a time when nostalgia has proven to provide comfort and respite, Thinkspace Projects is pleased to present Brad Woodfin's 'Glad You're Here,' a solo exhibition inspired by songs from decades ago. Filled with sentimentality and a bittersweet melancholy, the paintings for 'Glad You're Here' take cues from the moods of certain old songs, including the particular language around sadness: being blue. Woodfin reflects this in the colours of the portraits, the symbolism, and iconography. A self-described fan of devotional art, the experience Woodfin creates is nothing short of poetic. Pulling from an audio medium to a visual one, Woodfin manages to preserve the nostalgic feeling of "Golden Moments," a grief that buzzes through speakers rising like smoke rings to meet every era. The title only feeds into the experience, intentionally chosen as something that may be a bit disarming to say out loud.
His portraits of creatures, rendered carefully on a rich dark background, evoke the portraits from the Dutch Golden Age. The posture of his subjects and his use of light combine to bestow each species with an almost religious reverence. With reverence for his subjects, Brad favours expression and mood over academic documentation.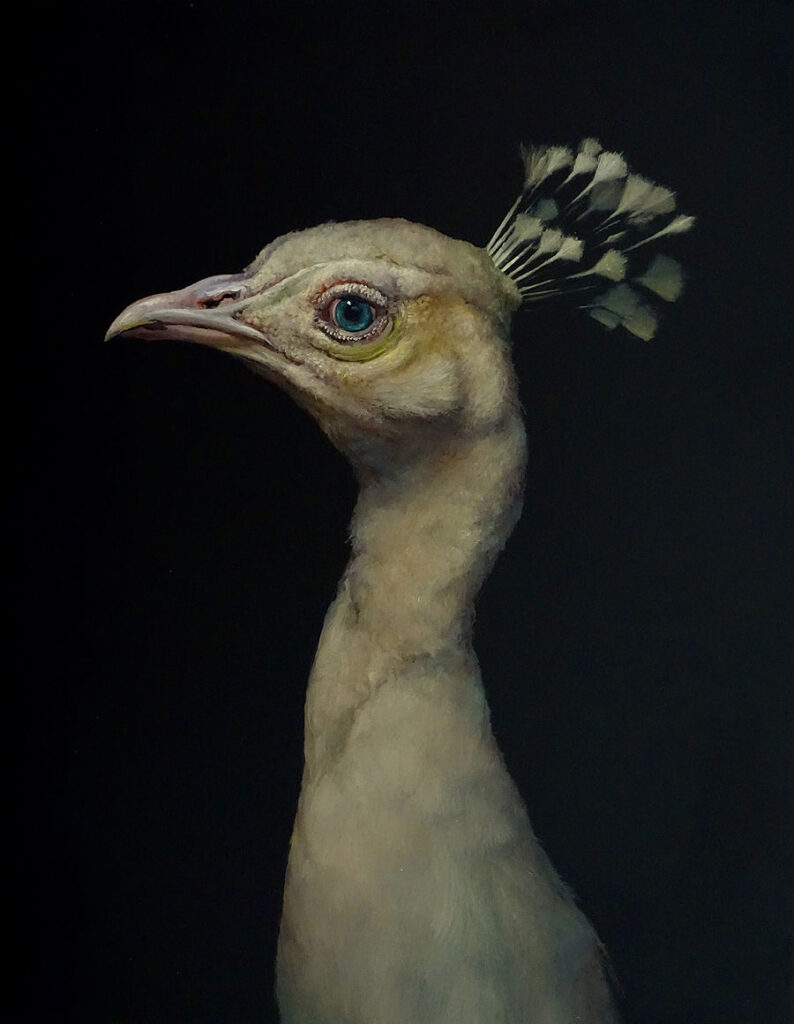 'Glad You're Here' is influenced by the moods and colors of certain old songs, how they can be sort of soft and spacious but at the same time be sort of devastating. I named the paintings after real old songs, I made them to sound like old songs. It's devotional, it's a bit sentimental and a bit dark and I love all those things.
Brad Woodfin Biography // Brad Woodfin was born in Marblehead, Massachusetts in 1970. He studied printmaking and painting at The Evergreen State College in Olympia, Washington before moving to Canada in 2008. Known for his uncanny ability to capture the essential spirit beyond his exquisitely executed fauna portraits, his oil paintings are thoughtful compositions of opposites: light and dark, tight and loose, motion and stillness, life and death.
Woodfin's work has been featured in solo exhibitions across North America including: New York, Vancouver, Calgary, Seattle, and San Francisco as well as international group exhibitions and art fairs in London, Miami, Chicago, New York and Los Angeles. In 2012, he was shortlisted for the prestigious Young Masters Art Prize (London, UK), which celebrates artists who pay homage to the skill and traditions of the past. He currently lives and works in Montréal.
About the Gallery // Thinkspace Projects was founded in 2005; now in LA's burgeoning West Adams District, the gallery has garnered an international reputation as one of the most active and productive exponents of the New Contemporary Art Movement. Maintaining its founding commitment to the promotion and support of its artists, Thinkspace has steadily expanded its roster and diversified its projects, creating collaborative and institutional opportunities all over the world. Founded in the spirit of forging recognition for young, emerging, and lesser-known talents, the gallery is now home to artists from all over the world, ranging from the emerging, mid-career, and established. The New Contemporary Art Movement, not unlike its earlier 20th Century counterparts like Surrealism, Dada, or Fauvism, ultimately materialized in search of new forms, content, and expressions that cited rather than disavowed the individual and the social. The earliest incarnations of the Movement, refusing the paradigmatic disinterest of "Art" as an inaccessible garrison of 'high culture', championed figuration, surrealism, representation, pop culture, and the subcultural. By incorporating the 'lowbrow,' accessible, and even profane, an exciting and irreverent art movement grew in defiance of the mandated renunciations of "high" art. Emerging on the West Coast in the 90's partly as a response to the rabid 'conceptual-turn' then championed on the East Coasts, the Movement steadily created its own platforms, publications, and spaces for the dissemination of its imagery and ideas.
Though the New Contemporary Art Movement has remained largely unacknowledged by the vetted institutions of the fine art world and its arbiters of 'high culture,' the future promises a shift. The Movement's formative aversion to the establishment is also waning in the wake of its increased visibility, institutional presence, and widespread popularity. Thinkspace has sought to champion and promote the unique breadth of the Movement, creating new opportunities for the presentation of its artists and work. Though still very much invested in the elevation and exposure of its emerging talents, the gallery, now in its 13th year, has come into its own with a roster that reflects this maturity.
An active advocate for what is now one of the longest extant organized art movement's in history, Thinkspace is an established voice for its continued growth and evolution. The gallery has in recent years expanded its projects beyond Los Angeles, exhibiting with partner galleries and organizations in Berlin, Hong Kong, London, New York City, Detroit, Chicago, and Honolulu among many others, participating in International Art Fairs, and curating New Contemporary content for Museums. Committed to the vision, risk, and exceptional gifts of its artists, the gallery is first and foremost a family. From the streets to the museums, and from the "margins" to the white cube, Thinkspace is re-envisioning what it means to be "institutional.
Thinkspace Projects Social Media Accounts