There's still time to enjoy the new works by Luke Chueh and Rodolfo Loaiza at Corey Helford Gallery – and honestly, it's something not to be missed. Certainly, it can be lovely to enjoy beauty for beauty's sake. Yet Corey Helford Gallery have curated something all the more engaging. Through Luke Chueh's solo show and Rodolfo Loaiza's new series as part of a seven-artist exhibition, Corey Helford Gallery ensure a good dose of black humour alongside an array of social commentaries – all wrapped up in a series of visually captivating paintings.
Enjoyably, both artists bring their individual senses of surrealism and wit, playing with well-known characters, situations and phrases. However, that's where the similarities end. Corey Helford Gallery have really pulled this one out of the bag with two astounding exhibitions on show at the same time. Don't miss your chance to see these works (and much more) in person before the shows end on April 3!
Luke Chueh: Intensive Purposes + 7 Artist Show feat. Rodolfo Loaiza
Exhibition Dates: February 27 – April 3, 2021
Corey Helford Gallery
571 S Anderson St (Enter on Willow St)| Los Angeles, CA
Visiting hours: Tuesday-Saturday, noon to 6pm
For press inquiries or sales, please contact [email protected] or call (310) 287-2340.
In accordance with LA County Public Health restrictions, maximum occupancy is restricted to 12 people at a time. Mask-wearing and social distancing are mandatory. In accordance with CDC guidelines, guest temperatures will be checked using an infrared scanner upon entry.
Luke Chueh: Intensive Purposes
In Gallery 2, Luke Chueh's solo exhibition Intensive Purposes promises to pull your heartstrings in multiple directions. His bear portraits, initially evoking feelings of nostalgia, quickly turn the tides of emotion as you absorb the deeper meanings behind each scene. Granted, there's something gentle in his use of minimal colour palettes, a soft focus mirroring the fuzzy furs of his muted creatures. But this also paves way for the spotlight to fall onto Luke's shrewdly poignant narratives.
"The show's title is inspired by the often misquoting of the phrase, 'Intents and purposes'. But the misconstrued idiom suits my work perfectly." Luke shares. "This collection was inspired by ideas conceived throughout 2020. Paintings like 'Let Fly,' a masochistic take on escapism, to 'Agoraphobia' were inspired by the pandemic. 'One Trick Pony,' 'Picking Up the Pieces,' and 'Over Extended' are undeniably introspective paintings. […]
Looking at the show as whole, I've realized I don't like being pinned down by a style or a narrative. And though there isn't an overarching theme, I hope you'll agree that my paintings speak with intensive purpose.
As a special extra, click here to watch Luke's walkthrough of his show and share insights into his new works.
Additionally, did you miss the gallery's virtual opening? Not a problem! You can still watch it Corey Helford Gallery Instagram page.
CHG Press Release // About Luke Chueh:
Born in Philadelphia and raised in Fresno, CA, Chinese painter/illustrator Luke Chueh (pronounced CHU) studied graphic design at California Polytechnic State University, San Luis Obispo, earning a BS in Art & Design (Graphic Design concentration). Chueh would go onto become the in-house designer/illustrator for the world's leading guitar manufacturer, Ernie Ball. Here he created several award-winning designs and featured in the design annuals of Communication Arts and Print Magazine. In addition, during this period, Chueh founded, created, and produced a zine, titled E.X.P, dedicated to the "Intelligent Dance Music (IDM)" genre.
In 2003, Chueh moved to Los Angeles to further pursue a career in design. However, a lack of employment opportunities left him resorting to painting as a way to keep busy. Eventually, Los Angeles' underground arts organization Cannibal Flower begin inviting Chueh to show at their monthly events. This launched his career as a studio artist. Since then, Chueh has quickly worked his way up the ranks of the Los Angeles art scene and [become] an artist not to be ignored. Employing minimal colour schemes, simple animal characters, and a seemingly endless list of ill-fated situations, Chueh stylistically balances cute with brute, walking the fine line between comedy and tragedy.
7 Artist Show feat. Rodolfo Loaiza
Additionally at Corey Helford Gallery, you can currently enjoy their special 7 Artist Show. The exhibition features Andy Adamson, Helice Wen, kozyndan, Rodolfo Loaiza, Travis Lampe, Yang Cao, and Zoé Byland. Here, Rodolfo Loaiza has unveiled his latest series which exudes his usual wit, all within the wonderful world of Disney.
Born in Mexico, Rodolfo Loaiza has built a huge following based on his manipulation of popular images and pop icons. Rodolfo twists these well-known elements to provide satirical and on-point comments about modern society and the people within it. His latest series Fame & Horror, provides grins and grimaces in the same breath as he pushes some of our childhood favourites into new – and sometimes terrifying – situations.
The fine line between celebrities' glamorous world and the disturbing world of horror sometimes can be too thin. This painting series [Fame & Horror] explores how popular culture has been inspired by well-known figures in film, music, and art, but also by serial killers.
"Every day, the public's scrutiny, the press, and fans demand more details about celebrities and public figures' lives." Rodolfo Loaiza shares. "It is becoming more usual and less surprising. Social media and the viral-ization of their 'tragedies' generate a curious and frivolous addiction to contemporary pop culture. Not being a celebrity does not guarantee not experiencing a moment of exposure in the age of social media. This is a horrific scenario that, in the 21st century, no one is exempt from experiencing. This series of five oil and five acrylic paintings travel both worlds, reflect them, confronts them, and feeds them back. It is presented in an idyllic and disturbing fairy tale setting of fame and horror."
CHG Press Release // About José Rodolfo Loaiza Ontiveros:
José Rodolfo Loaiza Ontiveros is a visual artist born in Mazatlan, Sinaloa, Mexico. Starting his career in 1998 as a self-taught artist, his first solo show was in 2001. Since then, he has been getting steady work. His formal education in art began in 2002 when he began attending various workshops. Ontiveros has a degree in Graphic Design from the University ITESUS. He has taken courses in painting, drawing, printmaking, and sculpture at Centro Municipal de Artes de Sinaloa (CMA).
Ontiveros has been honored with multiple awards and recognitions. Including the Prize of painting "Antonio López Sáenz" and " Salón de Pequeño Formato " in Mexico, as well as several Honorable Mentions awards. His work has appeared in prestigious magazines, newspapers, and TV Shows, including: Juxtapoz Magazine, Hi-Fructose, Vogue Italy. LA Weekly, El Mundo Spain, El Universal Mexico. Univision, Telemundo, Huffington Post, Antena 3 Spain, Le Monde, People magazine, Cosmopolitan, and more. The concept of his work focuses on the manipulation of popular images and pop icons, with influences of Pop Art, and Lowbrow Art.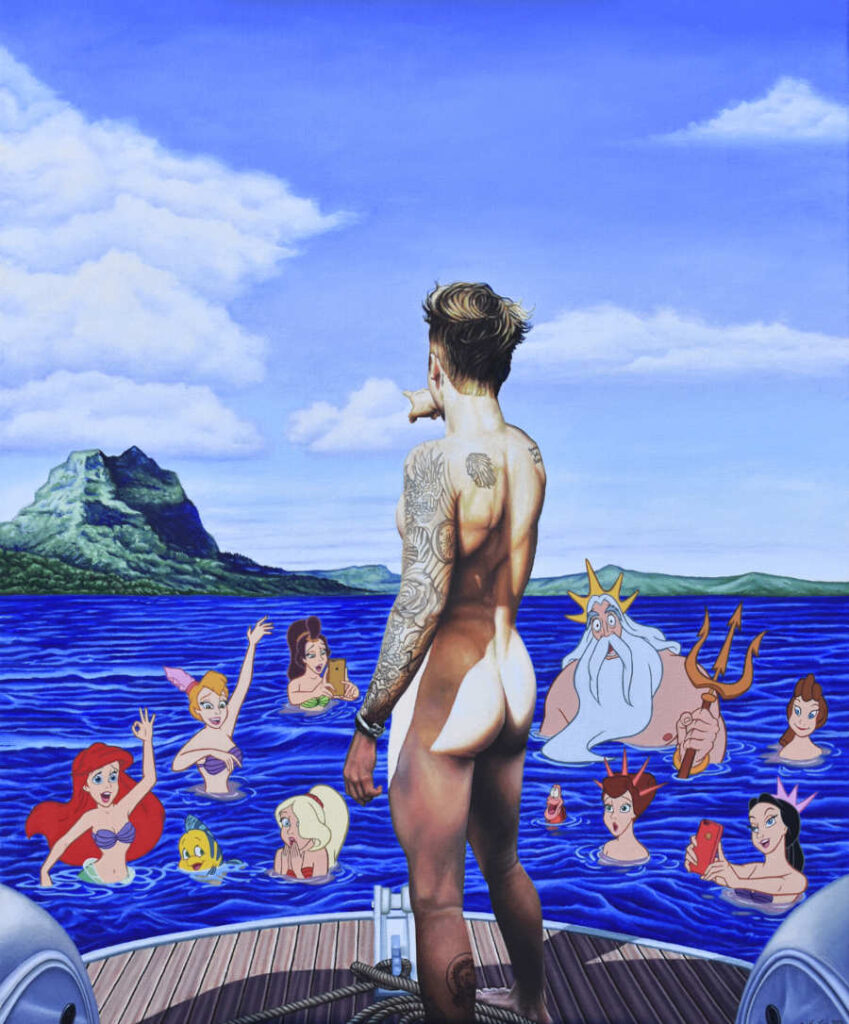 Corey Helford Social Media Accounts